So, my day started at about 12:30 am. You see, I have this horrible cold that hit me out of nowhere. Usually one of my germ infested children get it first and then I do, but this cold found it's way to me all on its own.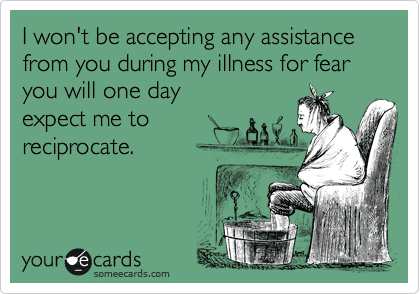 So, due to the fact that I couldn't breathe, like at all, meant for a very very early start to my day. Not to mention the loads of anxiety I am experiencing right now about another issue which I may or may not blog about. Needless to say, my mind was racing. I finally popped in the ear plugs around 4 am when those damn birds started chirping outside my window, and I finally fell back asleep around 5:45 am. So, when my 4 year old came knocking on my door with his energy abounding at 7 am, and a huge smile on his face, I let his wiggly body climb into bed with me. He started talking a mile a minute (as usual), and we had a delightful conversation that did brighten my day a bit.
Kyle: Daddy doesn't steal the covers from you.
Me: Who told you that?
Kyle: Daddy.
Me: Well, he doesn't know he is stealing the covers because he is asleep when he does it.
Kyle: giggles
Me: You know, one day when you get married, someone will probably steal the covers from  you too.
Kyle: I don't want to get married!
Me: Why?
Kyle: Because it's too long.
Me: What's too long?
Kyle: Marry. (I think he means the wedding, because his next response was…) Wait. Is there dessert there?
Me: Yes! You have wedding cake at a wedding.
Kyle: Can I bring my telescope?
Logical response don't you think? That was fun.
So, then I ran down to take my husband to pick up his car after being in the shop for nearly two weeks, and without an ounce of make-up on, and my hair still wet, I get the boys out of the car because there is a german shepard on the lot playing fetch with a small tire ring. My youngest is illogically obsessed with dogs, so he immediately starts running over there. The owner of the dog was extremely nice, and I had a long conversation with him about his dog, and we got to see him roll over, shake, speak, play dead, etc. etc. Every dog trick in the book this cute 8 year old german shepard could do. The boys loved it. I like to really interact with every dog I see so that I don't have to get one anytime soon. So far, my plan has worked.
Anyway, we move on, and I get back in the car and look in the mirror. My nose is TOTALLY crusty. Like red and blistery, and looks like I have crusty white crap all over my nostrils. I have been blowing my nose non-stop for 3 days now, so ya know, it looks horrible. And, yes, I at least moisturized before I left the house, but apparently it wasn't good enough. I was super duper embarrased. I had been talking to this man for a good 15 minutes with a hideous crusty nose. So, that was fun.
Then, I decide a quick trip to a local kid to kid is in order where my youngest proceeds to melt down in an epic, very unlike him, sort of way. I'll tell you what, these molars that he is cutting are the worst. The WORST! Mothers were diverting their eyes trying not to be judgmental of my snotty nosed kid who was melting down no matter what I did. And, probably noticing my coughing, sneezing fits at the same time. So, that was fun.
Then, I hop in the car to go pick up "my precious" as we lovingly call it (otherwise knows as my giant Diet Coke from McDonald's…seriously, they have the BEST diet coke in the world), and I get behind a couple who is quibbling over some coupon they have in the drive-thru where they had to speak to 3 different employees about it. Meanwhile, the baby is still screaming in the backseat despite my attempts to play children's music really loud and roll the window up and down over and over again to distract him. They pulled the parking break and turned their car off, which is NEVER a good sign in a drive-thru, and I seriously started to question my addiction to that precious beverage I love and why I was willing to sit in drive-thrus behind oblivious people who want to quibble over $1.5o coupon at McDonalds. Seriously? McDonalds takes coupons? But, she got her money back. Good thing. Wouldn't want her to pay too much for that happy meal. So, that was fun.
Needless to say, I'm going to hide out in my house the rest of the day and blow my nose a few more times trying not to think about the enormous decision causing me major anxiety that is happening today. Hope you have a "fun friday" too.
Search engine terms are lacking today, so I will leave you with this beautiful comment on my blog today: "I'm more than happy to find this great site. If you don't mind May I also share a tip. Fidning a Personal sexy muscles Legal professional is often dificult, should you reside in Sourthern California therefore you desire a Personal sexy muscles nude man, mouse click my link." Needless to say, I marked it as spam. Yuck.