I used to be up on current events. Now my "news" comes from the current HuffPost article that is creating a lot of buzz with some ridiculous stirred up controversy, and the tiny blurb of the today show I watch while I scarf down my lunch. I record it everyday so I'm not completely clueless. But, honestly, as I was discussing the crisis with Putin and the Ukraine with a childless friend, I realized that my definition of current events sure has changed dramatically. While I try not to be clueless, I am. But, if you ask me about what's going on in my household every day, there is plenty to report.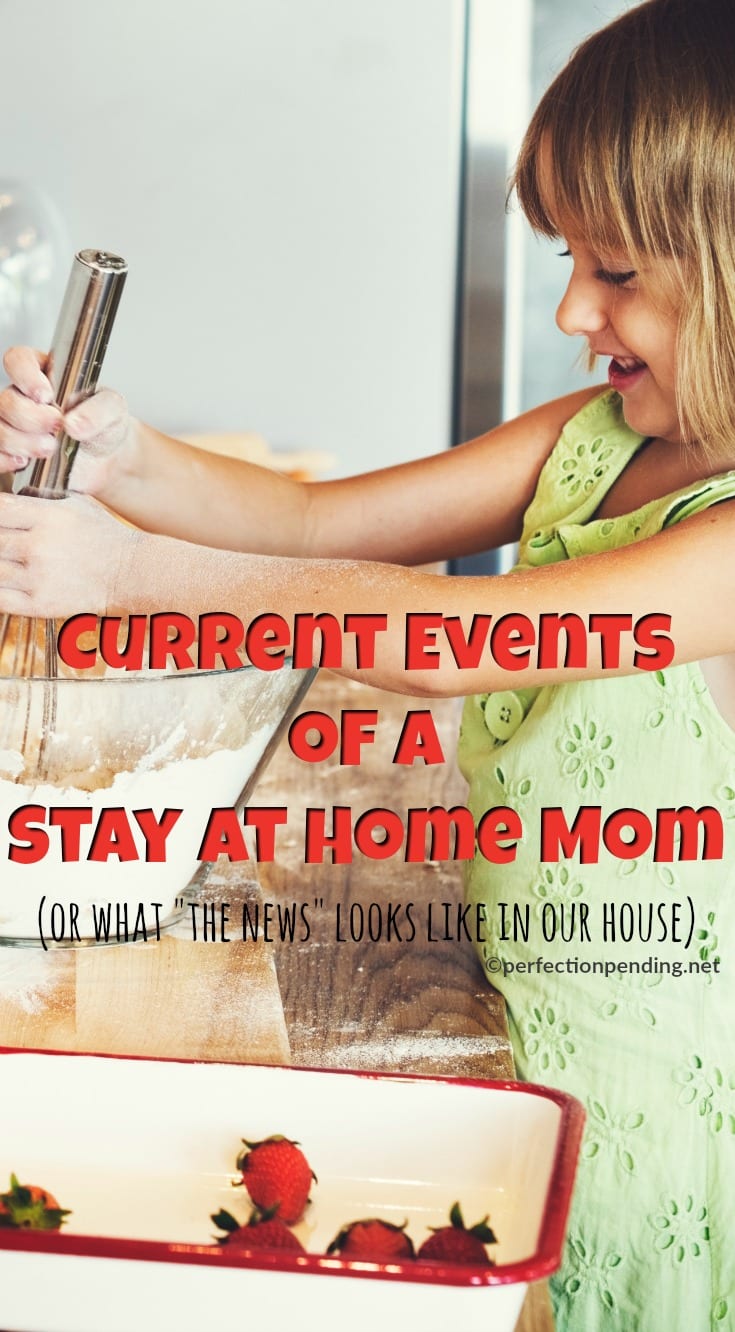 My husband calls with the nonchalant, "What's going on over there today?" and I seldom have anything truly noteworthy of saying out loud to him. He is off at work saving people's lives and stuff, and I'm working on getting the two year old to pronounce the first syllable of words. "No, it's OATmeal" I say for the millionth time while he responds proudly, "meal!"
While that is definitely useful to both the two year old and me because speaking is an important life skill, it may not exactly make the news.  But, my SAHM "news" is just as important. Because depending on what kind of current events are going on in my house, it may make or break my day.
The "Weather"
The weather around here consists mostly of the moods of 5 humans and a cat that try to co-exist. While Al Roker talks about the latest cold snap that is attacking the country, I've got to know whether the two-year old is going to wake up in a fury like an angry tornado, or wake up like a calm breezy, sunny afternoon. Either one of those things have a drastic impact on what goes on in this house. Not to mention whether or not I get enough sleep to be a happy mom, or one that is just on survival mode for the day.
Current Events
And, while weather is extremely important, there are other things that play a role in the day to day current events too. Let's take body functions for example, which I would classify as the "headline news". Sure, you may not think how many times a baby poops in a day is all that significant, but I do. How many runny noses will be wiped vs. who is throwing up is always the top story of the day. Bodily functions play a big role in whether or not we can leave the house, get a babysitter, or socialize with others. So, it's important stuff, I tell you.
Food
What's for dinner? is always an important segment. They always have cooking segment of some kind on news shows, right? Sometimes I've got my A game going if I get food in the crockpot by 10am and I feel like a master chef, and other days, we're scrounging and eating the leftover mac and cheese we found in the back of the fridge. There will always be a co-chef that can barely reach the counters wanting to assist me in my efforts.
The Filler News Stories
Laundry, homework, and cleaning the bathroom are like all of those annoying filler news stories we see like whether or not it's national puppy day, or if Prince Harry suffered altitude sickness. No one really cares about the laundry, homework or whether the bathrooms have to be cleaned, but if we didn't have those things, how would we fill up the schedule? They are indeed necessary just like reporting on Justin Beiber's latest arrest. If we didn't have those kinds of stories, the Today show would be about 15 minutes long.
Special Interest Stories
The special interest stories happen from time to time that warm your heart. It might be an extra hug from the baby, or an unsolicited "I love you" from the 7 year old. Either way, those are the moments that make you feel good around here. The special interest stories are the ones you think won't be that interesting, but they are what makes you keep coming back for more. After all, how would we survive parenting without snuggle time, I love you's, and the occasional please and thank you?
So, even though I don't know how to solve the latest crisis in Syria, and I don't know what is going on with the missing Malaysian plane, I know that right here in my house, there is enough going on to keep me busy and the latest news around here is just as important as what Kim Kardashian ate for breakfast.