Polly Pockets. This is what we have dubbed every tiny, plastic, doll-like toy in our house. Although, after doing my research on the ever-accurate Wikipedia, Polly Pockets are actually a brand name, and several Polly Pocket knock-offs have spawned as a result. And, most of them (especially the Disney version) currently reside in my house.
My daughter has recently started playing with these toys again. I used to hate when she pulled them out when she was 3 or so. Because, a toy that requires help from the parent for 99.9% of its play, is not a toy in my opinion. It's a curse. Not that we don't like playing with our kids from time to time, but dressing tiny plastic toys is not my idea of a good time. I have to dress real little people, remember? That's hard enough right now. I mean, what happened to the good old fashioned Barbie? At least her clothing, albeit a tad on the risqué side, was manageable. Moveable. Doable.
The other day, my daughter had a friend over. She came into me while I was working on my computer with a teeny tiny version of a plastic Ariel in one hand and an equally tiny and plastic dress in the other. "Mommy, will you help me?"
"Now Avery, you can do this yourself! You're seven years old. Here's what you do".
Getting ready to slip this plastic dress onto Ariel with full confidence, I put her in feet first. "See…now what you do is you pull up on both sides at the same time, and kind of push your thumbs down on top of her head while you're doing it" There is a skill with these things after all, and I was determined to teach it to her. I figured that she finally has the required dexterity at seven years old, and that she could handle it. Until I couldn't.
Struggling with a stretchy, tiny, plastic dress that was also rubbing against something stretchy and tiny, I muttered, "Ugh. This is hard. What the heck is wrong with this thing?" She replied, "See, I told you." I pulled on that dress with all my might and it finally popped over her teeny tiny boobs. This is ridiculous, I was thinking. Then, she said, "Well, it's the arms. They're really hard to do." Really? That wasn't hard enough? And, then I looked at her arms. Things were about to get real. I got the first arm through, and ended up with this:
Everything but the hand. I decided to leave it and tackle the next arm. This is what I was dealing with.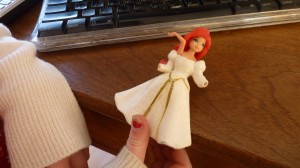 Arms do not naturally bend that way, teeny tiny doll makers. Poor, Ariel. This was going to be a challenge. I bent that tiny little crooked arm in even more unnatural ways, and got this: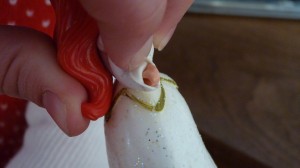 Another missing hand. But, I found it. Un-naturally bent inside her sleeve. At this point, I was starting to get angry. Teeny tiny plastic toys (AKA-polly pockets) had to have been created by a man, I thought. A man that worked a lot and would never be home to help his kid play with them. And, guess what, after doing some research later, I was right. Although, I don't really know whether or not he worked a lot, but I do now know that he was German. Which could explain some things. I owned a Volkswagen and a BMW once upon a time. those cars were a little un-natural too.
Let me just say that any toy that makes me want to swear like a sailor while I'm "helping"  my daughter play with it, is evil. Pure evil.  I did eventually get the dress on Ariel. But, take a look at her arms in their "natural" positions. What the….??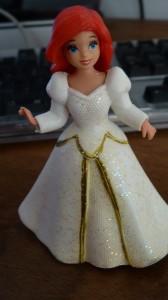 Come to think of it, this could be one of those dollar store knock-off versions of the tiny Ariel Polly Pocket doll. Look at her face. Looks like she's had a little work done if you know what I mean?
And, the thing that kills me about these toys, is that the "fun" in them is just like barbies. All there is to do is dress and undress them. (And, probably make them fight over their prince, or something.) And, if a full grown adult can't do it without wanting to murder someone, then in my opinion, these dolls are not meant for children. They were purely invented to torture adults. And, you know it's bad when a toy makes Barbie look good.
It's enough to drive you to mania, hysteria, or pure madness. At least for the 15 minutes it takes you to get Ariel in one. stupid. dress. Because, you know in five minutes, she'll need to do a wardrobe change, and you'll have to start all over again. Those princesses are a lot of work. Especially in "fun" sized versions.
Link up here to share an aspect of parenting that drives you to mania for my new Manic Mondays link up!! What are Manic Mondays?? Go here to find out.
Grab a button to add to your Manic Monday post this week. Link up will close on Sunday at midnight! Make sure you spread the love and visit other Manic Monday posts this week!