The other day in the car I was listening to a favorite song and I sweetly said to my little boy, "Kyle, I dedicate this song to you." He made a face that was somewhere between looking like he was going to cry or going to get sick. My husband and I laughed. I love how kids can wear their hearts on their sleeves, practically get away with murder, and we still love them for it.
What if grown ups acted like kids? What could we get away with? Maybe we should try it some time. People would definitely think there was something wrong with us. But, maybe, just maybe we might get away with something. Because, we would look like a crazy person after all.
Here are a few ideas of how to act like a crazy person, or in other words, a kid.
Wake up, run into the next room and without caring for the other person's need for sleep, jump on their bed. Demand food. When you don't like it, throw it on the floor, buck like a bronco, and then refuse to eat anything else despite the fact that you are, indeed, starving.
The first time you don't get your way, throw yourself onto the floor in a heap, screaming, crying and kicking your feet. Laugh hysterically five minutes later when you accidentally fart.
Voice every ache or pain out loud to those around you. Include the saying, "My tummy hurts" as often as possible. This can be when it is full, hungry, burpy, gassy, hiccupy, or truly hurting.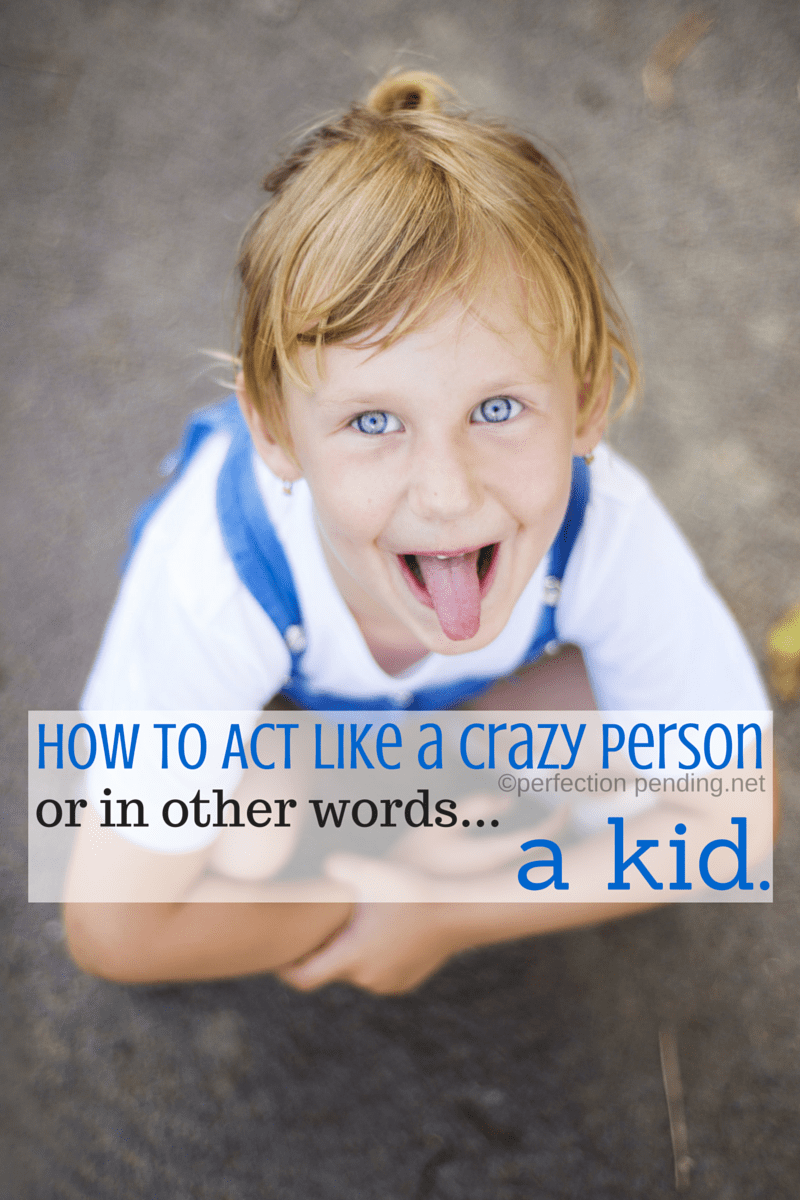 to sleep when tired, then fall asleep in a plate of food, in the middle of a conversation, or in a shopping cart. Wake up angry, and screaming.
Love yourself unabashedly and say completely narcissistic things like, "I love that picture. Because it's of me." (a quote from my Kyle this week).
Find a bug. Name it a name like "lady", for ladybug. Talk to it.  Carry it around everywhere, and make sure to give it a nickname like "two" because it has two spots. Put it in a glass jar to suffocate it and then cry when it dies.
Say random things at dinner to whoever you are dining with like,  "I am holding my belly button." Maybe the other will behave like a kid and quickly reply, "Oooh. I'm going to hold my belly button, too!"
When someone makes you mad cutting you off in traffic, try sticking out your tongue instead of using your not-so-polite finger.
Invent your own dance. Show everyone as soon as it comes into your mind. Say, "Watch this" at least ten times while doing virtually the same thing over and over.
Laugh when someone says not to.
Cry when you get really tired. Make sure you stretch out your words in the whiniest voice possible, "But, I'm toooo tiiiiiired to turn in that report, sir."
Run. Everywhere.
When you are with someone that is in a hurry, walk slowly. Smell the roses. Take time to organize your wallet.
Ignore some advice five minutes after it was given. Then respond with, "I forgot" or "Not me" when they try to call you out on your bad behavior.
Color or scribble on something of value to someone. When they get mad, remind them that you forgot, or that it wasn't you.
Refuse to go to the bathroom. Then pee on yourself an hour later.
Eat something regularly at least 5 times and love it. Then, the next time, refuse it and say you hate it.
When a person is talking to you about something important, look them straight in the eyes the entire time. When they are done, respond with something completely unrelated like, "monkey".
When someone accidentally brushes up against you scream, "STOP TOUCHING ME!" Make sure you tell someone else that they touched you. Make it clear to the third party that you were not happy about it. At all.
Cry when someone you love leaves the room.
Follow someone you love around everywhere. Even to the bathroom. Make sure you walk as closely behind them as possible, but quietly so as to go undetected. Trip them if necessary.
Ask someone to carry you. Cry when they won't.
Demand food. Right before a big meal that someone is making for you. Throw yourself on the floor when they ask you to wait. Exclaim that you are going to die from hunger if you don't eat something right that second.
Last, but not least, run around wild, screaming, even naked if necessary right when it's time to go to bed. When someone reminds you that you should go to sleep, get crazier and louder. Run more, play hide and seek. Laugh when they try to catch you. When the person tries to restrain you, collapse into a deep sleep causing that person to let you skip bathing yourself. Make sure you look like an angel while you sleep so that person misses you and wants to do it all over again the next day.
Tip: Make sure you look cute while doing all of the above behaviors. That is essential. 
I mean, seriously. We do this everyday? But, we love it. (For the most part). Maybe we are the ones that are crazy. They seem to have it figured out.