So, a friend asked me yesterday to watch her little boy for a couple of hours. I agreed. In fact, I kind of offered. I don't normally offer to watch other people's kids. Having three of my own, and loads of stress and anxiety 90% of the time, I just don't feel like I need another little person to look after.
But, a friend of mine (a different one) has watched my kids for me a couple of times now, and I'm REALLY grateful. So, I have been feeling like I need to step out of my comfort zone a little more and try to help other moms instead of always being on the receiving end.
So, this morning, I went on my walk-jog (where you mostly walk, but jog occasionally so that you can sometimes claim you run) this morning bright and early, got showered, and was ready for the little man to be dropped off. He is just a couple of months younger than Chandler.
He wasn't too thrilled at first, but quickly, the boys all started playing together. I seized the opportunity to clean up my kitchen, bake some zucchini bread (I can be domestic like that), and start some laundry. Impressive huh?
And, after getting the bread in the oven, and wiping down the counters, I thought to myself, "I got this".
For a split second, I got a little confident. I continued my self- inflated feelings with, "See. This is what it would be like to have twins. No big deal. It's manageable." 
And, to continue the insanity, I became completely irrational and thought, "You could have another child." 
That's where my logical side of my brain saw that things were getting a little out of control and jumped in and started yelling, "Stop it you fool! Are you out of your mind?!!" I'm thankful everyday for that logical side of my brain.
You see, some days, I do have it together. Some days, I do get ahead of myself and think, "I got this" like baking zucchini bread with three little boys under my feet is an every day occurrence. It's not.
The usual scene goes something like, "I think I'll make zucchini bread with this GIANT zucchini someone brought me" and I start to pull ingredients out.
Then, the four-year-old runs in from the other room declaring that he wants to help. Which, we all know what THAT means. He really just wants to lick everything. And, I'm not talking about the beaters, I'm talking eating brown sugar off the countertops, and then double dipping into the batter moments later. (I'm sure none of you will ever eat a baked good of mine after this). Then, the baby decides he has to be picked up right then or he is going to make us all pay for it by his screams, so he is set up on the counter which puts me on high alert for fear of him falling every time I turn my back to grab something else, and I usually end the whole affair with a giant mess, boys covered in flour, and the thought, "Who do you think you are, Meredith? Superwoman?" 
This is why I don't bake much anymore. After all that, who even wants zucchini bread? Forget that. I do. I just want someone else to make it for me.
But, then there are the days like today where we do the impossible, and get a little full of ourselves and start imagining that having more kids is a good idea. My conclusion is that successful mommy days lead directly to crazy talk. (Whether it's in our heads or out loud.) I'm pretty sure that this theory could be proven if we set up some sort of scientific study. Too bad that would require science and thinking. Two things I don't do much these days.
But, the truth is, parenthood can humble you just seconds after, "I got this" crosses your mind. This gig is a roller-coaster, I tell you. And, the highs are great even though they lead to crazy talk, and the lows can bring you back down from crazy talk with one action from a little person.
Let's take one of the favorite toys in the house for example: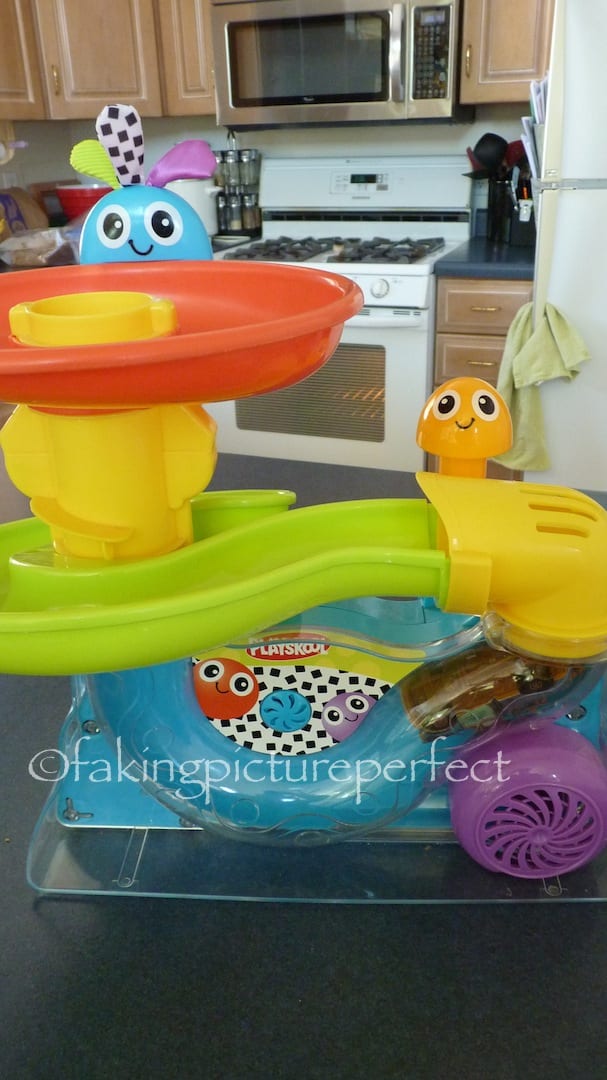 This friendly little toy is probably in millions of houses across America. It's a ball popper. My boys love it. It plays music and air shoots out balls from the top which makes the kids squeal with delight. It's fun. And, it provides entertainment for long stretches of time. So, it's one of my favorite toys too.
But, let's take a closer look shall we?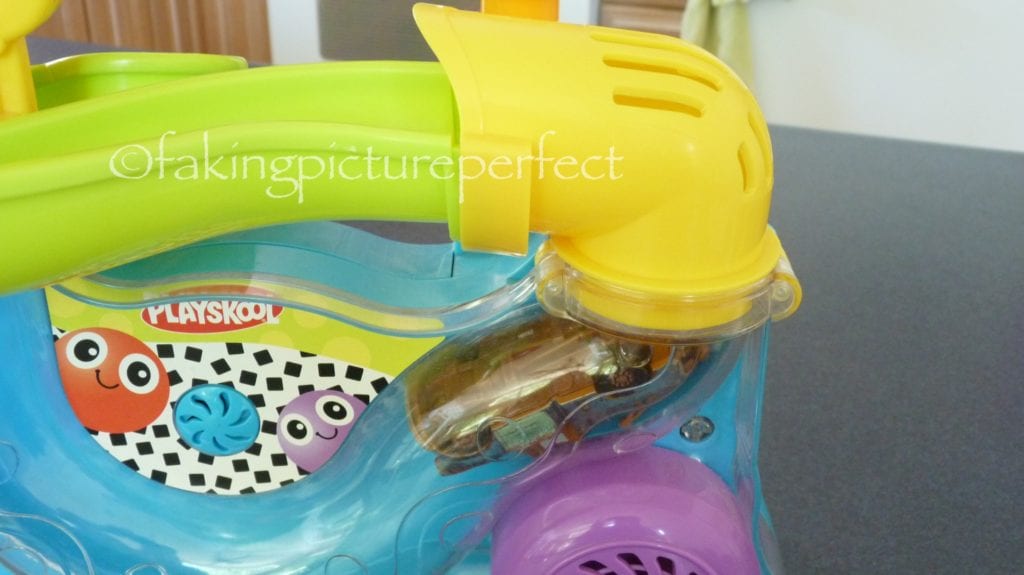 Now, if you can't quite make that out, it's not a ball. Nope. It's a small Tow Mater (or "Mater" as millions of little kids affectionately call him). Also a favorite toy in this house. Many toys that don't belong have been shoved into this ball popper in the past, but I've always managed to get them out, but I'm afraid, this time, the little people have won. Poor Tow Mater may have found his final resting place. I tried to pull or push him out, and became more frustrated than I'd like to admit in the process. Poor Mater wasn't budging. How he made that turn, I'll never know.
You see? The kids win again.
No parent should ever mutter, or even think, "I got this". Because we don't. They're always one step ahead.
Note: So glad I got yesterday's post off my chest. The truth is, I sought out some positivity on the internet today, and found it in abundance. So, internet? I guess we can be friends again. Here's a couple of things I found that I liked.
Have something or someone in your life that you're trying to forget because of how they hurt you? Read this.
Find out a little more about my religion here: Mormons at a Glance
Need an idea on how to be more positive with your kids and stop yelling? Try this.
Want to see why blogging takes up so much time and get a laugh too? Go here.
Want some real-world marriage advice?: Here ya go.
I feel much better now. Sorry I was mad at you yesterday, Internet. Except, you really should stop being so gross.