Today, could be considered a sucky day. But, really, it's not.
The baby has croup and has only taken an hour long nap. So that got me frustrated. I'm dreading the night time. I'm pretty much going to guarantee that it will be awful.
Meanwhile, I spent a lot of time convincing myself that I have taken on way too much with this whole blogging thing. The negative thoughts have been getting to me. I'm comparing myself, which is never good for my self-esteem (or anyone else's for that matter), and I could see myself focusing on the negative today. The to-do list seems like a mile long, but I never seem to get ahead. I want to do a million and one things at once, but am having a hard time pacing myself, which is burning me out and feeling like my goals are never going to get accomplished. I feel immense amounts of guilt for children that are keeping themselves entertained, and I was in a negative downward spiral of thinking today.
The past few months, I've gone through quite a change in my life. Big trials have helped me change my way of thinking. And, lately, I've been super positive. Happy. But, that Negative Nancy is always bouncing around in the back of my head looking for a way to pop back to the forefront of my mind and ruin my day. I hate her.
But, I have a secret.  During the past few months, I've become a quote-aholic. When I start to feel overwhelmed, stressed, or just plain negative, I turn to my old pal, Pinterest and I type in whatever I want, and quotes galore flood my screen with pretty pictures. It's as simple as typing in the word: "Positivity" and there are a million beautiful words right in front of me telling me how to look at life differently. And, I pin those suckers like crazy onto my "Quotes I Love board." And the weird thing is, 99.9% of the time, I feel better. How annoying, right?
Honestly, why is it that quotes are so inspiring? Because words are powerful. Of course, there are the quotes that make me feel like a failure, too. I try to skip over those. But, in the course of my day each day, I have been spending time reading quotes, and in the process, I have become addicted to them. I need quotes to feel like a normal human being.
Hi. My name is Meredith, and I'm addicted to quotes that may or may not have been written by smart people.
But, sometimes they piss me off too. I'm not going to lie. The absolutes in quotes are what get to me. Like:
Lies. I have a pretty negative mind by nature, but I think my life is pretty good too. Sometimes I think positive thinking people are all high and mighty, too. 
And then there are the obvious ones like this one:
True, at one time in my life, I had a dirtbag boyfriend, and I guess that was what I wanted at the time, but it certainly isn't anything to be proud of. I can't regret it even a little?
But, for the most part, quotes are good for making me focus on the positive, which I will admit is something that I need help with almost daily. I know that I have  a lot to be grateful for, but I don't always focus on that. So, I will continue with my quote obsession. I created this one: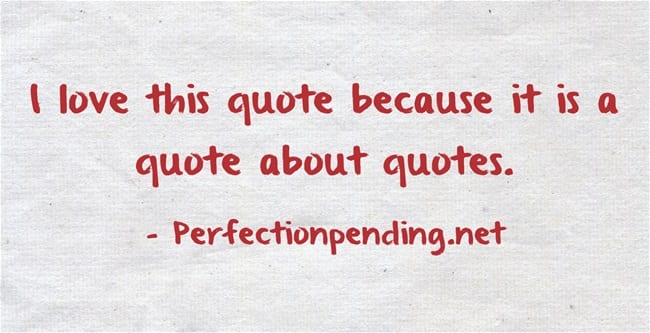 What do you think? How do you get a positive boost on a negative day?