My Be Brave Guest Post is by a blogging friend that has become a loyal reader and participator of my Manic Mondays. It means so much to me. And, when she told me how she wanted to share her  story about how motherhood made her brave, I couldn't wait to have her spotlighted on my blog! Her blog is fun, and unique, and you should totally check it out. But, make sure you read her incredible story below about her own bravery. Want to be part of my Be Brave Guest Post series? Go here.
***************
Every time I heard a story about a woman stuck in an abusive relationship, I always wondered why doesn't she leave. I didn't understand the fear they felt, or the paralysis. I didn't understand what they were going through, and I always thought I would never find myself in a situation like that. Until it happened to me.
What started out as a summer fling, soon turned into a more serious relationship. Even though everything seemed fine at first, it turned out to be an abusive relationship as time progressed.
It wasn't so much physically abusive, as it was emotionally abusive. I was stuck in this relationship for 7 years, and during those 7 long years, I lost my self-esteem, the courage to stand up for myself, and was made to believe I was a bad wife, as well as a bad mother.
Emotional abuse can be harder to spot than physical abuse. With physical abuse, you have bruises, broken bones, evidence that something is going on. Emotional abuse can be so subtle and refined, that you start believing things about yourself that you know aren't true.
My ex had a knack for making me feel guilty about anything and everything. If dinner was not ready the minute he would walk into the door, I was a bad wife. It didn't matter if I just got home from college, I should have had it ready. If our son skipped a bath one night because I was too tired to give him a bath, I was a bad mother. If I didn't feel well and refused sex, I was a bad wife. If I mentioned male classmates, I was a bad wife because they were looking for a way to get into my panties. I was constantly guilty of something. I slowly started believing I wasn't good enough.
He made unflattering remarks about my appearances, and I became convinced I was ugly. He compared me to this or that actress and asked why don't I look more like them.
I found myself depressed and convinced I was worth nothing. I got withdrawn, and slowly my friends started avoiding me because I was bringing everyone down, and when they tried to tell me something, I didn't listen.
One day, after a fight, which ended with me in tears, I remember my son walking up to me and giving me a hug. He was too young to really understand what was going on, but he sensed I needed comfort. We stayed on the couch, him sitting in my lap, and me hugging him like my life depended on him. My husband walked outside. I sat there for the longest time, alone with my thoughts, wondering how did my life get to this point. I looked at my son, who fell asleep on my lap and I wondered what will become of him; with two parents constantly arguing, his mother miserable all the time, and a father who believed women were meant to be servants to their husbands and indulge their every request, no matter how the wife might feel. I asked myself is this really the image I want my son to grow up with.
Something inside of me snapped, as I was holding my son, picturing his future life, his future girlfriends, and his wife someday. I remember thinking how no woman should be made to feel this way. Deep inside, I knew I was hurting, but I also realized that I had to start over. I knew that it wasn't too late. All the fear and paralysis I felt, all the thoughts of me not being worthy, not being capable of taking care of myself, not being pretty enough or good enough, vanished into a smoke as I held my son and thought about him.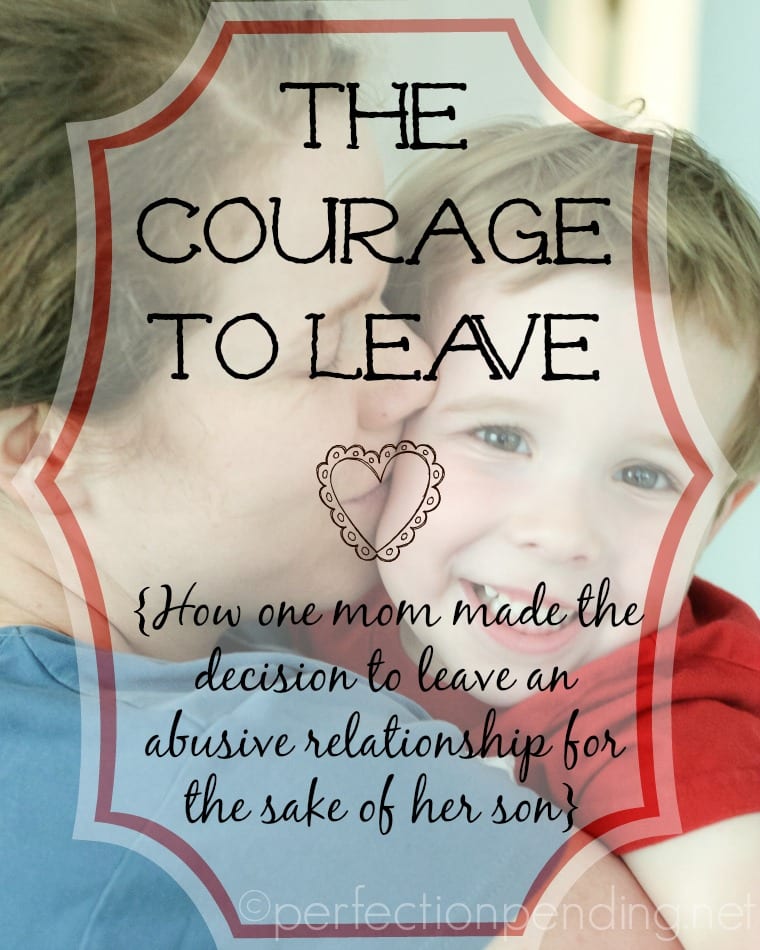 photo credit: evilpeacock via photopin cc
The following week, I told my husband I wanted a divorce. He didn't take it lightly, and he tried to intimidate me, saying I will never make it without him, threatening to take away my son; but I didn't back down. My son's future played over and over in my head. I knew I had to stay strong because of him. I knew I had to be brave because I had another human life that needed me.
I insisted my ex move out. I went through the divorce. When it was finally over, I felt a huge rock fall off my chest. I felt free, and for the first time in ages, I felt sure I could do whatever I set my mind to. Looking at my son's smile, and his big brown eyes that were trying to tell me everything would be all right with the two of us, I was ready to start fresh. It wasn't easy, but we got through it, and we got away from a suffocating situation. I often wonder, how much longer I would have stayed, or if I would have walked away at all, if it weren't for my son. I don't have the answer, and I never will have it; but one thing is for sure: being a mother definitely gave me the courage to walk away from a harmful situation and stand up for myself.
**************

Ana Lynn is, in her own words, a mom, a wife, a designer, and a blogger. She is slightly obsessed with daily planners, stationery, and web design, and she is also a self professed coffee addict. Her blog, Our Blended Marriage, is her online home where she blogs about parenting, expat life, and occasionally lets her husband sound off as well.