This post is sponsored by Dramamine®. See my full privacy and disclosures here.
I'm headed to Orlando later this month for the awesome BlogHer blog conference. It's my first time going, and I'm so excited I can't adequately verbalize how often I've looked at the calendar to count down the days to that fun weekend. Part of my excitement, of course, is the fact that it will be three kid-free days all to myself. As I am getting my travel list ready, I couldn't help but laugh to myself about how much easier it is to pack when your kids aren't coming with you. (Besides stressing about what to wear!)
But, since I like to give real-mom advice on my blog, I thought I'd share a little packing list for your carry-on: moms vs. kids style. Because, although it's fun to travel as a family, there is at least five times the stuff when the kids come with you, and that's just in your carry-on. And, when my kids are packing, it can sometimes get a little ridiculous and FUNNY.
Carry-On for Mom (When Traveling Without Her Kids)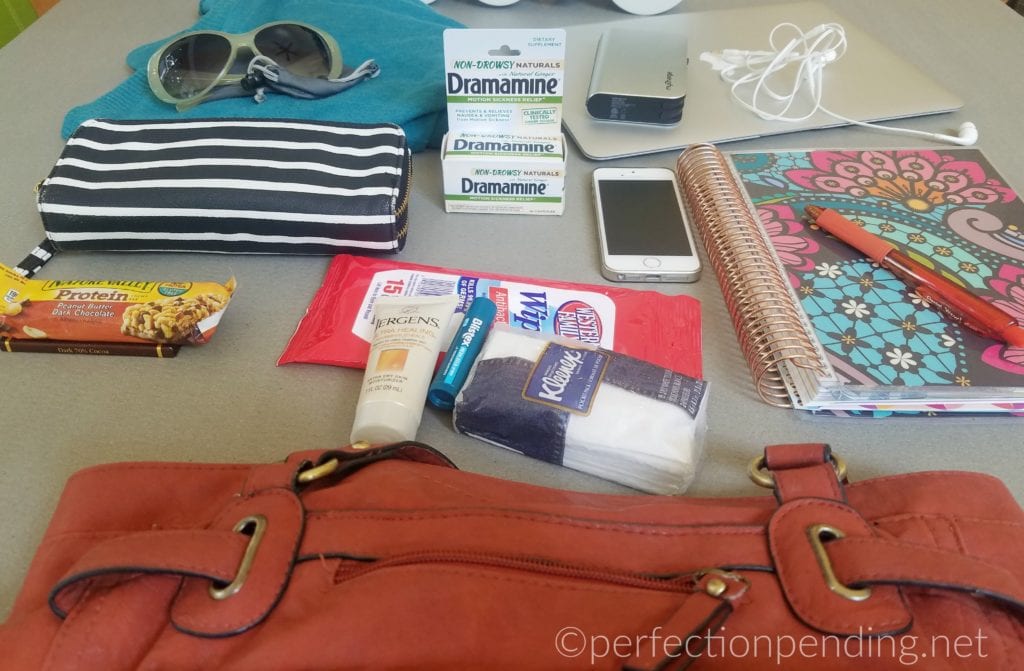 An extra large tote
Peace, Quiet, and Sanity
Granola Bar & Chocolate
Phone, Laptop, Portable Charger & Headphones
Light Sweater & Sunglasses
Essential Toiletries. Mine are: Tissues, chapstick, hand sanitizing wipes, and lotion
Something to read and/or a planner and pen
Last but definitely NOT least, my Dramamine® Non-Drowsy Naturals
Ever since I had a really bad landing incident on a plane, where the pilot tried to land three times in crosswinds, and I was for sure going to lose my lunch, I don't travel without my Dramamine®. By the end of that flight, I was green and just ready to get off that plane as soon as possible I wish I had thought to take some Dramamine® beforehand. So that's one reason why Dramamine® is on my must pack list for my carry on for my flight to BlogHer. And, I love the Dramamine® Non-Drowsy Naturals. Here's why:
1      Dramamine® is America's number one over-the-counter brand for the treatment and prevention of motion sickness.
2      Dramamine® Non-Drowsy Naturals is the first non-drowsy solution for motion sickness from Dramamine®, the leading brand for motion sickness.
3      One dose contains the full clinically-tested ginger dosage for the prevention and treatment of motion sickness. Since it's made from natural ginger, Dramamine® Non-Drowsy Naturals is safe to use every day you travel.
4      Dramamine® Non-Drowsy Naturals should be taken 30 minutes before starting an activity or at the onset of symptoms to help prevent or relieve the nausea and vomiting associated with motion sickness.
Carry-On Bag for Kids
(Not All Items They Will Pack Are Pictured Because That Would Be Impossible)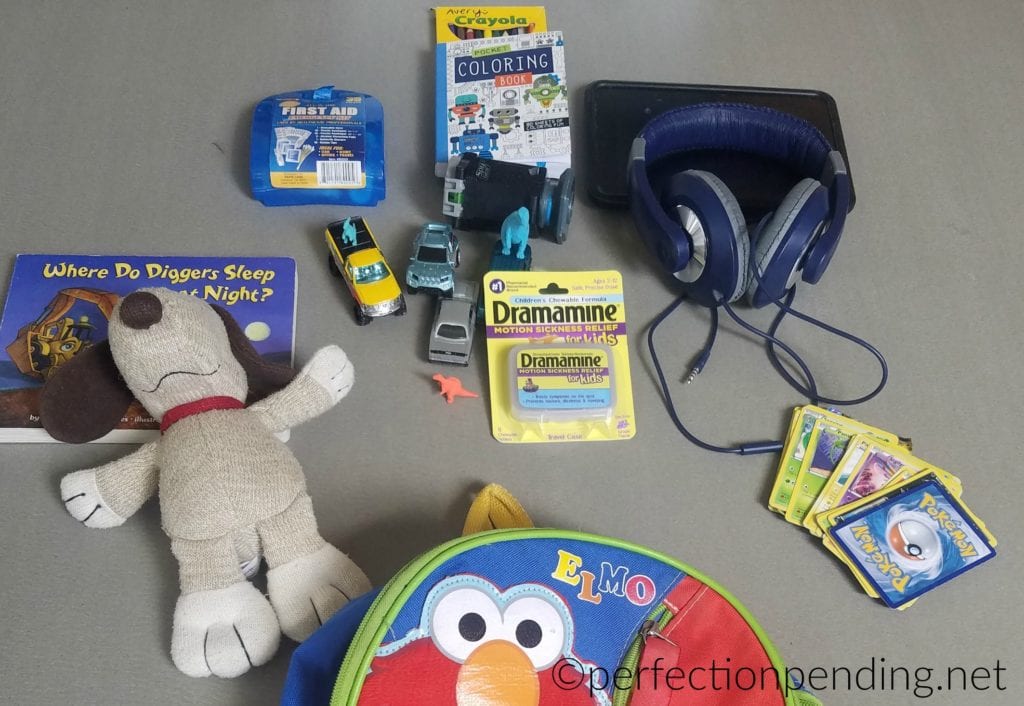 Kid Backpack that will be stuffed full of as much stuff as you will allow
Tablet & Headphones
Something to Color and Color With
Band-Aids (Kids will injure themselves and/or they just like band-aids)
25 Matchbox cars
Spy gear
Tiny toys (like rubber dinosaurs) that will get lost
Pokemon Cards
Something to snuggle
Something to read
More snacks than can be pictured in this photo
One thousand random items that they just can't live without for a weekend
Dramamine® for Kids (because no one wants a kid throwing up on a plane)
Isn't it so true? My kids always love to be prepared (hence the band-aids) and also bring very random non-necessary stuff like spy gear. Honestly, sometimes it's fun to see what they are going to bring.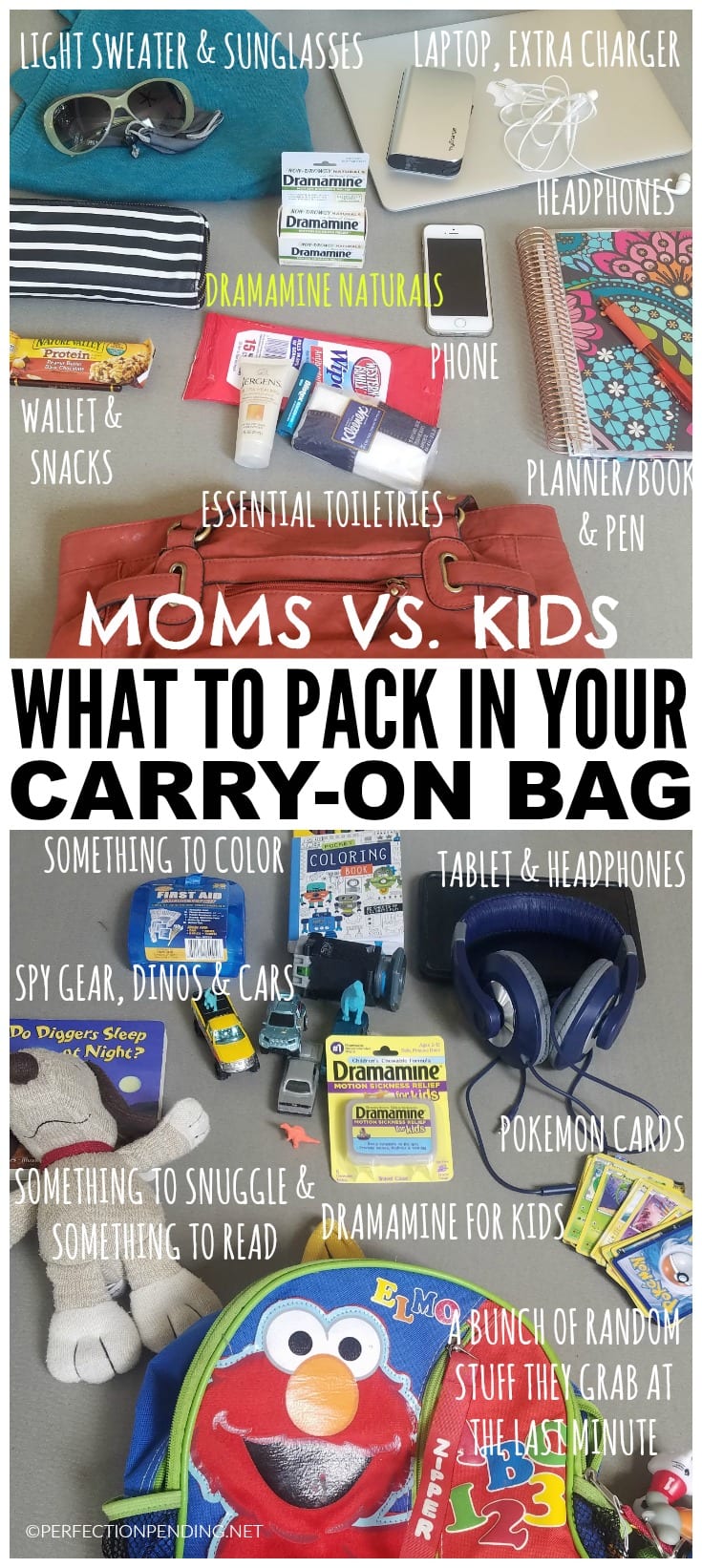 But, regardless of if you are traveling with your kids or alone, Dramamine® is always on the packing list. And I've got a coupon for you to try out Dramamine® Non-Drowsy Naturals for yourself!
Twitter: @dramamine Facebook: @dramamineescape Instagram:  @dramaminebrand
What is in YOUR carry-on when you travel alone? And what's something hilarious your kids have tried to take on an airplane carry-on? Leave a comment below for a chance to win a gift card!
Entry Instructions:
No duplicate comments.
You may receive (2) total entries by selecting from the following entry methods:
1. Leave a comment in response to the sweepstakes prompt on this post
2. Tweet (public message) about this promotion; including exactly the following unique term in your tweet message: "#Sweeps" and "#SweepstakesEntry"; and leave the URL to that tweet in a comment on this post
3. Blog about this promotion, including a disclosure that you are receiving a sweepstakes entry in exchange for writing the blog post, and leave the URL to that post in a comment on this post
4. For those with no Twitter or blog, read the official rules to learn about an alternate form of entry.
This giveaway is open to US Residents age 18 or older (or nineteen (19) years of age or older in Alabama and Nebraska). Winners will be selected via random draw, and will be notified by e-mail. The notification email will come directly from SheKnows via the sweeps@sheknows.com email address. You will have 2 business days to respond; otherwise a new winner will be selected.
The Official Rules are available here.
This sweepstakes runs from 6/12-9/12/2017
Be sure to visit the brand page on SheKnow.com where you can read other bloggers' posts!