For all of you that work, I get it. You hate Mondays. But, here's the deal, I hate Mondays too.
You might think as a stay at home mom that Mondays are all like, "Hey! Lay in your PJs until 10, shower by 11, and possibly do something productive by 2 when the kids are napping!" I wish Mondays would say that to me.  Mondays are my least favorite day as a stay at home Mom too. And, I'll tell you why…because while I've spent my weekend being out of my routine, I am going to pay for it come Monday morning. It never fails. So, are you dreading that to-do list on your desk back at work? As a SAHM, believe me, so am I!
Here are 10 Reasons Why Mondays Can Still Suck as a Stay At Home Mom
1. My husband was home all weekend. Oh, he's going to love me for this one. It really isn't his fault exactly. But, there is something about him being home all weekend that makes me want to do nothing productive or cram every possible activity into one weekend (usually on Saturday since we are Mormon and go to church for a billion hours on Sunday). Both the lack of productivity and the over productive spirit are equally as annoying. Because both leave my house incredibly messy.  So, when Sunday rolls around, it usually looks like a small tornado blew through, and I'm putting it all off until Monday morning. Procrastination is my friend. Until Monday morning. Nothing like stepping on a lego barefoot to snap you back to reality.
2. We ate all our food in the house over the weekend. I kid you not, my fridge is usually BARE by Monday morning. We managed to scrounge every morsel of food over the weekend and Sunday night we are throwing together a meal of fish sticks and string cheese with a side of leftover ramen noodles.  Mondays mean grocery shopping. If you're thinking that grocery shopping isn't that bad, let me refresh your memory by these posts:
Food Is Overrated & Other Excuses to Stop Grocery Shopping
My Husband Saved the Day & Learned a Little About Grocery Shopping
Another Failed Attempt At Grocery Shopping
I write about my lack of love for the grocery store a lot. Last Monday as I was checking out, I let out an incredibly audible, and fairly ridiculous loud sigh that caused the checker to look up at me. I'm a REALLY good sigher. I said in relief, "The worst part of my day is over." I can be a tad bit dramatic at times, I know.
3. Packing Lunches. Do you know how incredibly hard it is to pack a lunch when you are out of everything? It takes too much brain power at 7am to think of a lunch I can fix and throw together out of ketchup, goldfish, and one can of cream of mushroom soup. And, while I have started letting her buy her lunch this year, when I think of doing that, all I can picture is pink slime. *shudder*
4. My to-do list in my head never ends. Mondays make me anticipate every possible activity I can think of for the entire week, and worry about the ones that are important that I'm sure to forget at some point during the week.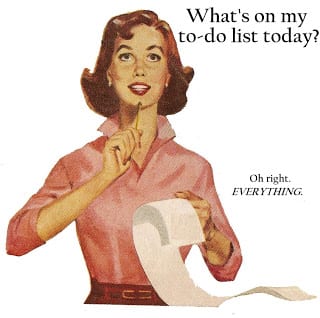 So, Monday morning involves me prioritizing every second of my upcoming week, while simultaneously realizing that I have 3 kids, and NOTHING will likely go according to plan. Mondays mean making a plan that will inevitably have to be changed. Tip: make as little plans as possible. 
5. Tiny Dictators rule my home. Mondays, I always have high hopes of going grocery shopping, making a quick pop into Target, and Costco cause it's right there too, getting an hour of blogging in, all before 10am while also cleaning my bathrooms that have sat there dirty for three two weeks. The truth is, I usually accomplish one or none of those things because my entire morning is ruled by a tiny dictator about to turn two that doesn't want to wear clothes. You get the idea. Sometimes, I manage to change my sheets that are grossly overdue, and pat myself on the back for a job well done. This does not mean it took me 4 hours to change my sheets, it just means it took me four hours to make the tiny dictator happy enough so that I could actually accomplish something. Anything.
6. I ate like crap all weekend.  This means that I'm back to my routine on Monday mornings of right and. Both of which OBVIOUSLY put me in an incredibly good mood. Ahem. Only to fail miserably by lunch time because I'm too exhausted from #2 and the arduous task of putting groceries away to chop a tomato or anything else healthy. So, instead, I grab a Costco sized croissant  shove it into my mouth and vow to do better tomorrow. 
7. My alarm clock is just as real as the working girl. Except it whines a little more. On the weekends, I can usually just count on plopping my kids in front of morning cartoons until they start climbing on me begging for food. On Monday morning? The alarm clock still has to go off for me too. Except my alarm clock is disguised in little tiny human beings that rule my world and need to go to school and preschool in order for me to change my sheets, remember?  Whether it's reminding the oldest to put her shirt on 15 times during the time I took to pack her lunch, fix her breakfast, and feed her brothers, or reminding the 4 year old that preschool is more fun than watching the same episode of Cat in the Hat that he's for sure seen 62 times, there are things to get done. Lots of them. And, if I don't start running the moment that first alarm goes off, there are very real consequences here too. Have you ever gone 6 months without changing your sheets? Yeah, me either.
8. I'm depressed because I have no other adult to roll my eyes at during the day or laugh with. While this may seem contradictory to #1, I really do enjoy having my husband home to laugh through the chaos with me. I mean, rolling your eyes with someone that truly understands how the chaos makes you crazy, is so comforting when all three kids are having meltdowns at once. And it's so much more fun to laugh with someone, when your 4 year old prays at mealtime that his big sister "won't be as whiney" or that "his nose won't be too itchy anymore". Plus, he cooks on the weekends. BIG bonus.
9. Mondays mean less adult interaction. I have so much to do on Mondays, that I can't even begin to think about talking to an adult on the phone, or getting together with someone. Mondays are packed with lots of crap, so you get sucked into the abyss of wiping noses, cleaning messes, and just trying to keep your head above water. And, there's not even time to complain about it on a status on FB. OK, maybe we could make time for that. But, being the lone grown up in a sea of little people can make you re-think what you were put on this earth for. Luckily, Tuesdays sometimes make up for it. If you can get your sheets changed on Monday, that is.
10. You aren't allowed to whine about your Mondays. Let's face it, the mommy wars are real. I think they're stupid, but real. Just to clear things up, this list is in no way saying I have a harder job than you working moms. In fact, I hate the mommy wars with a passion, and if anyone even tries to pick that fight with me, I will delete your comment with haste. Let's just all agree that whether you work, don't work, work part-time, work at home, etc. if kids are involved, your life is still crazy and I think you're amazing. Good? But, I guarantee you, someone will be thinking it. Probably this mom who posted this on a baby center board:
"Monday's suck.  I miss my babies so much!!  I love spending the whole weekend with my babies.  I am so jealous of you SAHM's.  Being able to spend every day with my kids would be awesome."
And, for that reason, Mondays suck as a SAHM because you aren't even allowed to say it out loud. But, I just did it. You're welcome.
Link up with us below and tell us about what makes you crazy for my Manic Mondays Blog Hop. Click on this little blue guy to add your link:
Grab the button below and add it to your post sometime this week. It doesn't have to be today, but please come join in the fun!!