Aaah. Summer. We yearn for it the last two months of the school year, but when it gets here, we're snapped back to reality. Being with our kids and entertaining them all day long is not for the weak. In fact, I would say that you have to have super human strength not to yell and lose your mind.
Some days I've got that, some days, I don't.
And, more often than not, I'm plagued by my own words. Hearing myself repeat the same 10 phrases all summer long has me wondering why I ever complained about packing those lunches. I mean, really, packing lunches wasn't that bad. Was it?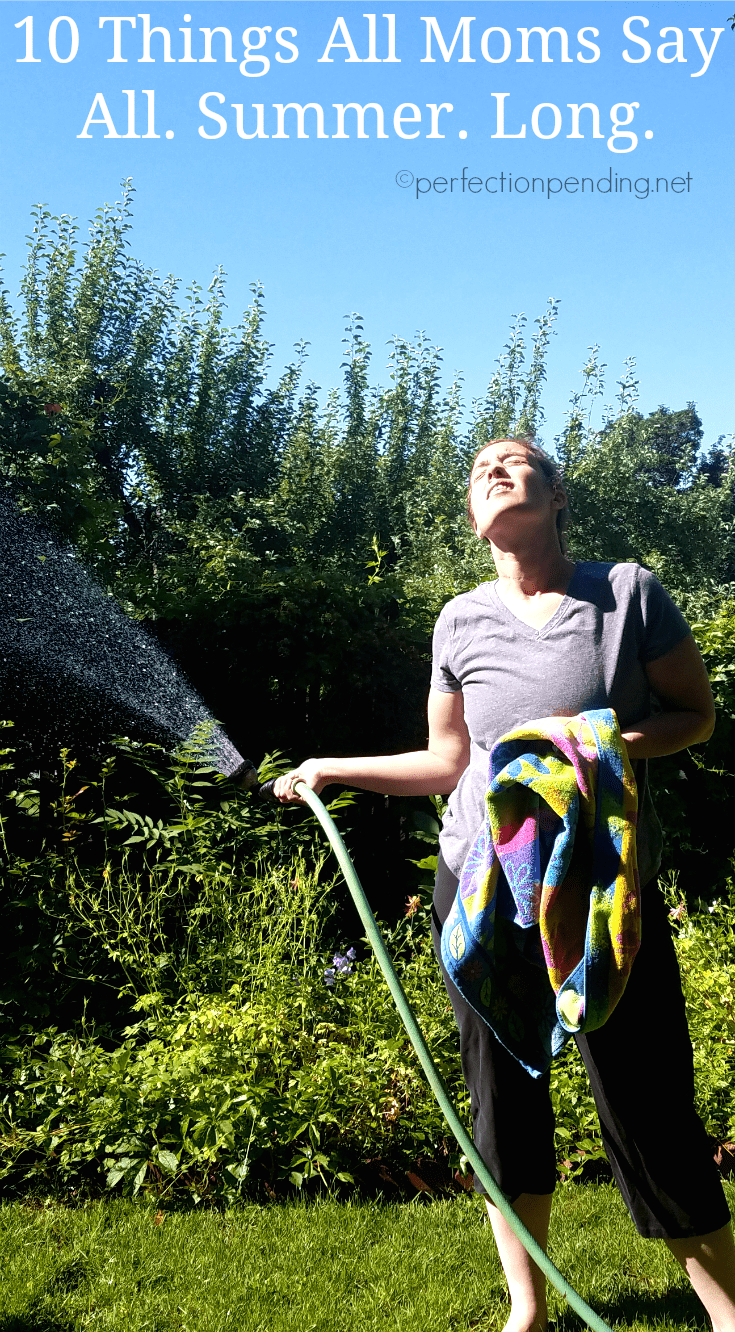 So, in no particular order, here are 10 things all moms say, all summer long.
Shut the door!!!! SHUT THE DOOR! Shut the FREAKING DOOR. It's like they don't even realize they are air conditioning the whole neighborhood, and in one phrase, I've suddenly become my father.
Why is this wet? Having three kids at home surprisingly directly correlates to how many wet things you'll find. Whether it be a toddler locking himself in the bathroom to create his own splash pad, or your 7 year old dripping what looks like the remnants of a popsicle across the entire front section of your home, there is always something wet in the summer. And, there will definitely be a mom asking, Why is this wet?
Hang up your towel!! Towels rotting on the floor for days is just a common occurrence in the summer. And, yet, we can never seem to find one when we really need it.
Who left the water hose running? Let them drink from the hose they said. It will be like a 1970's summer they said. Well, water costs a lot more in 2016 and let me just say that water hose never seems to stop running.
You will NOT spend the whole summer watching TV. Play outside. I love TV as a babysitter as much as the next mom, but how much Alvin and the Chipmunks can you listen to in the background before you lose your mind? The answer is 1/2 an episode. That's right, half an episode, and my kids are getting kicked outside to play and get sweaty.
You're hungry again? Summer means that there are suddenly 72 snacks to eat, and 48 meals. I don't get the math either, but that's how many wrappers I wander around my house picking up on any given day. So, when they come in and say I'm hungry, this will always be my response. Because my guess is they just ate 8.2 seconds ago.
It is not my job to entertain you. We've had a busy summer so far, and as far as I remember, there has been one day where we had nowhere to go and we stayed home all day. I sat my kids down and let them know that I was not a fun machine. Go create some fun on your own. I'm not running a carnival up in here.
Play with your toys! My kids have this thing called a playroom. You'd think I had given them a death sentence when I tell them to go – imagine this – play in it. Build a freaking lego house, or do something with the eleventy billion stuffed animals you claim you need. There are kids that don't even have toys.
No you can't have a friend over again. I do not have snacks to feed 12 children that wander in and out of my house every day, and you can play with your siblings. That's kind of the point of siblings. So, I'm sorry if I say no every once in a while to asking every single hour if there is a friend you can play with. We kind of created friends for you to play with. And, I don't have the patience for additional children every day.
You're bored? How about I give you a chore to do then? It's amazing how quickly the word chore can make children scatter like cockroaches when you flip the light on. Just one little word – chore – holds all the power you need this summer, parents. Use it. You can thank me later.
__________________________________________________________________________
What's one phrase you find yourself repeating all summer long? If you liked this post I have a meme to go with it to. Click on the link below to share it! Or share this post. I'll love you forever.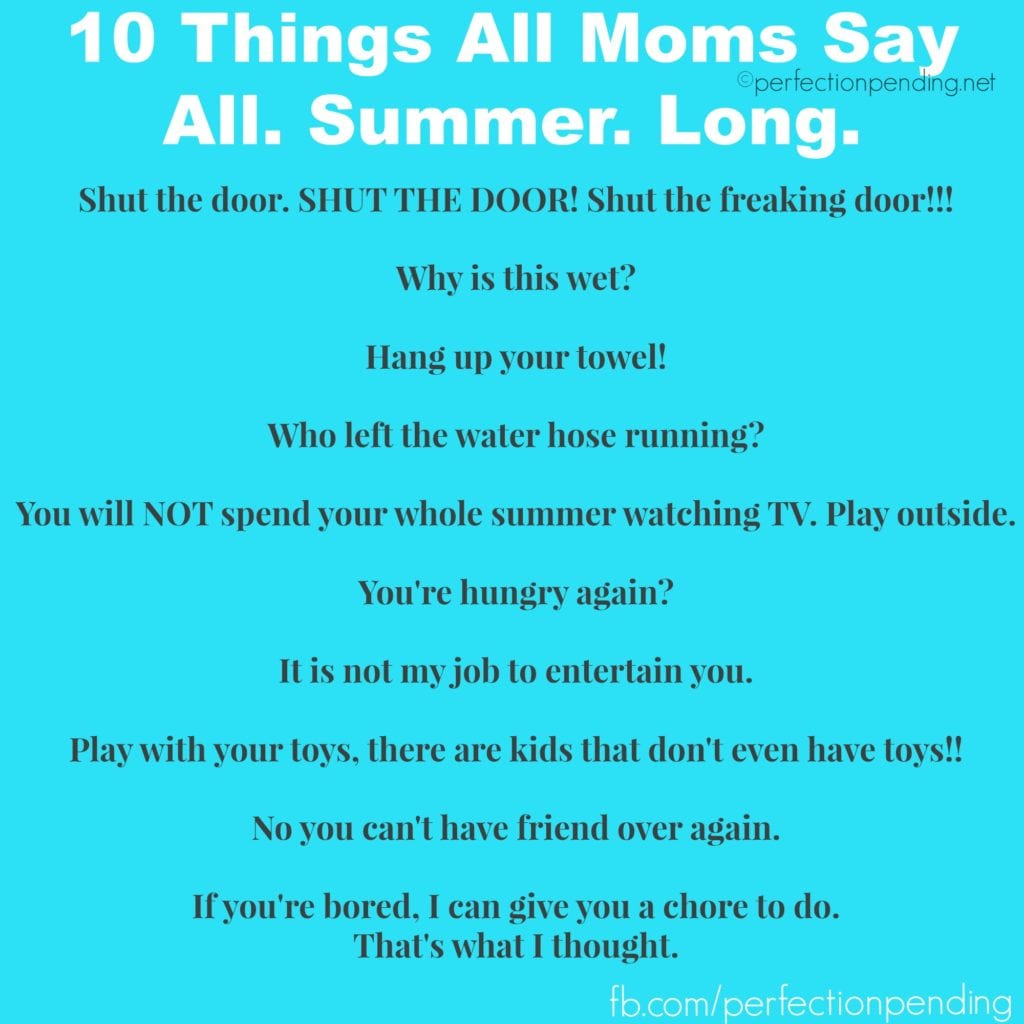 ******
Like this post? You might like these too: