My family is going camping this summer. And, while I am the first one to admit I don't love camping, I actually do like it. Especially the camping activities.
I grew up going camping as a kid, so it's not like I never had the opportunity. The number one reason I don't like it is because of the fact that I have to sleep there. All the other parts of camping I love.
I love the setting up of camp, and the campfires, and food when you've been outside all day and everything tastes good. I love spending time out in nature with my kids, and I love s'mores.
Camping is just not my favorite when it comes to sleep, but that's not camping's fault.
That's my fault. I'm a horrible sleeper no matter where I try to sleep (even in my own bed). But, what better thing to do as a family activity than to go outside in nature, and spend some quality time together.
If you're like me though and not a huge camper, that's OK. This list of camping activities is more about thinking about camping than anything.
You don't have to camp at all in fact to do these fun summer activities for kids. Dream about camping without actually going camping. Or get ready for a fun camping trip with some of these make believe camping activities.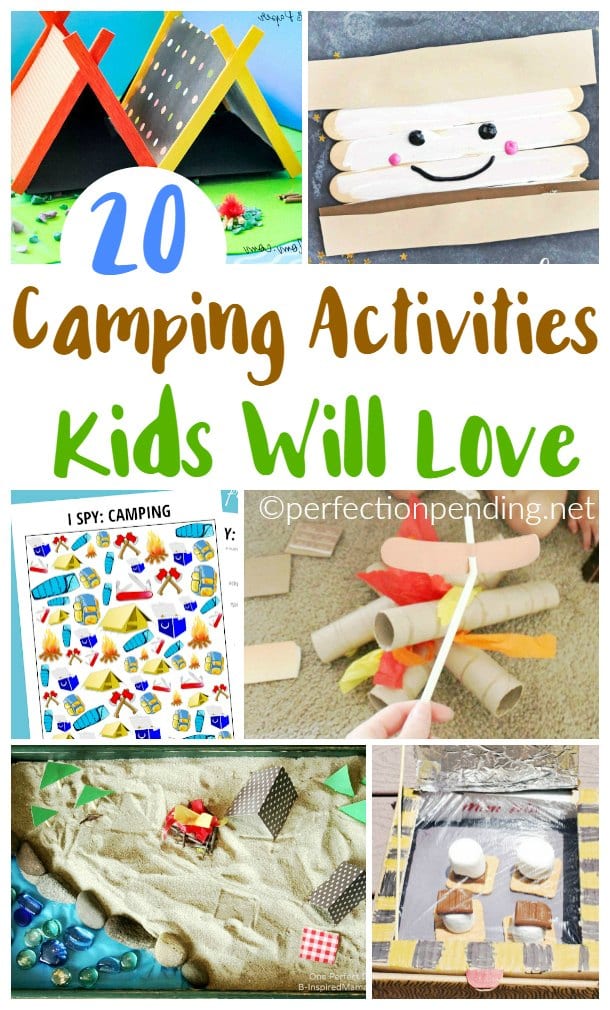 Artsy Crafty Mom – Mini Camping Set with Sticks and Paper
Gift of Curiosity – Camping Do-a-Dot Printables
B Inspired Mama – Camping Sensory Play
Glued to My Crafts – Popsicle Stick Tent Craft
And Next Comes L – Camping Themed iSpy Printable
Arts n Crackers – Play Campfire with Smores and Hot Dogs Activity
Pre-K Pages – Dramatic Play Camping
There's Just One Mommy – Duct Tape Sit Upon Craft
Desert Chica – DIY Solar Oven Smores Experiment
Glued to My Crafts – Campfire Handprint Craft
Play Dough to Plato – Camping Story Stones
Gluesticks and Gumdrops – Camping Bingo Printable
Pink Oatmeal – Camping Yoga
Jadroo – Camping Sensory Bin
Glued to My Crafts – Popsicle Stick Smores Craft
Crafts by Amanda – Colorful Walking Stick
The Craft Train – Small World Camping Set
There's Just One Mommy – Doll-Sized Camp Fire
Where Imagination Grows – Outdoor Pretend Play Camping
Pre-K Pages – DIY Lantern Craft for Dramatic Play Camping
Do you love camping? Hate it? Are you going camping this summer? Let me know in the comments!