These adorable Meringue Bird's Nest Cupcakes make the cutest cupcakes for Spring or Easter. This Easy recipe is so much for fun kids, and you can make these fun robin's nests out of meringue and buttercream and put them on top of your favorite chocolate or vanilla cupcakes.
After a long winter, I don't know about you, but I'm dying for all things Spring and Easter by the time February rolls around. And, even though I know we still have a long way to go until Spring here in Utah, I still get excited about Spring activities, Spring treats, and Easter ideas.
Since I'm dreaming of Spring, I thought it would be fun to make these easy Meringue Bird's Nest cupcakes to keep us looking forward to warmer temperatures.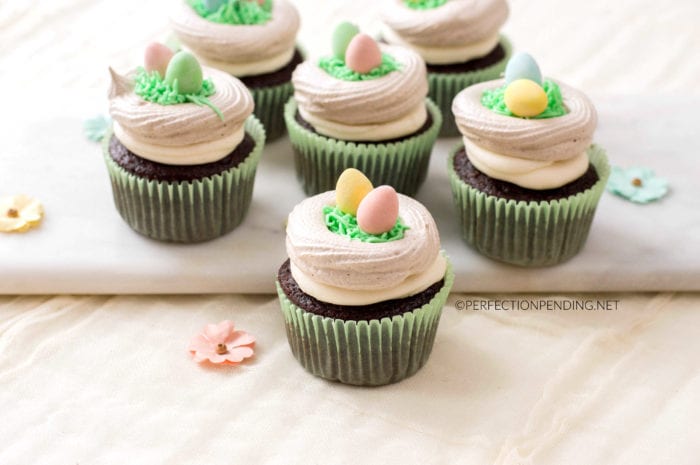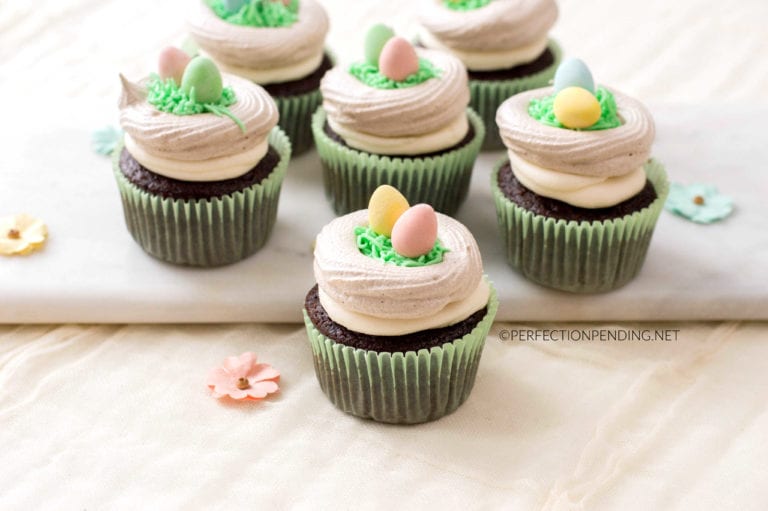 This post contains Amazon affiliate links. If you click on a link, I may receive a commission. See my full disclosure policy here.
One thing I love about this cupcake recipe is that you can adapt it to your own tastes. Don't love chocolate cupcakes? That's fine! Use vanilla. Want to make chocolate meringue nests – you can do that! Want a different buttercream? You can do that too. Seriously these Bird's Nest cupcakes are really up to your own creative interpretation. And, I love that.
And, aren't they adorable?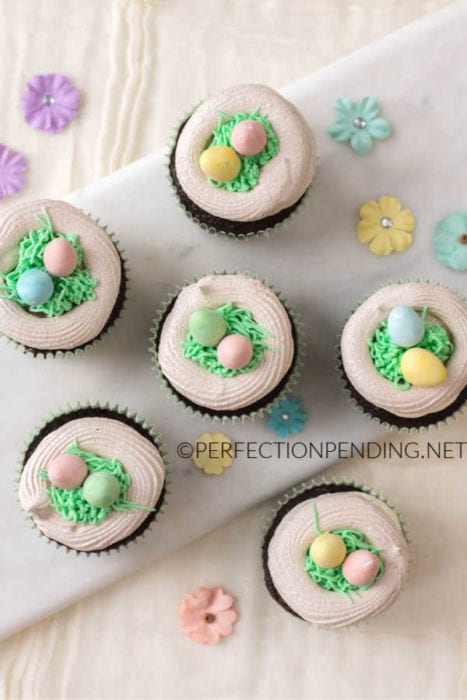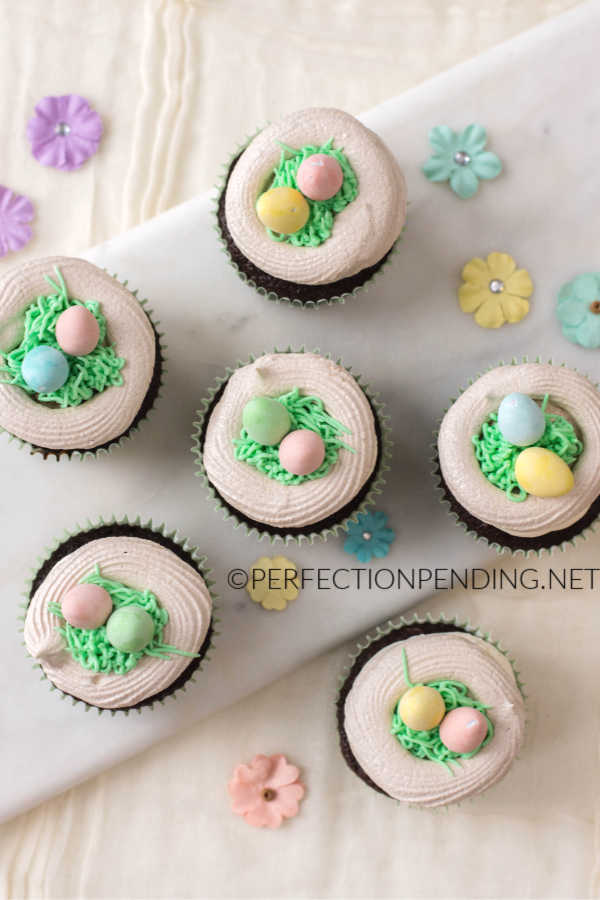 So here's what you need for your Meringue Bird's Nest Cupcakes:
12 of your favorite chocolate (or vanilla) cupcakes
Note: Ensure that once you bake your cupcakes, you allow them to cool completely before decorating.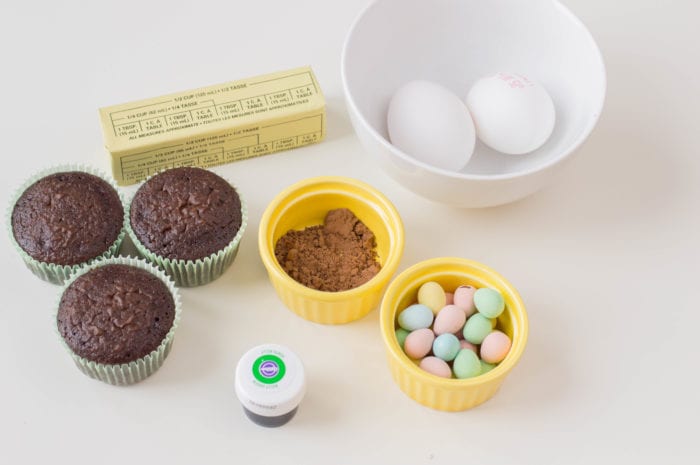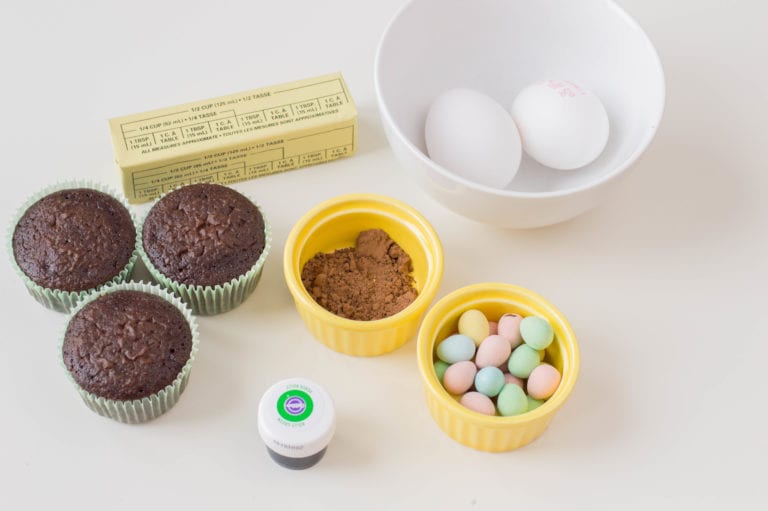 For the meringue:
2 egg yolks at room temperature
¼ tsp lemon juice
½ cup granulated sugar
1 tsp cocoa powder
For the buttercream:
1 stick unsalted butter, softened
2 cups icing sugar
1-2 tbsp milk
Yields: One dozen decorated cupcakes
Directions for Meringue Bird's Nest Cupcakes
To make the meringue nests:
Line a baking sheet with parchment paper and preheat your oven to 200 degrees F. Using a stand electric mixer, start beating egg yolk on slow speed. Once the eggs start to bubble, add lemon juice.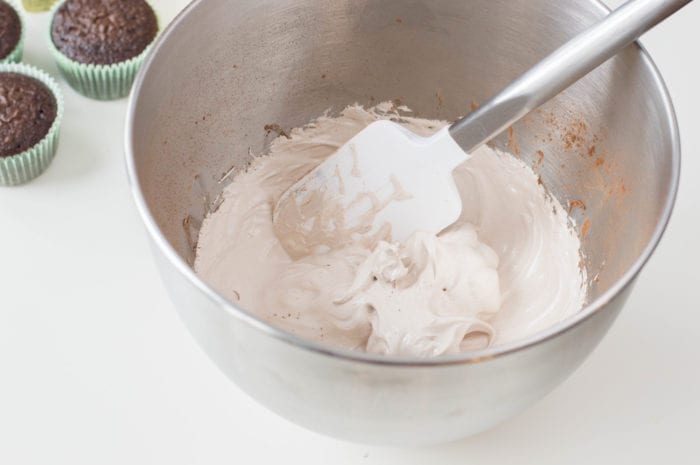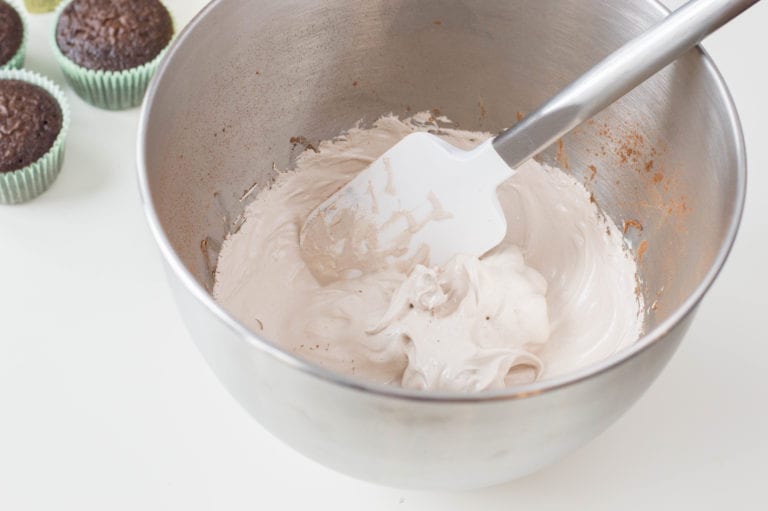 Increase the speed to medium and slowly start adding granulated sugar. Increase the speed to high and continue mixing until mixture is white. Add cocoa powder. Continue beating meringue mixture, for about another 10 minutes. Once it forms stiff peaks, it is ready for piping. Scoop the meringue in a piping bag with Wilton tip #32 and pipe out 1.5 inch discs on your lined baking sheet.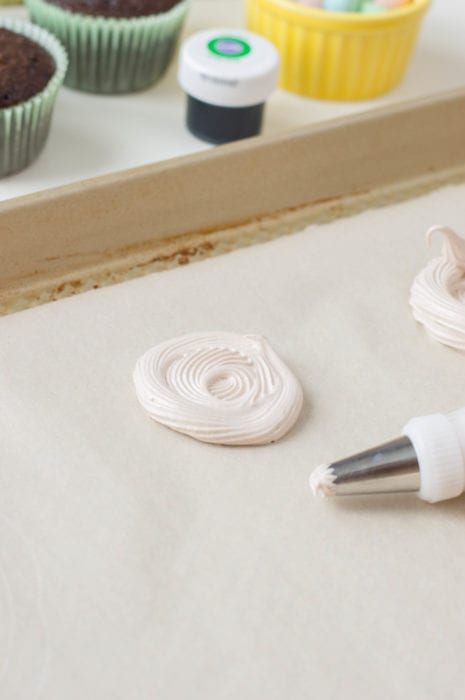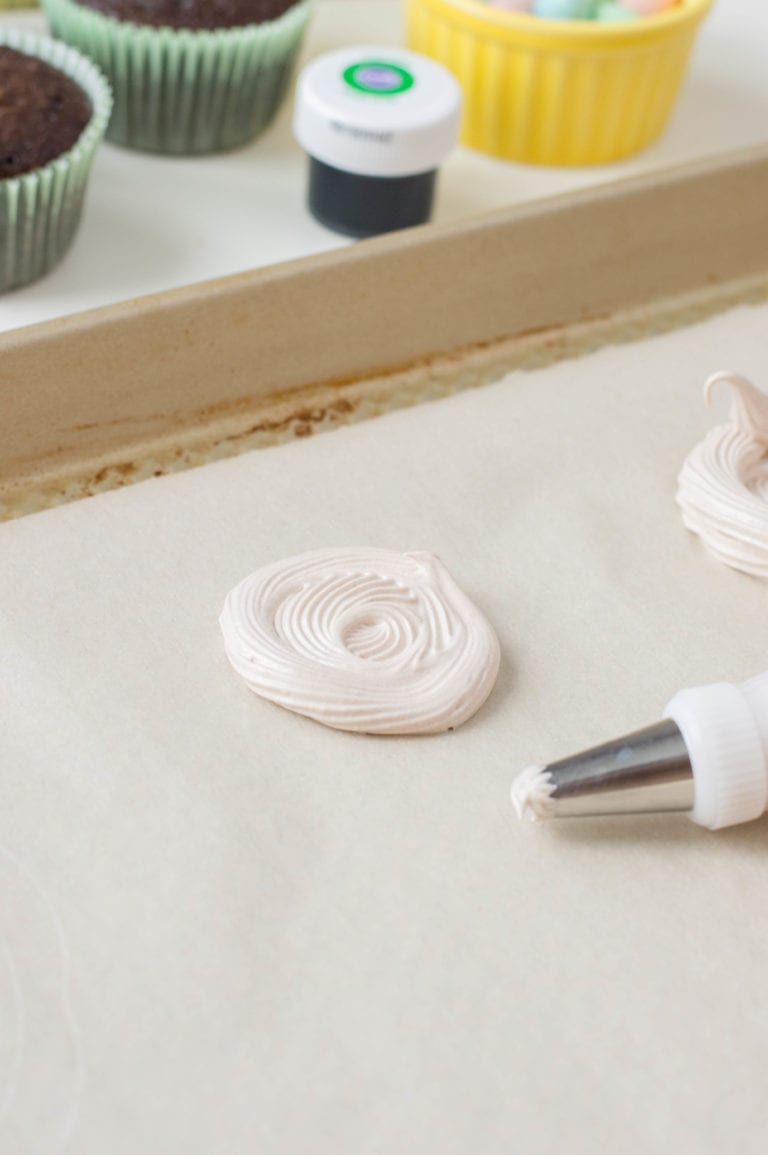 Pipe out a second layer of meringue on each disc, just around the circumference. This will give your meringue cookies a space in the middle.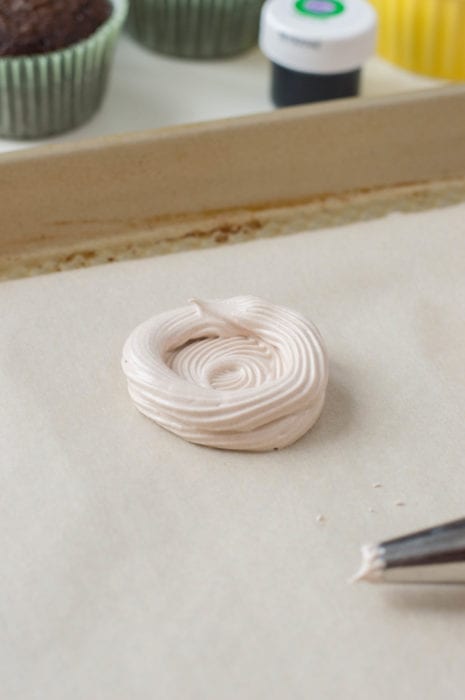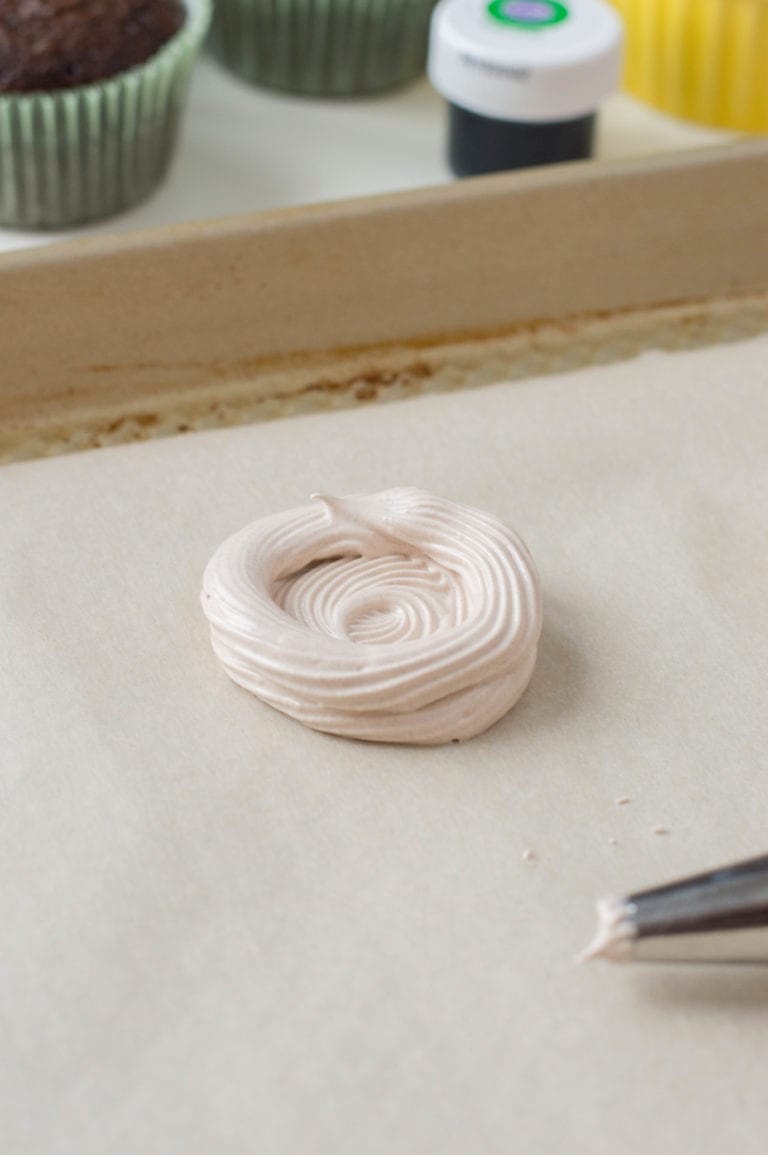 Bake for 2 hours. Once the meringue has baked for two hours, turn off your oven's heat and keep them in the oven for 35 minutes. Once the time is up, remove from the oven and allow to cool.
For the buttercream and decorating:
Using an electric mixer, beat together softened butter, icing sugar, and milk. Once the ingredients are smooth and well-combined, scoop ¾ of the buttercream mixture into your piping bag with Wilton tip #10. Frost each cupcake with the white buttercream.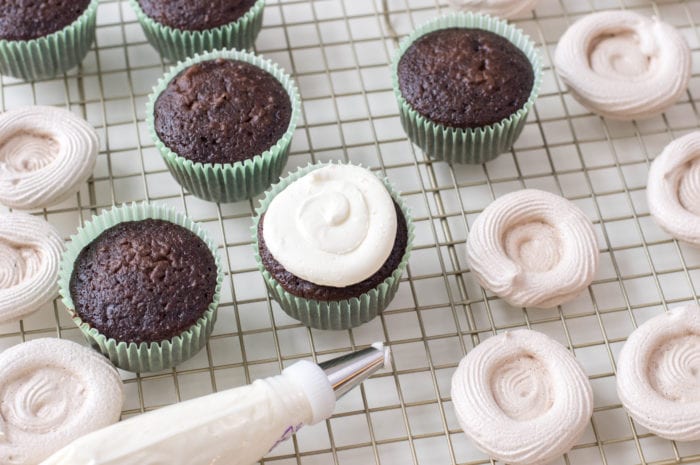 Add a drop of green gel food coloring to the remaining buttercream and mix until tinted. Scoop the green buttercream into your piping bag with Wilton #133 tip attached. Pipe out buttercream in grass-like form into each meringue nest.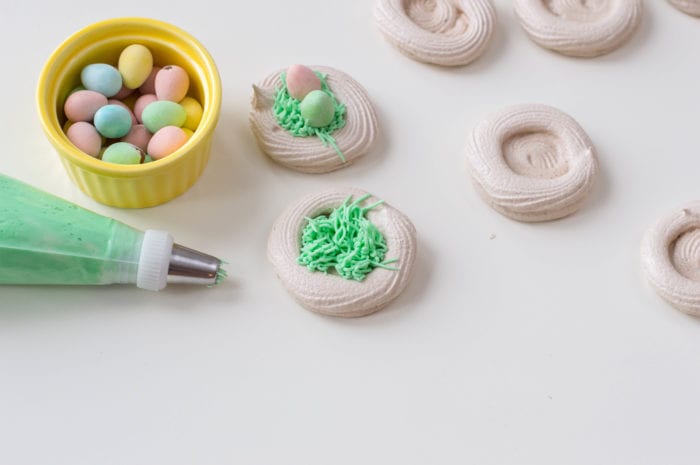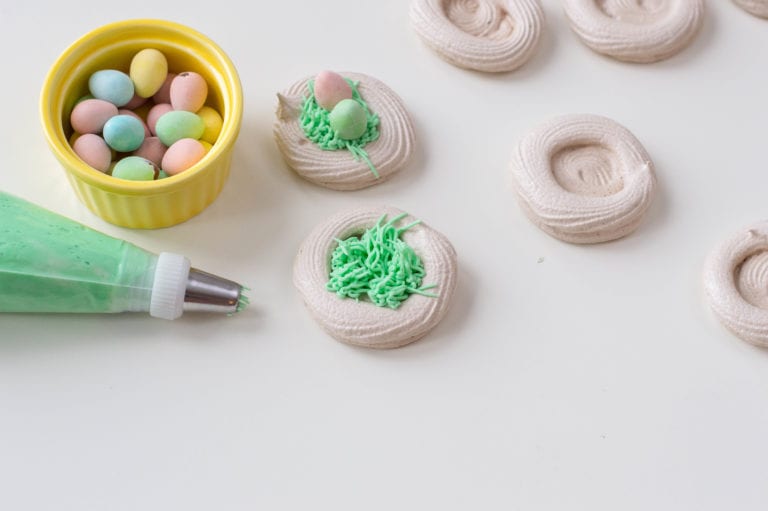 Place 2 candy eggs into each meringue nest. Perch one meringue nest onto each cupcake. Aren't these fun cupcakes just the cutest? I love them.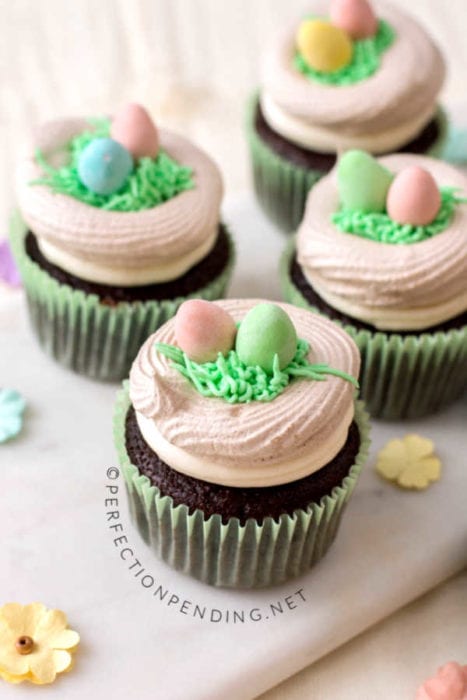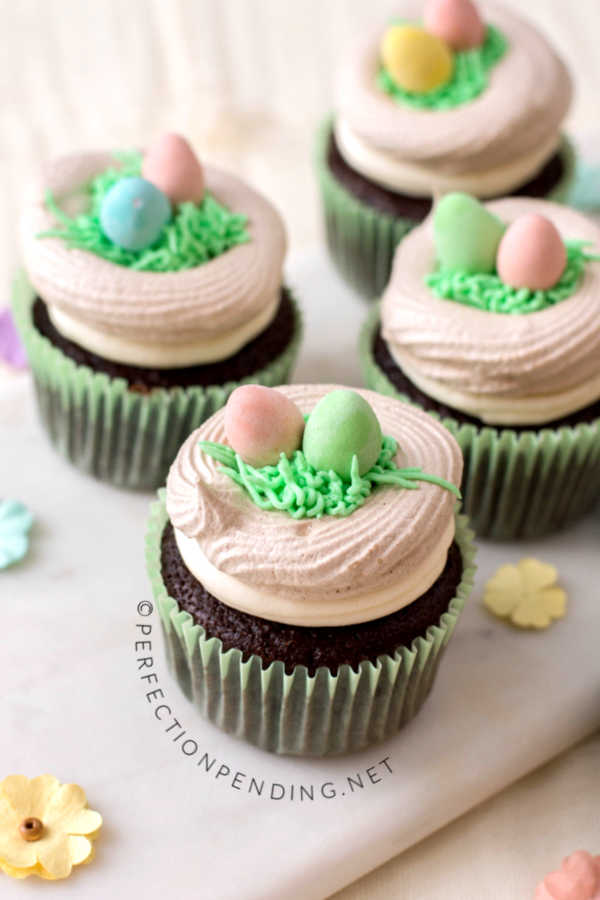 MORE SPRING AND EASTER IDEAS YOU MIGHT LIKE: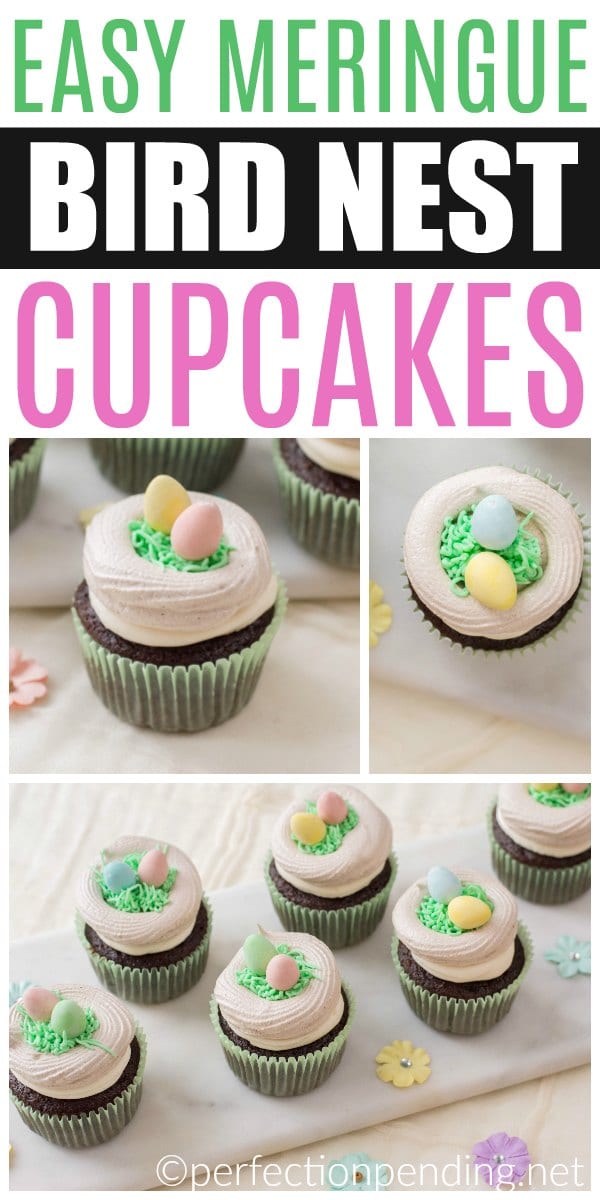 YOU'LL ALSO LOVE THESE OTHER KID IDEAS FOR WHEN THE WEATHER WARMS UP:
MY FAVORITE RESOURCES FOR ALL PARENTS:
This post contains Amazon affiliate links. If you click on a link, I may receive a commission. See my full disclosure policy here.
CAN YOU RELATE TO THIS POST? BE SURE TO GET MY BOOK, MOM LIFE: PERFECTION PENDING. IT'S A HUMOROUS LOOK AT PARENTING TODAY THAT'LL HAVE YOU NODDING YOUR HEAD, LAUGHING, AND REALIZING THAT YOU AREN'T ALONE.