It's always music to a mother's ears when we hear a thank-you from our kids. Whether it's for a homemade meal, or a for helping them with their homework, thank-you's can go a long way. But, every mother knows we don't hear them often enough.
I mean, after all, we did give them life and provide them daily with food and shelter and all that, but, what about those things moms do for their kids day in and day out that kids don't even realize they owe us a big huge fat thank you for? Trust me, there are plenty of those, too. Your kids should thank you – and my kids should thank me.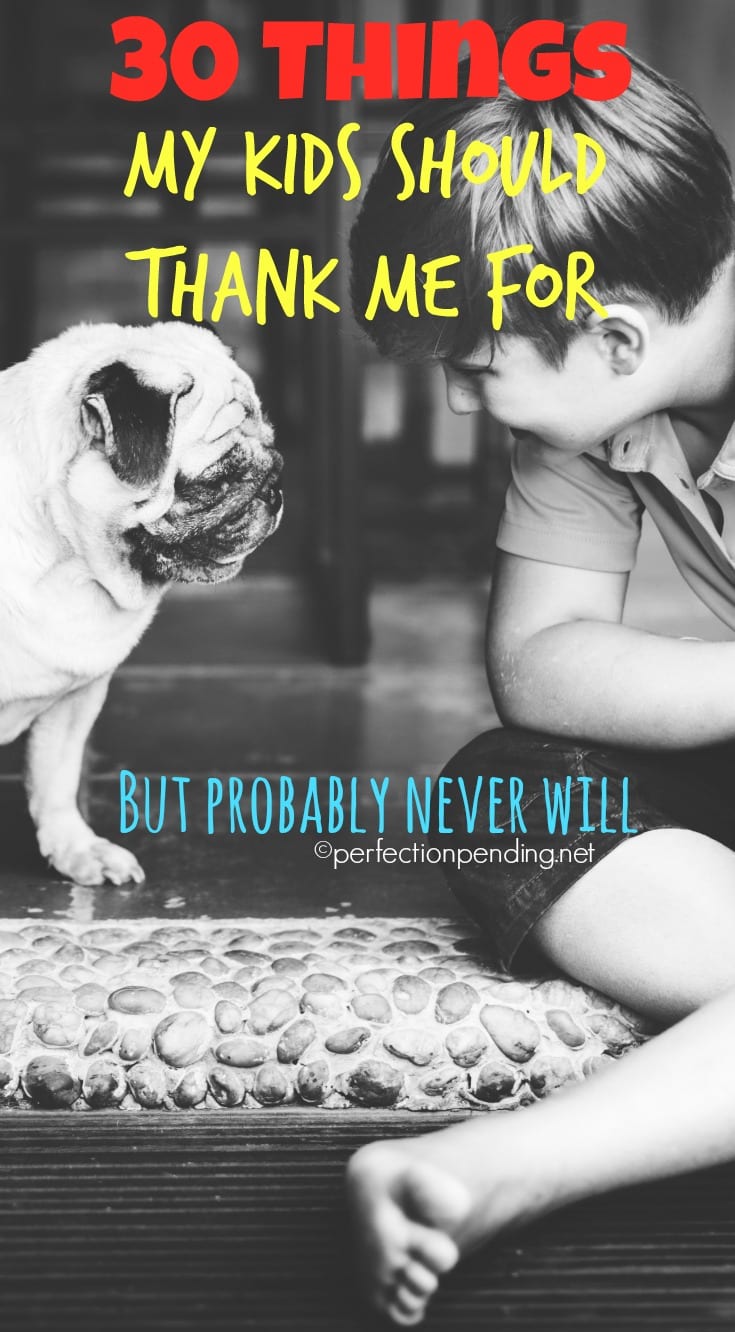 Here are 30 things my kids should thank me for, but probably never will.
For that time I didn't let my four year old leave the house dressed in all orange looking like a traffic cone.
For all the times I cleaned up their bodily fluids.
Apologizing on their behalf with they are rude to strangers.
Getting them out of playing with that annoying kid down the street.
Teaching them the value of hard work by making them do chores without an allowance.
For teaching them to respect their elders by visiting an older relative in the nursing home every week.
Picking up my throw pillows 51 times out of the 52 times that they take them off the couch and throw them on the floor.
Letting them use me as a human tissue, pillow, and footrest.
For always having their favorite snacks in the house.
Not embarrassing them in front of the boy they like.
Biting my tongue when I want to say, "I TOLD YOU SO." when they get hurt even though I warned them not to do whatever it is they did anyway.
Helping them not look homeless when they leave the house.
Teaching them to quit grabbing their junk in public so that they can hopefully get married one day.
Taking them their homework when they really don't deserve it after screaming at you that morning.
Listening to the longest recap ever of their favorite show or video game.
Helping them make 37 wardrobe changes a day when they are toddlers.
For not laughing when they are sad over something ridiculous.
For not yelling all the times they totally deserved to be yelled at.
Teaching them that kindness matters.
Forcing them to wear jackets and coats when they didn't want to.
For forcing them to talk to strangers when they are terrified so they learn some social skills.
Making them put down their phone and make eye contact with real humans so they can get a job one day.
Letting them choose the movie sometimes or the restaurant.
For not gagging when they sneeze in my face.
Forgiving them when their germ-infested bodies get me sick after snuggles with fevers.
Forcing them to spend time with the family instead of with their friends.
For being their backup brain when they can't seem to find their own.
Letting them have a family pet that they don't take care of.
For saying no sometimes so they aren't spoiled and for pushing them when they are scared.
For being there day in and day out, no matter what.
Because moms really do look out for us like no one else can. And, there's that saying that "They'll thank me later." Well, let's hope that true because as a mom to three kids that sometimes forget to say thanks, I'm counting on that.
More on Real Parenting:
My Must-Have Cleaning Resources:
This post contains Amazon affiliate links. If you click on a link, I may receive a commission. See my full disclosure policy here.
You'll Also Love:
You're welcome. Feel free to pin this after you're done laughing. And, if you liked this post, get my book, Mom Life: Perfection Pending which is a humorous look at parenting today, and includes this real mom's guide to a clean house and SO MUCH MORE.