We are all looking for positive parenting solutions, and we have a unique way to motivate good behavior and reward it, using a marble jar. This works great for preschoolers and elementary aged kids.
How to Use a Marble Jar to Reward Good Behavior In Kids
Most parents can remember being in elementary school and moving a paperclip labeled with their name up and down a behavior chart. It might have been in the shape of a traffic light or a banner of color blocks.
The traditional idea was to encourage positive behavior and discourage negative behavior. Instead, behavior charts publicly shame children, and many parents and schools have left them behind.
Rather than measure your child's behavior with a context-less chart, build your child's sense of initiative and encourage those positive behaviors with a behavior marble jar.
First, Create the Behavior Marble Jar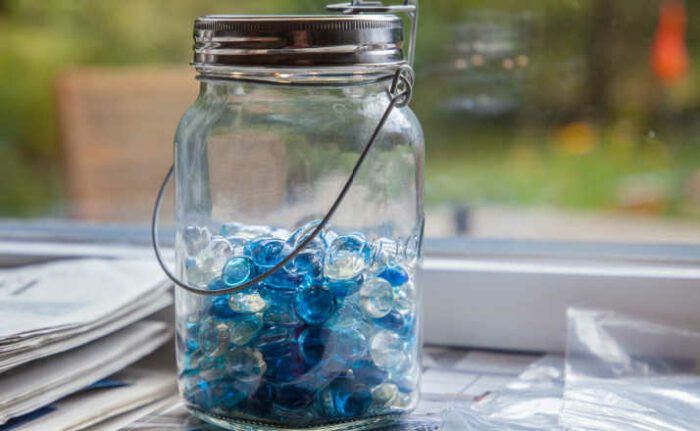 This post contains Amazon affiliate links. If you click on a link, I may receive a commission. See my full disclosure policy here.
Creating a behavior marble jar requires little more than a bag of marbles and a few glass jars from your local dollar store or some like these from Amazon.
You could even use a large glass fish bowl for the majority of the marbles, and then move them to a smaller jar as they earn the reward. Each child should have their own jar, too.
Small clear vases or even clear candle holders are also perfect for this.
I even found this adorable marble jar reward system on Amazon that includes everything you need!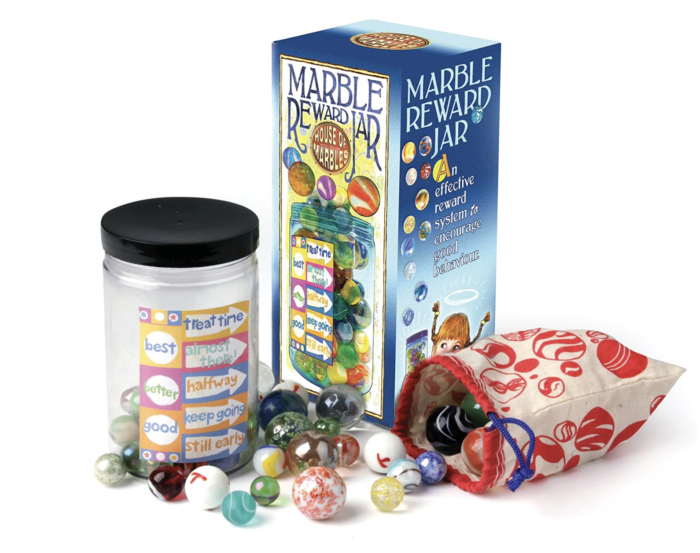 So, Here's How to Use the Marble Jar To Reward Positive Behavior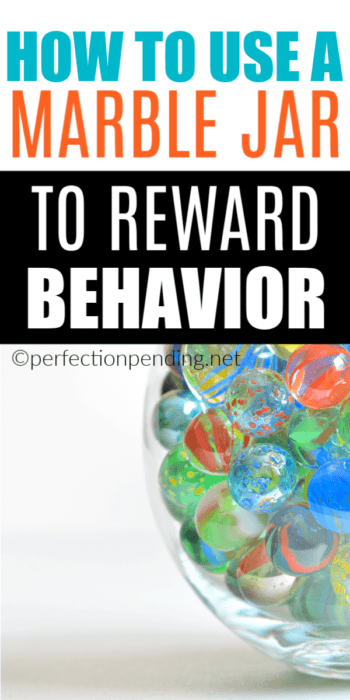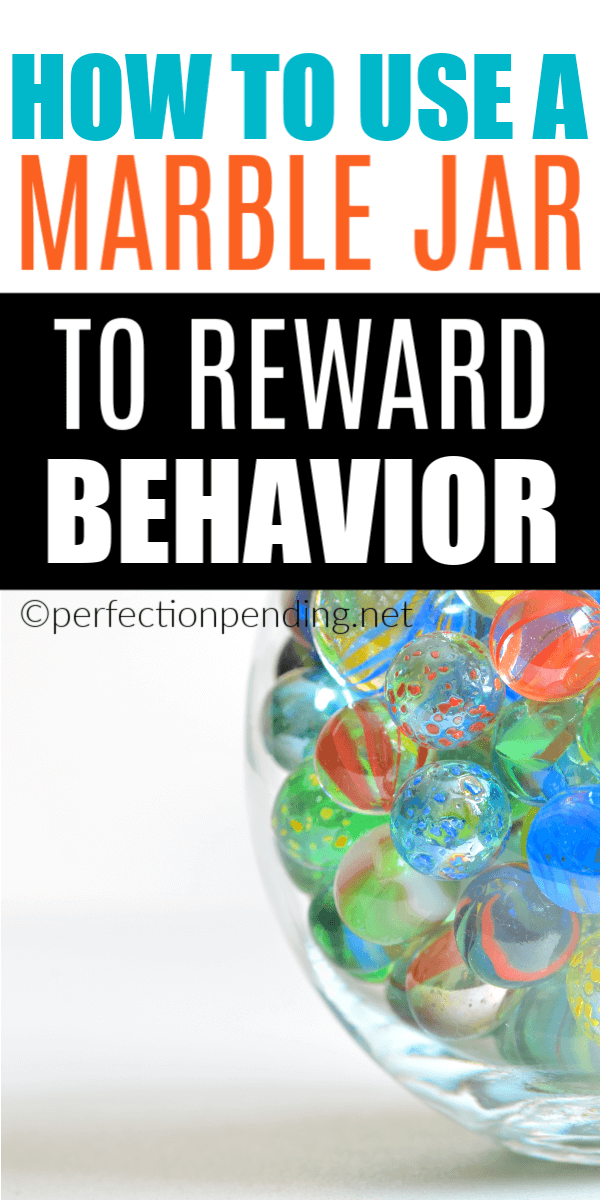 A behavior marble jar is all about positive reinforcement, so marbles go in and don't come back out until the end of the day. For preschoolers, just getting up for the day could earn your child a few marbles. This helps symbolize that we all start off each day with a fresh start and a positive outlook.
The best part is that you get to determine how many marbles your child will receive for their different positive behavior.
As your child practices positive behaviors, they earn marbles that they can then add to their marble jar.
Watching their little jar fill up throughout the day is half the fun and helps encourage your child to continue practicing those positive behaviors and earn rewards.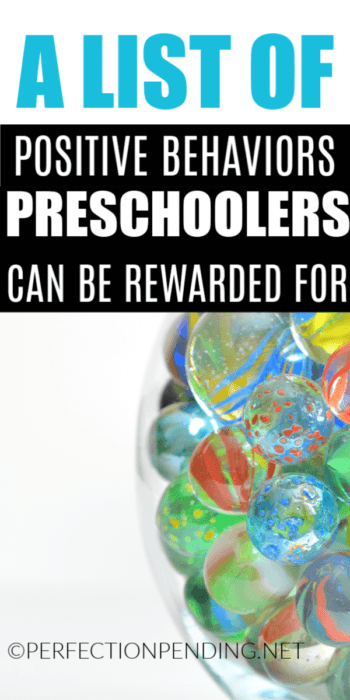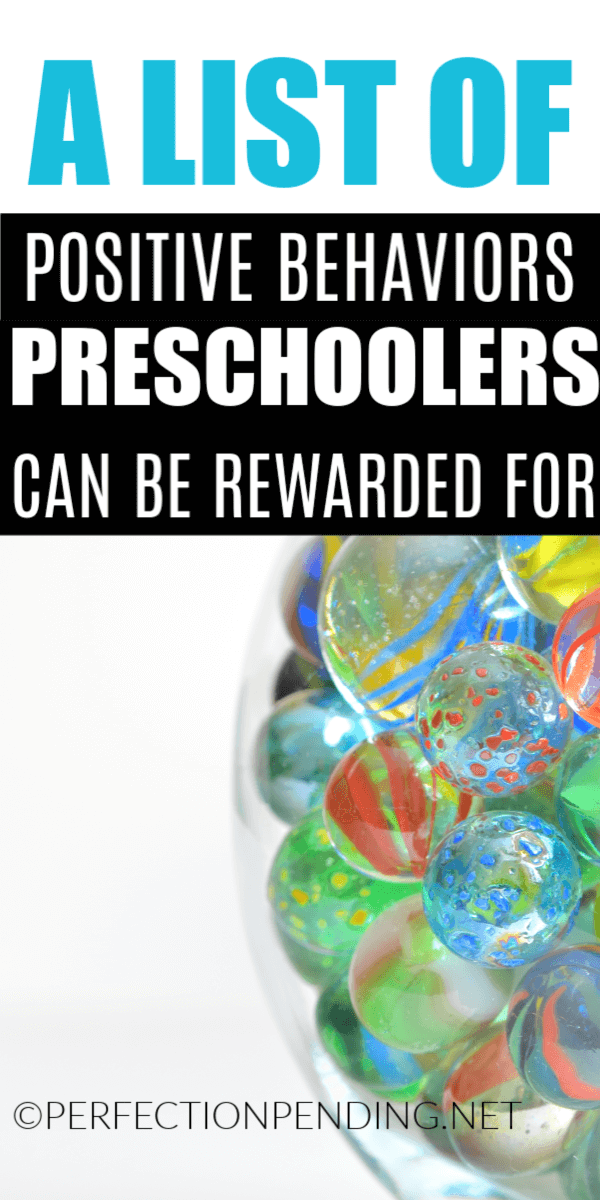 Here are a few examples of Positive Behaviors to Reward for Preschoolers
I remembered to brush my teeth after breakfast
I put my things away
I was kind to my brother/sister
I helped a friend at preschool today
I was kind to someone who needed it on the playground
I put away my shoes
I helped set the table for dinner
I helped mommy vacuum or do laundry
I made my own bed
Here are a few examples of Positive Behaviors to Reward For Elementary Age Kids
I put out all my things the night before school
I helped put away my own laundry
I helped make dinner for the family tonight
I finished my homework without being asked
I was kind to the new kid in class
I helped my brother/sister with a difficult task at home
I read to my brother/sister
I shared my toys with my brother/sister
I waited patiently for mom/dad's attention
I tidied my room without being asked
I wiped down the table after meal time
I took out the trash
Create a Reward When The Marble Jar Is Filled (or when they reach their goal)
The marble jar isn't about earning a specific amount of marbles before a reward can be received (unless you think a goal will motivate your child). It's best to set a reward that can be earned daily and the quantity increased or decreased.
Parents can create a reward tied to dessert where the amount of marbles earned that day equals the number of pieces of candy. Or if you don't like using food as a reward, you can reward with a special activity with mom or dad.
Your child's reward might be minutes of free play before bedtime where the number of minutes equals the number of marbles.
Never Use The Marble Jar As A Form of Punishment
The most important thing about using a behavior marble jar to encourage your child's initiative is to focus on rewarding those positive behaviors you want your child to repeat without using the jar as a form of punishment.
That's why I think it's so important that marbles aren't taken out of the jar. But you can always remind them when they make a bad choice, that if they had made a different choice, they would have received a marble in the marble jar.
This method allows children to be rewarded for their achievements while learning that making mistakes does not detract from the progress they've made.
MORE POSITIVE PARENTING IDEAS YOU MIGHT LIKE:
YOU'LL ALSO LOVE THESE OTHER KID IDEAS:
MY FAVORITE RESOURCES FOR ALL PARENTS:
This post contains Amazon affiliate links. If you click on a link, I may receive a commission. See my full disclosure policy here.
CAN YOU RELATE TO THIS POST? BE SURE TO GET MY BOOK, MOM LIFE: PERFECTION PENDING. IT'S A HUMOROUS LOOK AT PARENTING TODAY THAT'LL HAVE YOU NODDING YOUR HEAD, LAUGHING, AND REALIZING THAT YOU AREN'T ALONE.