Do real moms really manage to clean baseboards and dust ceiling fans weekly? The answer is – come over to my clean house and see for yourself. Or no. The answer is no. Since I live in real reality (one with lots of humor), and not Pinterest reality, I decided to create a cleaning guide all moms can get behind.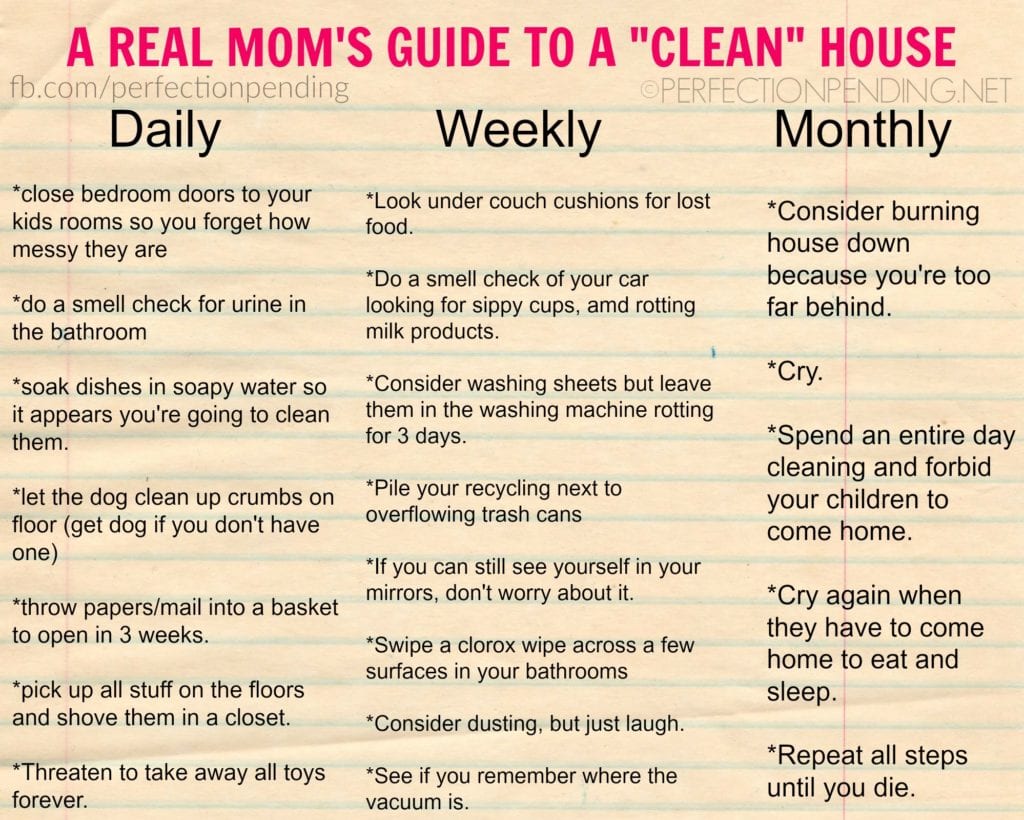 A Real Mom's Guide to a Clean House (of sorts)
Recently, I had a repairman pull my oven out from my wall, and discovered a hidden treasure trove of dust balls, crusty hardened peas from the pea explosion of 2014, and a bracelet I bought for my daughter on a vacation to Yellowstone. I thought to myself, "Hey! That's cleaner than my air vents in my floor where all kinds of mysteries lie."
I've lived in my house three and a half years and I've never cleaned behind the oven. But, I'm not ashamed of my mediocrity anymore. I see those cute cleaning schedules to help you stay on top of your chores in 20 minutes a day or less, and I'll raise you a caked-on-stovetop and a fridge-with-too-many-fingerprints-for-a-crime-scene-unit.
[click_to_tweet tweet="Here's the cleaning guide that any real mom can actually follow! Check it out via @perfectpending" quote="Here's the cleaning guide that any real mom can actually follow!"]
So let's get to that cleaning schedule that's actually doable. For your convenience, I've broken it up into a schedule that is manageable.
DAILY:
close bedroom doors to your kids' rooms so you forget how messy they are
do a smell check for urine in the bathroom
soak dishes in soapy water so it appears you're going to clean them.
let the dog clean up crumbs on the floor (get a dog if you don't have one)
throw papers/mail into a basket to open in 3 weeks
pick up all stuff on the floors and shove them in a closet
Threaten to take away all toys forever
WEEKLY:
Look under couch cushions for lost food
Do a smell check of your car looking for sippy cups, and rotting milk products
Consider washing sheets but leave them in the washing machine rotting for 3 days
Pile your recycling next to overflowing trash cans
If you can still see yourself in your mirrors, don't worry about cleaning them
Swipe a Cloroxx wipe across a few surfaces in your bathroom
Consider dusting. Just laugh instead
See if you remember where your vacuum is
MONTHLY:
Consider burning house down because you're too far behind
Cry
Spend an entire day cleaning and forbid your children to come home
Cry again when they have to come home to eat and sleep
Repeat all steps until you die
Oh, and so you can remember it all easier, here's a handy little image:

More on Clean Houses:
Want actual cleaning tips? Then these first links are for you.
But if you want funny reading that's related to keeping it real and keeping your house clean, here you go:
My Must-Have Cleaning Resources:
This post contains Amazon affiliate links. If you click on a link, I may receive a commission. See my full disclosure policy here.
You'll Also Love:
13 Memes That Perfectly Describe the Struggle To Keep Your House Clean When You Have Kids
How to Clean for House Guests (A Practical Guide)
Chore Zones: A Way to get LITTLE kids to clean up their BIG messes
A Real Mom's Guide To Surviving Summer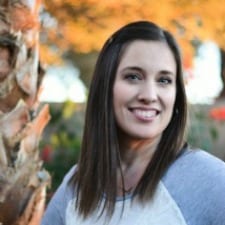 Meredith Ethington is a freelance writer and has been blogging about real life parenting for about 10 years. She's excited to announce her new book Mom Life: Perfection Pending. She loves encouraging moms to be themselves, and embrace the messy parts of parenting. She has been called one of the funniest parents to follow on FB and is a staff writer for Scary Mommy and a regular contributor at Babble. If you'd like to hire Meredith to write for your site, please contact her at fakingpictureperfect@gmail.com. And make sure to sign up for her newsletter here so you don't miss a thing.
You're welcome. Feel free to pin this after you're done laughing. And, if you liked this post, get my book, Mom Life: Perfection Pending which is a humorous look at parenting today, and includes this real mom's guide to a clean house and SO MUCH MORE.