As much as I'd like to admit that I'm a crazy organized person, there is a closet or ten in my house that proves otherwise. In addition to those closets, there are piles of paper on literally every surface, and a cabinet full of scrapbooking supplies I never use. Getting organized is something I'd like to do… one day. When I'm not too busy using humor to cope. Or making sarcastically awesome pins. You're welcome.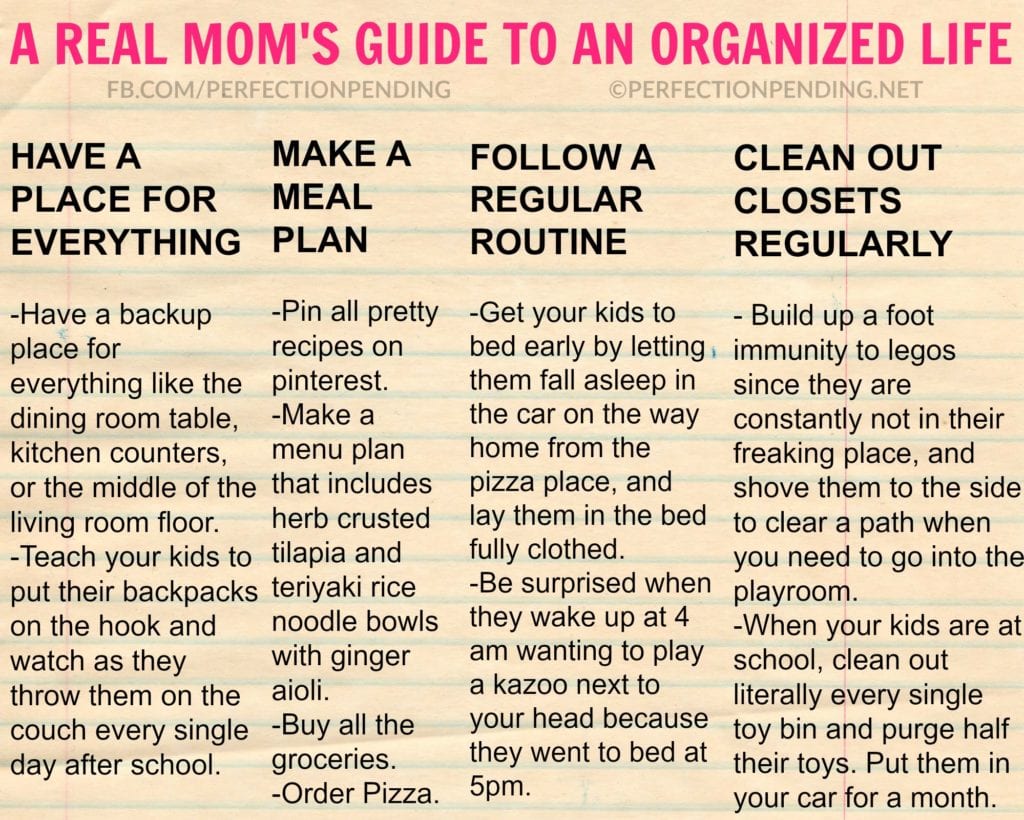 The Real Mom's Guide To Getting Organized
I want to be organized. I really, REALLY do. But, real moms forget their kids at school. Not me, of course, other real moms. Real moms also forget that it's career day at preschool, and run around in a hot mess of frazzled scrambling at the last minute.
So, I thought I'd share my "guide" to getting your life organized. Maybe it will work for you, or maybe you'll never listen to a thing I have to say ever again. No hard feelings.
Make sure you have a place for everything and that everything has a place. Do this by threatening on a regular basis to donate all their toys to children who help their mothers clean the bathrooms. Have a backup place for everything like the dining room table, kitchen counters, or the middle of the living room floor. Teach your kids to put their backpacks on the hook you hung in your mudroom from that cute Pinterest tutorial, and watch as they throw them on the couch every single day after school.
Meal Plan. Pin all pretty recipes on Pinterest. Make a menu plan that includes herb crusted tilapia and teriyaki rice noodle bowls with ginger aioli. Buy all the groceries. For four days in a row, fix hot dogs, cereal, mac and cheese, and chicken nuggets for dinner. Finally mustered up the energy to cook a real meal and realize all your expensive ingredients have now turned to rotted mush in the bottom drawer of your fridge. Order Pizza.
Follow a routine. Get everyone an alarm clock. Trust your seven-year-old to set it before school the next day, and then jolt awake at midnight when it goes off on full blast, static mode. Get your kids to bed earlier by letting them fall asleep in the car on the way home from the pizza place, and carefully lay them in the bed fully clothed. Be surprised when they wake up at 4 am wanting to play the kazoo next to your head because they went to bed at 5 pm the night before.
Clean out closets and bedrooms regularly. Deal with the clutter for 364 days of the year by swearing under your breath every time you have to get something out of a closet or open your child's bedroom door. Build up a foot immunity to legos since they are constantly not in their freaking place, and shove them to the side to clear a path when you need to go into the playroom. On the 365th day, when your kids are at school, clean out literally every single toy bin and purge half their toys. Put them in your car for a month so your kids can find them and cry that you are donating their very most favorite toy in the entire world.
Organize Papers. Kids create a lot of paperwork, so create an elaborate file folder by school grade year complete with your child's picture on each file folder so that you can keep things organized. Never put anything in it. Instead, leave papers on your kitchen counter until your three-year-old knocks his drink over and ruins half of it. Quickly act like you are sad that you have to throw it away. Take the rest to a safe resting place in another room until you can throw it away later. Avoid eye contact when your child asks where his certificate from the science fair went.
Keep Your Car Clean. Do this by yelling at everyone to carry everything in every time you get home. A week later, notice a horrifying smell, and realize they did not listen to your advice. Pay lots of money to get your car professionally detailed and swear they can never eat or drink in the car again. As soon as someone cries, hand food or drinks back to them. Get faint whiffs of the rotting milk your child left in the back seat until you sell your car.
Get a planner. Try for a while to keep things on your phone, but realize that you haven't been getting your alerts since you never do the updates. Forget important dates and events and apologize to your children weekly. Accept that you're a hot mess mom and probably always will be. Finally, get a planner to get your life organized. Carry it with you everywhere. No seriously, you really need to do this one.
This post contains affiliate links. See my full disclosure here.
To stop the madness of trying to keep my life organized and always failing, I'm trying something new this year. I got myself an Erin Condren planner and I'm in love. I've never used a paper planner. Have you ever had one? It's BEAUTIFUL and I'm excited to organize my life as a mom and my life as a blogger and freelance writer. I desperately need this.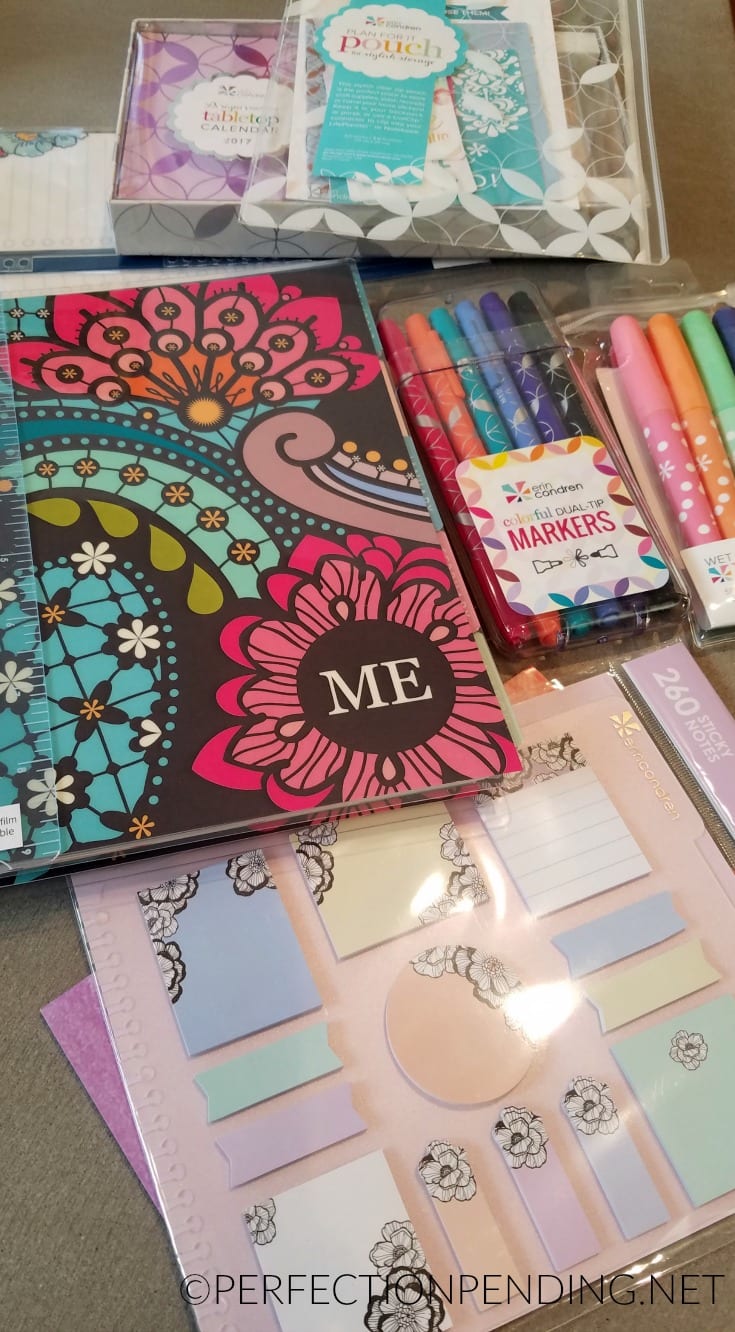 When I got my package of goodies, I may have squealed and swatted my ten year old's hand away as she attempted to grab my brand new dual tip markers. There is something about pretty post it notes and planners that really speak to my Virgo personality.

The best part is that you can use my affiliate link to get $10 off an order. And, this thing is worth every penny so far. I'm working on getting this month all planned out life wise and bblog-wise and I'm dying about how beautiful it is! I love how you can customize so many things right down to the color of the coils. Now I can see what all the hype is about.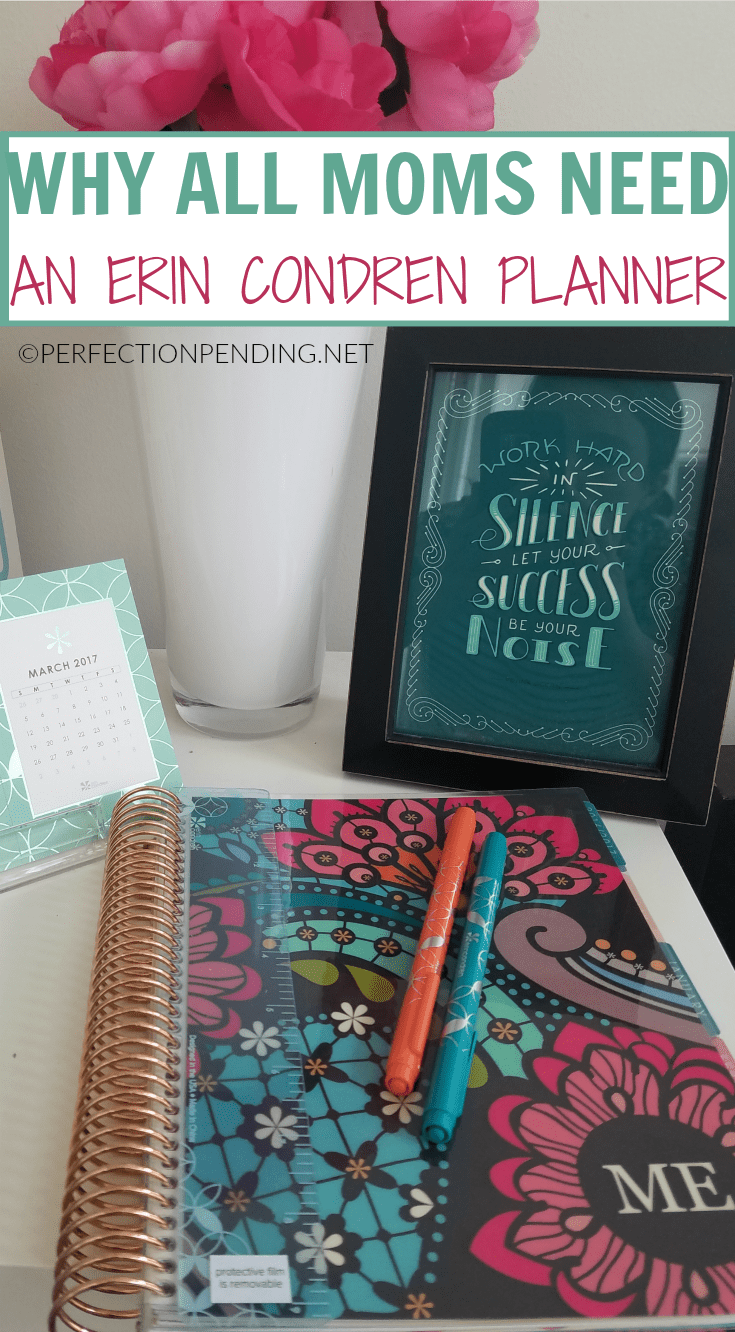 Grab yours here, and let me know if you LOVE it as much as I do.
More on Getting Organized:
Legit ways to get organized:
My Must-Have Getting Organized Resources:
You'll Also Love:
Like this? Be sure to Pin it – and share it with another mom who could use a good laugh – or a great planner!