I don't have too many people guest post these days, but recently, I read an article titled, "Why I'm not Raising a Good Girl" by Galit Breen and loved it. Just a day or so later, an email popped up in my inbox asking me if I wanted to help her promote her book, Kindness Wins. I decided it was meant to be, so I said yes. Besides, I love anyone that can turn a negative experience into something positive! She's an inspiring woman, and I hope you'll keep reading because at the end, I'm going to tell you how you can enter to win a free copy of her book, that is a must-read for parents who want to keep their kids safe online!
********
There are so many things I've learned in my decade or so of motherhood. Perfection is overrated; everyone has their worries; and pajamas are acceptable carpool-wear to name a few.
But one of the shiniest parenting gems that I keep tucked away in my pocket for when I need it most—which happens so very often as my kids get older–is that we're all better off when we approach parenting together.
Here are four reasons why mommy pacts are better than mommy wars.
All good ideas come from the parent next door. I learned this as a teacher, as a wife, and as a mom of young children. And I believe it's so very true when it comes to parenting older kids as well. Other people's parenting strategies are tested and approved and, more often than not, when tweaked just a teeny-tiny bit become ready-to-use for us.
Vulnerability feels good. When we open up and share our wins and our oopses, our friends become free to do the same. This creates an in-it-togetherness that is (truly) golden.
We're modeling what we want our kids to mirror. I want my kids to grow up supportive of their friends, not in competition with them. They're watching us for examples in how to be in this world. Let's raise kind kids who build each other up who, in turn, will grow up to be kind adults who do the same.
Our kids are maneuvering terrain that's much too big for us to cover alone. They have digital footprints. They're on apps that we've barely heard of. They have access to more information than our parents ever imagined they would (or could). If we team up and watch out for each other's kids, we all benefit.
I went to dinner with a friend the other night. Over yummy drinks and yummier food we talked about the things that fill our days and our hearts–marriage, books, pretty pins, and, of course, our kids.
We shared the silly and the lovely and the scary and when the conversation turned to our kids' social media use, she looked at me and said, "Let's tell each other when we see things going on with them" and I thought YES. ABSOLUTELY YES.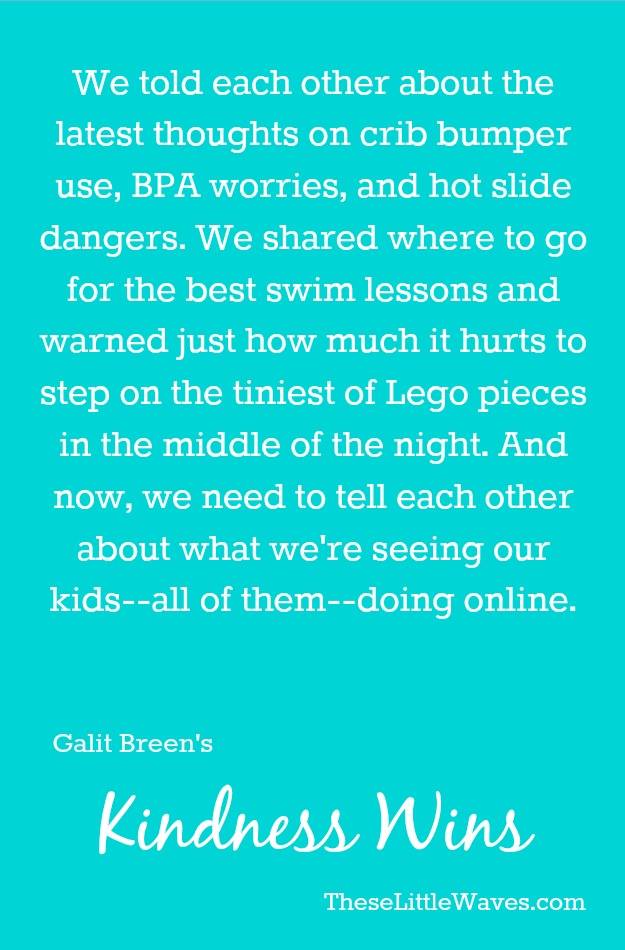 We have to be in this together. I'm not sure that we can go at this one alone.
Instead of me watching out for my kid online and you watching out for yours, what if we all watched out for each other's kids and they got the benefit of all of our support?
This is why each chapter of my book, Kindness Wins has a Parent-to-Parent conversation component. We can make a pact to talk about the hard things with each other to benefit all of our kids. Our kids, our problems, our parenting, our–and their–benefit.
You can learn more about how I came to write Kindness Wins in this Buzzfeed article, How A Blogger Went From Being Fat Shamed To Landing A Book Deal—In Less Than One Year, and learn more about the book itself on my blog, Kindness Wins on TheseLittleWaves.com.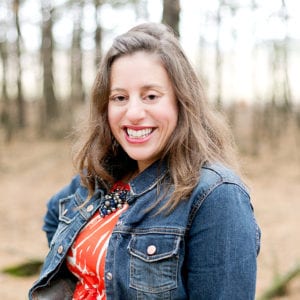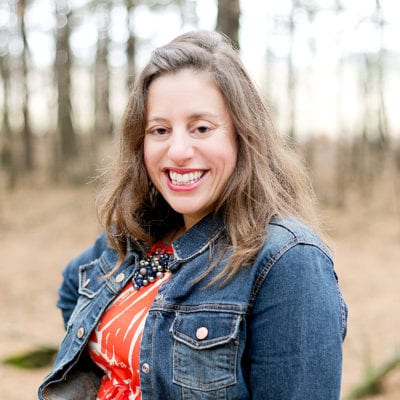 Galit Breen was a classroom and reading teacher for ten years. She has a master's degree in education and a bachelor's degree in human development. In 2009, she launched a career as a freelance writer entrenched in social media. Since then, her work has been featured in various online magazines including Brain, Child, The Huffington Post, TIME, and xoJane. Breen lives in Minnesota with her husband, three children, and a ridiculously spoiled miniature golden doodle. You can learn more about Galit by visiting TheseLittleWaves.com. Her first book, Kindness Wins, is a simple, no-nonsense guide to teaching our kids how to be kind online. Find here on Facebook and Twitter too. 
 *******
I for one, can't wait to read her book! I'm SO worried about the issue of bullying and keeping my kids safe online, and YOU can win a copy too! Just fill out the form below. And, the best part is for those who enter the giveaway but don't win, she'd like to offer a free Lemons to Lemonade Party and Book Discussion Guide if they choose to buy Kindness Wins. Win – win for everyone right? I will announce the winner on my FB page on Monday morning! So make sure you're following me on FB.
Here's a blurb about the book: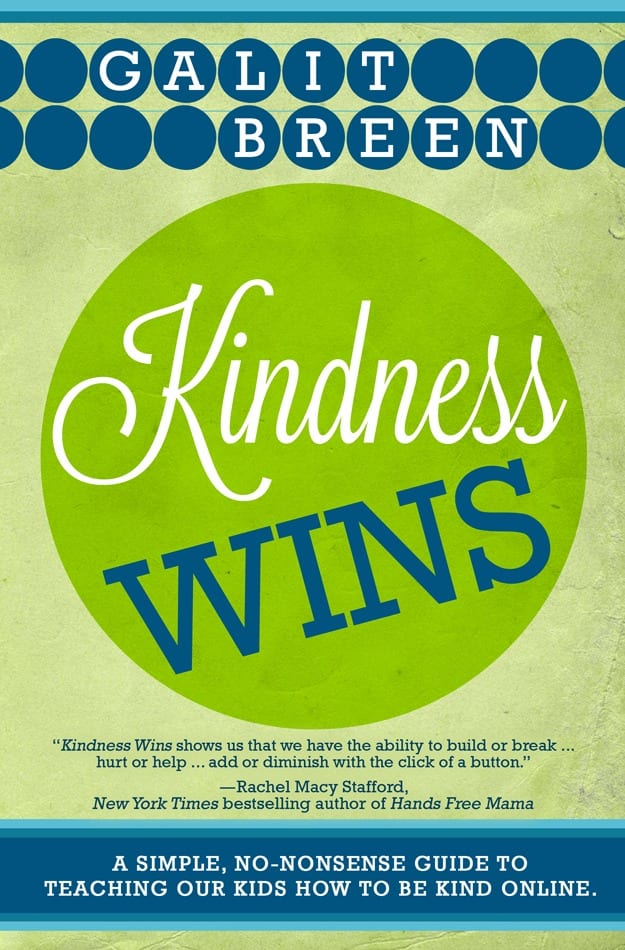 If kindness wins, accountability rules. The need for this mantra is never clearer than when scrolling through posts and comments left online.
Approximately four out of ten kids (42 percent) have experienced cyberbullying. When we were young, our bullies weren't usually strangers. They were the kids who passed mean notes about us in class, the ones who didn't let us sit at their table during lunch, and the ones who tripped us in the hallway or embarrassed us in gym class. Cyberbullying isn't all that different from the playground bullying of our youth and nightmares. But with social media, our bullies have nonstop access to us–and our kids. In fact, we're often "friends" with our bullies online.
When freelance writer Galit Breen's kids hinted that they'd like to post, tweet, and share photos on Instagram, Breen took a look at social media as a mom and as a teacher and quickly realized that there's a ridiculous amount of kindness terrain to teach and explain to kids―and some adults―before letting them loose online. So she took to her pen and wrote a how-to book for parents who are tackling this issue with their kids.
Kindness Wins covers ten habits to directly teach kids as they're learning how to be kind online. Each section is written in Breen's trademark parent-to-parent-over-coffee style and concludes with resources for further reading, discussion starters, and bulleted takeaways. She concludes the book with two contracts―one to share with peers and one to share with kids. Just like we needed to teach our children how to walk, swim, and throw a ball, we need to teach them how to maneuver kindly online. This book will help you do just that.
Kindness Wins is available for preSALE right now on Amazon.com.
If a kindle isn't your thing, Kindness Wins be available on April 7th in print and in all digital options or you can download a FREE kindle reading app to take advantage of the sale price and read Kindness Wins on any device. You can get that free app right here!
***********
GOOD LUCK!!