I often teeter somewhere between not caring if the picky two year old eats, and desperately trying to get him to. If you've been following me for a while, you'll probably roll your eyes that I am blogging about how I hate feeding my kids.
But, this time, I thought I'd share 5 things that have actually WORKED when feeding my picky toddler in the hopes that it will help some mom save her sanity too. If the average two-year-old is anything like mine, then there are moms all over the world frustrated. One minute he gobbles down something that surprised you, and you make a mental note, "I'm making this dinner every week from now on." Sound familiar?
But, the problem is that the next time, he won't even pick up the fork. It reminds me of that Katy Perry song I hate,
'Cause you're hot then you're cold
You're yes then you're no
You're in then you're out
You're up then you're down
You're wrong when it's right
It's black and it's white
We fight, we break up
We kiss, we make up
Aside from the breaking up part, I never realized how easily this song can work for a two year old too.
But, back to the tips. I have learned after three kids that the #1 thing that the toddler wants while eating is for it to be FUN. That's right. For some strange reason, he doesn't care one bit about actually eating, or nutritional facts like eating ritz crackers for every meal is not healthy. He doesn't care about any of that at all. So you have to keep changing things up to keep them interested.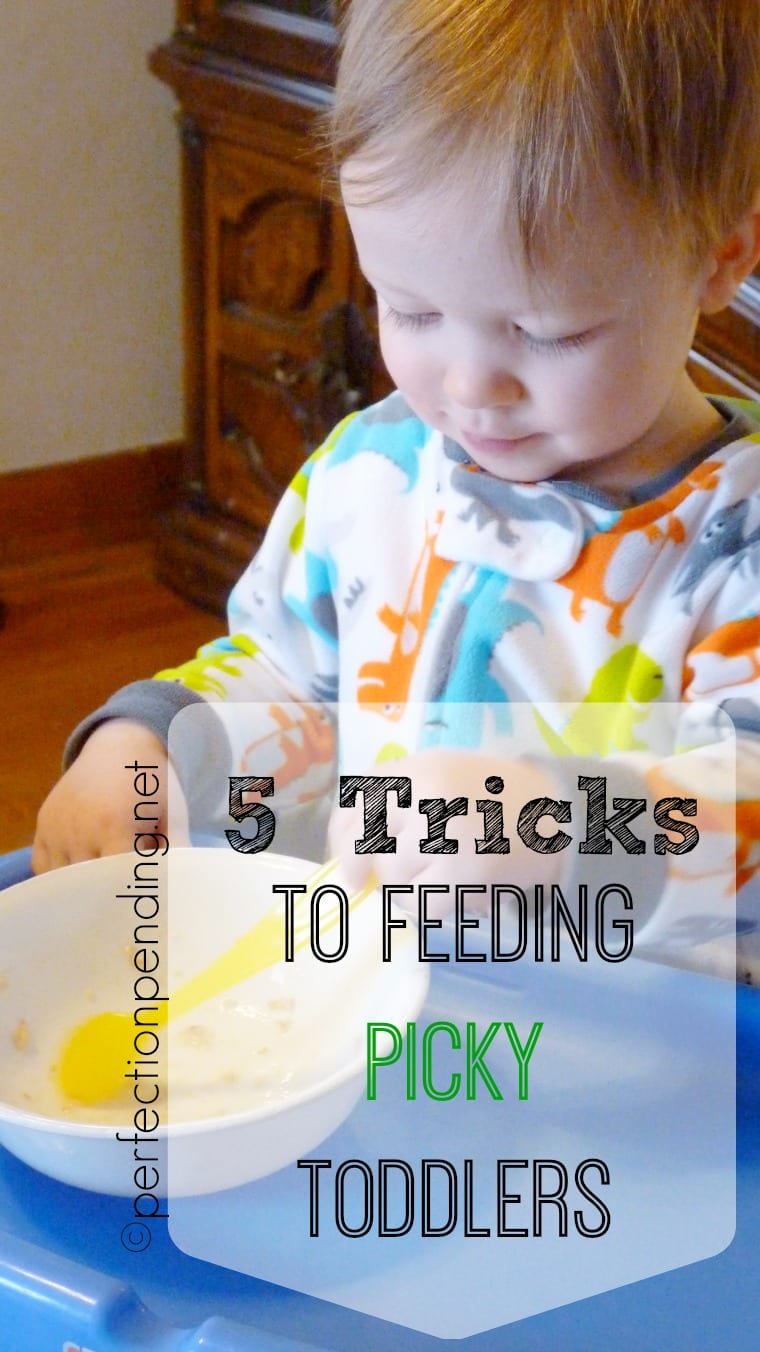 Here are 5 tricks to feeding picky toddlers that have worked for me!
1. Involve his favorite stuffed animal. One night I was so frustrated that the 2 year old wouldn't even pick up his fork to take one single bit of a food he loved, that I got desperate. I talked him into eating while I pretended to be one of his stuffed animals that was feeding him. It worked! He laughed the whole way through, and had a blast.
2. Switch up the serving dish. I've blogged about how if you serve my kid anything with a dixie cup and a spork, he'll eat it. Well, that's still true. Sometimes I just have to make it fun. Toothpicks, dipping things, dividing it up in small cups. It's exhausting, I know, but it works.
3. Letting him feed you. This has worked countless times for me as well. I will tell him, "you feed me a bite, then mommy will feed you a bite." This is his favorite game.
4. Get siblings involved. My older kids are so sweet. They always try to help. Sometimes they feed him and that works, but other times, we make up games with them. We have races to finish our green beans, or we clap when he takes a bite. Sometimes getting the attention from older siblings is helpful. If there are no siblings, find a pet dog, fish…anything!
5. Examine the time of day. My youngest eats best when he is hungry. I'm trying not to starve him, but I've learned that if I can keep snacks away for at least an hour before mealtime, he eats better. Sometimes, moving dinner time up a half hour or back a half hour can make ALL the difference.
You could always resort to food art like this:
Isn't it amazing? I had to ask the blogger/artist if she actually let her kids eat this. I was going to die a little inside if she said yes. I was relieved when she said no. Because honestly, how could you let a two year old destroy something like this after all that time and energy?
Oh, wait. I let my kids do that to my clean house every day.
**********
Do you have any tricks for getting picky toddlers to eat? Please share!