So, I'm not much of a DIYer at all. I just don't have the patience for it really. But the strange thing is that I'm a creative person by nature and I love the idea of the DIY project. I love buying used stuff, but I rarely want to put the time and energy into fixing something up.
Painting? No thank you.
When we bought our first house I had grand plans of doing a lot of painting. Until I painted that first room. After some very tense words between my husband and I after about five strokes of the paint brush, we realized we hated painting. Not good. It was like we became each other's most hated enemy in the process. It turned us into not very friendly people. It seemed like that project of painting our master bedroom took years off of our lives. It was probably two days. You get my point.
It's like I get excited about the project and go through stages.
Stage 1: I'm on pinterest. Suddenly, I have a lapse in judgement. "I can do that!" I think to myself. And I start imagining how awesome it will look. I have visions of Martha Stewart-like creations.
Stage 2: Making the list of what I need to buy. "Crap. That's a lot of stuff." Just kidding. I don't make lists. That would be too easy.
Stage 3: Enter the foreign land of a craft store or even worse, a home improvement type establishment. With no list and two to three kids. Can't wait to shop until husband gets home because he will surely talk me out of project. Wander aisles feeling lost. Keep kids from spray painting each other. Get frustrated. Possibly threaten time out for everyone and in the same breath promise treats. Grab some random stuff without measuring or color coordinating anything. Question what I was doing thinking I could accomplish this impossible feat. Feel like crying, but I am too determined to turn back now. "I will be crafty even if it kills me." Is a normal thought in this stage.
Stage 4: Go to register and realize you are spending more than the junk you are "fixing up" is even worth. Even brand new. Make a mental note to hide the receipts from your husband.
Stage 5: get started only to be interrupted 523 times in the first ten minutes of craftiness hell and get angry at yourself, your kids, and Martha Stewart. Slap some paint on in the next ten minutes and call it good.
Stage 6: try to sell your "craft" at your next yard sale for $5. Take a buck. Make a mental note to never paint again.
So the fact that I decided to do some painting again is both surprising and astonishing.
I decided to make a kids' art display wall. And frankly, I love how this project turned out so much that I might get up in the middle of the night to look at it.
Since I'm not much of a tutorial gal either, I will do my best to tell you what I did. (Aside from the usual stages mentioned above)
I bought frames at a thrift store, letter blocks and paint at a craft store and went to town. I love bright colors and so this was a fun way to spruce up my dream kitchen/dining room wall. It's a combination of three different pinterest ideas.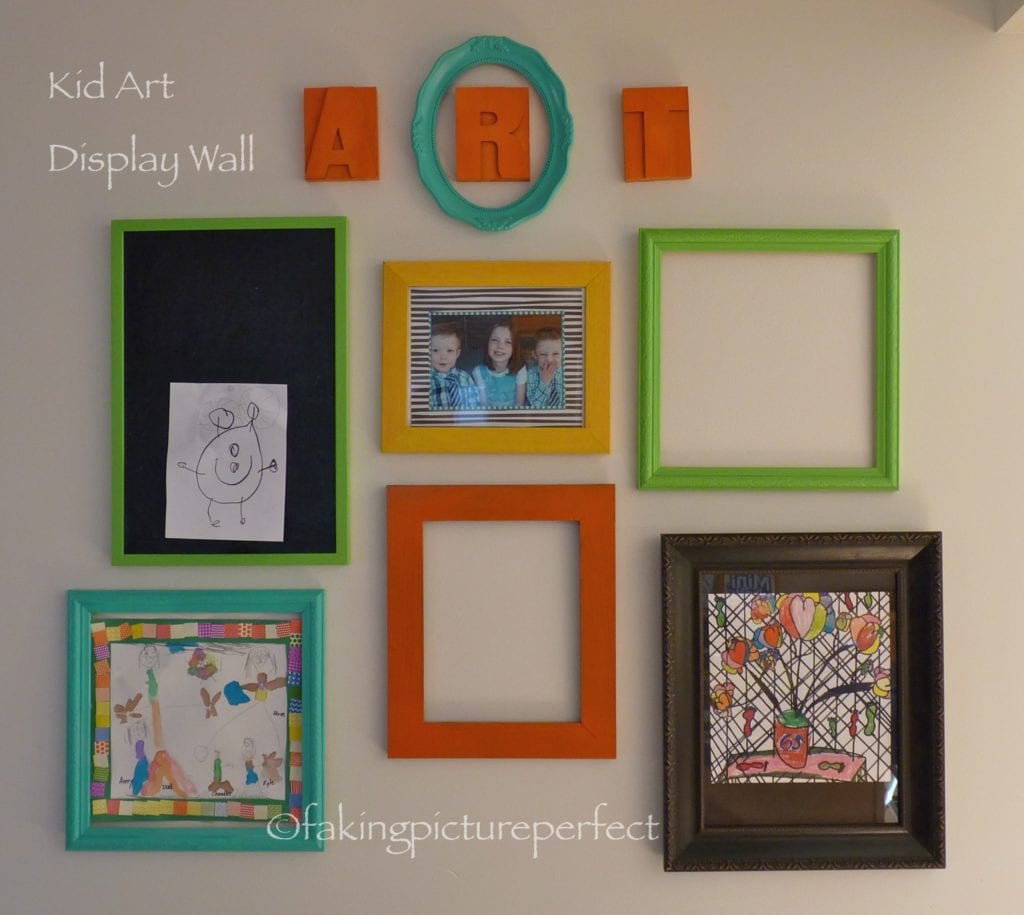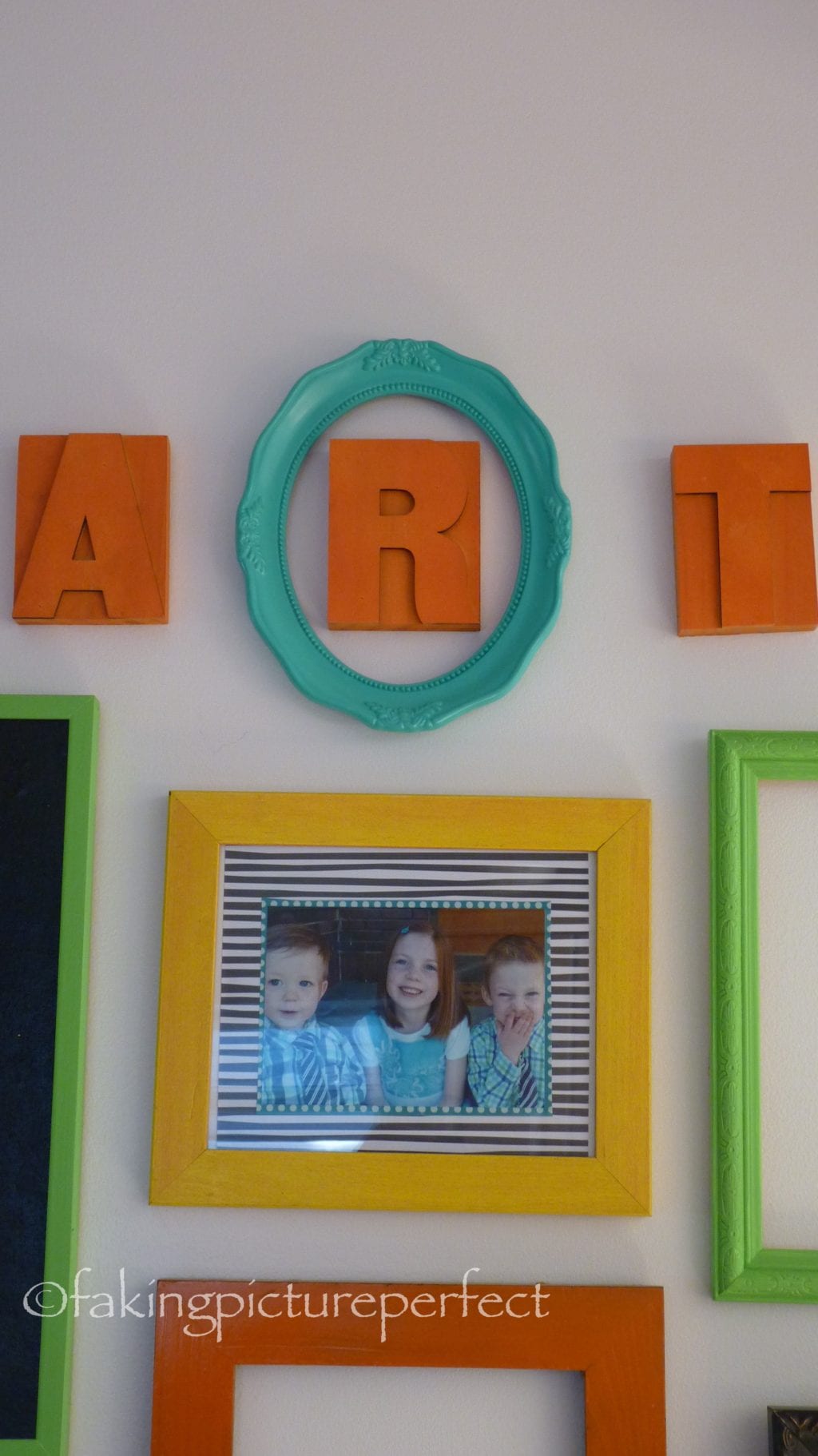 I just love this picture of my kiddos. And since this wall is all about their art they bring home, I figured it was only fitting. I matted the picture with some scrapbooking paper I had lying around.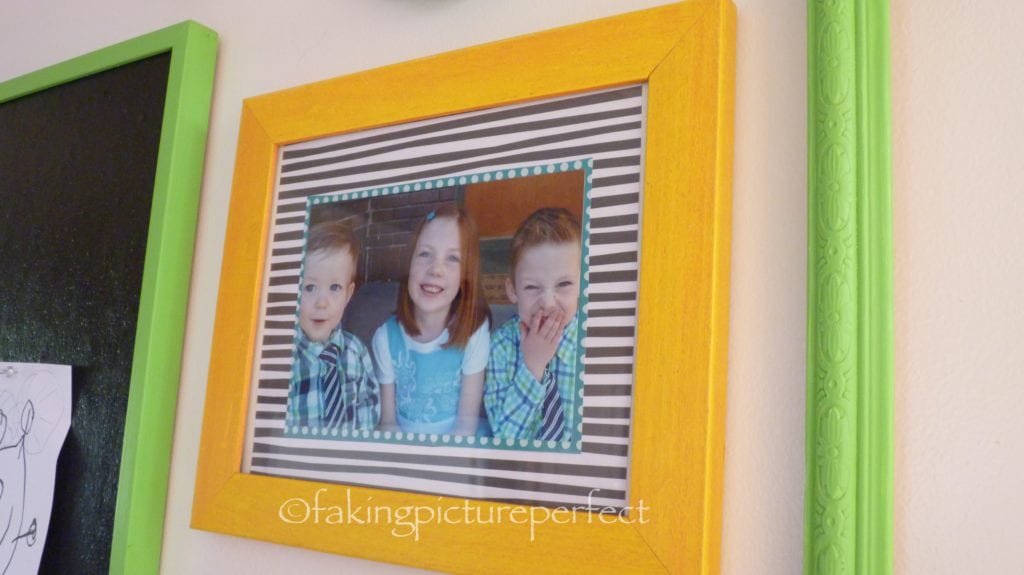 The picture on the bottom right was a kids drawing already framed that I bought just like that at the thrift store. I love it.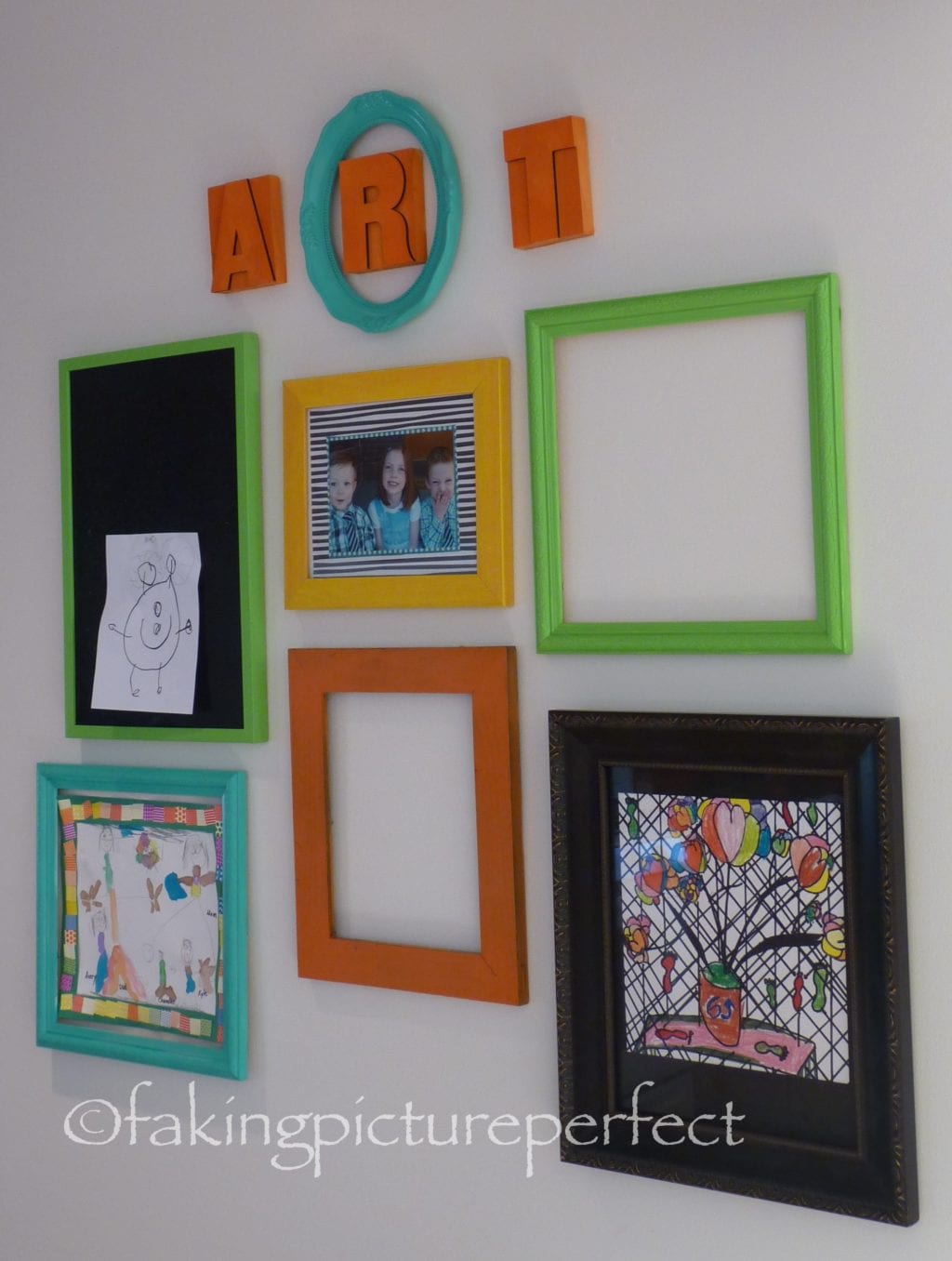 This picture below was a family portrait drawn recently by my Kyle. It's pretty much amazing. He said we are all wearing sunglasses. Love it.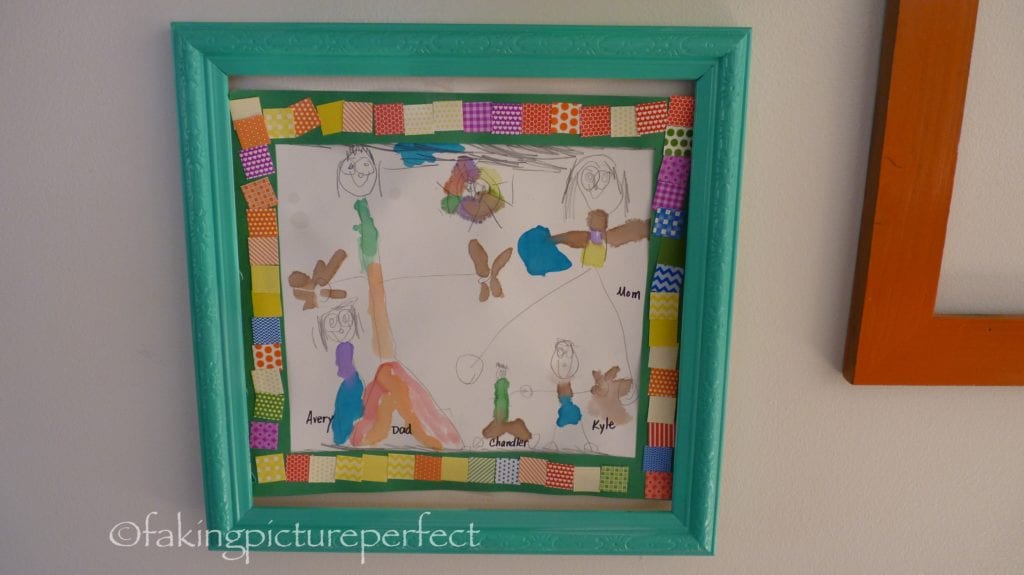 My favorite part. The title.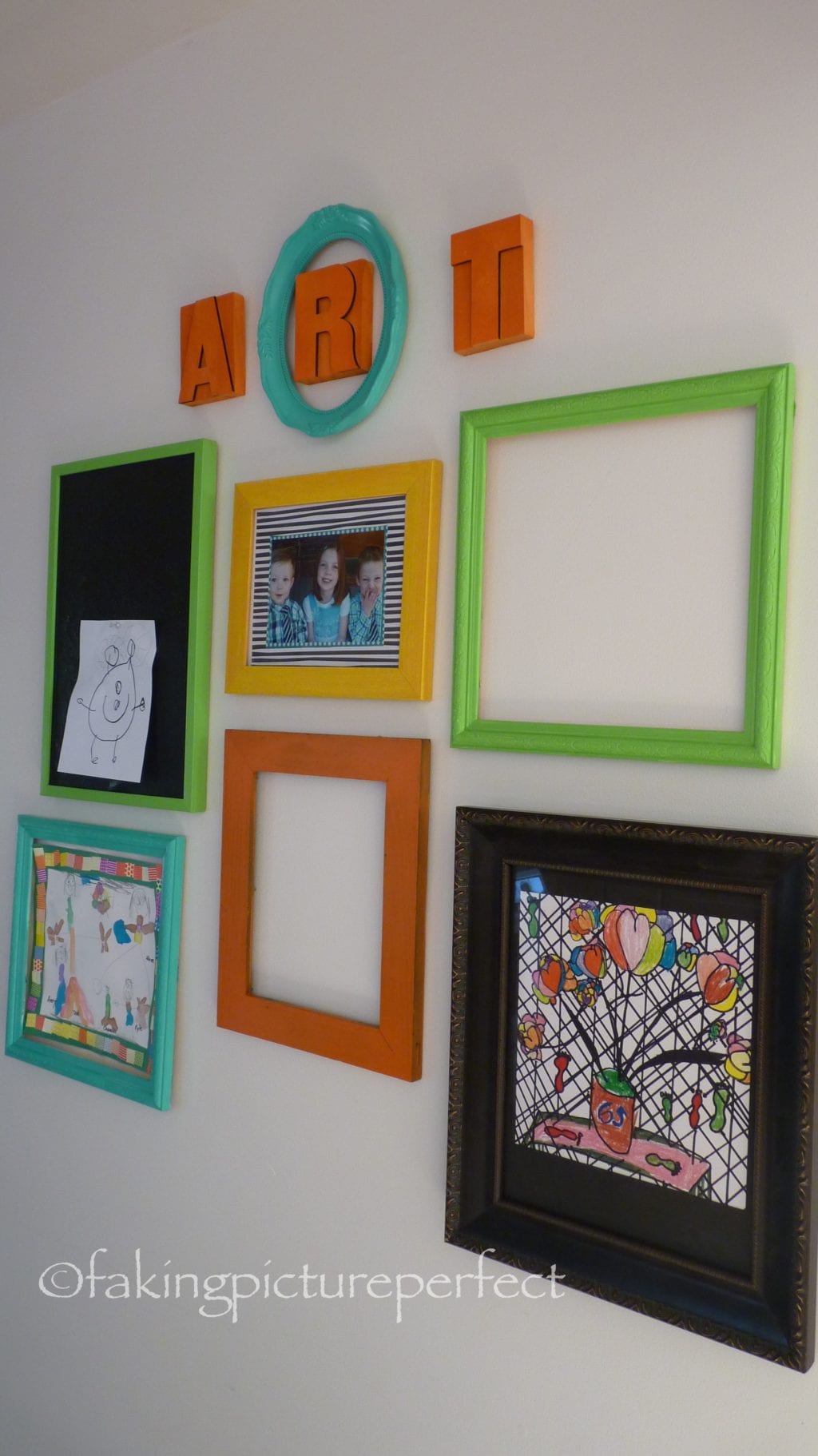 Now this part was fun. I found a small bulletin board at the thrift shop and painted the cork black and the frame green. Love how this turned out for a quick spot to tack some art up with a good old fashioned thumb tack. The guy pictured here is also a drawing by Kyle of a guy he named Mike.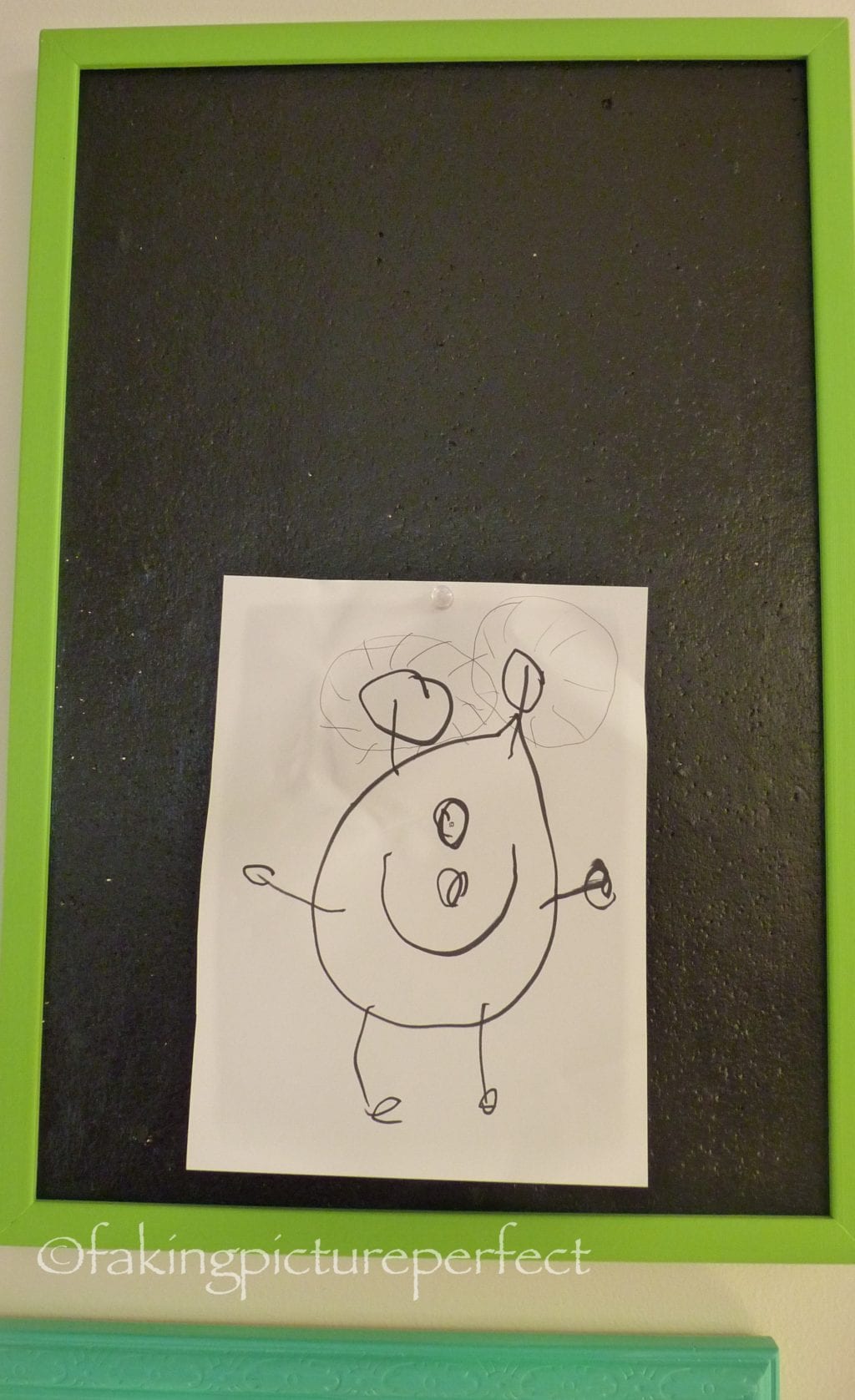 I really couldn't be happier with how it turned out and as you can see, I have some spots waiting for some future masterpieces. Avery is a super good little artist so I'm already asking her to draw me something. It's a happy inspiring, bright space on my wall, and it makes me happy. If I can do this, trust me, so can you!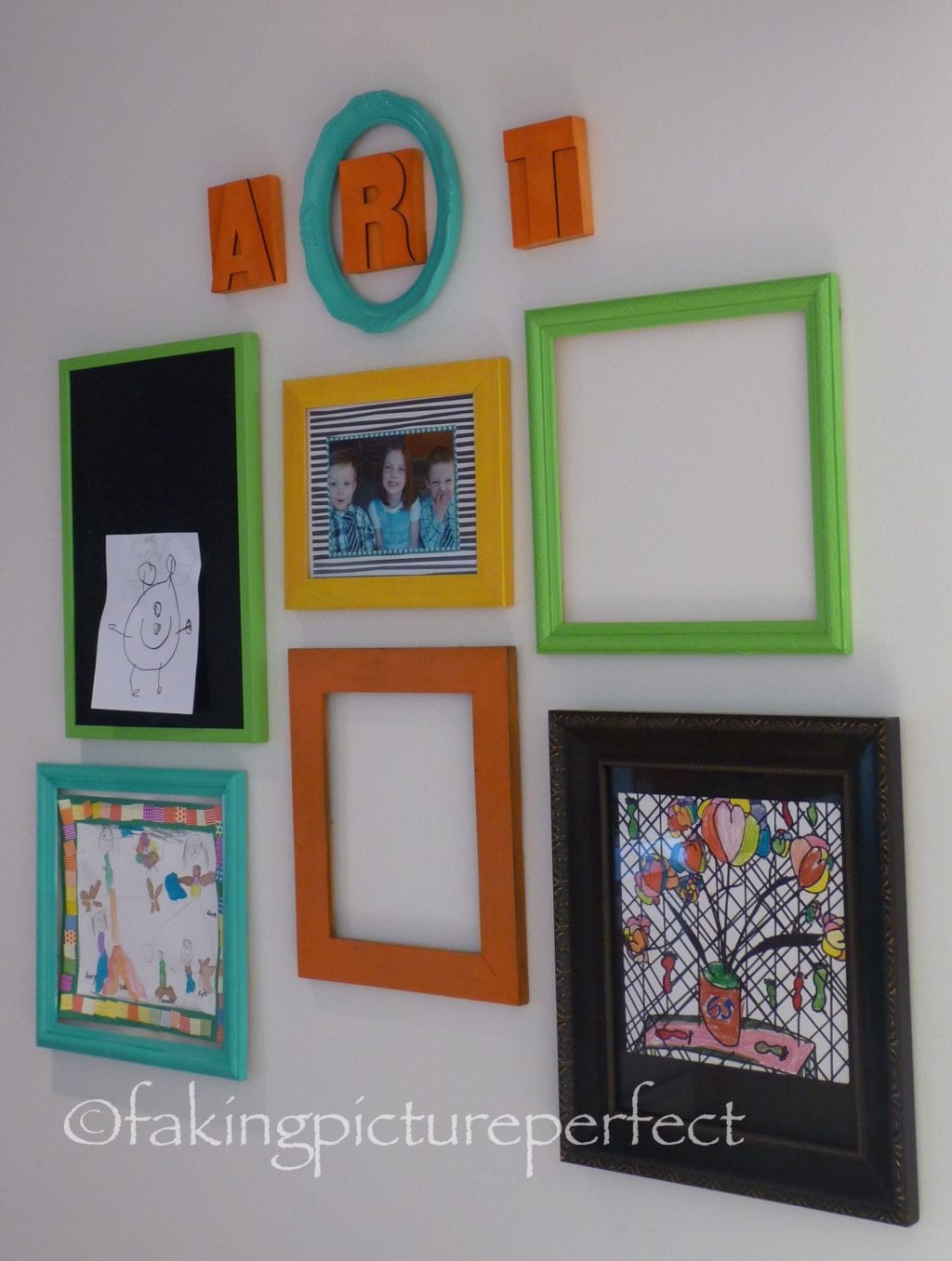 Now tell me how awesome I am.