So, apparently, I have more than one secret talent. Remember how I told you that one of them was changing song lyrics? Well, another one of my hidden talents is sucking the life out of children's fun activities at school. Or at least a few moms on a HuffPost article I commented on think so.
I really hate to be critical of the school system because for one, I have some very close friends who are school teachers and I KNOW how hard that job is. So, I try to mind my own business for the most part when people start ranting about ridiculous things that the schools are doing. And, let's get real, I don't have the sanity to homeschool, and I can't afford private, so here we are. In public school trying to go with the flow and be happy with our local school (which for the record I really like and for the most part, think they do a fabulous job).
The subject of the article was about food allergies. And, since I dealt with those pretty closely for the last 5 years, I know a thing or two about food allergies, so I had to read the article. Aside from the fact that the author comes across completely self-centered for the sake of a homemade cupcake, I have to say that I just rolled my eyes at that. I mean, I've heard people rant before about how they think allergies are made up. And even one commenter on the article called food allergies a "fad" Yeah, whatever. Not going to even get into that one. But, here was MY comment:
I disagree. I feel like I'm ready to ban every party celebration in school period. We don't need to celebrate St. Patrick's day, the 100th of school, Dr. Seuss' birthday, etc AND 25 kids birthdays in the classroom!! The celebration factor is getting a little bit out of control if you ask me. Why not just let the kids sing to the birthday child, and move on with actual learning!!
Which has 363 likes by the way, so I guess I'm not TOTALLY crazy. But, since I'm not looking for fame from a comment on a HuffPost article, I don't even care about that. It's how I really, truly feel. But, the comments that came after in response to mine were surprising. Apparently, I come across as a heartless mother that wants to suck the life out of her children by not letting them celebrate anything and turn them into robots. Because, school is obviously for eating cupcakes and talking about leprechauns right?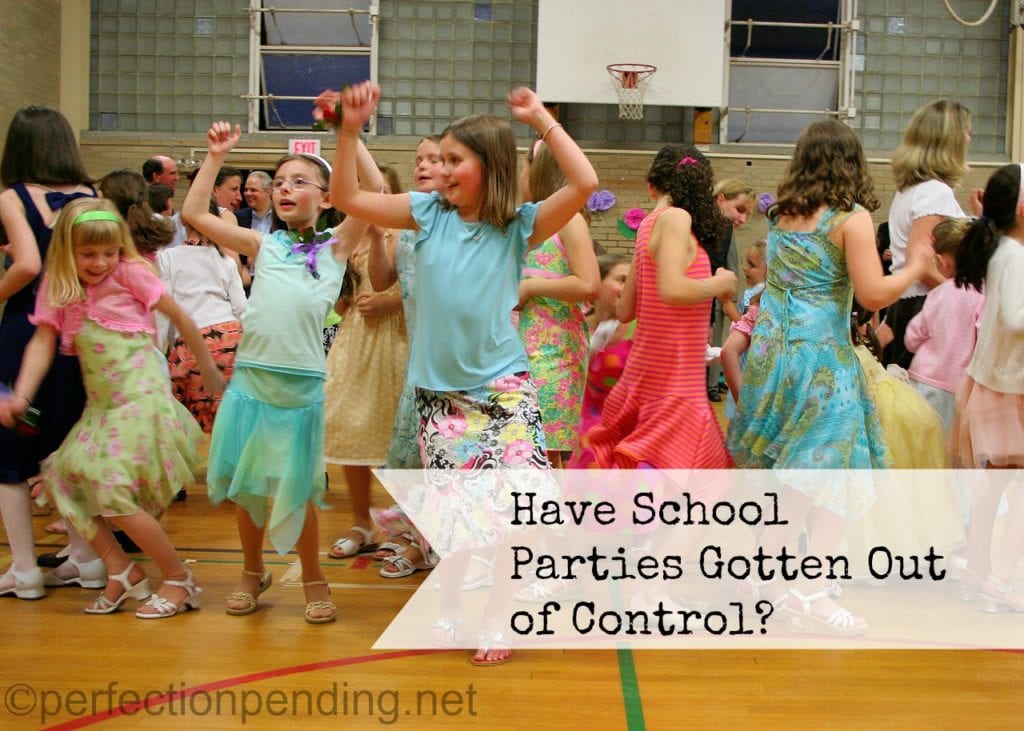 Here are a few of the comments I received in response:
Yup… just like the little learning machines they are. Celebrations make school more fun! Like the 100th day of school. I've never seen anyone beyond grade 1/2 celebrate that but the kids do fun things like collect 100 things or make a 100 link paper chain and see how far down the hall it stretches. Learning isn't robotic. Learning should be fun, especially for kids. So many people want their 2 year old to read Shakespeare or their 6 year old to be the next Einstein. Great if they are, horrible to put that kind of pressure if they aren't. Kids aren't machines. They are little humans who deserve to live their childhood without all the pressures and worries us adults have to endure. They'll get to that soon enough. My kids didn't have birthday parties at school. At snack they got the treat and at the beginning of the day they got a crown and sung to. That's not a party. On special days, like Valentine's Day, they worked half the day and got to play games and hand out valentines and eat treats the other half of the day (or less… only a period or two). Now it's nothing but work, work, work. No wonder so many kids don't like school any more! Yes school is for learning but it doesn't have to be dry and monotonous. I don't have a problem with smaller amounts of sugary treats (do it like pot luck. Have parents sign up to bring different items like fruit trays, treats, drinks or even the paper plates etc) but to cut out all celebrations? Things are getting too drastic in the name of being PC. Sure be safe, totally agree, but lets have fun with it!
Yes, you're right. I want my kids to learn to be robots. That's exactly what I was saying. And, my 2 year old can't even tell me the difference between food and paint yet, so I'm pretty sure I'm not pushing for him to read Shakespeare. Although, I do believe my 7 year is INCREDIBLY smart, Einstein comes with too much responsibility. So, I think we'll just let her keep reading those Diary of a Wimpy Kid books that she's obsessed with. I DO agree learning should be fun. But, is eating an extra cupcake actually learning? No. I'm pretty sure that's something we call…..eating.
And another:
Yes, please suck all of the fun out of education. Who needs costumes for Halloween or cards on valentines day. School is about creating robots, not preparing kids for life. </sarcastic rant>
You see, there I am again creating robots and sucking all the fun out of education because I don't want my child to start believing that leprechauns are going to come in the middle of the night and leave gold leprechaun footprints around my house (something my daughter actually believed after preschool). And, do holiday celebrations really prepare my kids for life? Sorry that I think reading and math is a little more important of a life skill than celebrating holidays.
Because they're kids, and being festive is fun. I'd rather my kid celebrate everything, rather than nothing.
Here's the deal, I get that. Being festive IS fun. But, I also believe it's the kind of fun my kids can have at home. We celebrate every holiday under the sun. To its fullest. I dress my kids up in Halloween costumes and let them trick or treat even though I don't care that much for the Holiday. But, this year? Not only did we celebrate at home, we celebrated at church, at preschool, and in elementary school. I dressed my kids up in their costumes 4 times and had enough candy from the "celebrations" to feed an entire hungry nation in a third world country. So, I think they're good on the celebrating, thanks.
That was one of the best parts of growing up! It helped each kid feel special on one day. Which, for an only child of an alcoholic father was awesome. Don't get me wrong, my parents did a pretty good job raising me despite dad being an abusive alcoholic. But, for one day at school, I felt like I wasn't a kid who had to fear being hit for losing a shoe. So, remember when you say, celebrating 25 kids birthdays in the classroom is out of control. You may not know what that kid's home life is like. That may make his/her week. Now, celebrating St. Patrick's day–better left to adults.
I do of course care about children who don't get a special day at home. My kids are privileged that way. They get EVERYTHING celebrated at home. They are in a home where they are loved, and don't want for much and celebrate even when their tired mom doesn't feel like it. I love my children and want them to have a happy childhood more than anything. So, I do it for them. And, I think that while I'm sure it makes that child feel special, it can also have the reverse effect. What about the kid that can't bring cupcakes on his birthday? What about the child that is Jewish and has to endure yet another Christmas celebration? What about the kid that is Jehovah's witness and isn't supposed to be doing any of this? What about the kid whose parents can't afford Valentines for him to hand out at school? Celebrations do NOT always equal fun for the kid with a bad home life. Period.
I look forward to what else will be said in response to my comment. But, I stick by what I said. There are too many celebrations that I think sometimes we forget what we are there for….learning. I mean, I've blogged before about how the last two weeks of school aren't even necessary. And, I don't want them to be like robots, but rather like children who are at an age where they can and WANT to soak up knowledge. Kids are like sponges, and if we put too much emphasis on the wrong thing, they will remember it.
And to quote SNL once again, "This week, children at more than 1,700 schools in North America sang the song, 'I Wanna Play,' at the same time. Simultaneously, in China, over a billion kids were doing math."
If you don't think there could be more actual learning in our schools, then maybe you aren't looking very far for anything to compare it to. Try Afghanistan where girls are being shot for wanting to go to school. Do you think they are going to get an extra cupcake? Something tells me that's not what it's about at all.
***************
I linked this post up for Finish the Sentence Friday. The sentence was, "One of my hidden talents is…."  Join in the fun!