There is something about "trends" that I steer away from. I can't tell you how many times I've used self-restraint when it comes to the ever popular, everywhere on pinterest explosion that is the chevron pattern. Let's face it. It's everywhere. And, I will proudly admit that I had not a single item in my entire house with the Chevron pattern on it. Until last night.
Now, don't get me wrong. I love this pattern. When it first started exploding in popularity, I kind of felt "eh" about it. Chevron? Eh. It's just a fancy word for what I've always called zig zag. Who cares.  But, then I got sucked into the craze and fell in love. Yet, I didn't buy a single thing in that pattern. It is almost like I secretly rebel against being cool and trendy. But, inside, I'm craving all of it. Every last zig zag…. I mean Chevron item I can lay my hands on.
Aside from one shirt in my closet that could technically be called Chevron that I never wear because it hugs the mama pooch a little too tightly, I don't own a single thing in Chevron. No pillows, scarves, throws, no cute painted cup. Nothing.
I remember recently I went into a thrift shop close to my house. Everything in there was adorable. And, my eye caught a sleek, vintage-y yellow and white zig zag chevron table. *Actually, I did a little research, and there is a difference between zig zag and chevron for you die hard pattern enthusiasts. I still say, Meh. Close enough. Anyway, I couldn't help but ask the owner, "Did you paint this? It's SO cute." She replied, "Yes, but painting chevron is not for the weak." or something like that. I sensed some bitterness in her voice. I couldn't quite understand it. It's just a zig zag I thought. How hard can it be? 
Well, last night, I was at a church activity for the 12-18 year old girls. They were painting pumpkins. We had more than were necessary, so somewhere around the end, I decided I would paint one real quick. Now, this is where things start to get a little sketchy. I couldn't think of anything to do. So, I started out simple. I looked at a couple of pictures someone had printed off of pinterest. And, I got to work. White vertical stripes. I finished that, and thought, now what? It just looked too plain. Someone suggested, "I know! Why don't you do a chevron pattern in the white stripe. In turquoise."
I flashed back to the bitter thrift store owner. How hard could it be? Do I dare? I only have about 15 minutes. It's just a pumpkin. What am I so afraid of?
I grabbed an angled brush, confidently dipped it into the paint, and had visions of having the cutest, trendiest pumpkin on the block. I mean, chevron. I've wanted it so badly. And, with just a few strokes, I can have it. My pumpkin will be the talk of the universe. It will get pinned like 212 times. I will be crafty.
And, then I painted the first zig zag. I mean, chevron. It was cute…ish.
But, there was no turning back. I had to do it really quick, and I had already committed. "really quick" and crafts are kind of my thing. But, the problem is, "really quick" and crafts usually mean one thing….UGLY.
But, it's like I was in chevron peer pressure universe.
"Oh it will be so cute!"
"Oooh, I LOOVE Chevron!"
"No, it looks cute. I swear!"
"You could always drop it off on someone else's porch."
I should have known better. Two successful craft projects in one month? Mission Impossible. It was supposed to be adorable and be the envy of everyone on the block. You know, look something like one of these: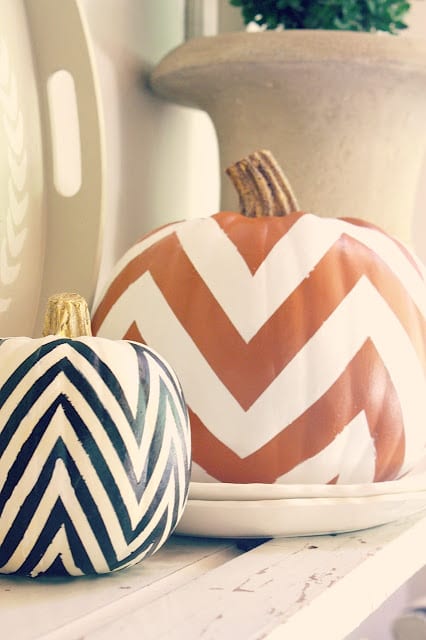 DIY Chevron Pumpkins from My Sweet Savannah
At least in my head it was supposed to look like that. You mean I'm supposed to tape and measure? Oooooh. I see.  Instead, it turned out a little something like this.
There was debate as to whether the lines should be skinny in between, or all the same width. And, frankly, my heart couldn't take it. So, I did the best I could, OK?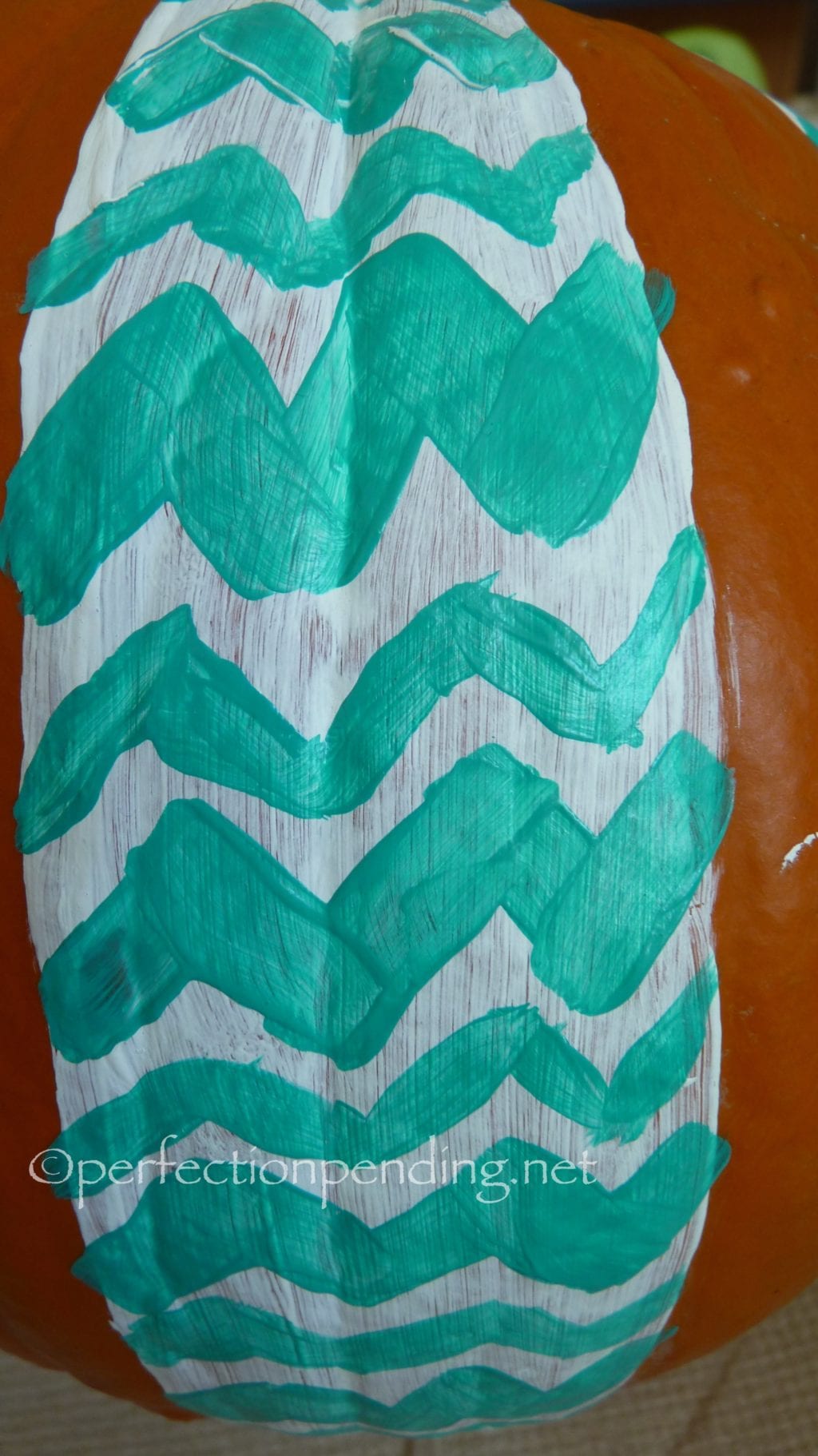 Upon closer inspection, I'm really not sure whether it is a zig zag or chevron. I'm leaning toward zig zag. I think for now, I'll just say one of the kids did it. I can relate to the bitterness in that thrift store owner's voice. Poor lady.
Have you ever had a Pinterest/DIY fail? Please tell me you have.