Today was the 2nd day back to school for my daughter. What does this mean for me? Torture. While some parents are high five-ing each other, all I can think about are the hundreds of lunches I will pack, the countless naps that will be interrupted, and how much I genuinely miss my girl when she's at school. She is the one that entertains the boys with make-believe and fun all day long. Now, I will have to use my non-creative, non-child-like mind to help come up with fun stuff to do.  I KNOW she loves school, and I'm so happy for her to be learning, growing, making new friends, and all that jazz, but can I just say how much I hate setting an alarm, watching the clock to have to pick her up at a certain time, and trying to entertain little brothers until the master entertainer gets home?
Sure, I was a scheduler during the summer, too, but the school year takes it to a whole new level. Oh well. She couldn't wait, and I was happy for her regardless of my own issues. At least I'm down one kid for my fun grocery store trips. Always finding the positive. That's me.
So, what did the boys and I do today? Well, we discovered that you don't have to do rock collecting outside. You can just look on every surface in my house and collect enough rocks for a garden. I literally collected these from two rooms in my house in under 2 minutes.
Kyle is a little obsessed right now with picking up rocks. His "rock collection" has turned into a "rock obsession" to the nth degree. For example, Tuesday night, we went on a family hike, or attempted to at least. That's what makes parenting fun, you never know what you're going to get, right? You NEVER know if a plan will actually work out in the end. We hurried and finished dinner, threw the kids in the car and decide to explore a canyon close to our house that we've never been to.  We thought maybe we could last a half hour. Keep your expectations low so as to not be disappointed. Something we are becoming experts at daily.
We get there, and everyone is excited. There are dogs there that we get to pet, nature chirping all around us, and trails to explore. What could go wrong? Well, within in literally one minute of strolling at a 20-month-old's pace hiking, Kyle falls. He is screaming like a child kidnapped against his will, and once he sees blood, there is no consoling him. That's it. Hike is over. I send my husband back to the car as my 7 year old is whining, "That's all we're going to do? We didn't even go anywhere!" and I let her walk around one more bend with Chandler not far behind. I can hear Kyle screaming from the car on my hiking trail. It's not like we covered much distance or anything. After 10 more steps, we turned around and headed back to the car. We started the bath-time routine and as I took Kyle's shorts off, I realized the pockets were heavy. I reach in, and sure enough, I dump out about 20 rocks, and a small stick. We were on the trail a minute, remember? At that rate, we will have enough rocks to start our own quarry business. If only I could get him to apply the same rapid picking up rate in his bedroom….
After we went rock hunting in our own house today, we went to the….you guessed it, grocery store!  And, I had a moment of weakness. This beauty was on sale for $8.99. I debated. It was cool, but it didn't even come with a table attached to it. I went back and forth over that $8.99 price for a good ten minutes in my mind. And, then I caved.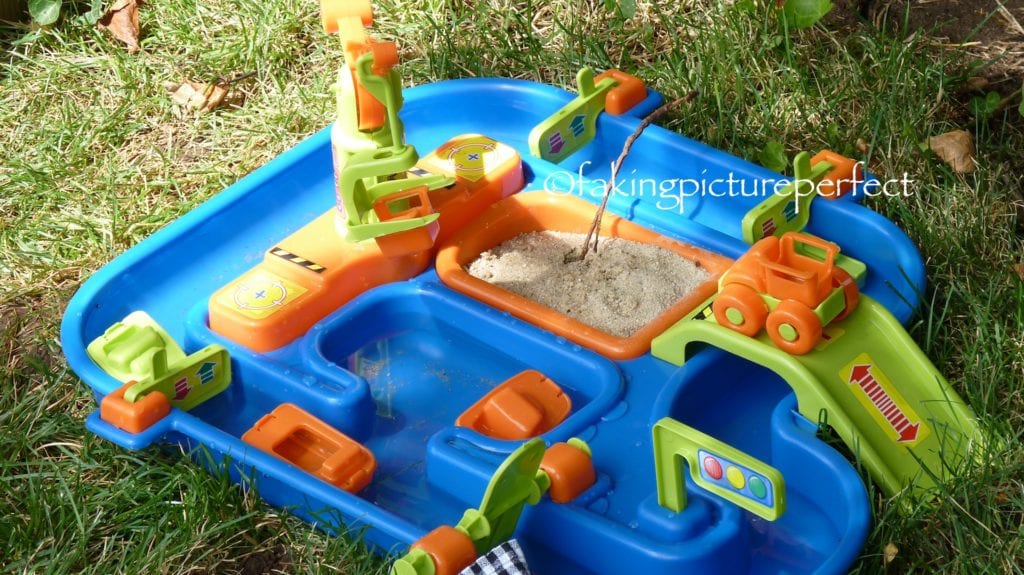 Best. Decision. Ever. I promised Kyle that I would put it together for him as soon as Chandler went down for his nap. Little did I know it came in a plastic cage that I had to hand cut each piece out of, and then put together. Not to mention stickers, and reading instructions. I hate all inventors of kid toys. But, I was a good mom and sat in the hot sun and put this together with him while dripping with sweat. Was it worth it? Yes it was. Why, you ask? Because he literally stayed outside for one whole hour during Chandler's nap. He was totally enthralled. And, now I have 3 kids around it playing while I type this blog. Like I said, Best. Decision. Ever. We'll see how many days it takes until they get tired of it. My bet is on two.
So, while Avery is learning how to rhyme again (seriously, I just looked at her school work today and it was, "Which word rhymes with books?" She's reading on probably a 4th grade level. Sigh), we are learning how to function at home without her around.
Now we come to clocks and rocks, sir
Try to say this Mr. Knox, sir…..
Alarm clocks.
Two million rocks.
Whose rocks?
Kyle's rocks.
Who finds Kyle's rocks?
Mommy finds Kyle's rocks.
Who sets alarm clocks?
Mommy sets alarm clocks.
What stinks?
School stinks.
Dr. Seuss would not be impressed.