Hey kids, I'm not like the other moms.
I'm not all that different from them, either. But, I'm not competing. And, I'm not comparing myself to them. I'm not trying to do what they do, because I've worked a long time to try to accept that I can only do my best.
The other day one of you came home from school almost in tears because I hadn't put anything in your lunchbox for Valentine's day. You're right. I could have thought of that, but I didn't. Instead, I spent my day thinking about you while you were at school. I strolled through the aisles at Target with your little brother in tow and secretly hid things from him in my cart so I could surprise you later, and surprise him, too.
I bought stuff to make cupcakes complete with pink frosting and sprinkle hearts and heart x's and o's on a stick to be ready when you came home from school. I bought a toy for each of you, and was planning on seeing big smiles on your faces when you came home. When I got home from the store, I scarfed down my lunch, and instead of working on other things, I baked cupcakes, frosted them, sprinkled them, and then cleaned up the mess after. I did all of that while thinking about how much I love you.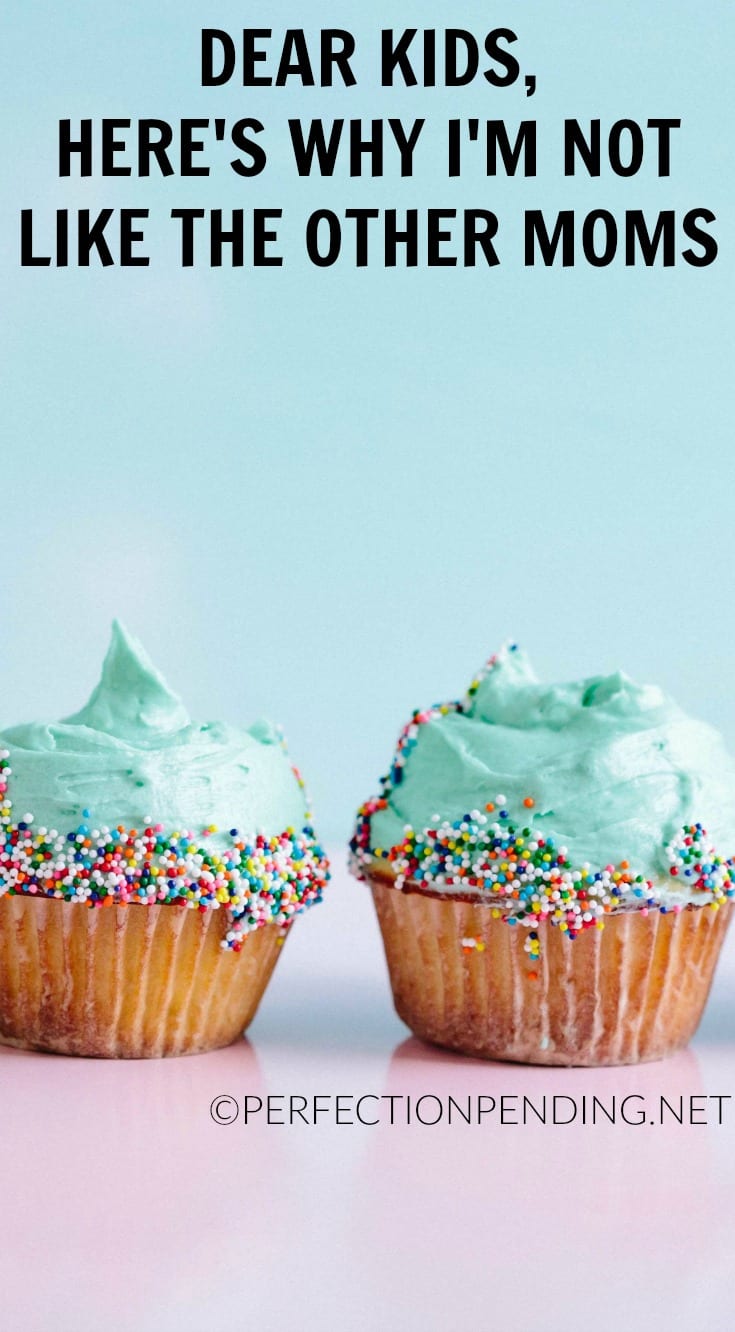 Here's the thing, I think of you a lot. Even when you don't see a note from me in your lunch box. Sometimes I follow through and do amazing things. Sometimes I fall short. But, I'm doing my best. I'm not like the other moms. I'm just me. And, I can't apologize for that.
I forget things and I remember things. I sometimes volunteer in your classroom, and sometimes send something to the school for party last minute. I'm not looking at what your friend's moms are doing and feeling bad about what I'm doing, because I'm confident that I'm loving you ever damn minute of my day. Even when you're not around.
You see, there's a big life lesson I want to teach you here. I'm not like the other moms because I don't want to be. I want to be your mom. And, I believe I was meant to be your mom for a reason. Imperfections and all.
That means there will be days where I yell, and days where I have the patience of the dalai lama. There will be days when I forget it's pajama days at school, and days when I'm so on top of it that I craft things I find on pinterest. But, I'm not going to worry about whether or not your friends get leprechaun treats in their house for St. Patrick's day or whether they get a trampoline for Christmas.
Here's the thing. I don't want you to be like the other kids just as much as I don't want to be like the other moms. I want you to do you. Be confident in who you are. Own your mistakes and live up to your full potential. Don't compare yourself to someone else's accomplishments, and don't gloat when you succeed and someone else doesn't.
In fact, don't look to your right or to your left at all. Look ahead. Do your best. And, be you.
I'm not like the other moms because I can only be me. There is only one you, too. It's a miracle how unique we all are, and I believe the universe brought your mom (me) and you together for a purpose. So, don't be upset if you see another mom doing different things than your mom is doing. Your mom is tailor-made to help you in the way you need it. And it might not involve getting a toy in your lunch box when your friend does.
The beautiful thing is that we can learn from each other, we just don't need to compare ourselves to each other. There is a difference. It's slight. And, it's hard to distinguish. But, here's a hint. Comparing leads to jealousy, and sadness, and sometimes frustration. But, when you're learning from each other, you're growing and adding to your unique gifts that you already have.
I'm going to try every day to do my best as I parent you, too. Remember that I'm a mom looking straight ahead and not to my right or to my left. And, I love you fiercely. Every day, I'm going to try to be myself, not anyone else. And, I'm not trying to be like the other moms.
Promise you won't try to be like the other kids, either. Let's just be us. And, we'll be just fine.