As a child, I don't remember ever thinking I had to be "perfect", I just knew I had to please people. I put a lot of pressure on myself to do well in school, be a good friend, make good choices, and oh boy, if anyone was ever mad at me….that was life shattering. In fact, I didn't let go of that issue until just a couple of years ago.
And, pleasing people all the time requires you to never mess up. Which, is an impossible task, because it requires being perfect.
Throw motherhood into the mix, and trying to people please constantly can make you crazy. Because have you ever tried to please a three year old all the time? It's a task not for the faint of heart. I like chicken nuggets. I don't like chicken nuggets. I want you to sing to me. Don't sing to me. I don't like blue. WHERE IS MY BLUE SHIRT???
And, when you have a family of 5 including three kids, three different ages, and a husband that all have different thoughts feelings and needs all at the exact same time, you will see yourself as a failure if you're trying to please everyone. As soon as one kid asks to roll the windows down in the car, another one will yell from the backseat, "I'm cold!" and the littlest will respond with "I'm hot!" just because he can.
And, that's just inside your own little family of 5. Forget the neighbor, or the PTA president, or the checkout lady at the grocery store who is rolling her eyes at your stack of coupons. Motherhood is not meant for perfectionists. It's meant for realists.
Recently on my FB page I shared this:
Being a mom is hard. Some days I want to crawl into a hole or run fah fah away from here. It's relentless and grueling and this morning it felt very LOUD. I sent my kids outside to catch my breath, and let them scream for the neighborhood, and be wild and free, and get that energy out that they some how woke up with this morning.

They came back inside with this boquet. And all is right with the world again because I'm reminded why I wanted this motherhood gig in the first place. These little people are pretty miraculous. 
Forgive yourself for the thoughts you have when it's hard. It's normal and human, and makes the sweet moments SO much sweeter. There is opposition in all things.

Even motherhood.
The longer I've become a mother, I've tried to adjust my former expectations of pleasing everyone, and being perfect by using a more realistic measuring stick. I realize now that 99% of the reason that moms say, "Because I'm the mommy, that's why" is because somebody has to be the tie breaker when everyone is arguing over what radio station should be on in the car. And, it might as well be me.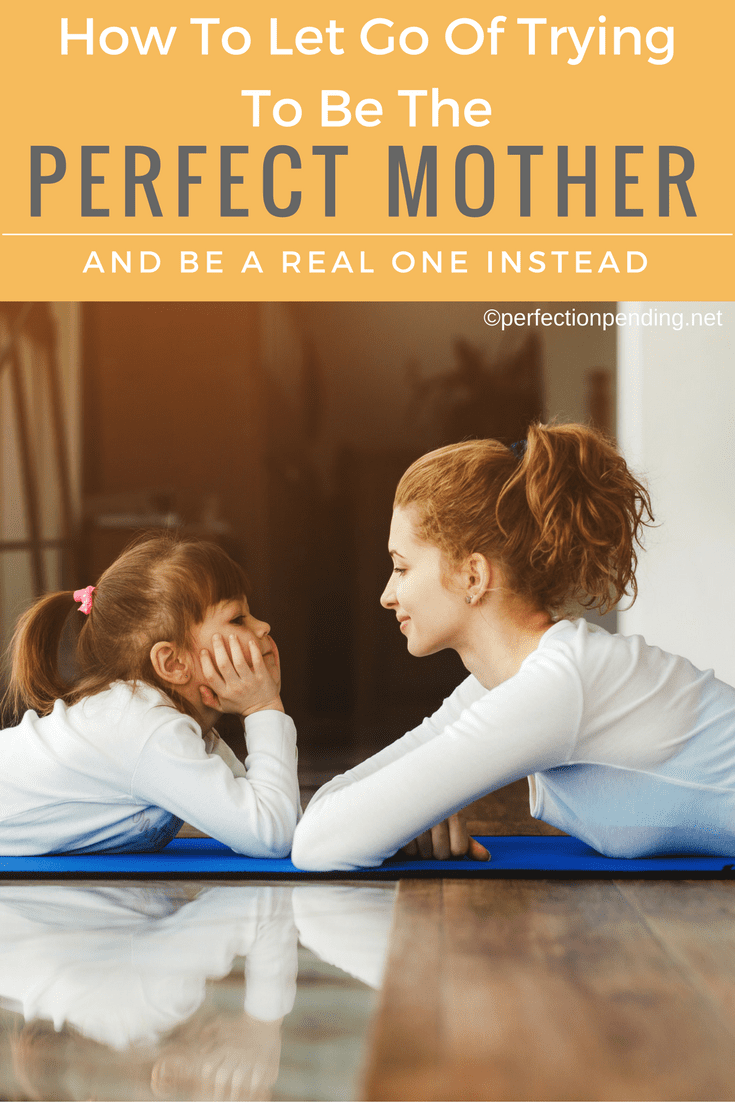 Occasionally I still see myself falling into the trap of trying to please everyone, though. Especially at dinnertime. When I'm trying to cook a meal that is kid-friendly, healthy, low carb, and suitable to a 3 year old's taste buds which consist entirely of cheese in melted form and chicken nuggets (if he's in the mood). When someone doesn't eat their food because they didn't like it, I take it personally. Which when you think about it is ridiculous.
But, for the most part, being a mother has killed the people pleaser in me, and I've readjusted my lens to something a little more realistic. But, that doesn't mean I give up all hope of being great at something. Even, perfect.
For me, being realistic is a lot about just letting go of the need to control everything around me. Perfectionists like to control their environment, and anyone that's been a mother knows you can't control a lot that goes on when you have kids. Stomach bugs will hit your house when you have family in town, and kids will teethe when it's totally inconvenient. So, controlling your environment can be as frustrating as trying to please the cat.
But, something that I've found that gives me peace at night when I'm running through my daily list of failures, is knowing that there are some things I do as a mom that I am perfect at. At least, perfect enough. And, I'm sure there is something you're perfect at too if you take the time to stop and think about it.
Have you ever reminded yourself of all the things you ARE perfect at? Maybe in a moment when you're beating yourself up, you could try it. Start small. Maybe you're only perfect at one thing (I guarantee you there are more than one), but write it down. Say it out loud. Or, just remind yourself during a moment of darkness.
I am "perfect" at dancing with my kids when they want me to.
I am "perfect" at snuggling.
I am "perfect" at saying I love you before they walk out the door.
I am "perfect" at feeding them every. single. day.
I am "perfect" at showing affection. We have lots of hugs, kisses, and snuggle time around here. Can you tell?
I am "perfect" at saying I'm sorry to my kids when I know I've done something wrong.
I am "perfect" at teaching my kids it's OK to have emotions.
I am "perfect" at trying. I try to do better every day.
The funny thing is, finding your strengths is not an easy task. When I thought about this post a few days ago, I could only come up with one thing. ONE THING. Pathetic. Then I had to sit on it. The next day I added something else. Sure, I'm not really perfect in the true sense of the word, but I think I'm pretty damn good at those things. And probably a whole lot more if I would just give myself more credit.
My generation of parents seems so quick to dole out compliments and praise to our children, but so slow to dish it out to ourselves. I could list 20 things that my kids are good at, and it might take me an entire week to think of 20 things of my own.
I've had my share of dark days in motherhood. In fact, I still do. There are days when I don't want to be a Mom. I want to be selfish, and get in my car and drive for a long, long time. I want to lay in bed and beat myself up for the countless ways I'm screwing up. I want to be alone. Some days, I crave being alone. But, there is opposition in all things remember? Even motherhood.
Which means that if I'm failing at so many things, I'm bound to be good at a lot of things too.
And maybe. Just maybe even "perfect" at some.