For some reason, when you get older, it gets harder and harder to make friends. So if you want to know how to make friends in your 30's (and later!) we've got some ideas for you. I have found some of my very best friends later in life, and I'm so grateful I put myself out there to do it.
So, why is it so hard to make friends in your 30's anyway?
I think the 30's are a time of life that is very transitional. People are getting married. People are starting new jobs and careers after college, and people are starting families and having kids. It can be a wild time to make friends in your 30's when you're single or in a relationship.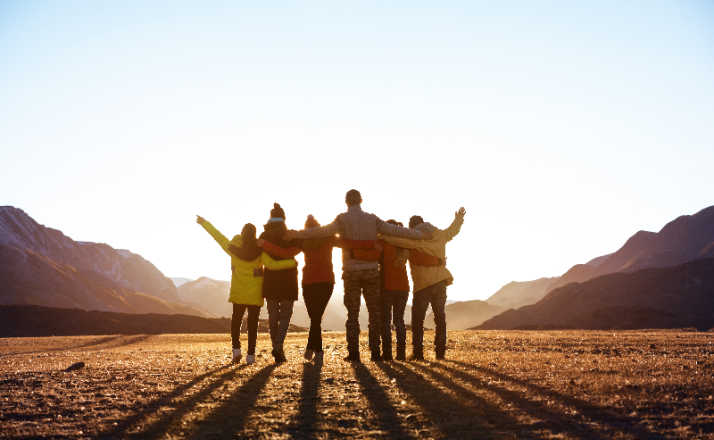 The issue is mostly that friend groups are shifting.
Perhaps you've moved to a new city and are trying to make friends, or you are the only one single when all of your friends from your 20's are now married. Maybe you are having kids and all of your friends are still single. In a transitional stage of life, making friends becomes even harder.
It seems like your 30s is a time of friend transitions, too.
How many friends should you have in your 30's (and 40's, etc)?
There is no correct answer to this, and a lot of it totally depends on your own personality, too. I personally am fine having one or two friends that I'm really close with and tell everything to. Life can sometimes slow down in your 30's and finding friends becomes more difficult.
Some people want a large circle to go out with and have a lot of diversity in their friend circle. I think both are totally up to the person.
Perhaps, everyone is settling into a more "boring" life routine, and you're still looking to go out. Do you need a big group of friends, or just one or two? I think there is no magic answer.
Finding one or two friends though, or even just a best friend, is important to your mental health.
According to Better Up, there are many reasons that finding friends in your 30's is important for your mental health.
Friends prevent loneliness, depression, and can even prevent health problems like high blood pressure and heart disease. That's a lot of benefits to having friends in your 30's.
Friends help us find a sense of community, and help us have a support system which all contribute to an overall better sense of well-being.
For me, finding friends in my 30's has helped me commiserate with others who are in the same general stage of life as me. This is not to say we need to ditch old friends that haven't caught up to what we're doing, but rather broaden our group of friends and add more.
Having friends that have the same interests, or are in the same stage of life as you is a good way to have a support system that can help you or empathize during hard times.
What what if you have no friends in your 30's (or 40's) right now?
I hate to think of anyone feeling alone and not having friends and a community. I guess it's just the empath in me. But, I've also learned that many people really do struggle with feeling like they have no friends.
I have even felt like this before. I wrote a post that has brought lots of traffic and comments to my site over the years about how I wished I had a best friend.
It's incredible to me how many people have messaged me over that post and shared that they felt like they had no real, true friends in life.
Did you know that when you're lonely, it can actually affect your hormone levels?
According to this article on Headspace.com being lonely can have a lot of consequences on your physical health. Your stress hormones elevate, you can feel like you're in the fight or flight mode stage of life, and you can actually die sooner if you feel lonely for a long time.
How depressing to think that so many people struggle with loneliness. If we could all just broaden our circles a little, we could prevent people from being lonely and depressed and possibly even live longer!
So, let's talk about how to make female friends in your 30's.
First, I've had some wonderful life long friends that I've had since childhood. They are invaluable to me, but it's also important to have friends that are your go-to people in your current stage of life.
For me, I found two of my best friends at an online blogging conference. If you're like – really? That's her tip on how to make friends in your 30's? Ha. No, that's not all I've got for you. But, it's just an example of what can happen if you put yourself out there. Which is my first (not only!) tip for making friends in your 30's.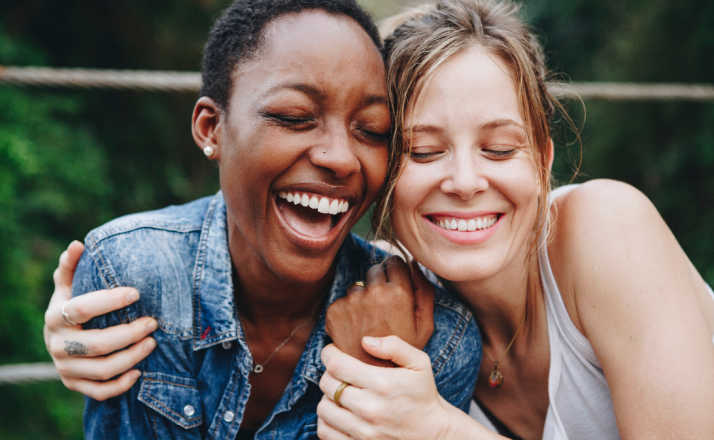 Put yourself out there.
The BIGGEST tip is to just get out there and find people. Most people don't find friends just sitting at home.
This means you have to leave your house. I know I know. In a post-pandemic world, that feels terrifying to some people, but I'm convinced that if I hadn't gone to that conference all those years ago, terrified to meet new people, and go alone, I would never have met two of my very best friends in life.
Here's a list of ideas for how to put yourself out there and make friends in your 30's.
Join a club. This could be anything from a wine night, book club or
Get a hobby and maybe find a group that also shares that hobby. Finding a hobby outside of your house will help you meet people that share the same hobby that you do. Sometimes that means instant friends.
Get involved in the community. Do community service or volunteer for a local group.
Open your mouth! I found a good friend years ago by just talking to her as we both pushed our boys on the swings. I was brave enough to ask for her number to arrange a playdate for our kiddos and now we've been friends for years! I found another friend standing in line at the elementary school carnival waiting for cotton candy. It can happen anywhere.
Be vulnerable.
So many people walk around hurting and lonely and never tell anyone about it. Vulnerability can speed up the process of making friends. What do I mean?
One study found that 3 out of 5 American consider themselves lonely. That's startling! But, in a way, it's also good news if you're looking to make friends.
If you open up to people (yes – even strangers) you are more likely to find a kindred spirit (yes I love Anne of Green Gables) that will love you back and want to be your friend.
So often we walk through life keeping our heads down, and don't take the chance to see those around us. Chances are if you're hurting and lonely, so is someone else in your world.
While we don't want to go around just rambling to strangers about the deep, hurtful trauma we feel, at some point, we have to open ourselves up enough to take a friendship from casual, to deep and meaningful. I'm convinced that this can only be done by being vulnerable and letting others know where you're truly at.
Maybe it's as simple as saying, "I really need a friend." when you're connecting with someone next time. It might just be that they need a friend, too.
If you want to know how to make friends in your 30's, think about what type of friend you want, first.
Do you want a park playdate buddy for your toddlers? Then you should probably be attending playdates, or hanging out at local parks.
How do you make friends in your 30's with similar interests? You've got to participate in groups that share those same interests.
Do you want to broaden your circle? Start by networking with existing friends. The more you say yes to doing things with existing friends, the more likely it will be that you'll meet new people and find someone you can really connect with.
Making female friends in your 30's is a lot like dating.
How are finding friends and dating similar? I'll tell you.
You have to show interest in the other person.
Small talk is sometimes boring, but necessary to make everyone comfortable.
Eventually you have to be vulnerable in order to take it to the next level.
You have to ask for their number or social media, or something.
You have to initiate sometimes and put in equal effort.
If you can keep in mind, that building friendships is a lot like dating, then you're more likely to find someone that will become a lifelong friend.
Make friends in your 30's by joining local online communities (or just online communities in general!)
I suggest local online communities, because that's a great way to build a network of friends close to you. But, joining any community online that fits with your lifestyle, interests and values is a great way to find like-minded friends.
But, the key to joining online communities is to participate. You can't just lurk in an online reddit thread and think you are making friends that way. You have to jump in and put yourself out there.
Maybe even ask for a local meet up with other like minded people. As always – use caution and be safe about this though. No need to meet up with someone alone and put yourself at risk, but at some point you have to take that leap in order to find valuable, meaningful friendships in adulthood.
In conclusion, here's how to make friends in your 30's in two steps.
Put yourself out there.
Be vulnerable.
It sound easier than it is, I know. But, if you take the time to join, participate, get out, and then open up you're sure to find that forever friend or lots of friends in your 30's, 40's and on and on.