I don't have any experience as a single mom, but I admire the women all over the world that take on this massive responsibility on their own, and thrive while doing it! It is inspiring, and if you ask me, very very brave. My guest poster today is a brand new blogger and shares her tips about how she has been able to thrive as a single mom. Her name is Tara, and she blogs at All Out Mama. Since she's a new blogger, make sure to stop by her blog, follow her on Facebook, and share the love! Want to be part of my be brave guest post series? Go here. 
*****************
Most people don't plan to be a single parent. Being a single mom was one of the last things I'd ever expected to call myself, but it happened and I am continually surprising myself at how well I've adapted and how much stronger I've become!
My daughter was only two years old when I started my single mom journey. I was so overwhelmed when I thought about how I was going to take care of my daughter and a house by myself. Luckily, my daughter adapted to this big change with no problems. I'm happy to report that I, too, have done quite well! Being a single mom has made me stronger than I thought I could be. Here are things that have helped me along the way, and things that will hopefully help you too!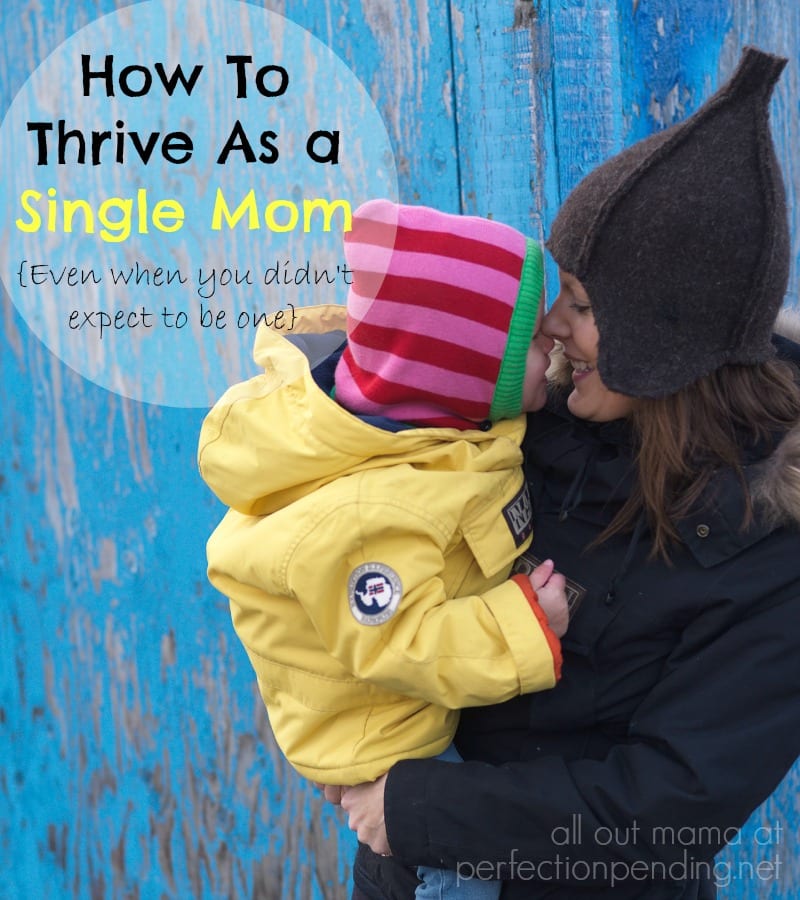 *text added to photo (photo credit: greenland_com via photo pin cc)
Enlist help
I'm the type of person who jumps into things full speed ahead. Once my mind is made up to do something, I give it my all. I took the same approach to being a single mom and soon realized that it was unrealistic to think I could do everything myself and never ask for help. It's important to enlist the help of people you trust. Don't be afraid to call your helpers when you are feeling overwhelmed and stressed. After all, how good of a mother can I be to my daughter if I'm stressed out all of the time?
I enrolled my daughter in preschool two mornings a week. My mom spends one day a week with my daughter, sometimes I join them and other times I use that day to run errands or get the house clean. Also, my daughter spends one day every week or every other week with her dad. I use these days to get things done around the house or to do something for myself so I can re-charge.
Make time for yourself
Setting aside time to focus on myself helps me to enjoy my time with my daughter. Taking care of a toddler and a house by myself doesn't leave much time for me. If I waited until the laundry was done, the house dusted, the dishes washed, the toys picked up and put away and so on, I'd never have time to do the things I love. I set aside time for myself each night when my daughter goes to sleep. No matter how much needs to be done around the house I sit down and read (since that is one of my favorite things to do). Even if I spend only thirty minutes per day doing something I love, I've found it helps me immensely.
Get a Support system
It's difficult for me to admit that I can't do something by myself, parenting included! I've found that having a support system (a couple of people whose opinions I trust) is very helpful. I don't feel so alone in this journey when my mom, grandma or sister are all only a phone call away.
I'm constantly second guessing my decisions as a parent and it drives me crazy! Talking to someone from my support system helps me sort things out in my mind and give me a different perspective. I've learned that I don't have to listen to every single piece of advice given to me, and that sometimes it helps me just to have someone who will listen.
Believe in yourself
The most important thing I've learned is to believe in myself. I've made mistakes, I'm going to make more mistakes. I don't beat myself up over them. I learn from them and move on. I am strong for my daughter. When things get tough and I want to crawl into bed and give up I look at my sweet girl and remember she depends on me. I pull myself together and keep going.
My experiences the past couple of years have taught me so much but I know I've got so much more to learn. I know I'll never be the perfect, put together mom who always completes her to-do list, and that's ok! As long as my daughter knows she is loved and we have fun along the way, I'm doing my job.
About Mama
I'm Tara, the All Out Mama!
I'm a single mama to an adorable toddler girl.
All Out = whole hearted, determined, enthusiastic & full speed ahead (which all define me quite well)!