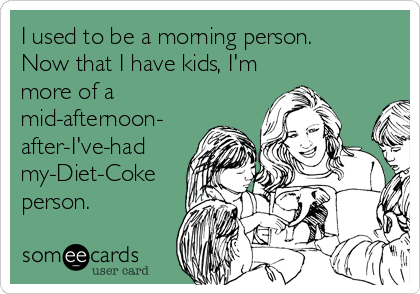 I have noticed a trend lately. I wake up grouchy every single day. You see, I used to be a morning person. Now, I wake up and my old body doesn't want to get out of bed. It might have something to do with those  birds I keep complaining about, chirping at 4 or 5 am. Or, maybe it has to do with the fact that I must have a freakishly small bladder and therefore, have to pee a couple of times a night. Or, it could possibly have to do with the fact that while all my children technically "sleep through the night", that whole sleeping through the night thing is a big fat joke that experts and fellow parents everywhere are not admitting to. KIDS NEVER SLEEP THROUGH THE NIGHT. I mean, sure, one will. But, if you have more than one, there will almost always be someone in your house waking up at some point every single night. Admit it parents. We're all lying to ourselves!!!
When I was first married, I used to be the one waking up with lots of energy. My husband, who used to be a night owl would hate how my mind and my mouth wouldn't stop going the second I opened my eyes. I got a lot of "uh huhs", but not much else out of him until he had his shower and breakfast. Last night, he went to bed at 8pm. Yes, you read that right. 8.
What has happened to us? I will tell you. Kids. That's what happened.
Last night, I was determined to make it until at least 10pm before I went to bed. But, alas, I made it until 9:30 pm. There is something about knowing that your little people in the house will be up at the crack that makes you feel so tired. SO early. I have a little morning person in my family. His name is Kyle. And, while I love that kid more than life, his voice at 6:45 am is enough to make me want to hide under the covers until at least 10am. Or, the fact that I will definitely be up at midnight to pee, and then at 5:30 am, the baby will be waking me up wanting to play. Luckily, by kid number three, I've learned to just ignore that.
But, the truth is, I don't think people realize that it isn't just the baby phase that robs you of your sleep. Or if they realize that, they're lying to the rest of us. When you decide to become a parent, your sleep is never the same again. Period. My husband is going to bed at 8pm, people. This is the guy that used to stay up until 2 or 3 am editing wedding videos when we were first married. He said to me this week as we decided to put our kids to bed unusually early at 7:30 pm, "Are we ever going to do anything on a Friday night again?" I just laughed. That's all you can do, isn't it?
Now, my morning routine is to say as little as possible. This leads to scenarios like this morning where I say as little as is required to fix my kids breakfast and wait for my husband to get out of bed. Once he is showered and awake (he was well rested last night mind you after 12 hours of sleep), I ask him to take out the trash and I go take a LONG shower. When I come out and am still not speaking, he asks, "Are you OK? You seem kind of out of it or something". Really? I mean, could it be the 3 times I got out of bed last night while you slept happily, or the fact that I am always the one to get up with the early bird in the morning? Instead, I replied truthfully, "I have a headache" in which he immediately did a TMJ check on my jaw and confirmed that I need to stop clenching my teeth. Thanks, babe.
The truth is, last night was sort of typical. Not really that bad. I mean, I went to bed at 9:30, and drifted off to sleep just in time for my idiot neighbors to start doing giant fireworks right outside my window. That lasted until about 10:30. Then, I got up at midnight to pee (you know, the usual). Then, my 5:30 wake up call from the baby happened. Then, Kyle was up by 6:45 am. Talking. As loudly as possible in the other room. I get up and get him settled in front of the TV and plop myself back into bed. But, since he cannot for the life of him keep quiet or still for 5 seconds, I never went back to sleep. I told him to be quiet a couple of times to which he responded, "But I'm huuuuungry". Oh, that makes sense, being hungry means silence and being still are impossible. Silly me.
The other day, that kid said to me about 5pm, "This day is NEVER going to end". I laughed as I thought, "That's how I feel every day, kid. Maybe if you didn't wake up so dang early it wouldn't seem so long!"
I just know that in the morning, this is no longer a good time for me. And, it makes me sad. Because, I'm definitely NOT a night owl. So, what am I? I guess I'm a mid-afternoon-after-I've-had-my-diet-coke person. In fact, this weekend when I went to a few yard sales for fun and some well-to-do lady tried to get me to pay $6 for a pair of really worn out sandals as she said, "I bought them last year and she never wore them", I looked at them with the soles so worn that you could no longer see a size or brand name, and looked back at her and said, "You can't even see the brand name on the sole or the bottom. So, yeah, she wore them". She said shamefully, "OK. I'll take $3 for them."
Yeah, you will lady, I thought. Because I'm not putting up with your crap. I haven't had my diet coke yet.
And, on a side note, my favorite search engine term today is "girl nose hose" whatever that is.