It is not enough to just be better parents than our parents.
Have you ever heard people say that? Every generation does a little better than the last. Well, if that were true, then when, or how many generations will it take until, we are all going to magically be absolutely perfect parents? The answer is: Never.
I have been thinking about how so many people tend to say things (either in their heads or out loud) like, "Well at least you don't beat your kids, so you're doing better than that", or "At least I'm not yelling at my kids all the time like MY mother did, so I'm at least I'm a better Mom than she was". While some might think that these are positive thoughts, I like to think that they are thoughts that, while not exactly negative, aren't really helping all that much anyway.
Let me explain.
First, I think comparing ourselves as mothers to anyone is not a good idea. Yet, I do it all the time. I am the QUEEN of this behavior. It is especially hard not to compare ourselves to our own mothers. Whether good or bad. For those of us that had mothers that were always "perfect" in our eyes we might fall into the trap of feeling like we are never good enough. But, for those of us that maybe had the opposite of perfect mothers, we will also fall into the trap of, "I can never escape becoming my mother. I'm failing because I do such and such" So, either way, it can produce negative thoughts.
I also think that it just simply is not enough to be a little better than our own parents. That is not always a healthy comparison. I remember when someone close to me once said, "My mother in law just doesn't get it when I complain about my husband. Her husband was an alcoholic drunk that was abusive, and since my husband doesn't drink or abuse me, then he can do no wrong in her book." Does that mean that she has no right to get upset when her husband might do crappy things? Of course not. Her husband should be the best husband he can be despite what his father was like as a husband.
Sure, we can all look to our parents for some direction. Either we want to follow their example or run from it. Or maybe do a little of both. But, what if instead, we focused on what we wanted to be independent of whoever came before us? What if we didn't compare or try to live up to, or try to overcome? What if we just focused on being our best selves as Moms?
Honestly, I don't know how to do this. Let's be real. I am constantly worrying about ruining my children, making mistakes, not living up to, and messing up my job as a mother.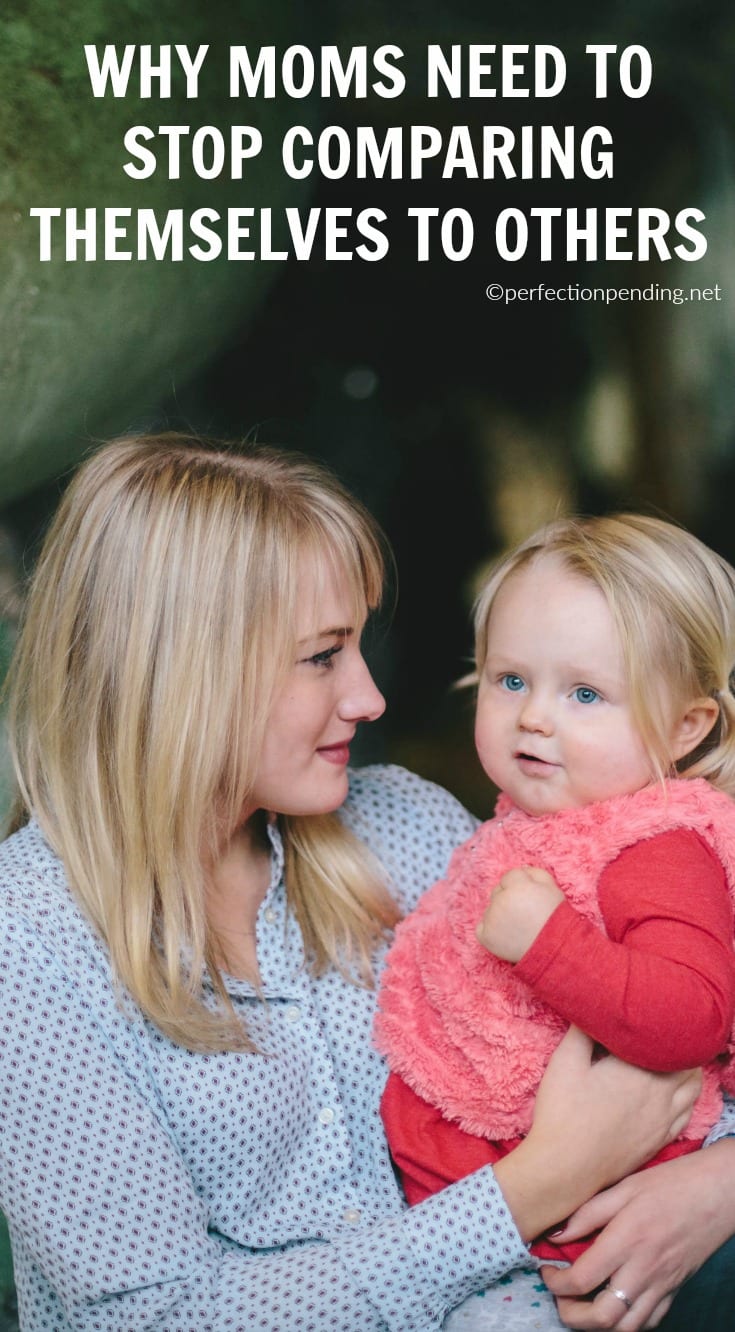 Maybe the answers are simple. Like how about we can look ourselves in the mirror each day and remember to….
Be confident in what I'm doing.
Have faith that I am good enough.
Trust that I am the Mom my kids need.
Don't rely on others for praise, recognition, or encouragement. Instead, focus on doing our own self-evaluation at the end of each day. (This is a hard one for me)
Concentrate on doing my best each day instead of someone else's best.
Trust my Momma instincts.
Forgive myself.
Don't give into the fear that I'm not good enough or that someone is doing better.
Know that I will make mistakes, but admit them when I do.
Don't settle for doing better than what the generation before us did. Instead, try hard to achieve the best of myself.
Easier said than done right? But, that is the Mom movement I would like to start. Forget looking at another sad story in the news or from our own childhood and thinking, "Well, at least I'm not doing that. So I'm doing OK." Instead, why don't we look in the mirror and say, "You did your best today." And if you didn't, don't beat yourself up. Simply resolve to do better tomorrow.