Today, I spent a good ten minutes turning a used plastic Trident gum container into spy gear.  It already had a flip top lid, and my five year old wanted a hole in the bottom, so he could flip the top and look through it like a spy. The plastic was so hard to cut through, but I pounded, and chiseled, and said a few swear words in my head trying to cut through this ridiculously thick plastic container. I could have easily told him to forget it, because it was too hard, but he had a vision, y'all. And, he looked at me with those big blue eyes asking me to make his imagination come to life.
I needed to hurry and get in the shower, but instead, I chiseled, and huffed and puffed. I used a knife. A larger knife. Scissors. And then an even larger knife. FINALLY, I got a little tiny hole to poke through. I kept carving away at this crazy plastic that was close to indestructible all to make my baby's imaginary toy from a piece of trash come about.
As I handed my piece of work over to him, the smile on his face made me want to melt into a puddle on the floor. I raced to the shower, and thought to myself, this is what moms do all day.
No, I don't make spy gear out of plastic all day every day. But, I do things like that. I do seemingly insignificant things like pick up dirty socks around the house and find that toy that we just have to find before we go somewhere.
I pack lunches, and dust, and serve a hundred bowls of cheerios a week. I do a lot every day. I just need to stop defining it as nothing special, and start seeing it for what it is – a lot of work that matters.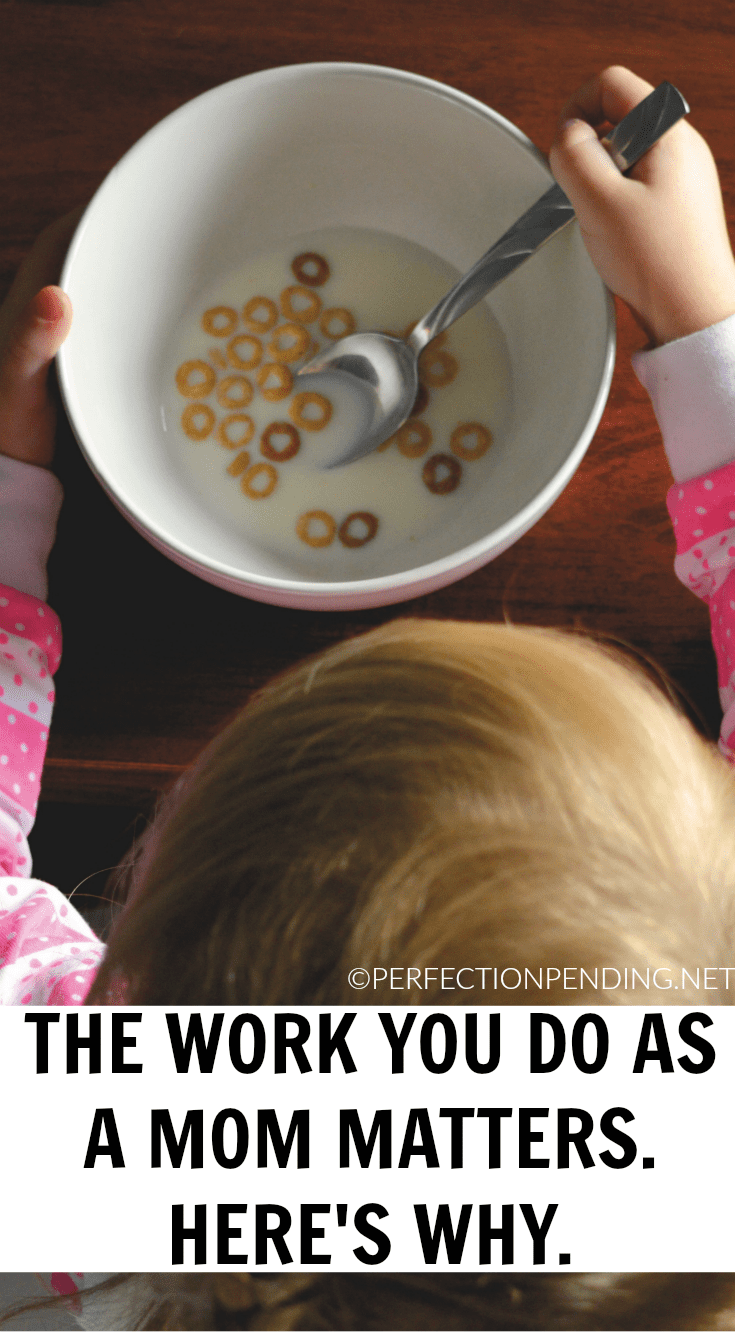 When I was a new mom, I lamented to my husband, and other people who I felt safe complaining to things like, "I just feel like a milk machine!" about nursing the newborn around the clock. But, in reality, I was a milk machine. Let's face it. I sat for hours at the beck and call of a tiny squirmy being that seemed both amazing and foreign to me at the same time, and I nursed for what seemed like years. I was just a milk machine to those three little babes of mine, but what's really wrong with being a milk machine? Nothing. Absolutely nothing.
In fact, I would argue as I look at my babies now 10, 8, and 5 that nursing them was not only a great accomplishment, but I was nourishing babies. Being "just a milk machine" was what I was supposed to do at that stage in my life, and it was enough.
Sometimes I'm tempted to say to a mom friend that "all I did was keep the kids alive today." Well, that's no easy task some days. Have you met toddlers?
I have the perspective now of 10 years of parenting behind me, and I see with clearer glasses that what I do matters. I see that the laundry matters, and so does the coaching my kids to get ready for school and get their butts out the door despite their shenanigans.
But, so often, as moms, we're tempted to say things like, "All I did was fold a load of laundry and cook dinner." I would argue, you matched socks that are necessary to protect precious feet, and you fed your babies so they will grow. That is important. It's all important.
Yesterday, I brought my eight year old in close for a little talk. That little talk might be something that shapes his life forever. It was five minutes of time that were precious. Sure, the rest of my day might have been dishes, and cleaning, and laundry, but those five minutes were the most important. And, the filler tasks? The stuff that is mundane, and boring, and the stuff that we dread? Those are all valuable. The talk was five minutes of a very packed day, but everything I do day in and day out lead to bigger moments. THE moments.
It's like a big jigsaw puzzle. It's not until you step back in ten, twenty, or maybe even thirty years that you see the masterpiece unfold. Each day, you're doing something towards that end goal. Maybe you told one of your kids that you're proud of them and added a puzzle piece. Maybe you found the missing shoe, or sewed on the cub scout patch – two pieces.
Day in and day out, we are working toward a project. Each little piece seems like nothing in comparison to the big picture. But, every piece is valuable. Every piece is necessary for it not to fall apart, and for the big picture to become something beautiful.
The other day I thought to myself, I'm available for literally everything. Sure, I don't shower my kids with constant undivided attention, but when there is a cut or a scrape, a squabble, or hurt feelings, I'm there. When there is an extra hug or a pep talk needed, I'm there. Why do I feel so much guilt still? I'm adding pieces every day.
So, moms need to stop selling themselves short and claiming that they "just" did laundry, or that they "just made 84 snacks". We need to stop that. We added pieces to the big picture today. And we do that every day, and into the night, and around the clock.
We already know that society undervalues work done by mothers, but why do we? We should know better.
Count the pieces every day if you have to. Make a mental list or a physical one. Remind yourself mamas that the work you do is priceless. And, it's the MOST important. One day you'll have a masterpiece all finished, and you'll stand back and be amazed at how valuable every little piece was.