This post is sponsored by the Natural History Museum of Utah. All opinions are my own. See full disclosure policy here. 
If you're thinking about where you should take your next family trip, might I suggest the lovely state of Utah? Sure, I'm a little biased, but I'm also not a Utah native, so I think I have a pretty good perspective. May is my favorite time of year, and it's coming up. But, besides the gorgeous mountains, national state parks, and skiing, there are some hidden gems in UT that you need to know about. The Utah Natural History Museum is one of them. And, I've got some tickets to give away at the end of this post!


Last week, my five year old and I went again. This isn't our first time, and it won't be our last. We've been there for field trips, and tours, and special exhibits, and it really is one of my favorite places to take my kids to explore. It's so much more than just a dinosaur museum.  There are tons of areas for hands on play, and it feels more like a children's museum than your run of the mill dinosaur exhibit. And the architecture and building itself are breathtaking.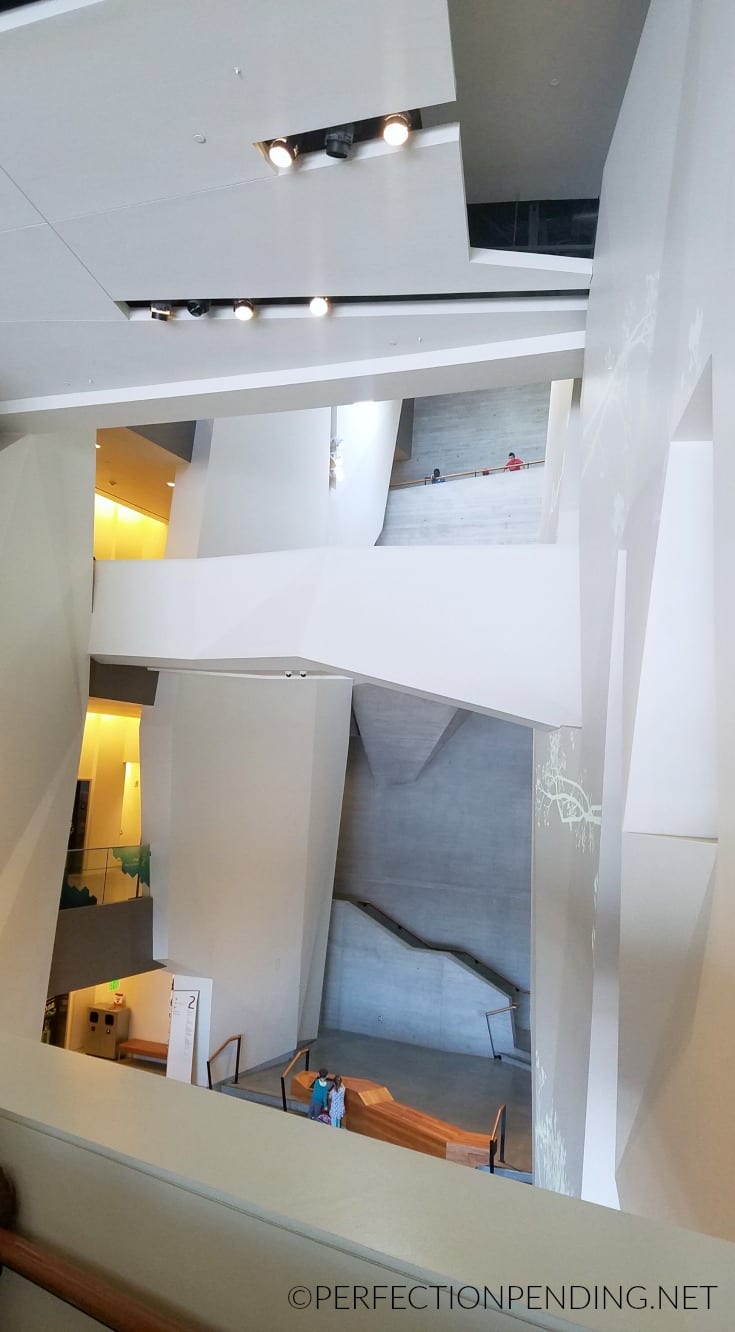 Just look at this bookcase of butterflies, bones, and artifacts. They have 1.5 million objects in the museum. And, every object tells a story, so you really can go again and again! I've been at least five or six times before, and I still learned something on this visit.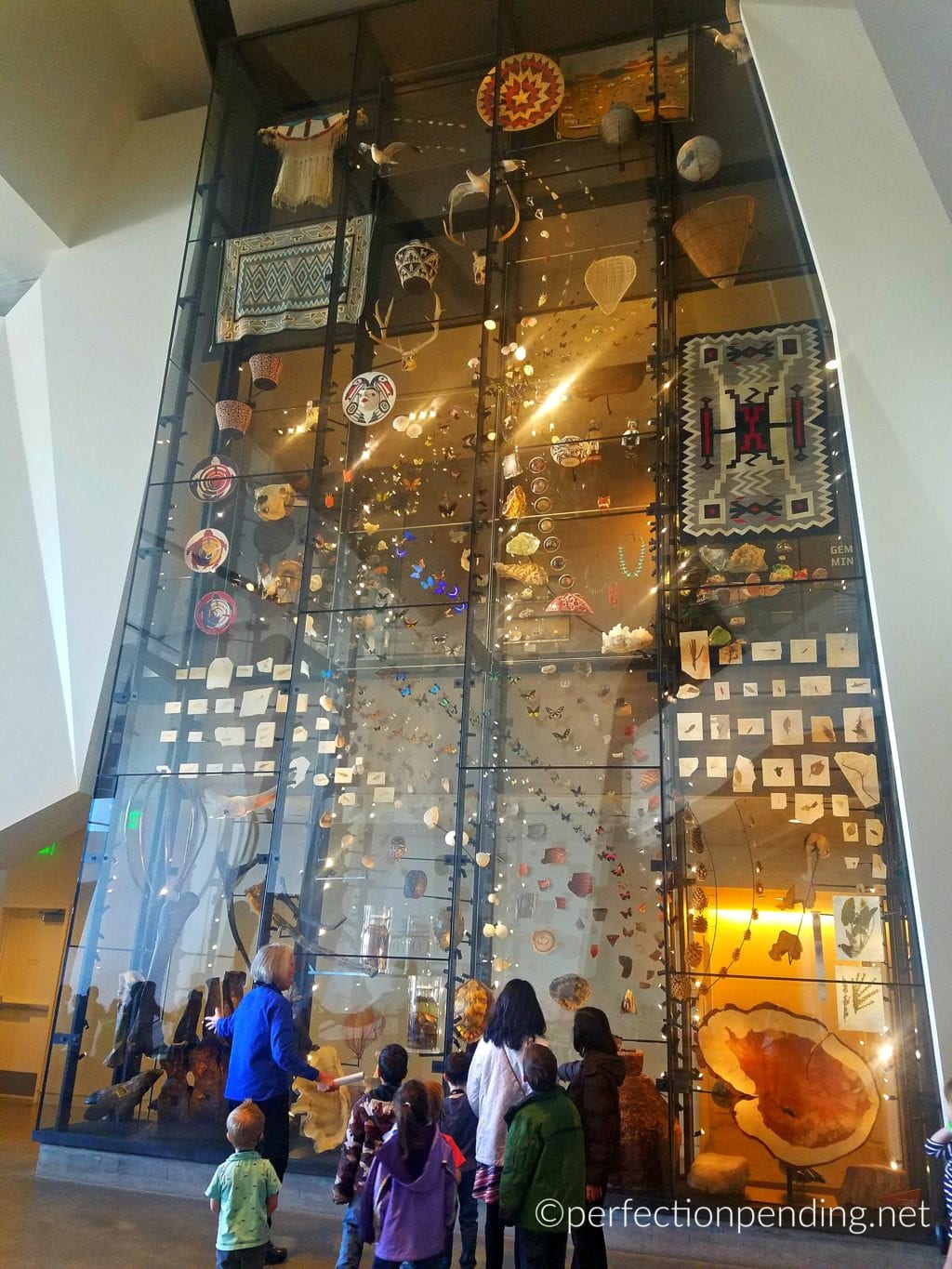 One of the reasons I learned so much this time was because we did a Highlights Tour. I loved it. Have you ever had your kids put on a headset for a tour? It's pretty much amazing. They listen. They follow instructions, and they learn! My five year old was enthralled. This tour gives you the highlights of the museum as you explore and the tour guide talks right into your ear as you walk around and explore. It's amazing.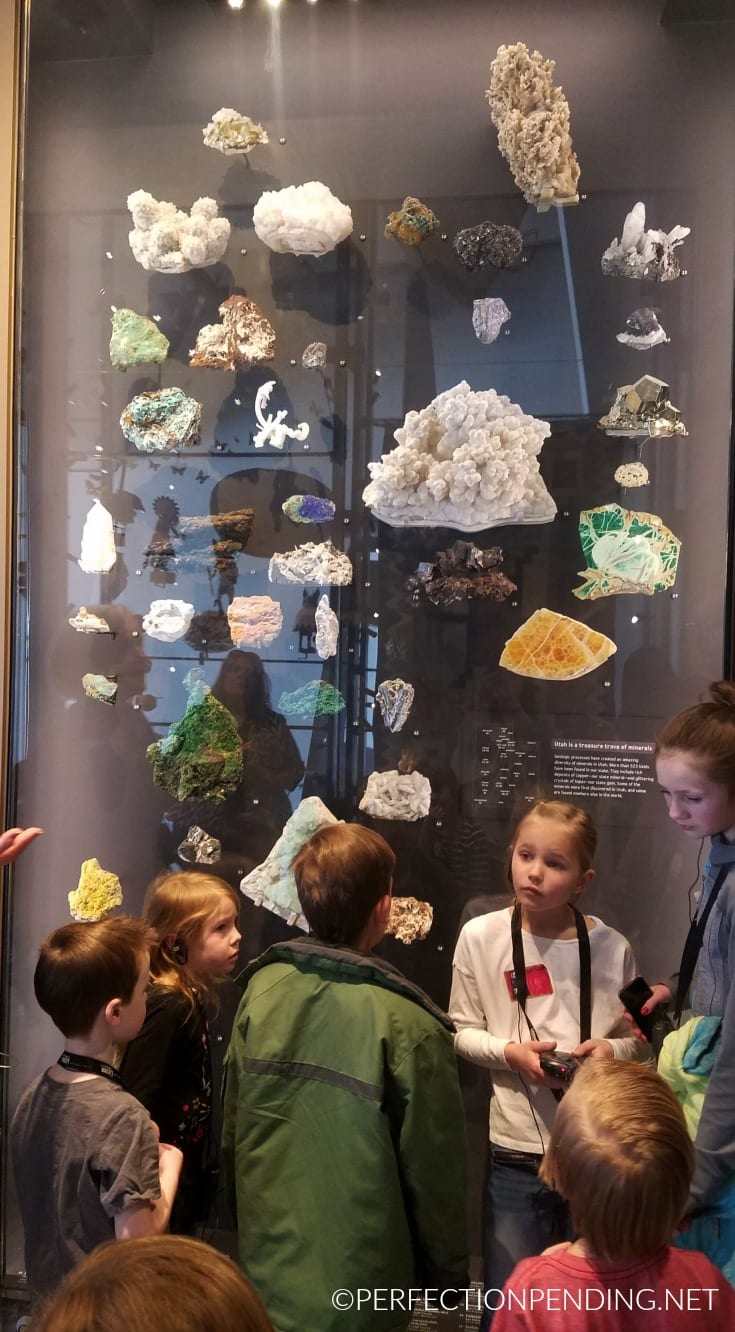 I've probably walked by this display case every time I've been there, but this time, thanks to the tour, I learned that this mineral case contains a mineral for every county in the state of Utah. So beautiful. I wish I had one in my house! The tour is worth the extra $2 and it's actually free if you become a member of the museum. When we got home, I kid you not, my five year old told my husband without any prompting from me all about the Gryposaurus that we saw. I was like, wait. You remember the name of the dinosaur?
A highlight for me was when we got to go inside the fossil lab where volunteers work on actual specimens that they are finding in Utah. This big giant bone is 75 million years old, and was found in southern Utah. The coolest part is that you can actually become a museum volunteer and work in the lab. My sister in law is a volunteer and she loves it.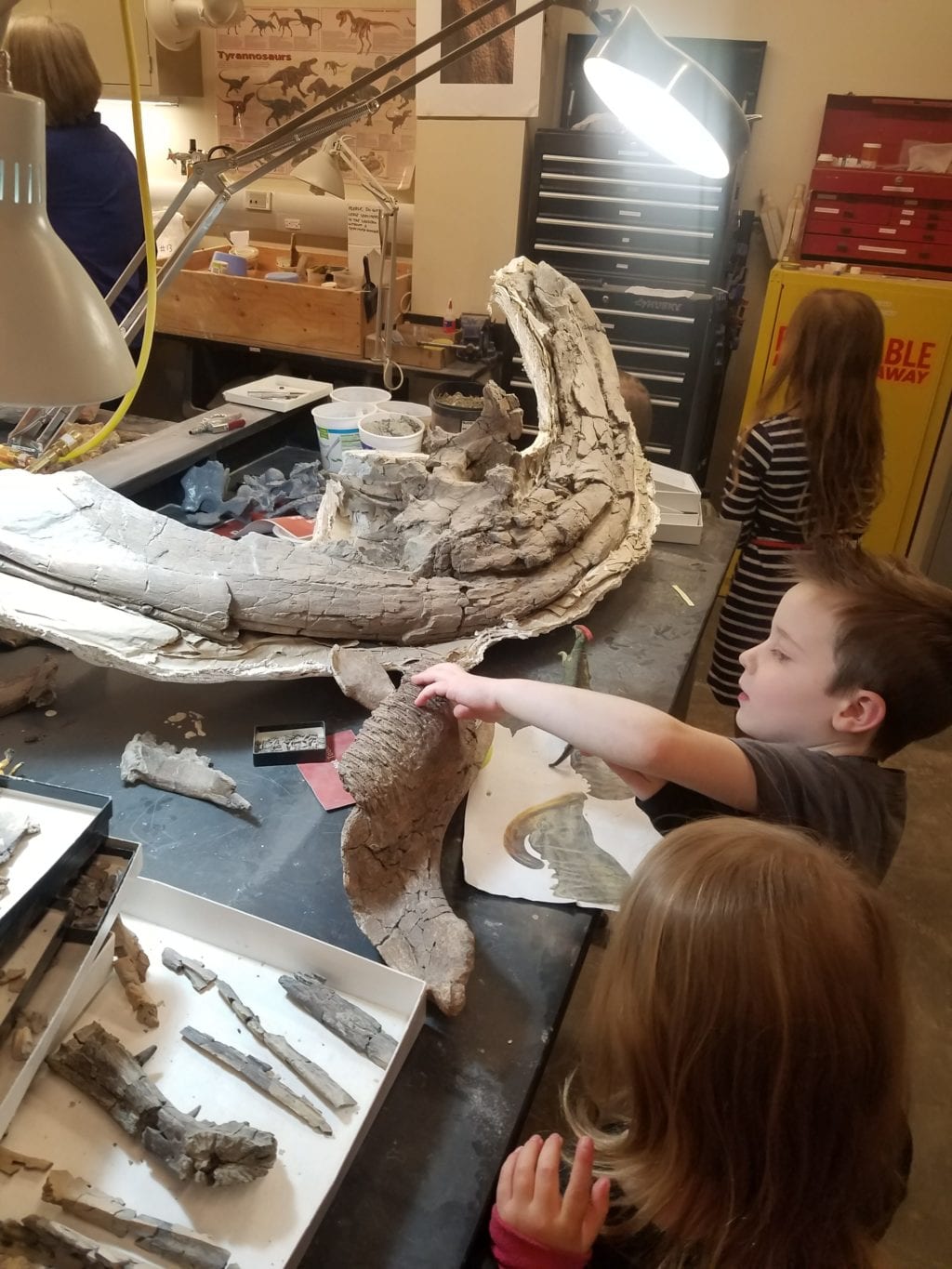 My kids always love standing at the window and watching the volunteers cleaning the actual dinosaur bones. And, you can see inside the archives where they store everything. It's a huge room, and just shows you how much amazing work is going on at the NHMU.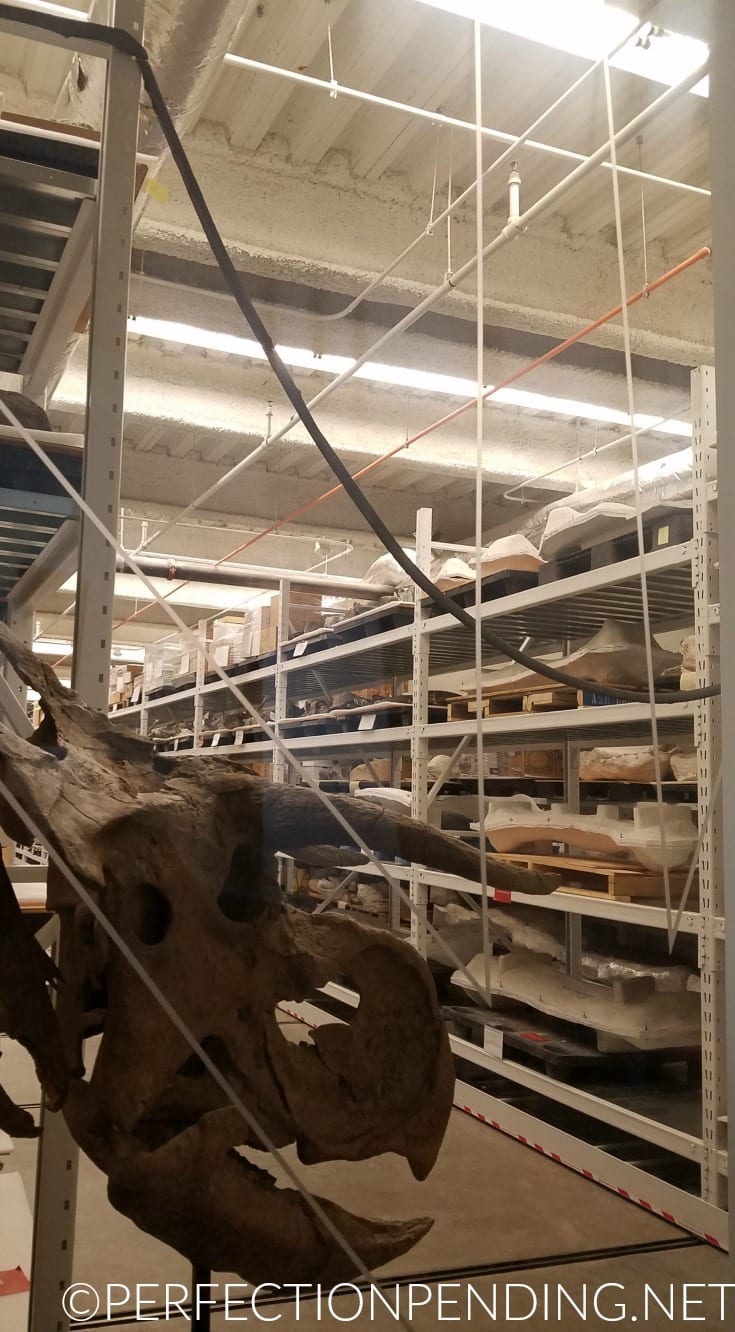 Utah also has the largest collection of horned heads. Utah is a mecca for dinosaur discovery and they are discovering new species in southern Utah all the time.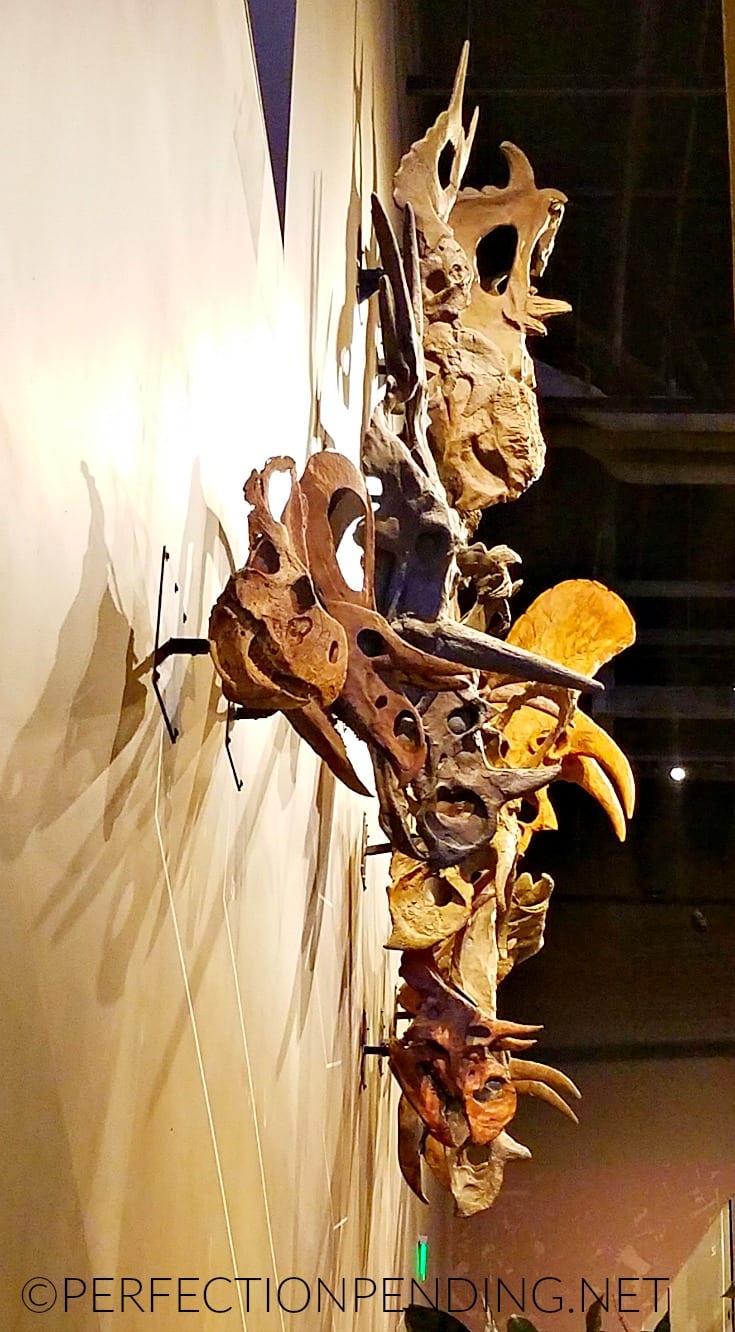 But, let me tell you, the museum isn't just dinosaurs. This is a massive 5 story building with something different on every level that you can touch, explore, and learn about. There is a spot for toddlers to play in water, and there is a spot to dig for bones, there are glass floors to walk over dinosaur fossils, and the roof has some of the most incredible views of the mountains and Salt Lake City.
They also have special exhibits that are constantly changing. One time, it was all about chocolate. Yes, please. Right now their Power of Poison exhibit is seriously cool and creepy. You learn all about poisons in nature, animals that are poisonous and even poison in literature (hello Harry Potter fans). Everything is interactive.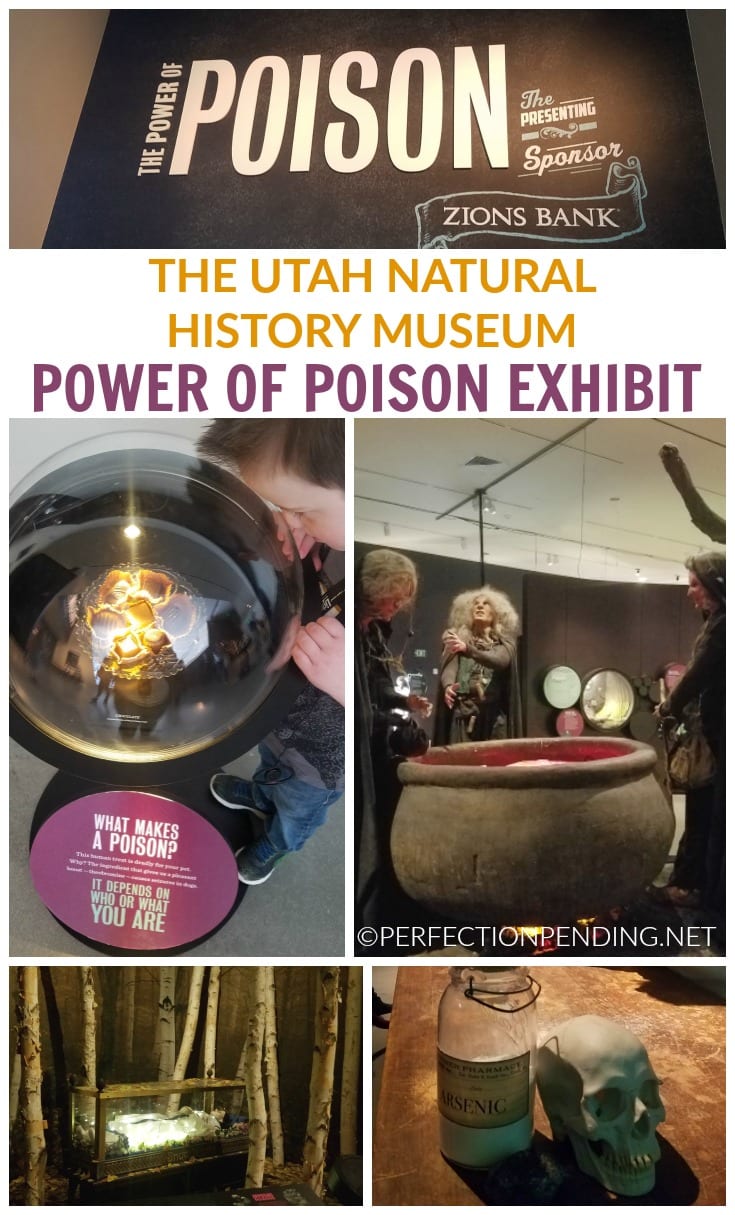 This special exhibit will be there until April 15th and then the next exhibit will be about Vikings. Seriously cool. There is seriously something new to see every time you go. And, that's why we keep coming back for more!
I'm dying to sign my kids up for one of the amazing summer camps they offer with themes like, Jr. Detectives, Lego Engineering, Space, Technology, you name it. There is literally something there for every kid. Not only that, but they do birthday parties where they plan the activities and do everything for you, and after school programs.
This time, I also got to try their food, and with the views, cafe, and seriously amazing local, organic foods, it would be a great place to visit just to eat and enjoy the view. They even had gluten free options for me. I was seriously impressed.
I just can't say enough good things, and if you're in Utah, make sure this place is at the top of your list to visit. Many people don't realize all the rich dinosaur history is here, and it really is a seriously cool gem.
The BEST part is that I'm giving away 2 family packs to visit! Each family pack has 4 tickets. So exciting. Enter below: