I watched my husband's 90 year old Great Aunt slip into dementia unaware that all of her independence was being stripped a little more each day. She went from being able to do everything for herself, living an independent life well into her late 80's to suddenly being unable to care for herself at all within a matter of months.
Confined to a wheelchair mostly because of her own fears of falling down, I watch as others lift her and transfer her as she clings desperately to the chair not wanting to move. She fears falling down. She fears for her own safety and security. Her independence has been ripped away, so maybe she clings in protest as others try to move her in a desperate last attempt to assert her own free will?
Motherhood has stolen my independence in a different way, but it still has me clinging. Clinging to old habits, and hopes for my children that maybe I have no control over. It breaks me every single day. So I cling. Hoping to hold onto something secure and stable.
Because motherhood is anything but predictable.
I've never been one to really love surprises. In fact, I'd much rather have a well thought out plan to anything than a spontaneous adventure. I want predictability and contingency plans, and security. Don't just give me one plan, give me three. And if those don't work out, I still want to know what's going to happen.
Yet, when you're a mom, it's impossible to predict the future. I can't predict whether my four-year-old will still like apples today when he loved them yesterday. How can I possibly predict the ins and outs of everything motherhood requires of me?
So I cling. I cling to routine and crumble when it is ripped to shreds by sickness working it's way through five humans that live together. I cling to my sanity as the kids are wild in the morning instead of getting ready for school. I cling to my own identity. Am I still in there now that my life is consumed by raising a family?
A friend recently said that being in families breaks you every single day. It is certainly breaking me. In too many ways to count.
When you're a child, being in a family means security, and safety. Always having a soft place to land, and arms to comfort you. Hopefully it means always having food when you're hungry and someone to help you with homework and teach you how to ride a bike. Being in a loving family is great when you're the child.
But, being in a family when you're a mom has an added weight that most days I feel like I simply can't carry. I'm the one responsible for it all, I sometimes think. How did I get here? What part of me is going to break today so I can carry this load?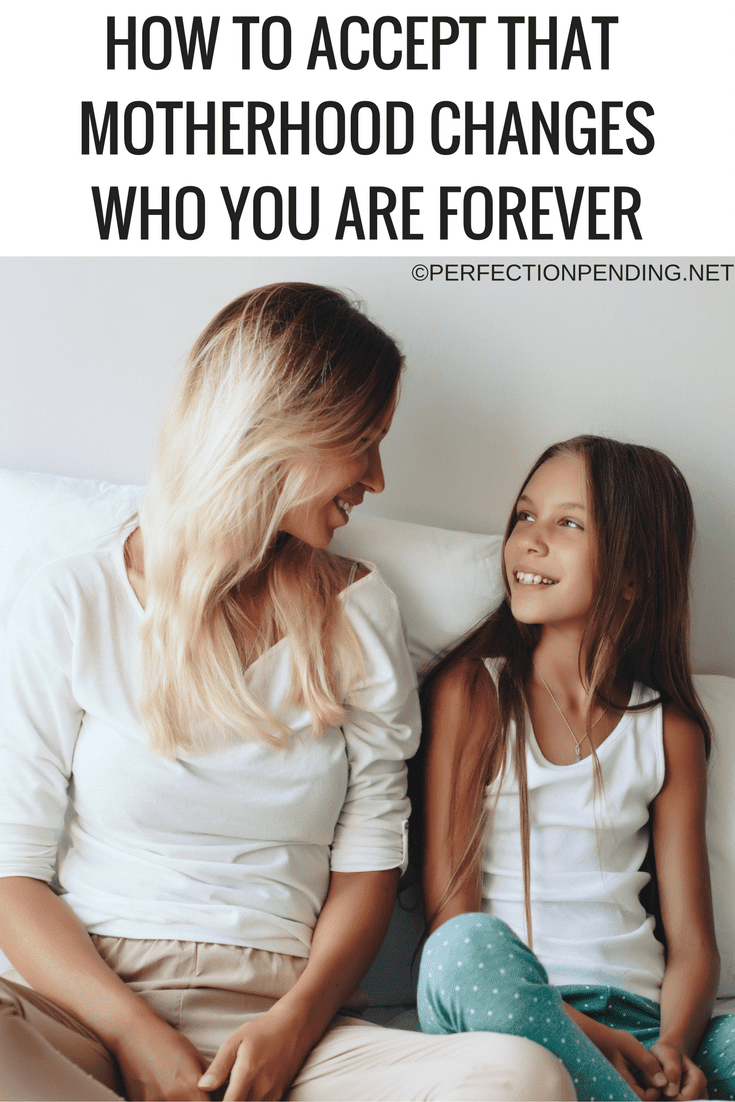 I break a little more each day being a mother. I break because I need to grow. Not because I am broken. I break because I'm not supposed to be the same person I once was. And really, when I stop to think about it, do I want to be?
So I'm breaking and clinging. And trying to accept that breaking is part of why I'm doing all of this.
I break when they come home sad and I can't fix it. I break when my husband and I barely get to speak two words to each other because we are consumed by the weight and responsibility and the load that we are expected to carry. I break when I crave alone time but my responsibility just won't allow it some days.
We are the ones responsible for all of it. Living in families when you're the parent is messy and difficult and frustrating. But, it's beautiful isn't it? Because, it's breaking us into better people.
I've never felt more broken in all my life.
Much like my husband's Great Aunt, I slipped into breaking unknowingly. But, I realize that I need to feel broken in order to be shaped. I need to learn patience from the strong-willed four-year-old that needs me to hold his hand while he poops. I need to learn acceptance from the seven-year-old that has quirks that are important to him that I simply can't understand. I need to learn how to put my own needs last and listen with both eyes squarely on my nine-year-old so she knows I'm still here as she navigates her way away from me a little more each day.
Breaking hurts. But, it feels good too.
But, I'm imperfect and can't always appreciate the bigger picture some days. So I cling. I cling to my past self not wanting to let her go even though I know there is a better self waiting for me at the end of this. Because there will be an end. They will stop needing so much help. They will become adults that want to do adventures I can't wrap my brain around, and they will, one day, head off to college and not ask me to cut the crusts off their sandwiches anymore.
I cling to a daily routine hoping knowing full well that the routine is always interrupted. I cling to an old relationship with my husband that involved carefree trips to restaurants and sitting in an airport excited for an international trip without a second thought about who we were leaving behind.  We probably don't realize most days that the relationship is getting sweeter and stronger as we give each other eye rolls across the dinner table when the littles are acting crazy. It's breaking us.
I cling to who I once was because motherhood is breaking me every single day.
But, that's what it's supposed to do. We're supposed to be broken by motherhood. So loosen that grip. That's right. Let go of whatever you're clinging to that's holding you back of becoming the best mom. Let go of what you thought it was all going to be and what it was all supposed to look like. Instead, accept that motherhood is breaking you.
Let go. Quit clinging. Be broken.
You'll be glad you did.