It's funny how when you're a child, so much of your existence is wrapped up in the other humans you're being raised with. Your parents, of course impact who you become. Your genetics do, too. And, you can't discount the fact that your siblings play a huge role in shaping your outlook on the world.
I have an older brother, and two younger sisters. Sandwiched kind of in the middle, but kind of in the oldest role since I was the oldest of the the three girls, I think my siblings were a vital part of a happy childhood.
Yes, my brother tortured me like brothers, do. Yes, my little sisters annoyed me. Yes, my sisters had my back, and yes, we sometimes fought with our fists. We played barbies, and war with the neighborhood kids. We stayed out until the street lamps came on like people did in the 80's and 90's. We played too much nintendo and fought about clothes, and friends. We got in trouble together, and blamed each other for things that we din't want to get in trouble for.
But, the memories of growing up with siblings are happy ones now. The fights, and bloodshed, and tears kind of fade into the background of the fuzzy childhood memories I do have.
Yet, what I underestimated most about the beauty of having siblings are what they have become to me in adulthood. They have become a lifeline that I didn't know I needed.
There is a big chunk of time when we were young adults and I had no clue what they were up to. They had relationships I never really knew much about, and jobs they started and stopped. They had college classes and friendships, careers and failures that we didn't really talk about. In those early years of adulthood, we were all trying to just find our own way. Find our soulmates. Find out who we really were.
But, now, we're settling into something different. We've all gotten married. Some of us divorced. We've all had kids and we've all started drifting back together in a new way. A way that is healing all of us, I think.
Our childhood wasn't perfect. And, there were things that hurt some of us deeply. We've been to therapy. We've dealt with it, and we haven't. We're still trying to make sense of things that happened to us as kids.
Between the four of us, we now live in 3 different states spread out across the country. A couple of years ago, we decided we wanted to have a sibling gathering for Christmas. It was for our kids we said. So they would know their cousins.  But I realize now that we needed it too.
Since that time, we're all making more of an effort to be in each other's lives. We have a sibling group chat on What'sApp where we share serious conversations and silly ones. We check in with each other often, and yes, we still get in fights. We are siblings after all.
But, recently, we planned a sibling weekend. In our hometown. No kids. Just the four of us again together. It was weird, hilarious, and healing for my soul in a way I can't quite articulate.
We drove around our small hometown in Texas and reminisced together. On the same corner we would have four different memories, blending into each other, yet also separate. It was weird how one of us had a close friend on the same street as another in a different year, and an entirely different memory was made that we didn't know anything about. Even though we lived under the same roof.
We visited our high school and shared memories of detention, and bullies, and our most hated teachers.
We ate too much Mexican food, and laughed until we had tears streaming down our faces.
We visited with dear cousins and laughed at the family neurosis that runs deep down in the blood line.
We visited my grandmother who is suffering from dementia. We sang her songs. Held her hand and listened to her familiar southern phrases spill out in between unrecognizable ones.
We held our breath collectively as we drove across a bridge we had driven across hundreds of times before as kids on our way to our grandmas. Our lungs were much smaller back then, and it was no easy feat to hold our breath for a mile.
We got security called on us because we are a family of loud talkers, and we stayed up way past the point of delirium.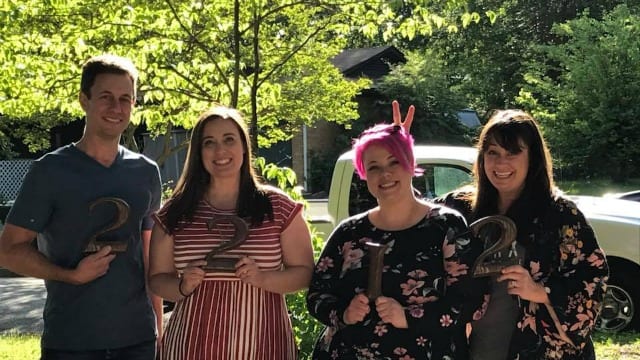 We visited our little house we grew up in. It was being renovated, and lucky for us, we got to go inside. I stood outside my bedroom door and marveled at how so much of my big giant world as a kid wasn't actually big at all. It was tiny now. The house, the yard, the memories even.
The backyard was overgrown and sad, and the neighborhood wasn't as nice as it used to be.
Yet, my siblings and I lined up in the front yard and took a picture where we had taken hundreds of pictures from our childhood. First dates, band competitions, first jobs, first days of school, first boyfriends, and girlfriends, first cars. They all existed in that little yard. And, we stood there again. All four of us together. Remembering.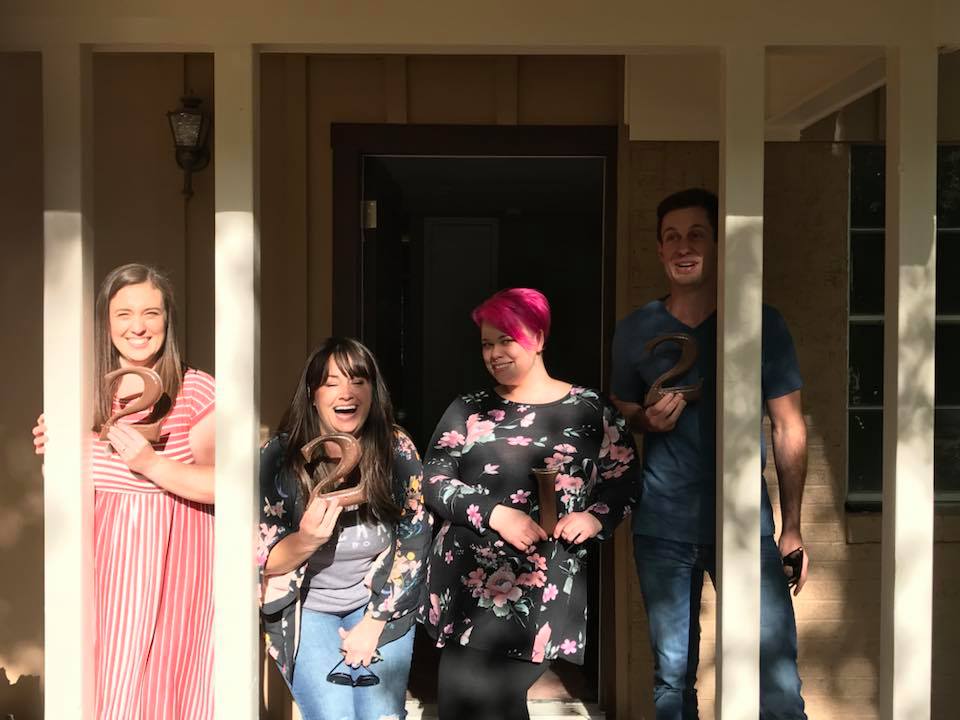 Then we saw it. Our names etched into the concrete foundation my Dad and brother had poured in 1988 when my dad enclosed the garage so we didn't have to share rooms anymore. Chris, Meredith, Lindsey, and Paige. June '88.
Some of us cried.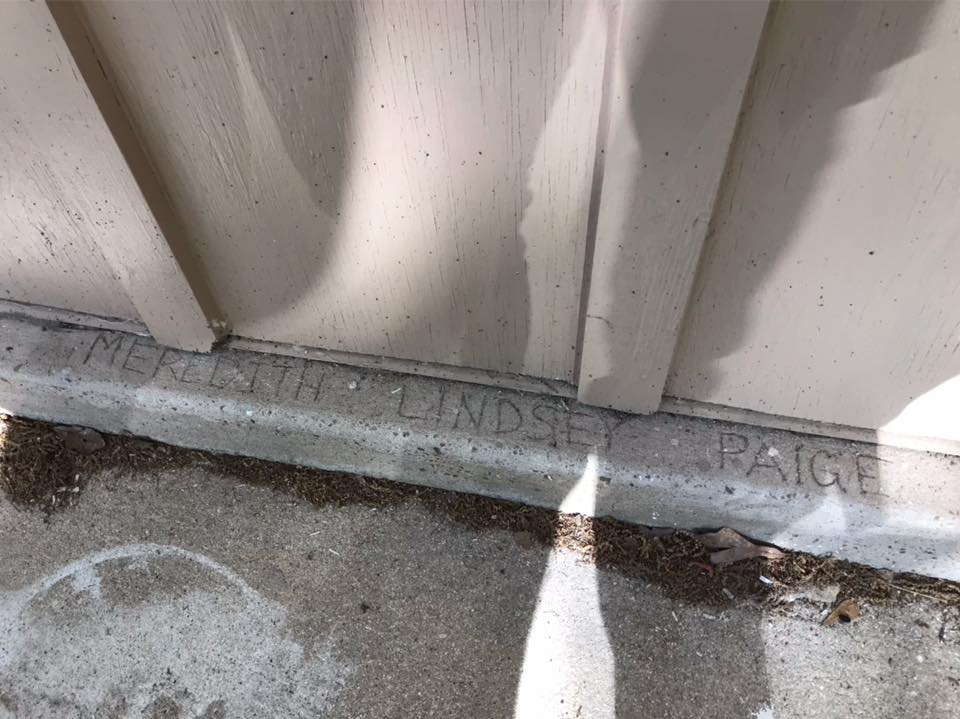 I was shocked to see those four names together 30 years later. Those four people were standing there, too. Stronger. Older. Different. But, together. I realized from that trip, and in that moment, that the four of us are inextricably linked forever. By that house. By the childhood. By the struggles we had growing up and by the happy memories, too.
But, more importantly, by the efforts we make every day to stay close. It healed my soul to stand there looking at those names with them and to know that we're still going through this journey together. It's not easy. It's not even fun some days. In fact, sometimes it's really damn hard. But, I've realized that my siblings, as different as we sometimes are, have become the lifeline to a happy adult life, too. And I'll forever be grateful for what they did for me then. And, what they do for me now.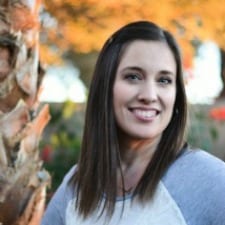 Meredith Ethington is a writer and a mom to three, trying to help her kids understand sarcasm and her need for personal space. Meredith's debut parenting book, Mom Life: Perfection Pending, provides an uplifting yet realistic look at all that is expected of moms in the 21st century and is now available on Amazon, Barnes & Noble, and at Deseret Book. She proudly writes for many of her favorite parenting sites, including Scary Mommy, Babble, Momtastic, and on her own blog. Follow her on Facebook, Instagram, and Twitter where she loves to laugh at herself and admit that while parenting is the best thing ever, it's also the hardest job on earth.