There is this little song I sing to my kids that is a children's song at church, but since I have a horrible memory, and it's one of my favorites, I use it as a lullaby. There is a line in the song that says, "He gave me my ears that I might hear the magical sound of things". My littlest usually repeats the word "ears" as I am singing to him. Sweet huh?
Ears are a gift, aren't they? We can hear sweet, magical things. But, we can also hear things that are not so pleasant. Let's take for example when your child belches loudly in church and causes all of you to giggle uncontrollably. Or maybe when your kids start a sentence with, "Don't be mad…." you can almost guarantee that you will, in fact, be getting very mad. The sound of a your children playing happily is super sweet until it happens at 5am and you realize you are now officially up for the day.
But, what amazes me is the gift of hearing that our children have. They are special little creatures aren't they? The selective hearing works amazingly to their advantage. For example, they hear me opening a snack from three rooms away, but don't seem to hear me when I am standing right next to them telling them to put their shoes in the closet that they just kicked off of their feet 5 seconds before. Kids are gifted that way, right?
I think they are especially gifted with the ability to hear me talking on the phone. I've decided that since I have become a die hard texter (yes, I jdust turned that word into a noun) they are baffled by this phenomenon when I actually pick up the phone to make a phone call. Obviously, the world as they know it is coming to an end because mom is actually speaking into the phone instead of staring at it with fingers flying. Since the world is coming to an end, they decide that they must carpe diem. The other day, I made an actual real life phone call, and like moths to a bright light, they descended hoping to take advantage of this rare phenomenon called "making a telephone call".
Suddenly everyone was thirsty, and hungry and needed it that. very. second. I started handing out drinks as my oldest decided it was necessary to squirt the brand new bottle of shampoo sitting on the counter. Shampoo went flying across the kitchen. They must not hear my voice on the phone, I started thinking. As I reached for the paper towels, and tried to follow the conversation on the phone in a polite manner that didn't suggest that my children were causing total chaos in the background, my middle child grabbed a bag of cookies off the counter and turned it upside down on the floor. The look on my face at that point must have suggested the world was, in fact, going to come to an end much sooner than expected, because as quickly as they came and destroyed the kitchen in one minute flat, they were gone.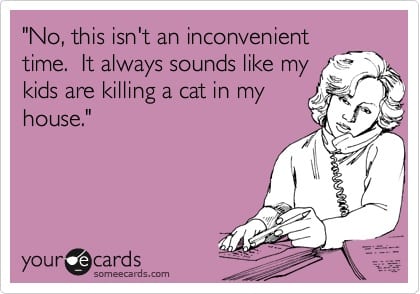 I hung up the phone and of course, there was complete silence and harmony in the universe. Although the spot where I had been standing was a different story.
A while ago, I wrote a post about this selective hearing phenomenon, and thought it might be fun to revisit a few things that they "hear" in response to what I am actually saying. The discrepancy is so remarkable that I am now choosing to view it as a special gift that children have so that I don't lose my mind thinking that my voice actually must not make an audible sound to anyone under the age of 10. Because I've decided that's the only other explanation.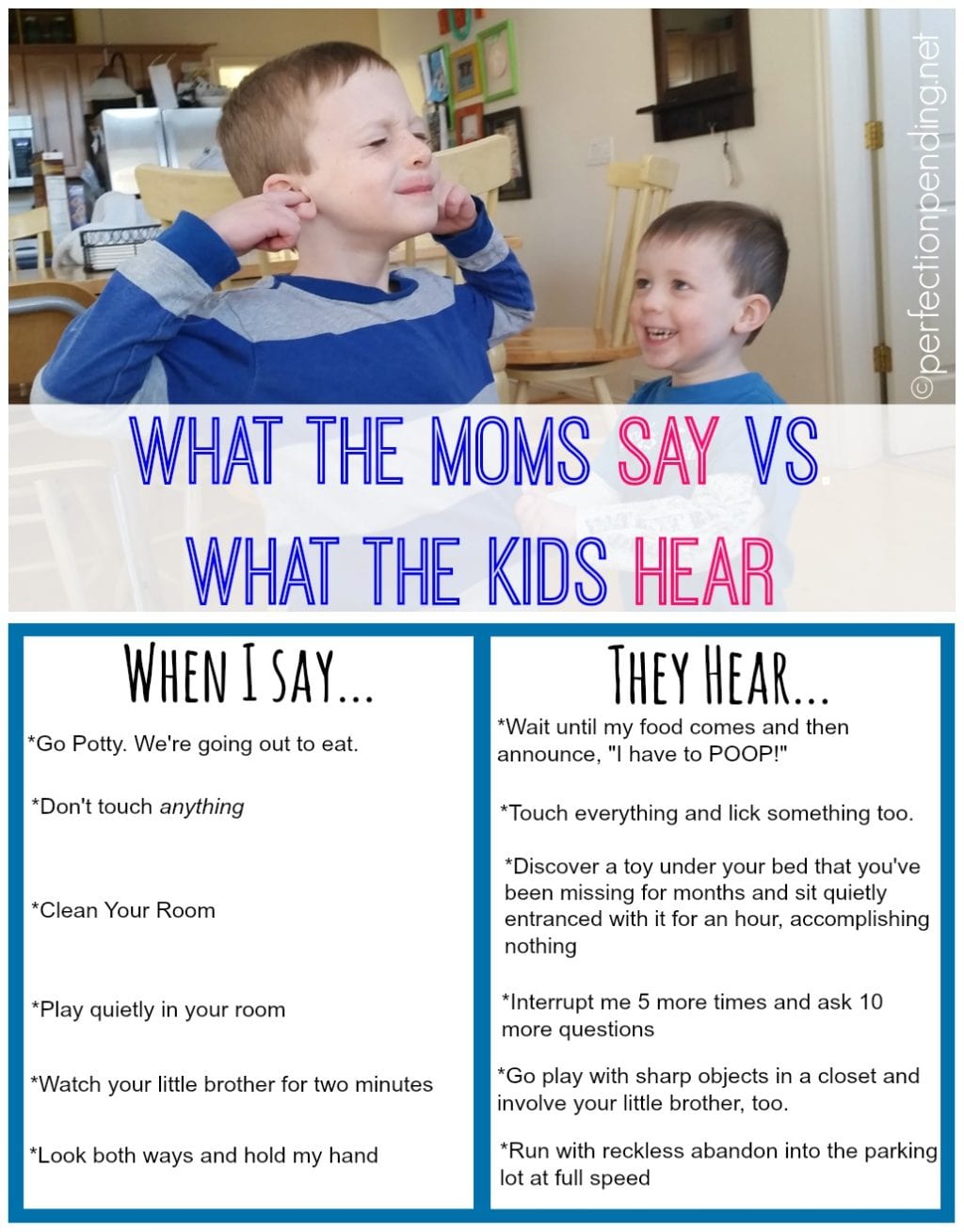 Moms VS. Kids (And Their Selective Hearing)
What I say: "Why don't you go play quietly in your playroom for 5 more minutes."
What the kid hears: "Come interrupt me 5 more times and ask me 10 more questions."
What I say: "Go potty before we go out so you don't have to go at a public restaurant"
What the kid hears: "Wait as long as possible to go potty and then dance around screaming, 'I have to poop!' while we are in the middle of eating.
What I say: "Eat your vegetables or you won't get dessert"
What the kid hears: "It's time for dessert, so stop eating everything and ask me 10 times if you can have a cookie now".
What I say: "Act really good in Target, and mommy will think about buying you a treat after"
What the kid hears: "You can still have a treat after you have a meltdown on every other aisle and act like a crazy lunatic climbing shelves and breaking things I had no intention of buying"
What I say: "Look both ways and hold my hand"
What the kid hears: "Run with reckless abandon out into the parking lot at full speed"
What I say: "Bath time!"
What the kid hears: "Streak and shriek time!"
What I say: "Watch your little brother for 2 minutes while I take the trash out."
What the kid hears: "Go play with sharp objects in a closet and involve your little brother too"
What I say: "Time for bed!"
What the kid hears: "Ask me for water, another hug, a bedtime story, another hug, tell me your hungry, ask for another hug, climb out of your bed and into your brother's, tell me you're scared, and ask again for another hug.
What I say: "Do not touch anything" it so obviously in their minds means, "Touch everything and try to break something too."
What the Kid Hears: "This is your last cookie" it translates to "Eat this as quickly as possible and negotiate with me until I say, 'Fine!'and give you another one."
What I say: "Public restrooms aren't clean, stand there and don't. move." they hear, "Go in the bathroom and touch every surface imaginable and then try to climb under the bathroom stall, making sure to wipe your face against the nasty floor,  while I'm trying to do my business."
What the Kid Hears: "Eat your dinner!" at a restaurant this means, "Take one bite, get down, run around wildly, wait for me to threaten you with your life, then start eating again when I am packing up my cold food to take it to-go."
What I say: "You are only supposed to draw on paper. NOTHING ELSE." They hear: "Take a permanent marker and beautify every surface in the house."
What the Kid Hears: "Be quiet your brother is taking a nap." They of course hear: "Scream for me from the basement. When I run down the stairs expecting to see a broken bone or a fire in the corner, ask me to change the channel for you."
What I say: "Clean up your room." They definitely hear: "Discover a toy under your bed that you've been missing for months and sit quietly entranced with it for an hour, accomplishing nothing."
What the Kid Hears: "No splashing in the bathtub!" They hear: "Take that tiny toy cup and empty the contents of the bathtub onto the floor one cup at a time."
What I say: "Do your homework." They hear: "Stare into space for 30 minutes."
What the Kid Hears: "Look me in the eyes so I know you are listening to me." They hear: "Look me in the eyes, but do your own thing in your own little head so you can say, 'I didn't hear you!' later."
It's a special gift I tell you. If it's NOT a special gift, please don't tell me. (I like to view my children as gifted…you know, for their sake and mine). I don't want to discover the alternative, which is, that my voice must not be audible to anyone under the age of 10. Which, when I think about it, might not be the greatest thing, but it might explain a lot.