One of my earliest childhood memories is when I was about 10 or 11 years old. We went to Six Flags in Arlington,Texas. I remember being old enough to ride the big rides, but not wanting to go anywhere near them. But, my Dad had other plans. He basically carried me, crying, onto the Judge Roy Scream which was a long wooden roller coaster. He forced me to ride a roller coaster. Horrible right? I can't imagine what the other people were thinking of him as he loaded his hysterical daughter onto the ride, buckled her in, all while she was screaming that she didn't want to do it.
But, that's the cool thing about dads. They usually don't care what others think of their parenting tactics too much. I know my Dad doesn't. The ride was just serious enough to be considered a big kid ride, but not serious enough to warrant the freak out that I was having in that moment. There weren't any loops just up a hill and down, up and down, up and down. Granted, they WERE big hills, don't get me wrong. And, I cried the whole way through it. Then, when it came to a halt, I turned to my Dad and smiled, and said, "I want to go again!"
I've loved roller coasters ever since.
And, it's always surprised me a little bit that I'm scared of heights, but love to do roller coasters. There is something about the anticipation, and the adrenaline,  and the "why did I want to do this?" feeling of panic right before the big loop, and then the sigh of relief after that is good for the soul.
It's been a long time since I've ridden a roller coaster. Last time I rode one, I remember getting a big giant headache after. I guess it's a sign that I'm getting old.
But, one thing I've realized about motherhood, and parenting, is that I am on the longest roller coaster of my life. It's honestly one thing I didn't expect about parenting. The ride of emotions that I would feel day to day. Minute to minute. The feelings of, "Oh you're so cute I want to squeeze your face off" sometimes lead directly into the feeling of, "why did I ever decide to have children?" It's a wild ride.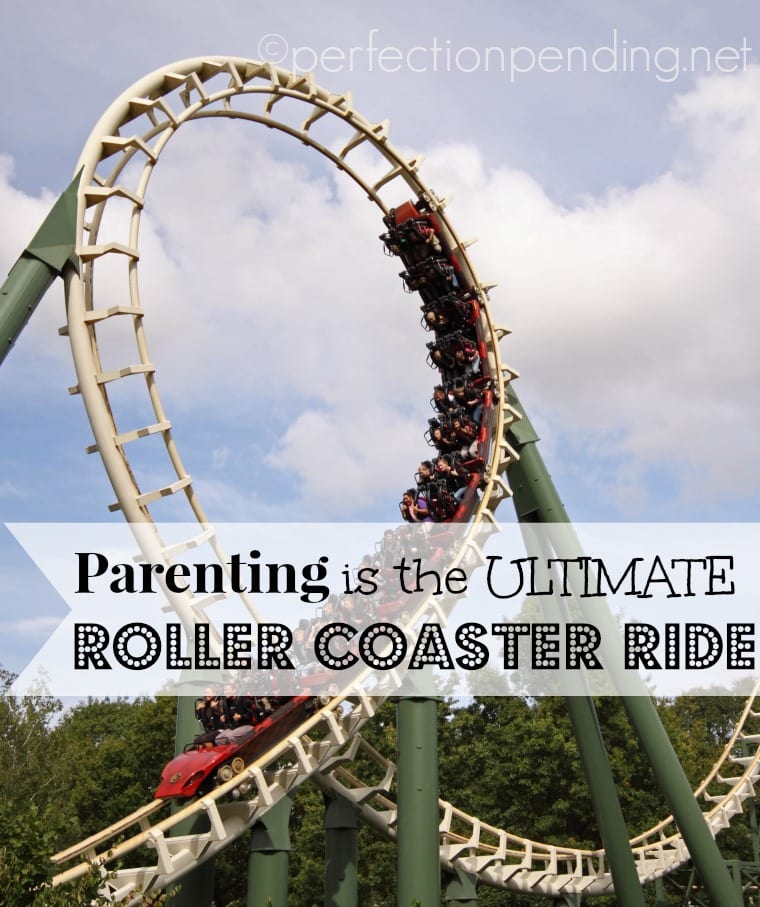 photo credit: dirkjankraan.com via photopin cc
My daughter woke up this morning, and came into my room with her bed head. I didn't notice that. I noticed how all of a sudden, in a day, it looked redder to me. She looked older. More grown up. I snuggled her close for a minute as I looked at that red hair, and had a surge of emotion. I love this kid. More than life. Watching her grow up is one of my greatest gifts. I think to myself. But, in an instant, a cranky kid cries from the other room. I have to maintain my desire to stay on the ride as I keep my cool. Try to talk soothingly to the cranky boy that doesn't want to be awake and try hard to remember that it's a gift, and I should be enjoying this ride too.
One moment I'm drinking in their smell after their bath, and the next, I'm plummeting down into the feeling of, "Why does bedtime seem like it takes an eternity?"
One moment I'm playing a game, and enjoying some bonding time with my kids. I am having fun. And, then they all decide they're hungry, and meltdowns ensue and I remember why it's torture trying to feed my kids.
One moment I feel like I've got this motherhood thing down. I feel in control, and like I could have had 4 more kids and been a rockstar mom. But, then there is that unexpected loopty loop that jerks you back to the realization that 3 is just fine, and somedays, more than you can handle.
The ups and downs that come from moment to moment are something that take you by surprise just like that sharp turn on the roller coaster that you aren't expecting. It's wild and crazy at times. At times, you wish it would just end already. You love it and you hate it. From second to second. Sometimes, those seconds seem to drag on like days, and other times, those seconds fly past you like a speeding jet, and you just barely catch a glimpse of what just happened.
The roller coaster of parenting is part of the unexpected gift, I guess. It's fun. It gives you a headache. It's fast, and sometimes, climbing up a hill seems ridiculously slow. But, the anticipation of what's around the next corner keeps you going. It's fleeting. It really is. It goes by in an almost cruel flash, while at the same time, drags on in the mundane day to day.
But, one day, life will screech to a halt. I will be old. Gray. Hoping for grandchildren.  And I have a feeling, I will look at my husband, like I looked at my Daddy a long time ago and smile, and be glad I took that ride.
**********
Do you have an early memory that you love? Share it here: