I frequently have big plans to accomplish all kinds of crazy things. And, they are frequently shattered by tiny little cute people. For example, this  morning, I had big plans to organize my kids' drawers/closets. So, after doing a few things not the computer, I settled the 2 year old down in front of the kindle while I showered. He was content. In a good mood. Yet, the lack of my presence for the 15 minutes I decided to bathe myself apparently sent him into a tailspin of despair.
So, I've spent the last 20 minutes just trying to figure out what he wants, and how to make him happy. The language barrier here is getting to be a bit much. And, honestly, I'm not convinced that he wasn't just angry at me for showering, and decided to mess with my head a bit.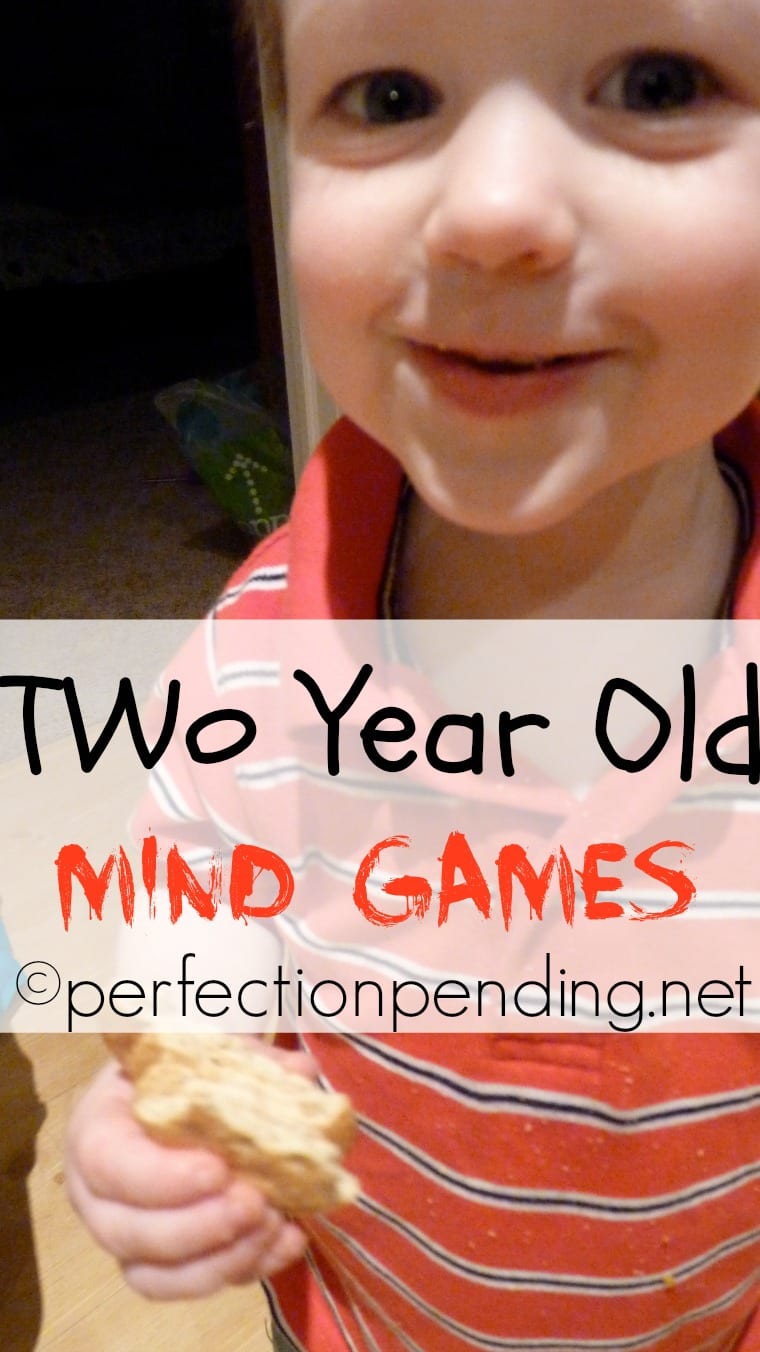 Don't you ever wonder if they are that smart? I do. Like, he realized I left him for the shower and so he thought to himself, "The nerve! I'm going to show her. I'm going to fall to pieces when she gets out and try to mess with her head."
So, I get out, still dripping and am met by the crying toddler. "What's wrong?" I reply sweetly. He cries louder. Looks at his leftover breakfast food still sitting on the counter and you can tell, suddenly has a light bulb moment. He climbs up onto the stool and finishes the 3 bites left on his plate. "More" he says.
"You want more waffle?" I ask. "Yeah" he says smiling. OK. easy enough. I pop another waffle into the toaster. I grab a banana for myself. "Nana. Nana." he says. "You want a banana?" I ask confused. "NO!!!" he screams. "Nana." he says as I take my next bit. I break off a piece of banana. He throws it onto the counter upset. Then picks it up and eats it.
"Do you still want a waffle?" I wonder. "Yeah!" he says happily and hands me his cup. "Do you want more juice too?" "Yeah!" I pour more juice, and get his waffle ready. I hand it to him covered in syrup. He starts to cry while he eats.
"Mommy."
"Yeah baby, I'm right here."
Angrier, "Mommy!" (while shoveling the waffle into his mouth as fast as he can)
"Yeah baby, what's wrong?"
He whimpers, obviously something isn't right. "Mommy. Mommy. Mommy." as he takes 3 more bites. He's having a little trouble getting it onto the fork because of the insane amount of syrup already on his plate from the first waffle this morning. He says something between mommys that sound a little like "Up" repeated 10 times in between the mommys. I finally figure out that he wants more syrup. I oblige, and give him a little more. Which, of course makes him cry. "Mommy. Urp. Mommy. Urp."
"You want more syrup?" surely that's not it. "Yeah." he says. I tell him the pool of syrup his waffle is swimming in is enough. He cries some more as he shovels 2 more bites in. "Mommy. Mommy. Mommy."
"What baby? What do you need? I'm right here? What's wrong". I'm starting to twitch at the sound of my name at this point. "Mommy." he continues to cry as he struggles getting the waffles into his mouth because they are stuck to the plate. "Do you want me to help feed you?" I go sit beside him.
"No!!!" he screams as he struggles with the waffles on his plate. So, I sit and watch. He shows me his hands. There is a tiny speck of syrup on one of them. "I'll wait until you're all done and then we'll wash your hands." More crying. More mommys. "NOOOO!" he says in desperation.
I sit, holding my ground. He only has 3 bites left. "Mommy. Mommy. Mommy" as he gets two of them in.
He shows me his hands again. Obviously,  he's concerned by the sticky factor. I remind him, "We'll wash your hands when you're all done!" in my fake cheery voice. He refuses to take the last bite. I grab his fork, which makes him hysterical. I hand it back and tell him to just eat the last bite already. He does. And, he keeps crying. "Mommy. Mommy. Mommy" as I wash his hands in the sink. I sit him on the counter. We're eye to eye. He's full. I ask again, "What's wrong baby?" He says his word for drink. "Do you want water or juice?" Nothing. Now I'm pointing "Water or juice?" I say again with more emphasis. Silence still. I start to get his cup that had his OJ in it, "NOOO!!" he says. "So you want water then?" "Yeah." I give him a big glass. He drinks. Pants. Drinks. Pants. Meanwhile watching me out of the corner of his eye.
"Can we get you down now?" I ask. "No!" "Yes!" he says.
I get him down and he runs off happily. Obviously, he has succeeded in his mind with whatever it is that was his goal. I'm convinced it was to just put me in my place for a few minutes. To let me know he's in control of everything. That's what I get for dreaming of taking a shower. And, now, I'm so exhausted, I think that clothes organization project will wait for tomorrow. I'm supposed to enjoy this stage, right?