My cute little family and I went to Disneyland for the first time last week.
Here are two things you should know about me. I HATE car trips (30 minutes is too long to be in the car, much less 12 hours) and I HATE crowds. But, for some reason, I was determined to take my kids to Disneyland even though I never went as a child. Especially my daughter before she completely outgrew the princesses all together. And she was close. I think she enjoyed the rides a little more than the princesses.
For me, it had been almost 15 years since I had been. I never went as a kid. For my husband it had been more than 20. For us, we were Disney virgins and about to take our 3 small children to Disneyland by ourselves. So, I was SUPER excited, and freaking out too.
I had been dreaming about this trip for years, and pinning tips and tricks on pinterest. There are lots of blog posts written about how to plan a disney trip, traveling to disney with small kids, etc. etc. I wanted to do it RIGHT.
But, when we finally got around to booking the trip, I had 2 weeks notice that it was going to happen and not a lot of time to get ready. I went through my pins and found the ones I had pinned, and started reading. Then, I promptly started having a panic attack. I could seriously feel my chest tightening as I tried to remember all the tips, tricks, and ways to make it easier.
I got so overwhelmed that I said, screw it. We're winging this party in Crazyland (what Disneyland should be named) and we'll survive. And, guess what? We did! And it was amazing.
I thought I'd suggest my own tips for going to Disneyland that are for the family that doesn't want to  plan anything. Sound awesome? It's a How to NOT Plan Your Trip to Disneyland and Still Have Fun post.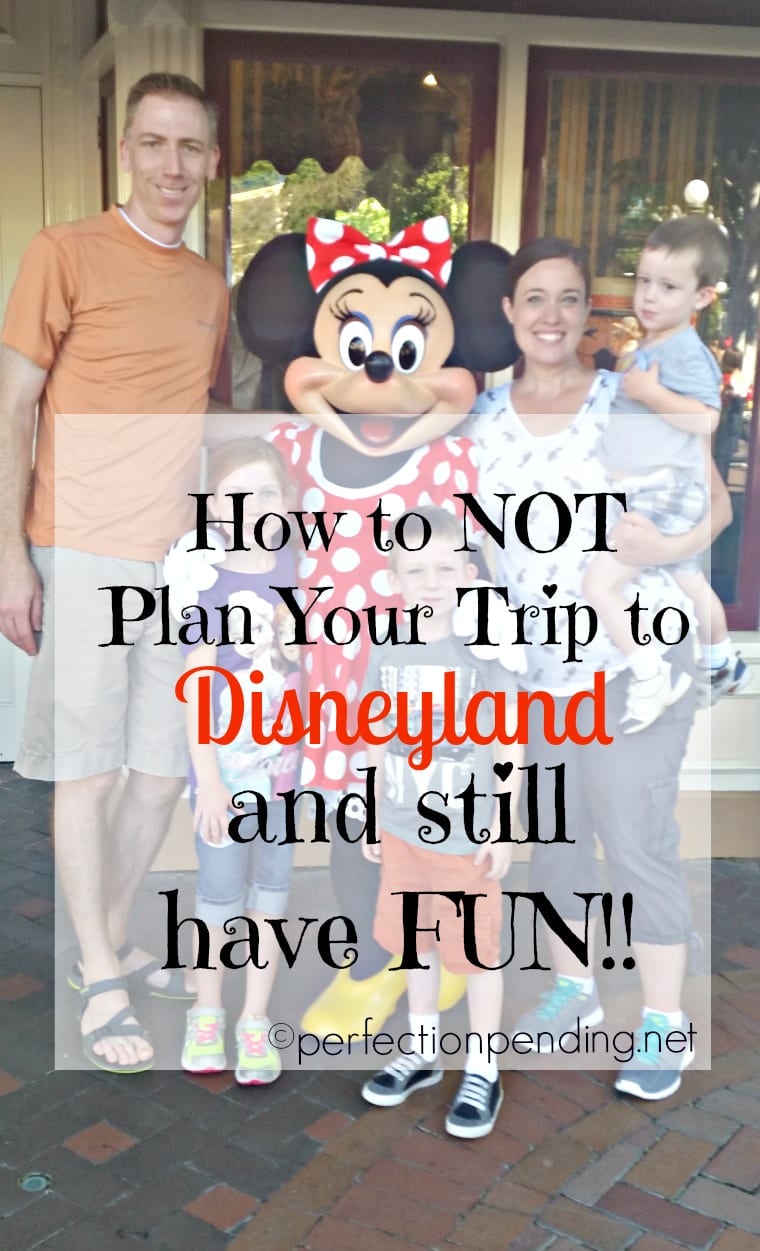 1. Chill the heck out. Disneyland is about the experience. It isn't about rushing around and seeing every little thing. It's impossible. There are like 300 towns there, with 2,351 rides. I-M-P-O-S-S-I-B-L-E. So, calm down. Please. I get it. You want it to be perfect, but NOTHING is perfect, so give it up and let go. Decide right now to chill out and just experience it. You'll be a lot happier.
2. Ask along the way. If you have one day, then of course you need to plan a little, but if you have multiple days, then go and just enjoy the first day at your kids' pace. Ask about tips for seeing the things that are a priority on subsequent days. We wanted to see the Frozen chicks (like the rest of the world). It took us until Day 3 to finally make it happen. (Email me if you want to know how). But, by simply asking questions, you'll figure it out, and it will ALL be OK. Promise.
3. Be prepared to hate adults that go without kids. OK, this is just a pet peeve more than a tip. But, I can't tell you how many times my precious babies were standing in long lines to meet their favorite Disney character and there were 42 adults there without kids wanting to take their picture with the character too. It's an adult in a costume people. Let's be real, here. Disneyland is for everyone of all ages, I get that. But, do you really need to take a picture with Anna & Elsa as an adult when another child might miss out on the opportunity?
I should NOT have to explain to my kids why they have to wait in line behind adults with no kids taking their picture with Minnie Mouse.

— Meredith Ethington (@PerfectPending) September 30, 2014
(FYI– They won't. They're for real. Some of them even have conversations with Minnie Mouse who DOESN'T EVEN TALK). Ok, rant over.
4. Ask someone who's been. I had two weeks notice. So, I just asked a friend who had been multiple times to circle things on a map with notes of what she loved, and she did! We referred to it often. So much easier than trying to decipher whether or not conflicting information on 5 million blog posts about it is right.
5. Be smart. It doesn't take a genius to figure out that you need a poncho if it's going to rain, or sunscreen if it's going to be sunny. Pack extra clothes if your little ones tend to have accidents, etc. Those sorts of things you'll figure out. You will be just fine using your mama instincts on what to take with you. For us it was a stroller, snacks, and a water bottle for each person. Other than that, we didn't need much else.
6. It's Disneyland. It WILL be fun. You're going somewhere magical. Even I can admit that. There were so many things that were serendipitous during our trip that didn't take an ounce of planning. The more you relax and see the experience through your kids' eyes, the more fun it will be. You don't need a guide to tell you how to enjoy it. It's DISNEYLAND. Remember, it's the happiest place on earth.
2yo is chanting, Disneyland over and over as I share a hotel room with the whole fam. So far, this is NOT the happiest place on earth. — Meredith Ethington (@PerfectPending) September 25, 2014
Most of the time.