While I can't claim to be the best at baby wearing, I will say that I did skin to skin contact with all three, breastfed, carried them as much as possible, and didn't really see crying it out as a good fit for my kids when they were babies. If they needed me, I picked them up.
I wasn't one of those moms with the baby always in the sling, but I tried to hold them, and snuggle them as much as possible. As my kids have grown, I've noticed that there is one word question my kids always ask that will stop me in my tracks and make me put down what I'm doing and pay attention: "Mommy, will you snuggle me?" I've always viewed this as a plea for not just attention, but contact in a way that only mothers can give, and that children desperately need.
Well, a recent study published in the Journal of Development and Psychopathology suggests that cuddling our babies actually changes their DNA at a molecular level. I don't know about you, but that makes perfect sense to me.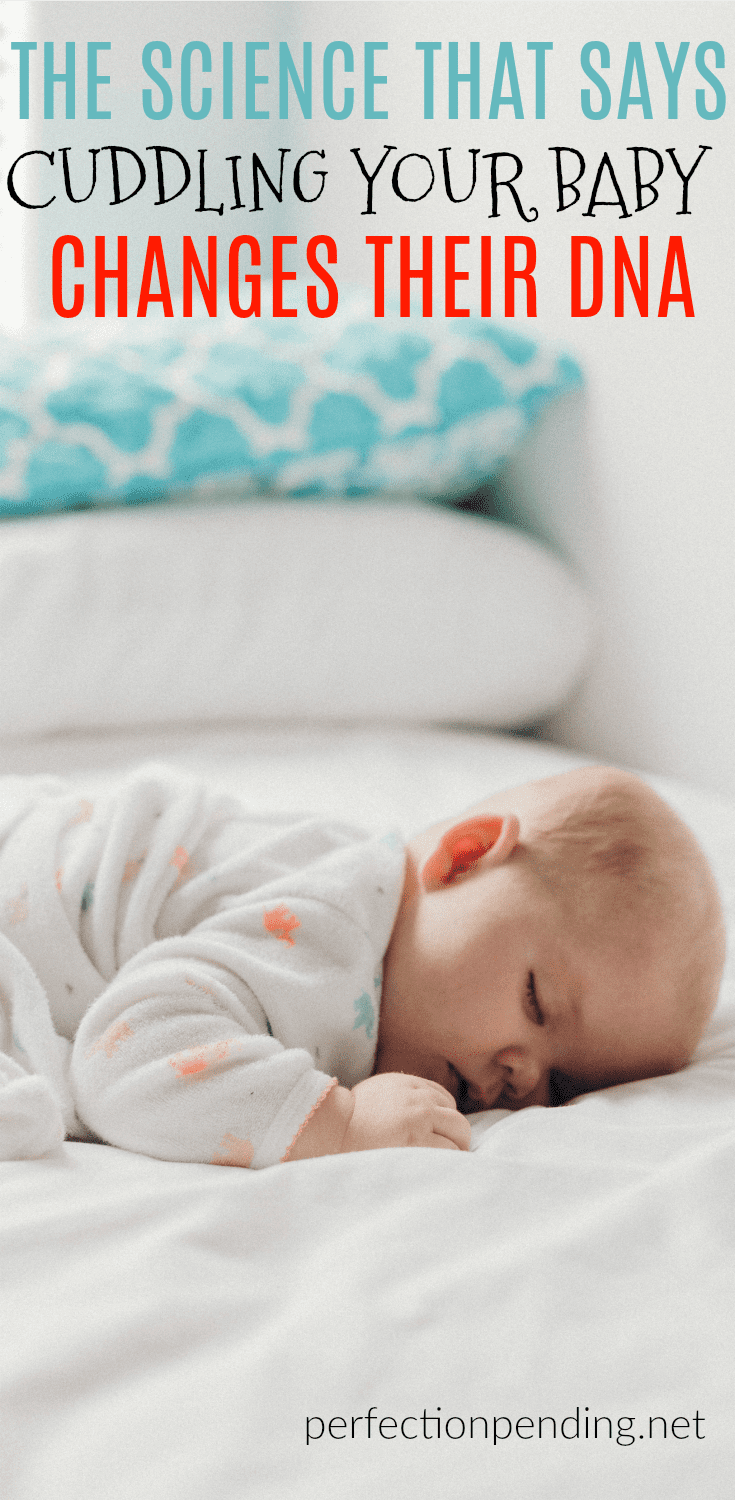 The study suggests that babies who did not receive touch when they needed it, had actual molecular profiles in their genes that were underdeveloped. The study followed 94 healthy 5- week old baby infants, and their parents as they kept diaries of their child's behavior documenting everything from fussiness, feedings, and how much they were held. The children at 4 1/2 years old then had cheek swab DNA testing done to substantiate the findings.
Sarah Moore, the lead fellow on the study said, "We plan to follow up on whether the 'biological immaturity' we saw in these children carries broad implications for their health, especially their psychological development.  If further research confirms this initial finding, it will underscore the importance of providing physical contact, especially for distressed infants."
We've known for a long time how important things like skin to skin contact are, but the debate about crying it out has been going on for years. If a baby is distressed, avid followers of the cry it out method and sleep training believe babies will naturally learn how to soothe themselves eventually. But, if this study proves to be substantiated with further studies, it might provide more insight on how important it is to pick up that baby when they're crying. Especially in those early months.
I have to say that I'm not super surprised by the findings, but am encouraged by the fact that there is no way to spoil a baby. They need those extra hugs, cuddles, and snuggles from their parents because it will benefit their brains, and their DNA. And, even though my kids are bigger now, I will still continue to drop everything when they want to snuggle, DNA or not. Because I know that my kids need that from me, and frankly, I think I need it from them, too.
So, keep holding those babies tight, mamas. Sounds like you're doing the right thing.