Everyone knows that moms are busy. From dawn until dusk, we're busy running around making sure hat everyone's needs are met. But if you're anything like me, it's easy to get to the end of the day and think, "Did I ever really connect with my child today?"
In the midst of our busy-ness, it's easy to let quality time go by the wayside. And if you have more than one child, it's even harder to make sure you have slowed down enough to connect with each of them. Here are seven simple ways that you can make sure to connect one-on-one with your children and give them the attention they deserve.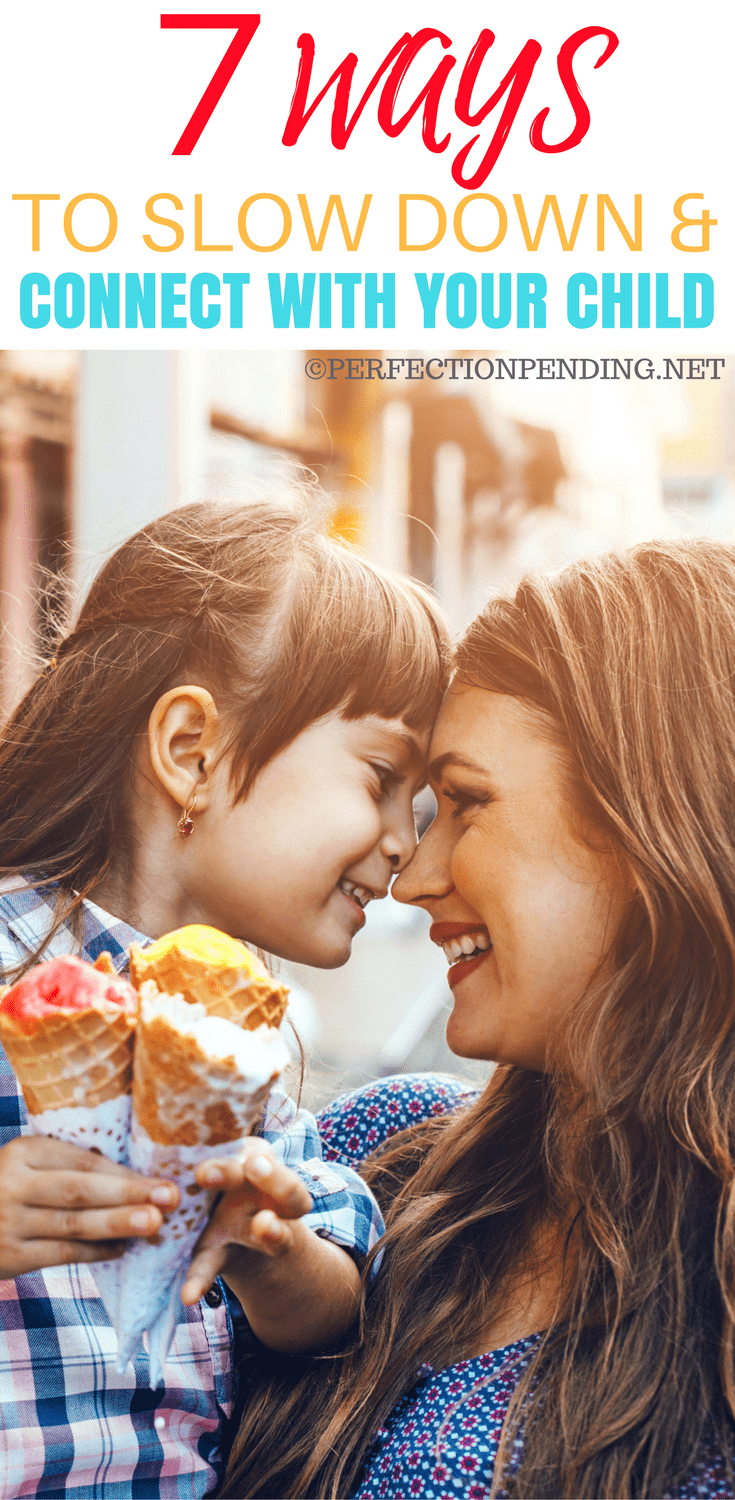 1. Plan a one-on-one outing once a month.
Your child will love having your undivided attention for a few hours, and you'll both have some fun, too! Whether it's a trip to the local ice cream shop, a game of bowling, or a special picnic on the beach, you'll make some great memories and foster a healthy connection without the distraction of looming housework or older siblings. Plus, once a month is often enough that your child will look forward to it but you won't feel overwhelmed with the frequency of scheduling.
2. Work a fun activity into your after-school routine.
This doesn't have to be big and complicated. It can be as simple as playing a board game for 15 minutes while they eat their after-school snack or going for a walk after dinner. These brief moments of time will make a big impact in the long haul – but they won't derail your evening routine to the point that you won't get your chores done.
3. Take them with you on an errand.
For kids, it doesn't take much to make time with mom feel special. When you run to the store, take one of your kids with you while you leave their siblings at home. This elevates a menial task into a chance for your child to share their day with you – uninterrupted.
4. Make bedtime quality time.
I know for most of us moms, by the time bedtime rolls around we are DONE. But even for older children, this can still be a prime time for quiet connection. As you're tucking your child in, ask them meaningful questions about their day, snuggle with them if they like, and affirm them with something you really appreciated about them that day. Small moments count, and simple words matter.
5. Use conversation cards.
Let's be honest – sometimes it's not easy having a conversation with a child. While there are great lists of questions to ask your child instead of the typical, "How was your day?", you can turn it into more of a game that you're both involved in. Get a pack of conversation cards or a book of conversation starters and ask your child to pick one each day. Before you know it, they'll love getting into the routine and look forward to their daily conversation with you.
6. Cook dinner together.
Dinner's gotta get done, and doing it with your kid can make it fun! Magically turn a daily chore into a special activity by allowing them to choose the dinner menu and cooking it together. Not only will you enjoy spending time quality together, but your family will get fed and your child will begin to learn a crucial life skill. This is multitasking at its finest.
7. Take a class together.
Craft stores often offer low-cost crafting or cake-decorating classes. Tae Kwon Do is skills-based and frequently has multiple level students in the same class. For younger kids, "mommy-and-me" toddler activity classes abound. Choose an activity that is uniquely "yours" to do with your child that you'll enjoy participating in together.
While you can't force quality time, you can provide opportunities to foster openness and connection between you and your child. Your gesture can be great or small, but the key is to create space for one-on-one, undistracted communication with your child. Find a way to show your child how much you value time with them in a way that best fits your family, and you'll find that this small time investment will pay dividends in the years to come to ensure that your relationship with your child stays rock-solid.
Jenny is just another mom trying to do her best. She loves trying to find new ways to build deep connections with her children in an ever more distracting world. She also enjoys blogging about her struggles and triumphs with breastfeeding, breast pumping tips, parenting hacks & more on Mom Loves Best and on Pinterest.