I saw a superwoman jogging as I was going to the grocery store one day when I was a tired mom in the trenches. My first thought, I do not lie, was, "Someday I'll be able to do that. You know, when my kids decide to sleep through the night."
Then, on the way home from the grocery store, I saw another woman exercising. It was like someone was trying to tell me I shouldn't have skipped my walk this morning.
From a distance I could tell she had her giant stroller, and a dog.
When I got closer, I realized that she had 3 kids crammed in that stroller made for two, was pushing them up a pretty decent sized hill, and also was trying to control her dog.
I smiled to myself as I passed her, and thought, "Good for you, lady. You are a superwoman."
It reminded me of a time I was leaving the gym and a woman rode up on her bike with a baby strapped to her back, 2 kids being pulled behind her bike in a trailer, and a 4th was also trying to keep up on her own bike. I remember thinking the same thing of that woman. She was my hero.
Did I mention she was doing all of that while on her way to the gym? Geez, way to outdo us all, lady.
But, the truth is, I don't know anything about these three women, besides the fact that they were all exercising, which is a trait I obviously admire.
But, in all seriousness, they could have just been having a good day when I saw them.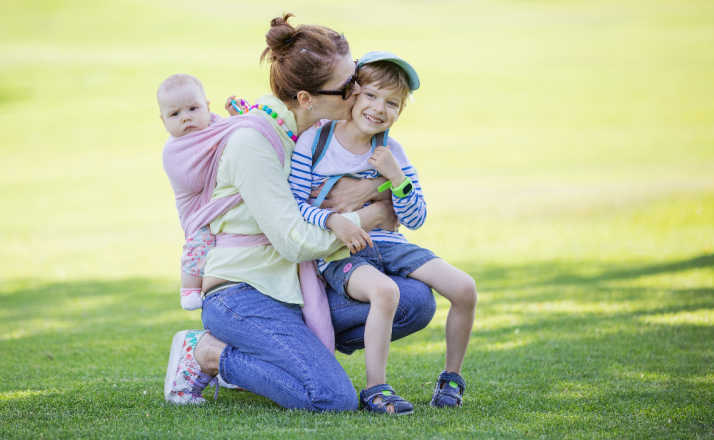 Maybe it was the first time they had been able to get out and exercise in weeks. Who knows. We never really know what is going on behind the little snippets of life we see in a mother's day.
My sister shared a FB status one day that quoted an Alicia Keys Song.
"Even when I'm a mess
I still put on a vest
With an S on my chest
Oh yes
I'm a Superwoman"
She went on to write in her status, "Like many nights, I'm going to bed without anyone even knowing half the battles I fought today. The lyrics of this song came to mind. Moms all over the world know what I'm talking about."
I did. I definitely still do.
The truth is, we don't see half the battles another person is fighting.
To me, a superwoman is one that has a baby strapped to her chest and is biking to the gym with 3 others in tow. But, in reality, a superwoman is any mom. Anywhere.
I feel most days like my sister does. That most of my struggles are internal.
No one sees the superhuman strength I used to not yell at my kids one day.
No one sees how I got panicky about something, and re-centered myself and got past it.
No one sees the patience I use with a child that is pushing all the buttons.
No one sees the lesson I teach in the moment when I could just say, "Stop it!" without explanation.
No one sees the fights I break up between kids, and the way I help them learn about compromise.
So, it can feel frustrating when you lay down in bed at night and re-play the day in your head. It can feel like it didn't matter, at all. And, it can feel like you were a mess the whole time.
But, you weren't. You put on your vest with an "s" and you were a superwoman.
And, those are just my struggles.
I can't see the battles that other Moms are fighting, but I know they are there. Because we all have battles. Sometimes, the quiet battles that no one sees are the hardest.
It's easy to see that other moms have super powers. But, do we see our own?
We should. Because, when you're a mom, everyday you put on that vest with an "s" and fight a battle of some kind. Sometimes that battle is keeping your head held high when others are judging you, or criticizing you.
Sometimes that battle is figuring out the food allergies your child has, or raising a special needs child.
Sometimes, the battle is just getting out of bed. Sometimes the battle is a wayward child, or a spirited one. We all have a battle. Every single one of us.
Sometimes the battle is just realizing you are that superwoman.
So, today, like so many others, I'm going to put on my vest with an "s" and be proud of the superpowers I used today. Even if no one else sees them.