This post is sponsored by Poobah. See my full policy and disclosures here. 
My kids are loud and wild like most kids, but to have real meaningful conversations with them where we actually connect is something I crave as a mom. That's why I am so excited about Poobah. A new game whose mission is to unite people through the power of conversation.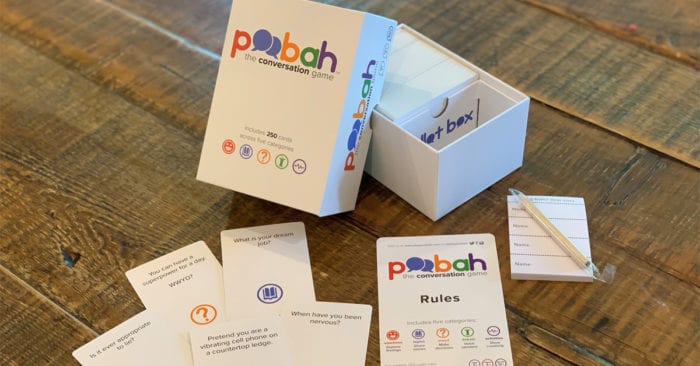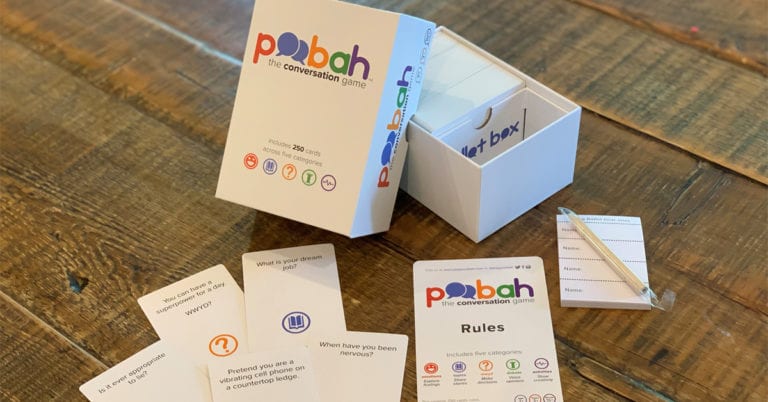 In my house, it's always been a bit of a struggle to get my kids to talk to me. That's why I started journaling with them a couple of years ago, but sometimes even that seems like a to-do item to check off at the end of a long day. They tend to be more introverted, and I tend to want to grill them when they come home. (Hint – that doesn't work.)
The result usually is that I'm met with a lot of shoulder shrugs in the process, or one-word answers like "fine", "I don't know" or "OK".
In today's digital age, now more than ever I think our kids not only need skills to communicate in conversation but to be honest – I just want some time to connect with my kids in a way that will make them want to come home one day when they're older and hang out with me.
My kids are ALWAYS begging me to play with them.
That's why Poobah is so perfect. My kids were so excited to play, and the first thing they asked when we were done was – can we keep this game?
As a mom, I feel like Poobah is more like my secret weapon to get them to open up and talk to me. We have started using Poobah as a way to unwind with the kids when they get home from school in a fun and silly way. One of the questions was, "When was the last time you were angry" and I kid you not – my 9-year-old put his hand on my shoulder cocked his head to one side and said, "That will be easy for you to remember."
I love how it asks questions about feelings, questions about social issues like – "What's the best way to take care of the earth." and just plain silly things like "Pretend like you are a cell phone vibrating on the edge of a counter."
Having a game that gets a conversation going with your kids could be used for after school, family nights, road trips, or even while we're just sitting around at the dinner table (yes – that's one thing we still do most nights).
What is the game?
Poobah has 250 game cards specifically designed with five distinct categories of gameplay to:
Strengthen emotional intelligence
Share personal stories to deepen relationships
Improve confidence and decision making
Voice opinions and listen to different perspectives
Showcase creativity and role play situations
…and most important, spark laughter and make the most of our time together!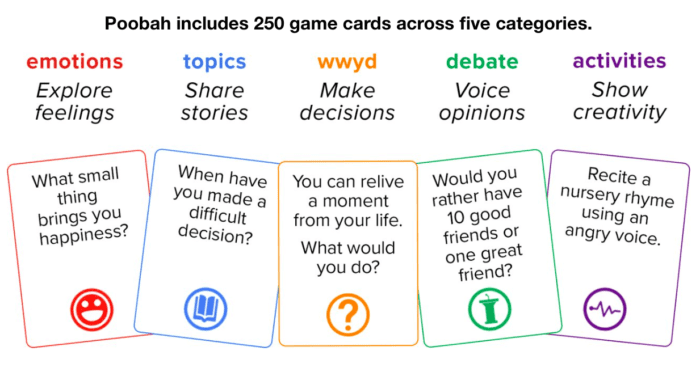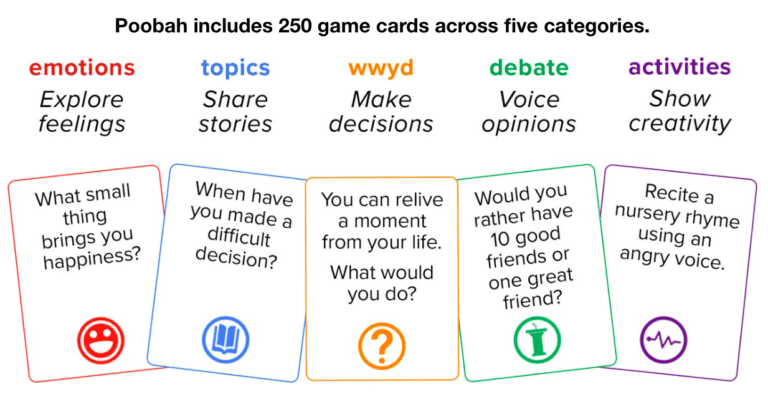 Here's how Poobah works
A player begins the game as Poobah, who draws a card and reads it to the group. After players respond to the card, Poobah confidentially submits a vote for his or her favorite response. Rotate the role of Poobah and repeat. It's that easy. But, the thing I loved most about this game is how you can "go rogue" and just use the cards as a fun way to get a conversation going.
At the end of the game, the player with the most votes is crowned the Grand Poobah. But really, it's about having conversations not who wins.  I totally won by the way, but that's only because my youngest who is six is still a big mama's boy.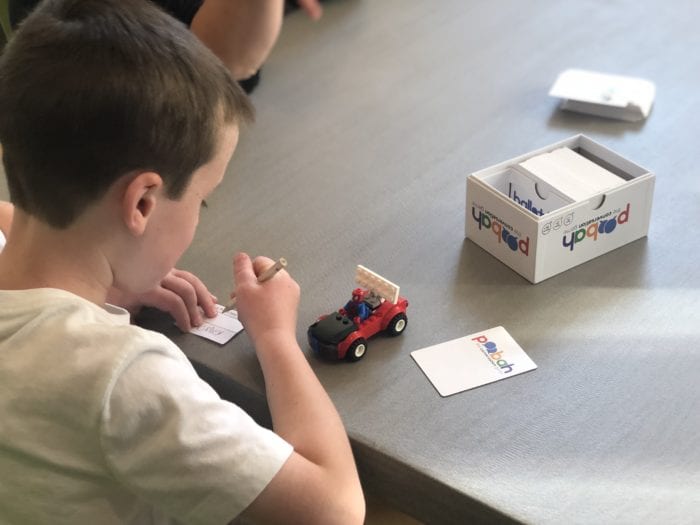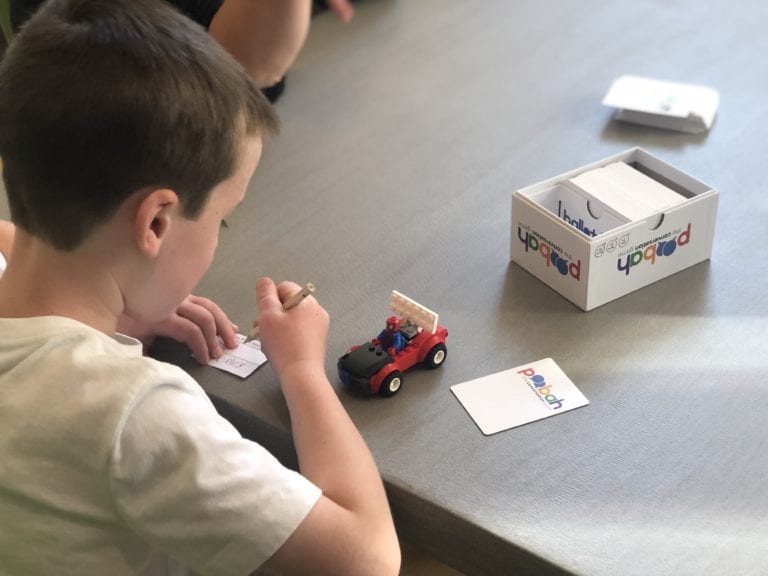 Poobah is all about creating moments that matter and I love that as a mom in 2018. I'm constantly trying to find the balance between juggling all of my responsibilities, their responsibilities, and still find a way to actually connect at the end of the day.
Why Poobah is SO Unique (and would make an awesome Christmas gift)
There's no other game like this on the market. I 100% know that more than ever the world is in need of strong families to help build a society of moral leaders and socially-conscious citizens – especially in the current environment.
Poobah says this about starting conversations in our families:
"Conversations in the home are a key ingredient to educating and developing our children while strengthening our family relationships. We want to have a positive generational impact through meaningful conversations…with plenty of laughter along the way. Research has proven that family conversations are linked to:
Ethical thinking
Resilience
Higher self-esteem
Better social skills
Improved academic performance
Lower rates of substance abuse, teen pregnancy, eating disorder, depression and more."
I can't think of better reasons to play a GAME with my kids.
The truth is – this game was fun. We will totally use this game over and over again. You really can take 15 minutes out of your day to just sit down and TALK. My kids were totally into it too. Because who doesn't want to act out a chicken crossing the road at the end of the day?
Y'all know that I don't do many sponsored posts, and that's simply because I want to make sure I believe in something before I recommend it to you. And guys – Poobah is a winner. You'll use this all the time as a parent, and it's the fastest, easiest and coolest way to make sure everyone gets some eye contact at the end of the day.
Put down your phone, engage with your kids, and give the gift of Poobah to yourself (and someone else).
Poobah is mission-focused; not profit focused. While they need to make money to stay in business, their goal is to run the business near cost to get this game in as many hands as possible. After crunching the numbers they settled on a retail price of $22 with early bird discounts as low as $17. Go check out their Kickstarter campaign 
PEACE, LOVE & POOBAH!
"The most influential of all educational factors is the conversation in a child's home." – William Temple