When I used to work full-time, I was that employee that lots of other employees resented.
I was always on-time.
Never missed a deadline.
If anything, I got my work done ahead of time and asked for more. Annoying, right?
Even when I was a waitress, I was the one that was standing around waiting to get another table because all of mine were happy as could be. I still miss that job sometimes. Weird, I know.
Today, when I picked up the spoon from underneath the dining room table that had been sitting there for 3 days, I thought about how no one else seemed to notice it but me. While I seriously doubt that's true, because as far as I know, the other 4 members of my family all have perfectly good working eyes, I came to the realization that it was my job. Plain and simple. My job now is to pick up that spoon that no one else cares about. I've made it my job. I wanted this job.
I'm the one who always puts the toilet paper on the roll, I'm the one that vacuums and dusts. I'm the one that makes sure we are to doctor's appointments and homework gets done, and I'm the one that picks up that dirty sock that has been sitting just outside the laundry basket for a week. Some days, I think my sole purpose on this earth was to follow behind people and pick up their messes.
If I'm so miserable, why don't I just go and get a hobby? You might wonder.
Well, the truth is, I do have a small, part time job that I love. But, the dirty clothes, the homework, the piano practice and the mopping still has to get done, regardless of my job. I suspect moms that work full-time feel this way too. They have to be a breadwinner (how 1950's is that term?) and do the laundry. I'm grateful my most important job is staying home.
But, let's be real, the reason why stay at home moms complain is because our job is hard just like everyone else's. The thing I realized about myself is that in every job outside of the home I've had, I've excelled. I got praise, raises, good reviews, and rewards for a job well done.
Being a mom and a perfectionist don't mix well. I'm never asking for more work because I have so much that I often feel that I'm drowning in dirty shoes by the back door, and laundry sitting folded at the foot of my bed that never seems to get put away.
There is an occasional sweet moment where a child says thank you un-solicited, or a husband comes home from work and actually notices the clean bathrooms without being told to notice them. But, the typical day in and day out work of a mom is unforgiving. There is never a pat on the back. You can never say to yourself, "Well, I finished that" when you're talking about raising a child. And, there certainly is no paycheck.
I wish I could say that being a stay at home mom fulfills every part of me. But, that would be a lie. The truth would be, I believe I'm doing the right thing by staying home for my family and my kids, but I don't always feel 100% happy having my only title be stay at home mom.
So here is the real truth behind why I complain sometimes: I'm not completely fulfilled as a stay at home Mom, but I think it's important, so I do it. There are moms out there who ARE completely fulfilled staying at home with their kids. I'm not. I cringe even writing that because I know it's the most important job I could ever have. Yet, it's not all I want out of life. I want to write. I want to be creative. I want to have time alone. I want to eat a hot meal. I've sacrificed in ways I never dreamed I would have to.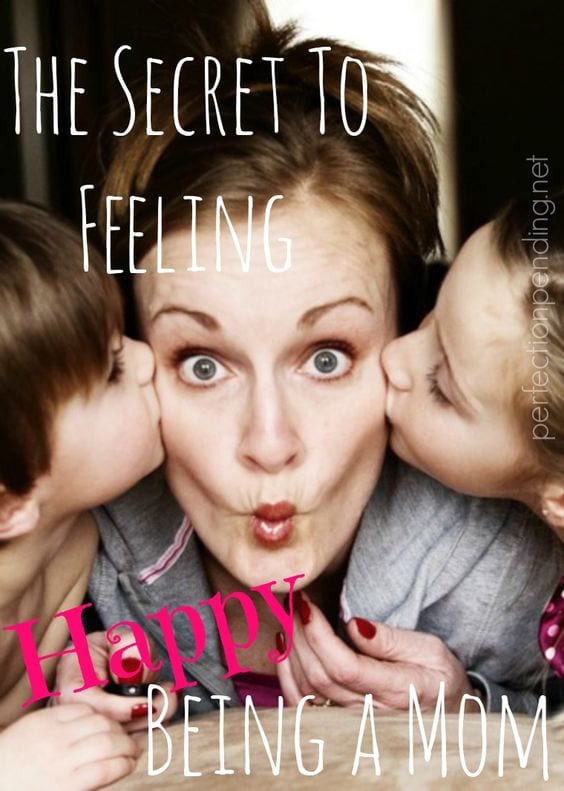 photo credit: ~PhotograTree~ via photopin cc (Text added for the purpose of this post)
I believe the secret to feeling happy as a mom is to stop expecting the reward and praise to come from the outside. Expect it to come within. Simple enough, right?
The number one thing that I feel works in giving you satisfaction at a (mostly) thankless job. Stop trying to please others, but do things that will make you feel like a successful mom. I feel like this is THE key to finding joy in the hardest job in the world.
It's OK to want a clean house, and dinner made, and peaceful children all at the same time. But, some days (most days), it's impossible to achieve and frankly, unrealistic.
If I can't stand to see the house messy one day, I clean it for me, not for someone else to notice. If my floors need to be mopped desperately, I mop them not so my husband will notice, but so that I will feel better. Although I will always want someone to notice, giving up the expectation of that gives you some peace.
The same principal can be applied to anything in motherhood that is bugging you. Because, let's face it, we're all different. Everyone has a measure of success that is unique. Maybe for me it's having all the toys picked up at the end of the day, but for you, it's planning educational activities for your kids. So here are some tips that you can apply to any situation.
Conquer the mommy guilt with action. Feeling guilt about not spending time with your kids? Do something about it. Whatever is bugging you, fix it. Just don't try to fix everything all at once. Take time to sit down and think about what is bugging you most and make a plan for change.
Lower standards, but don't give them up completely. Frustrated that the messes never end? Find joy in keeping one room of your house clean all the time. If you can focus on smaller goals, you'll feel more satisfied.
Needing some time alone? Take it. Give yourself time to feel refreshed, and go back ready to face your duties head on.
Pray for sick days (a hard one for me), so that you have extra time to cuddle. When they come, you won't feel frustrated for not getting things done, you'll enjoy the extra snuggles. We all need time to slow down.
Make mental notes of the thank-you's and the appreciation, but don't expect them all the time. My kids surprise me sometimes with a "Thanks for cooking dinner, Mom" I try to really soak those up. My husband thanks me from time to time for something little like making sure we are all clothed or something. But, on the days that NO one is thanking me, it helps to remember that they do appreciate it even if they don't always say it.
Try to see the future when you are drowning in the present. There WILL come a day when I will miss the tripping over the toys and breaking up fights. The trick is to go in your room, shut the door, and count your blessings. If you take time to do this when you are most frustrated, you can re-align your thinking sometimes.
I can't say that I don't still get bugged that no one ever fills up the soap dispensers but me, but I have found more peace when I am looking to fill up my own cup with satisfaction instead of waiting for others to do it for me. And, when I can remind myself to let go of that perfect image that I think I need to achieve, THAT's when I feel the most happiness in my job.
********
Do you struggle with fulfillment? Are you 100% happy just being a mom?