I am one of those people that HATES when someone says to me, "Enjoy every moment, it goes by so fast". In fact, I've been known to share articles that talk about how HARD it is, and how it is impossible to enjoy every moment. In fact, I gravitate towards those kinds of blogs too. I long for someone to validate my feelings that this is overwhelming to raise three small children. That it is hard. That some days, it sucks. So, I seek those kinds of things out. And, you know what? – it gives me strength. It really does.
But, I've also thought long and hard about how I might just be gravitating toward the negative. I've analyzed this quite a bit, because if you haven't noticed, that's what I do. I analyze. And, think. And, I'm trying hard to be introspective about this parenting thing as I go. Yet, I find myself still saying, "AMEN!" when the blog post validating all of my negative feelings is shared. I skip the sweet, sappy blog posts that go on and on about how wonderful motherhood is. "I don't want to read that", I think to myself. Yet, why?
Is my gravitation toward the negative bad for me?  Am I focusing on negativity too much? Some people have even gone as far as to say they feel sorry for me because they fear I'm not appreciating enough. Those comments are what stir the emotions of fear, anxiety, guilt and worry. "Am I not enjoying motherhood enough?" I think as I fall to sleep at night.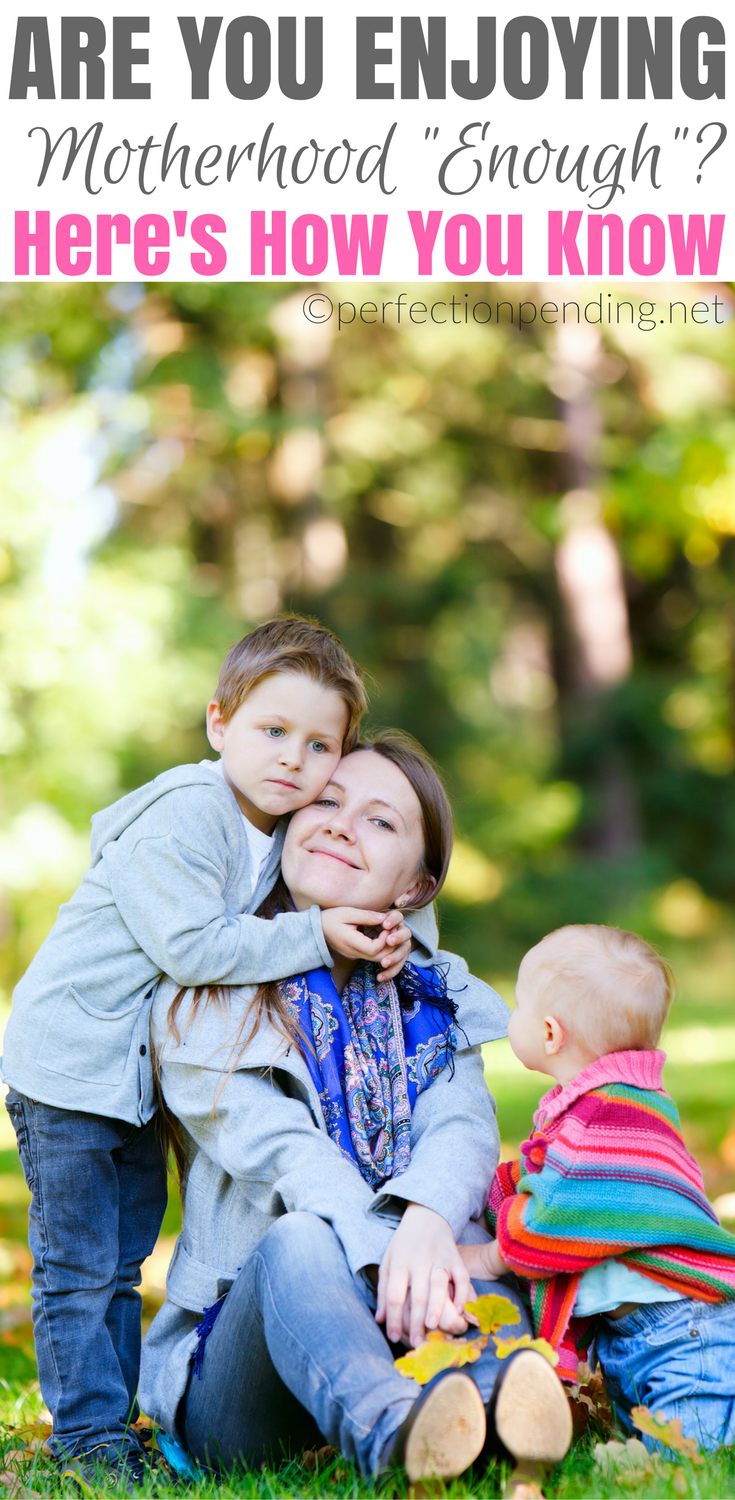 But, then I have a moment like when my first born lost her first tooth. I pulled it because she wanted me to. She cried a little at first, but then was SO happy. You see, she's one of the youngest in her class, and therefore was the second to the last one to lose any teeth. She was desperately wanting it to happen. And, I realized that night, that in the blink of an eye, she got bigger. Because, you see. It really does go by so fast.
My husband came into me after she was in bed, and I said sadly, "I remember that first tooth coming in!" "You do?" he said. "Well, I definitely remember how sad we were when she cut teeth" He said, "Yeah, because she lost that gummy smile". We thought about her as a baby in that moment, and we cherished it. We took pictures of her before bed, we smiled at her in the mirror as she looked at her new reflection. We savored the heck out of that moment. Because it was momentous, and beautiful. It was a milestone.
And, I sit here and think to myself, "It's OK Meredith…..Breathe. Don't worry what others say and think" Because I AM enjoying, savoring, and feeling blessed to be mama to these three people. It's possible to be frustrated by the pains of motherhood, and savor it, too.
Sure, not every moment is being enjoyed (like the puking, fit throwing, and fighting moments), but the important ones are.
I smiled to myself as my middle child rode his bike this morning ahead of me while I tried to get some exercise in when he was younger. I didn't know how far he would be able to go since his bike is relatively new, and he went 1.5 miles! I was proud. I told him so. And, while we were walking and riding together, I soaked up the sunshine and my sweet boys.
And, let's not forget the baby. I screamed with delight at every new thing he did. I gave him high fives, and hugs, and kisses galore. I not only enjoy the moments, but I bask in them. It comes naturally to me, because I love them. I remember how he said "baby" as clear as day for the first time at the doctor's office. I was so happy, and so proud to hear him add another new word to his tiny vocabulary.
The truth is that deep down, I don't need to read the sappy stuff other mothers write about their own experiences because I have plenty of my own. And in motherhood, almost every day is a milestone. And celebrations happen spontaneously. And love is shared, and joy is felt. I won't say all day every day. But, I will say that daily there is always at least one happy moment I make note of.
THAT IS ENOUGH. It is.
It's not about me being negative, and forgetting what I have. It's about me absolutely knowing what I have so well that I'm not afraid to be honest about when it isn't so perfect. And to support other parents when they are having a rough day. To all you other parents out there who feel that anxiety rising up when someone tells you you might not be enjoying motherhood enough because it goes so fast…let it go. Have confidence that you are enjoying what's important. Let it go.
And, now that I have three kids, I am no denier that it does go by in the blink of an eye. But, I will savor what is most important. Don't you worry. This mama does not let the happy moments pass her by.
And, I bet you're not letting them pass you by either.