To say we like to read in this house, is a bit of an understatement.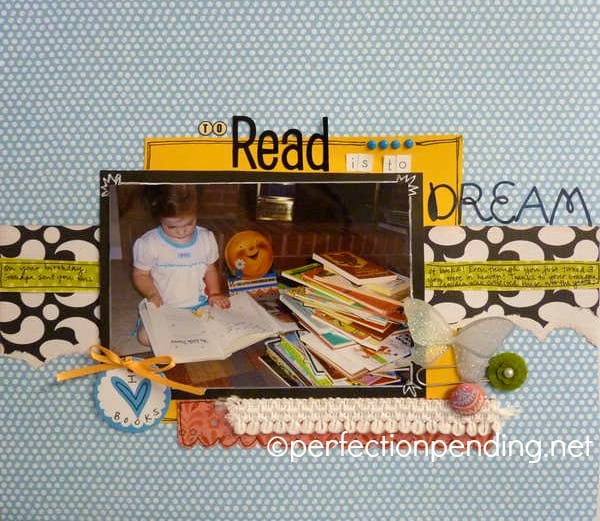 This was my daughter on her 3rd birthday, before she could technically "read". She is sitting with a stack of books her Grandpa had sent her. I'm not bragging, but she sat here for a solid hour going through these books. Think of it. 1 hour of contentment. From a three year old.
As a parent, I couldn't be happier that I have a reader in the family. She is now 8 years old, and flies through chapter books in hours, and reading is always one of her favorite things to do.
But, I can't say my boys have quite caught the reading bug like she has. But, if I will sit down and read a book to them? It's pretty much the one quiet moment in our day where both boys are able to stop touching each other (for no apparent reason) and listen. Quietly. Heavenly right?
But, to be perfectly honest, life is busy, and not all children's books are pleasant to read (for the parent). Unfortunately, there are some that make me crazy, and I find myself skimming the words hoping to get through it as quickly as possible. But, there are some, that I truly enjoy reading over and over again. Goodnight Moon. Bumblebee Boy. The Giving Tree. Dr. Seuss. There are certain books that capture the hearts of children, but are also entertaining for parents to read too. A win- win, right? That's what I'm always looking for in a good children's book.
So, when I was asked to review a children's book, This House Needs a Mouse, I jumped at the chance. A new book to read? Awesome.
The day the book arrived, my kids were all eating dinner. I had a captivated audience, so I grabbed the book, and read it to them. And, I have to say, my kids were all mesmerized. Not a peep was made, and even I couldn't wait to see what happened to the main character of the story. A not-so-ordinary mouse (who incidentally loves helping keep the house clean). That's my kind of mouse.
"A beautifully illustrated children's book with a difference, This House Needs A Mouse is a fun tale of a mouse who seeks a life outside of his caged existence, and through a series of events, finds himself free and experiencing life with all its ups and downs. It's not just a read-along for your child, this book aimed at 3 to 8 year olds, is a teaching tool for budding readers and writers. Filled with mentor text such as alliteration, vivid verbs and purposeful repetition to name a few, This House Needs A Mouse is educational and delightful."
*******
The story opens with a cute little family of three, with one on the way. The mom is frazzled because she can't manage to keep the crumbs off the floor. Ahem. I can't relate to that at all. (wink wink) So, she comes up with a perfect solution. A mouse.

They head to the pet store and find a mouse that looks like he can help keep a house clean, and that's where we find the endearing main character of the story. A mouse that is unhappy with his cage, and wants freedom.
The family co-exists happily with the mouse while the mouse is thrilled to scurry about and help keep the house clean. Until a series of events causes the family to move, leaving the poor mouse behind. A new family moves in, and let's just say they aren't thrilled with the idea of having a built-in house pet.
I won't spoil the ending because we all love a little suspense, but let's just say that this fun book draws you in as both the child and the reader, and keeps you wondering what will happen to this cute little mouse that just wants to help keep a house clean.
Not only is the story written in a way that kept my kids engaged, but it's written with beautiful language and vocabulary that is perfect for the teacher of language too. With alliteration, and verbs not commonly found in children's books, the author helps the book come alive in a playful way that kids will love; even while learning. The author, C. Jeffrey Nunnally gets it right.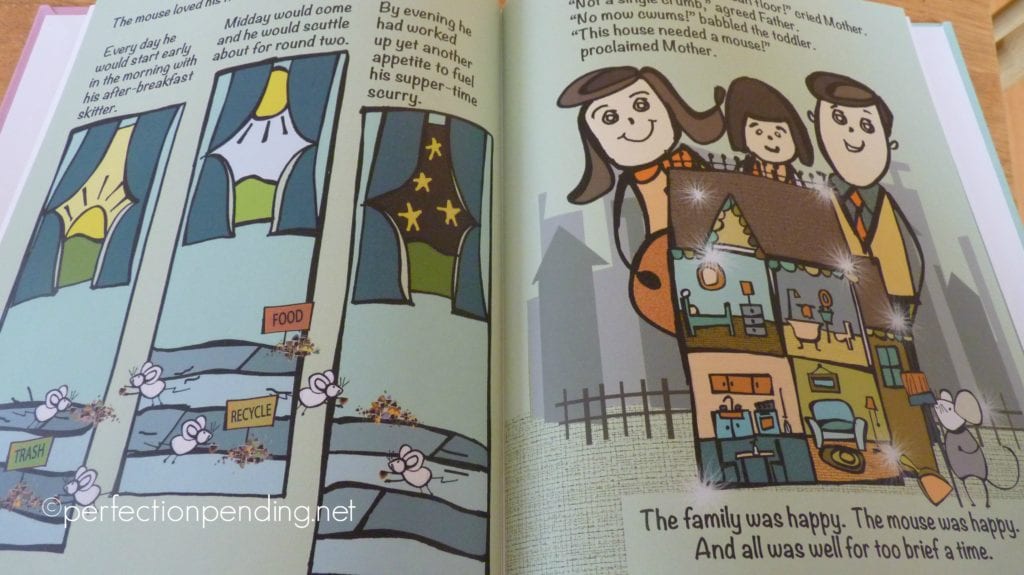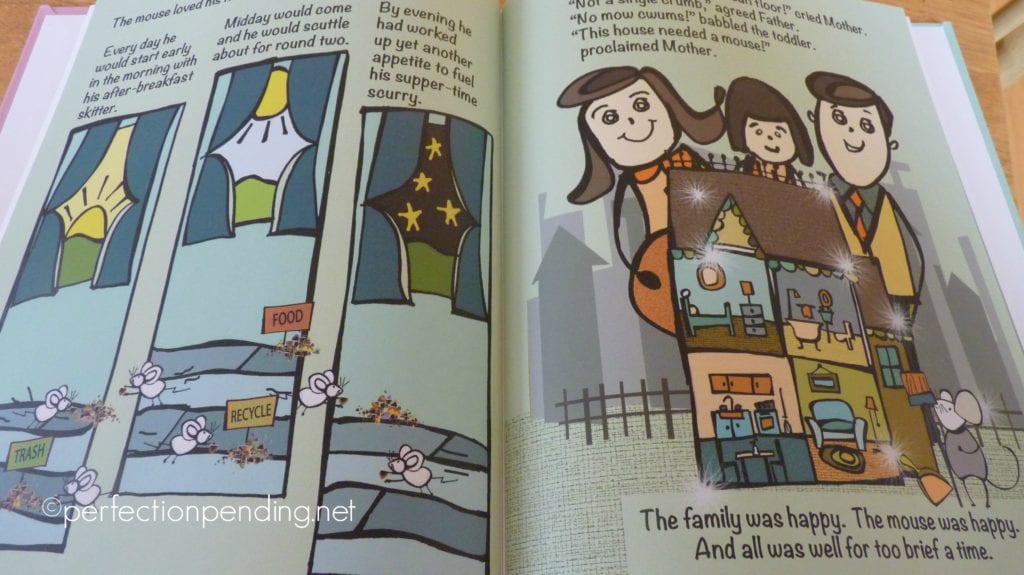 For me, the illustration plays a big part in how much I love a book, too. And, this one does not disappoint. With colorful and bright illustrations by Tamara Z. Brink that are whimsical and non-traditional, you'll find yourself spending time looking at the details on each page (and your kids will too). There are lots of little things that the illustration adds to each page that will captivate both the young reader and the older ones too. My 2 year old loved the silly story, my 5 year old (and budding reader) was captivated by the pictures, and my 8 year old…well, she just loves books.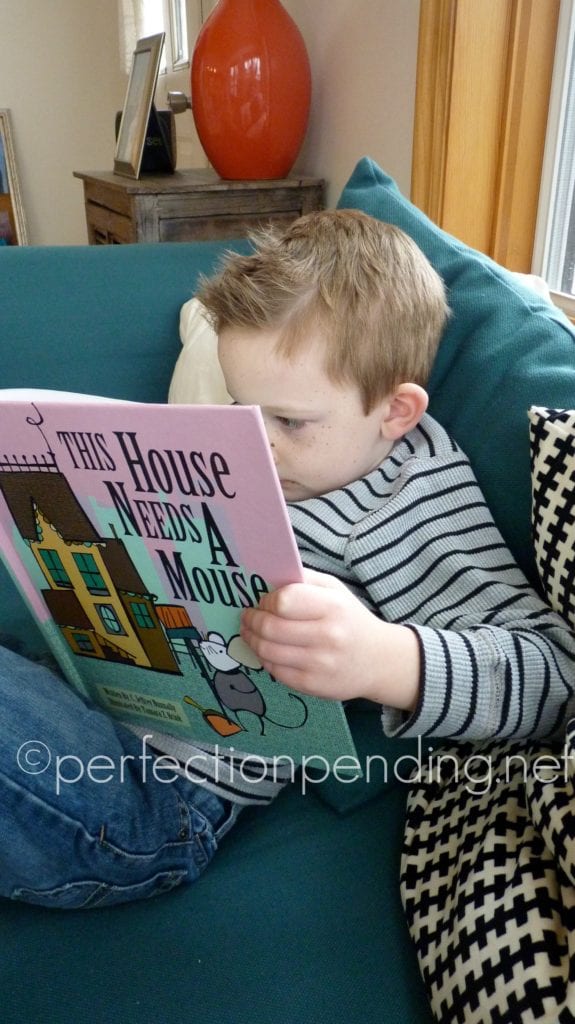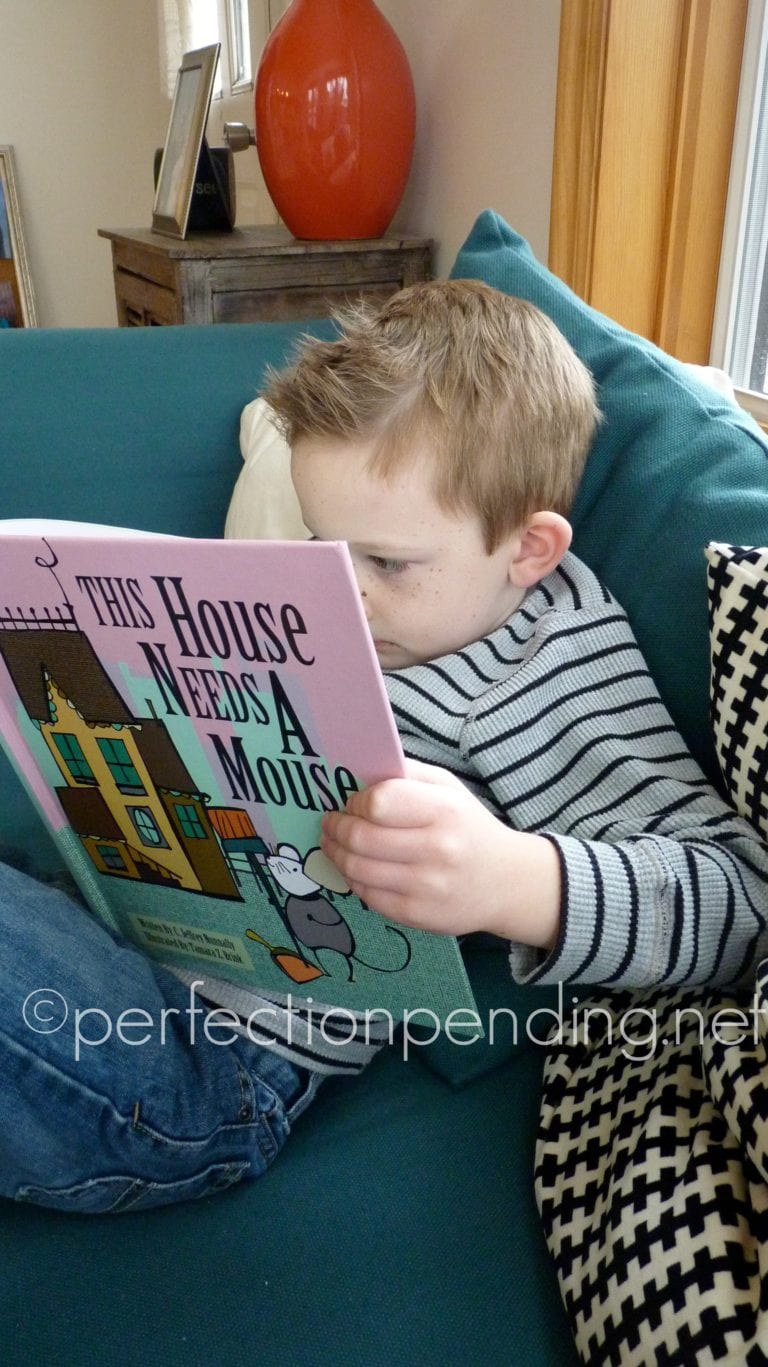 With a main character that has his own quirks and hang-ups (like we all do) and doesn't want to be confined to a cage, and cute little thought bubbles helping you know what the characters of the book are thinking, you'll find yourself smiling all the way through to the happy ending. This House Needs a Mouse is a delightful children's book with an endearing main character and adorable pictures that will captivate new and seasoned readers alike. And, you might just find yourself thinking that maybe YOUR house needs a mouse too.
*******
If you're looking for a great gift idea for the budding reader, or for any child that loves books, think about getting This House Needs a Mouse. We LOVE it!! This adorable book is available now on the book's website, Amazon
, Barnes and Noble, and Big Tent Books.
*This book was received in exchange for an honest review. However, all thoughts and opinions expressed in this post are my own. This post does contain amazon affiliate links.