A few years ago, getting kicked in the butt by motherhood mostly was comprised of sleep deprivation, too much poop, and trying to negotiate with two-year-old irrational dictators. Today it looks different. But, motherhood still kicks my butt at least once a week.
Maybe it's a tween that comes home from school in an inexplicable bad mood, or a child that has suddenly developed a distaste for all food, or maybe it's a child that won't stop eating and you can't stand the site of one more dirty bowl in your sink.
It's different for every mother. But, there are days when motherhood will kick your butt.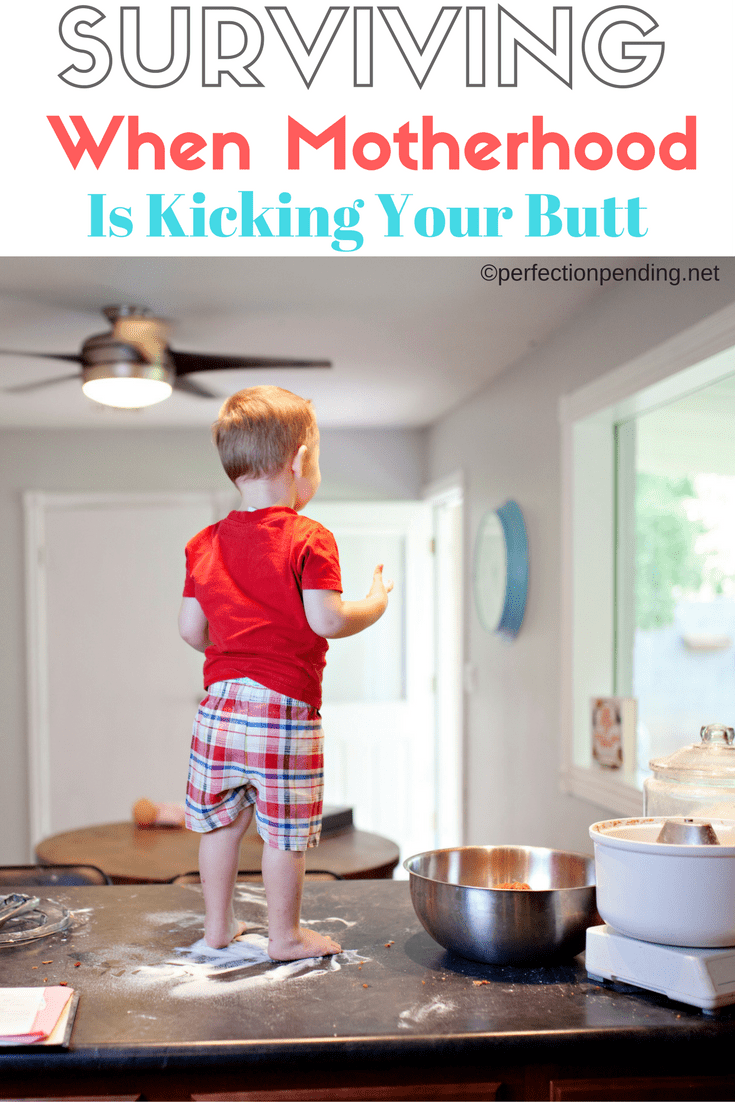 Maybe you escape to wine in the evening, or numb yourself in front of the TV. We all self-medicate in our own ways as mothers because motherhood likes to beat us up a little. But, the beautiful part is, that tomorrow truly is another day, and we WILL get through whatever it is that's kicking our butts in the moment.
I suspect it will never get easier. The butt kicking will just be different as our kids grow and become different. The truth is, I think motherhood is supposed to kick our butts.
I think about the fact often that I'm so different than I was 10 years ago when I became a mom. I'm much more laid back about so much, but I also have a long way to go and I'm pretty sure my butt is going to get kicked a lot more.
And the truth is, I don't always handle it beautifully. I have sleepless nights worrying about my anxious child, or whether or not I played enough with them. I am downright exhausted for the never-ending laundry and dishes. I see smudges on my walls that I know I'll never wipe off, and sometimes I consider just moving rather than dealing with cleaning out my refrigerator.
I'm more tired than my kids are from daylight savings time, and today I could not concentrate on anything. By the time my husband came home, I was done. Over it in a way that really wasn't anyone's fault.
But, it gives me hope to know mothers all over the world are getting their butts kicked too. Maybe that's selfish, but frankly it helps to know that somewhere in Australia, or New Mexico, or wherever, another mom is sitting in the bathroom with a stubborn potty trainee singing songs, and talking about reward charts and thinking that if they would just pee, all would be right with the world.
For me, when motherhood kicks my butt, I don't always embrace it. "Mama said they'll be days like this" plays in a  constant loop in my head on bad days, and I just sigh and think, I'm. so. done. I guess arguing with my tween about homework is my life now. And it is. But, I also know it's so much more, really.
I firmly believe that hard work brings great rewards, and motherhood is full of hard work. Sometimes the work involves menial tasks like scrubbing the floor around the toilet, again. Sometimes it's boring and mundane like folding laundry and matching socks and reading the same book eleventy billion times.
But, it's also beautiful in between the butt kicking days that motherhood dishes out. Thank goodness for that.
It's unexpected thank you's and laughs at the dinner table. It's inside jokes, and clean kids after a bubble bath and a long day. There is so much more to mothering than the days when it kicks our butts. But, the ass kicking days are what makes us stronger. At least, that's what I'm telling myself.
That hope that I'm breaking down to be built up again by a loving God that sees me and all my efforts is what keeps me putting one foot in front of the other.  He loves me, and He probably is in on the butt kicking because He knows it's helping me grow.
It's helping me appreciate the days when no one is throwing up, or the days when we aren't checking for head lice. Or the days when the tween doesn't roll her eyes at me. The butt kicking is basically what every mother needs to become the mothers we are meant to become.
So, today, I'm a tiny bit grateful for the butt kicking. But, just a tiny bit.