A few nights ago, I had a terrible dream. One of my kids went missing. I woke up panicked and wanted to rush to my son's bed and climb in with him and just hold him. It was three a.m. and I was overcome with sorrow. It took me the entire next day to shake that feeling.
In my dream, I saw my son for all the good that he is. When he went missing, I saw the joy he brings into my life almost all as once. It's like I could feel what it would be like to really lose him. That feeling has stayed with me for days now.
The next morning, when he came out of his room, I told him about the dream. I just felt overwhelmed with the feeling that he needed to know how much he is loved. How I really think he is a super cool kid. How smart I think he is. And, just how good he is. I needed him to know how much joy he brings into my life everyday. Because I caught a glimpse of what it would be like to lose all of that.
While I don't think God necessarily made me have that dream, I think the feelings I felt in my heart for days afterward were planted by Him. He had given me a chance to open my eyes to this beautiful being that is right in front of me every day, and He reminded me that maybe this amazingly special kid is being overlooked a little. Maybe he needs a little more attention. So, I've tried my best since then to tune into what that child needs from me.
That's why I can't take God out of my parenting.
Several months ago, I shared a post on social media that I had written. It was an older post, and it was resonating with a lot of people. But, I was surprised by some of the comments.
Things like, "this was so spot on until the part about God" or "I really loved this, until she had to bring up God." It's like by mentioning His name, all of a sudden, my words were invalid to people. They couldn't understand why He was involved in my parenting, and I guess to be fair, I don't really understand how He isn't involved in theirs.
I don't judge those that don't believe in God. I believe in acceptance, love, and friendship with those that believe differently than me. I've worked hard in building an online presence that is all inclusive. I want that. But, I also want that to mean that I'm included too. That my style of parenting, the kind with God by my side, isn't immediately discounted when I mention His name.
Because, I just can't take Him out of my parenting.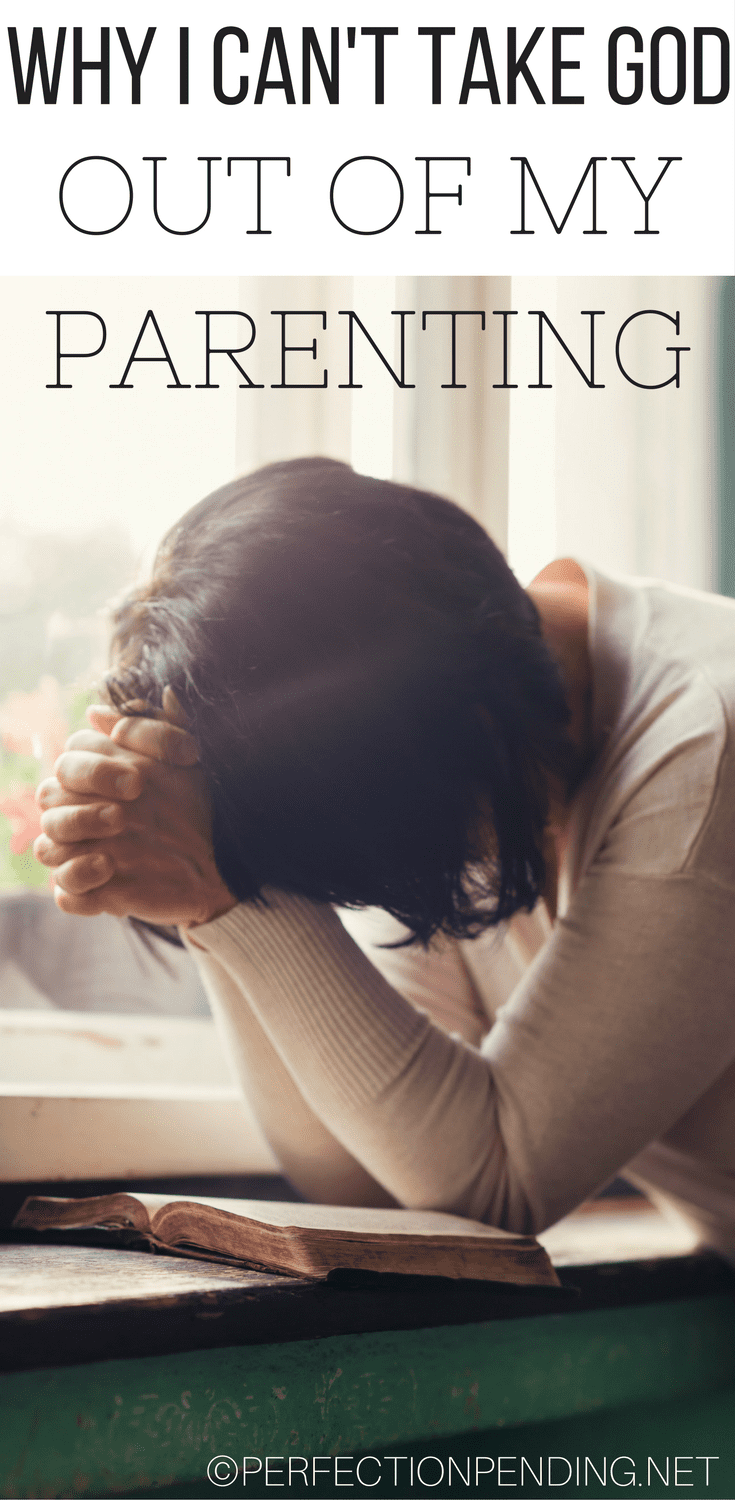 When I look in my kids' eyes, I see Him. I see that He's building me, and breaking me at the same time with these little souls He's entrusted in my care. I see the parental relationship I have with Him, and I want so desperately to love my children the way they deserve to be loved. Like He loves them.
I rely on Him daily. I need His guidance. I need His quiet whisperings, and the times when He's practically shaking me, waking me up, helping me realize that mothering is the most precious gift I've been given, and I need to see the beauty of it right in front of me today instead of staring at a computer screen, or putting chores above my kids' needs.
I need His help, because I don't know what I'm doing most days. I can't take Him out of my parenting. And, I'll never apologize that He's there. That His influence shapes me, and molds me, and even slips into my writing from time to time. Because He is the one holding my hand, and lifting me, and carrying me.
I've sobbed to Him about my inadequacies and felt burdens lifted as I've trusted in Him. I honestly don't know how people do this incredibly hard task of parenting tiny humans without Him. I don't judge them. I just don't want to be judged either.
I want acceptance too. I want to be able to mention that my children are a gift from God without the eyerolls, or the comments that this was a really great perspective until….
The mother that parents with God by her side, doesn't deserve the judgment. She still has something worthy to say, just like those who don't believe add value to my parenting journey. This isn't a faith based blog, but I'm a faith based person. And, it's important for you to know.
So, I might lose some followers from this, and that's OK. Because, I needed to put it out there, that I'd be lost without Him. And, He's not going anywhere. And, if you love what I write, you're going to see Him here in every word, even when He's not directly mentioned. Because He is always there for me.
And, I just can't imagine doing any of this without Him.