I've told my husband on more than one occasion that I wish he could just peek into my brain for a day. I want him to just see it. Feel what it's like to be me. I want him to experience the constant stream of consciousness that is full of tasks, checklists, and things I'm constantly trying to will myself to remember.
I want him to understand how hard I try to keep it all together, only to feel crushed when I forget something important just due to the fact that I had too much going on in my head. Too much to remember.
I want him to see it not so that he'll feel guilty, but simply so that he'll understand me better.
You see, I can't relax like I want. My brain won't quit when I need it to. I can't seem to shake the mental load.
I have thoughts that go a little something like this all day long:
OMG. This house is a mess.
Do we have enough bread for lunch tomorrow?
I need to have a talk with the five year old about honesty and have him return that toy he "borrowed".
I hope I can get some sleep tonight. Like, actual real sleep where I have a dream, or twitch, or something. I should buy a sleep mask.
Did I put the laundry in the dryer?
Did I hit send on that email?
Is it too late to register the 8yo for soccer that is six months away?
Are they caught up on their shots for school?
Do we need more cat food?
I should clean out their closets.
How is the ceiling fan THAT dusty? Like, for real. Why is there so much dust on a fan that spins all day? How is that even possible?
I keep seeing spiders. Need to call the exterminator.
I hope that we get into that good preschool and not the shady looking one that for sure has a hand foot and mouth infestation.
I hope I bought the right sunscreen and not one that will give them a rash.
When was the last time I watered my flowers outside?
I should wash our sheets.
I bet Karen washes her sheets every week.
I need a freaking vacation from mom life, but who would remember that we need more ramen noodles?
I will cut someone if I don't have any chocolate after the kids are in bed.
My husband's thought after a long day of work? "I think I'll take a nap."
I shared a picture of him resting on the sofa withe these same sentiments on my FB page, and was immediately annoyed when the men came out to tell me how stereotypical I was being.
Really? I didn't think this post was about you. I thought it was about me not being able to relax and take naps.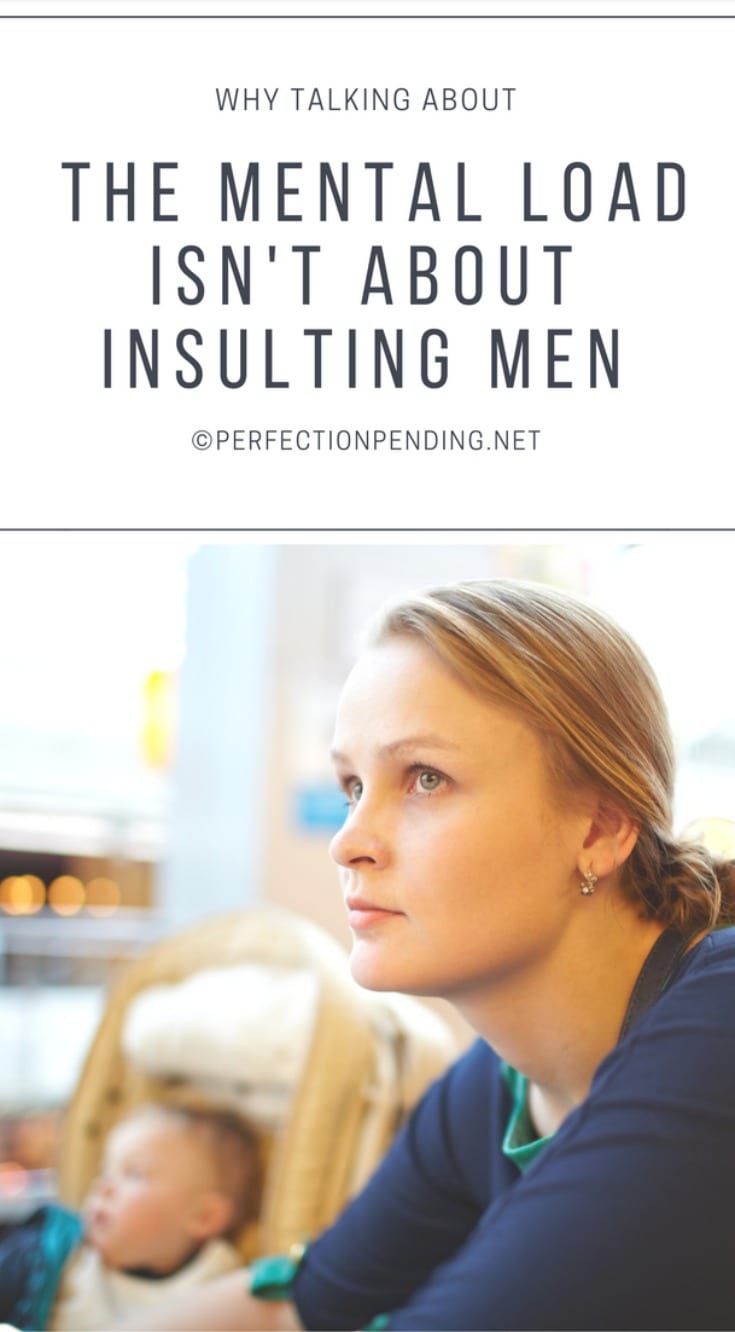 My husband is a great guy. He works hard to provide for the family, and comes home and helps out at the end of a long day. He's willing to do whatever needs to be done, but he just doesn't see it, or care about it the way I do. After 15 years of marriage, I'm learning to accept that.
When it's bothering me, I speak up. And he is the first to jump in and help.
But, when I talk about the mental load I carry, it isn't meant to be an insult to men everywhere. To me, it's not a competition. Marriage is not about competing with him. I don't see complaining about my inner mental load as an automatic insult to him.
After all, I'm trying not to keep score, here.
Yes, it would be nice if he was bothered by the same pencil that has been lying on the kitchen floor the same way I was bothered by it. But, would it really? I think it balances out the family dynamic to have someone that isn't bothered by it. Because otherwise, we'd both be yelling at the kids constantly, and in a constant state of annoyance.
Would I like if he cared more though so he would be more motivated the same way I am? Sure. But, to me, it's not about that either.
The mental load I carry isn't his fault. But, he can be the solution.
As we have evolved in our marriage, I've noticed a shift. He is bothered by the fact that I'm bothered. And, he sincerely wants to help. That means something to me. It makes me feel good when I say that we need to all spend 15 minutes cleaning up, and he rallies the troops and we work together.
I don't really care if he doesn't feel the same way about the mess that I do, or if he doesn't know where something is kept on occasion. What I do care about is whether or not he rallies when I need him to. And, he almost always does.
I guess part of the reason why I don't get all bothered by the fact that he doesn't seem to care about the same things I care about is because, I think he's smart to not be so stressed by a mess, or a to-do list.
It wouldn't hurt me to care less, just like it wouldn't hurt him to care more.
But, to me, the more important thing is that we're a team when it matters. I try to care less, and he tries to care more, and we rally every day to make us both happy.
And, that makes my mental load feel lighter.