When I was 15, my parents took all of us kids on a road trip to Utah from Texas. They took the middle seat out of the minivan, and we rolled around in the back like a bunch of marbles knocking into each other. We played cards, tried not to get car sick, and looked out the window when our parents told us to.
I also drank a lot of kool-aid back in the day. My mom would pull out her giant mustard yellow tupperware pitcher and mix up a batch of grape up almost daily. The red kind was banned from our house because it stained things too easily. I doubt as she was pouring the two cups of sugar into the powder and water mix that she felt much guilt over it. We all drank Kool-aid back then. It's what we did.
In the 10 years I've been a parent, I think my kids have had kool-aid once, maybe twice. Because, we know better, right? RIGHT?
I mean, would you ever?
While I love the internet as much as the next parent that says prayers of thanksgiving for youtube videos to entertain the toddler for a few minutes, it's also created this phenomenon where parents today are constantly bombarded with reasons to feel guilty. For everything.
The amount of guilt I've felt as a stay at home mom, who is literally around for every single milestone in my kids' lives, is shameful. Knowledge is powerful, but it can also be debilitating for parents, today. Because, heaven forbid our kids get some red dye #40 in a popsicle when I used to use fun dip like a recreational drug.
The thing is, I don't think our parents were necessarily more laid back than us. Who knows, maybe they were. But, they also just didn't have as much information shoved in their faces every day. They weren't being watched by pitchfork parents ready to call them out for every tiny thing.
They also didn't have direct access to the latest CDC food recall, or the newest recommendation from the American Academy of Pediatrics. They also didn't think twice about running into the store and grabbing a thing or two while the kids sat in the car and rolled the windows up and down waiting for them to come out.
Yes, maybe they had a more free range style of parenting back then, but that was mostly because they weren't told that their child was going to be abducted sitting in their own front yard by the sanctimommies on the internet.
No one was pointing out that the buckle on their kid's carseat wasn't exactly square on their chest, (because we were lucky if we got buckled in at all) and no one was telling them the dangers of getting their infant's ears pierced at Claire's.
I'm grateful for all of this knowledge I have as parent now. Don't get me wrong. I'm grateful I have extra measures of keeping my kids safe, and that I know now that vegetables actually are an important part of a kid's diet. But, I'm also tired of feeling guilty for everything. And, I'm tired of everyone else trying to point out that we're never doing enough right.
Parenting in 2017 is harder than ever, because we're parenting through fear of being called out for doing something wrong.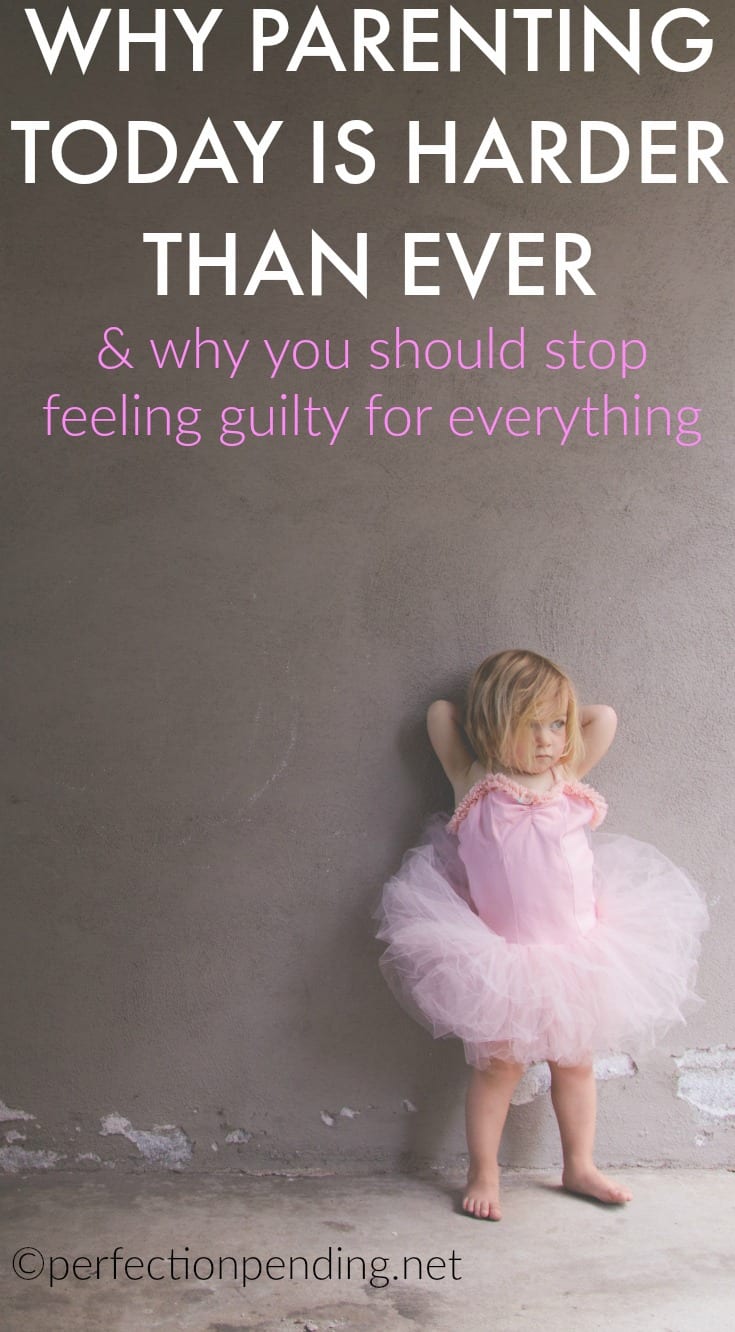 Our parents, bless their hearts, didn't have to worry about red dye #40 or whether or not antibiotics were in their kid's milk. They didn't stress over screen time, in fact, they encouraged it. I watched David Letterman with my parents growing up, and probably gained a good sense of humor because of it.
They weren't reading studies while their kids were in school about the harmful effects of learning math by counting on your fingers (I totally learned math that way). They were just happy to have a moment of peace or they were at work trying to support a family of six.
They didn't have the pressures of a friend seeing a picture of their kid out in the sun at the park on Instagram, and reminding them to put sunscreen on their white babies.
Our parents weren't parenting out of fear. They weren't always being watched. And, that's why I think it's harder on parents today. It's making us crazier, more insecure, more worried about what others will think. Because someone is always paying attention to our every move.
Sounds a little creepy doesn't it?
It kind of is.
I remember one day I walked to my friends house. We were still young enough to be playing with barbies, and I knew the way. I packed a little suitcase full of my dolls, and headed out the door. My parents knew I was walking over, and it wasn't exactly close. But, wasn't far enough away that I would get lost. As I was walking along the busiest street, a couple saw me and stopped their car. They asked me where I was going, (probably assuming I was running away) and I told them, and they smiled and left.
My heart was probably pounding harder than theirs because I thought I was being kidnapped for sure. They heard I was just walking to my friend's house, believed me, and went on their way.
Can you imagine for one second this happening now? Can you imagine it? I can't.
First of all, most parents today probably would not dare to let their kids walk that distance alone at ten or eleven. But, if they did, I imagine that couple that stopped would have called 911 alerting them to bad parenting. They would have immediately gotten out their pitchforks, and offered to save me from my plight of walking a few blocks to my friends' house, because GASP! where are her parents? And something bad could happen!
The thing is, parents today may have more facts. We may have more rules. We may have made improvements in car seat safety. But, we still don't really know what we're doing. Even the ones that act like they do, they don't know either.
Have I lost a child in a store? Yes. Have I forgotten to pick my kid up from school? Yes. Have we all made mistakes as parents that could have ended very badly? ABSOLUTELY.
So, we need to be reminding ourselves every day that despite all this new found knowledge that is supposedly going to make us better parents, it's sucking the life out of us too, and making us doubt our own abilities.
We're doubting our own intuition. What feels right. And, the power that can come from just simply believing in ourselves.
So, I'm here to tell you that you're doing a good job. Despite the pitchforks ready to come your way at every turn, you're doing better than your parents, but it's not really about that is it? It's about being your best and being confident that YOU know what's best for YOUR family, and not paying attention to what everyone else is doing.
And not reading the comments.
Read the studies if you must, listen to the well-meaning comments but take them with a grain of salt, and then ignore those pitchforks and do your own thing.
That's what it takes to be a parent in 2017. And, that is no easy task.
So, give yourself a little credit, and remind yourself that although parenting is somewhat easier today because we have iPads and Youtube, it's no cake walk either. In fact, if you don't learn to ignore all the people ready to judge you, you might just think you're a bad parent.
But, I'm here to tell you, you're not. You're doing just fine.