Today's society teaches that you need to look out for No. 1 (aka yourself); that doing so and pursuing activities you think, or the world tells you, are pleasurable will make you successful and happy. But as we've all seen and likely experienced first-hand, selfishness is the cause of most arguments, relationship issues and problems throughout the world.
The fastest way to feel good about yourself and better the world in the process is by serving others. And I'm not just saying that. Science does, too. So, as parents, it makes sense that we should be teaching our kids how to serve either by our example, or by showing them how to do it by getting them involved in helping others.
A study done by a psychologist found that the more people participated in meaningful activities, specifically giving and helping others, the happier they were and that they felt that their lives were more purposeful. Other studies have shown that serving others reduces depression and lengthens your lifespan. And a survey taken by the United Health Group of people who had volunteered during the past year showed that serving others provides numerous health benefits:
78% said it lowered stress levels
94% said it improved their mood
76% said they felt healthier.
So if the secret to real happiness and improved overall wellbeing is serving others, it seems logical that we should be teaching our kids to serve. How can we do that?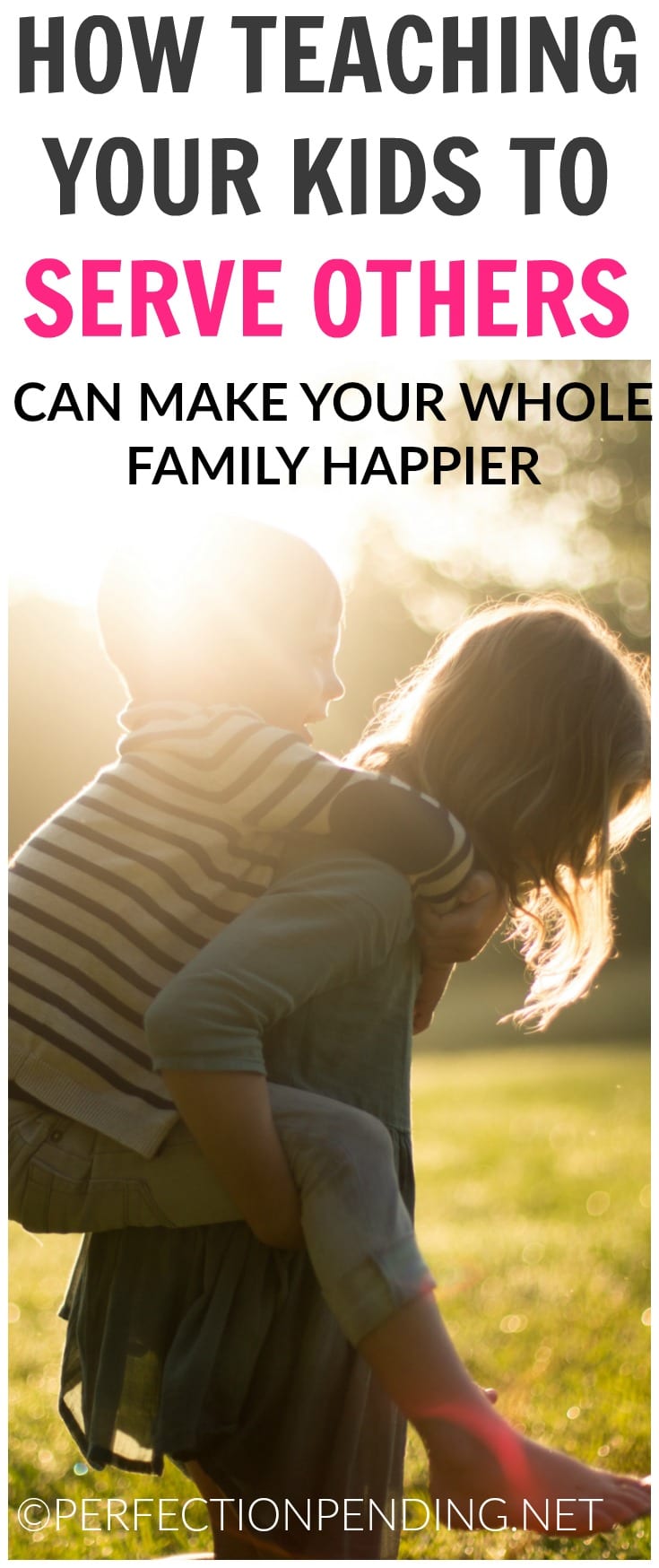 Make serving a priority.
When you look at your day's schedule—work, exercising, running errands, driving kids to soccer practice and piano lesson and making dinner—it's hard to fathom how you can even squeeze in just 10 minutes to help a neighbor let alone find 10 minutes of quiet "me" time. But, I'm a firm believer that we make time for what's important. So while we're all busy, we all have some time we can spare to help someone. You just have to make it a priority, like choosing to shovel your neighbor's driveway instead of spending 15 minutes scrolling through your Facebook feed. And, make sure your kids see you serving, and that you find a way to get them involved, too.
Disconnect from technology every once in awhile.
Along with the abovementioned tip, you have to physically look for who needs your help in the real world. Technology and the Internet aren't inherently bad; they allow us to talk to family and friends who live across the world. But, when you're always watching YouTube videos or taking Snapchat selfies, you miss recognizing that someone in your family (maybe even your kids) could use help with something or that a friend stopped by because she really needs someone willing to listen and talk with her about this trial she's going through. Regularly unplug from the digital world and choose to have more face-to-face time with people instead of your phone.
Choose to love.
Another way to help those around you is by simply loving them. God loves us, and He asks us to love our fellow man, which Galatians 5:13 tells us that, "by love serve one another." Love and service don't have to be some big, time-consuming ordeal, though. You can love and serve those around you by just smiling at a stranger, hugging a family member who's struggling or complimenting a colleague on how good their presentation was. And, our kids will notice a helpful, loving parent and want to try to be the same way.
What do you think is the best way to teach our kids to serve others?