This is a sponsored post and contains affiliate links. Product and compensation was received, but all opinions expressed are my own. See my full disclosure policy here.
I've been dying for a long time to try out a meal delivery service. I was just curious about so many things. But, what held me back was my own diet (I'm gluten free) and three picky eaters (kids).
But, when I heard about Sun Basket, I just had to try it. They're gluten free meals looked amazing, and they have a new family plan that feeds four. So, I thought, why the heck not? The worst that could happen is what happens many nights around here. My kids won't eat it.
But, that's not what happened at all. And, at the bottom of this post, find out how you can get 3 FREE Family Plan Meals from Sun Basket! Fresh organic, non-GMO ingredients and kid-friendly recipes delivered!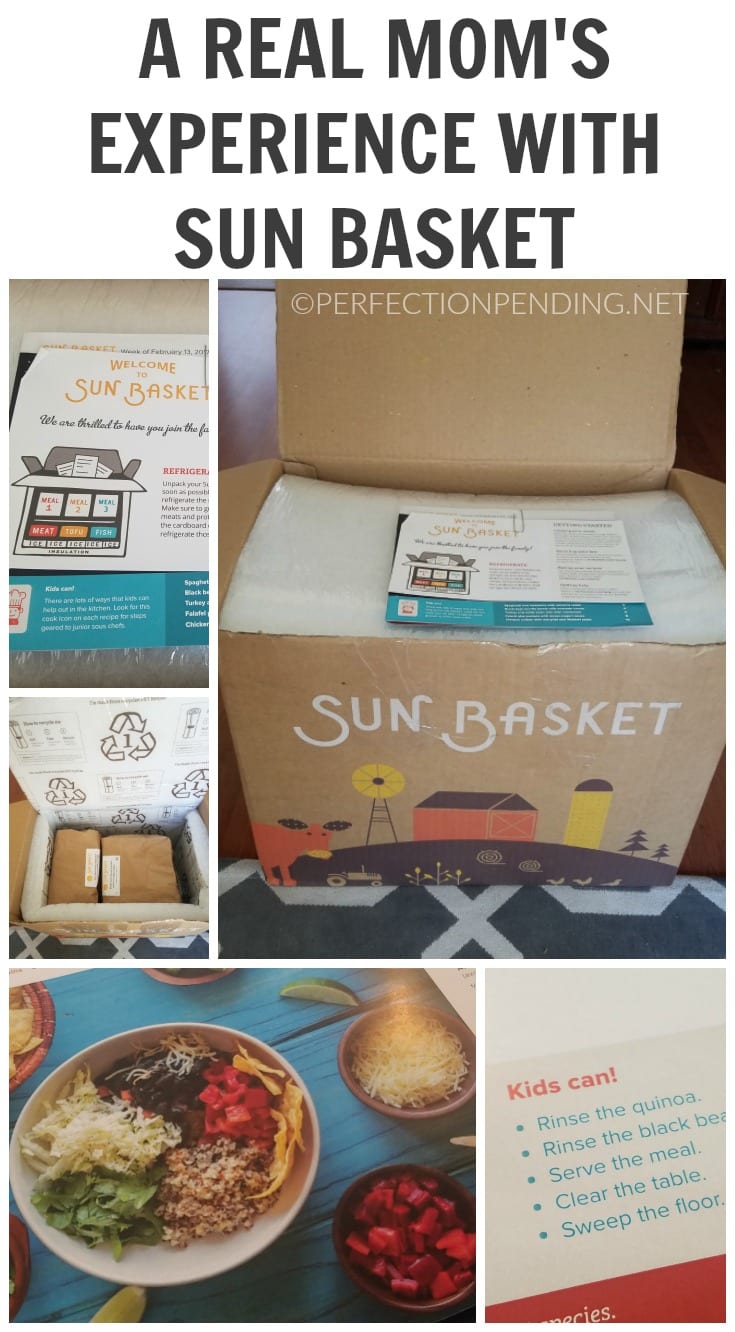 First, the packaging was impressive. The two gluten free meals we ordered came in two separate bags and all I had to do was throw them in my fridge and cook them when I was ready. And, all the materials were recyclable, right down the ice packs! Amazing, right?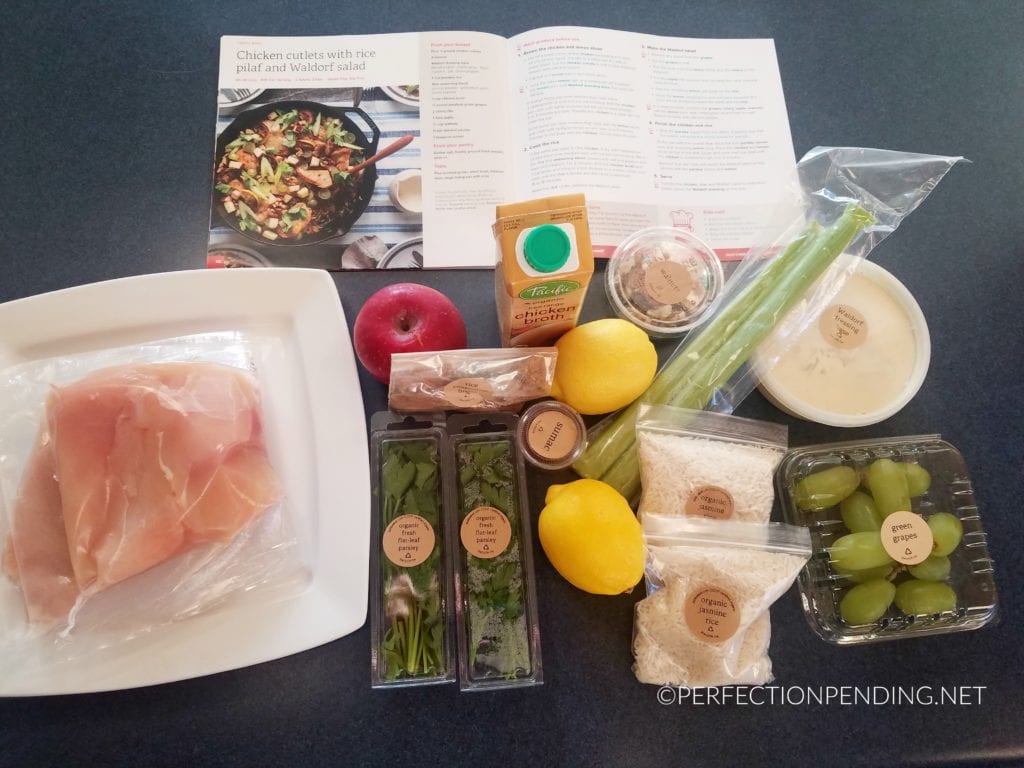 The first meal I pulled out was a Chicken and Rice Pilaf with a Waldorf salad. When I pulled everything out, it just looked so fresh and delicious. And the instruction book that it came with had gorgeous pictures, step-by-step instructions, and even tips for getting your kids to help.
My husband just went on and on about how much better the produce was than the produce we get at our local grocery store. He's kind of picky, but I'd have to agree with him on this one!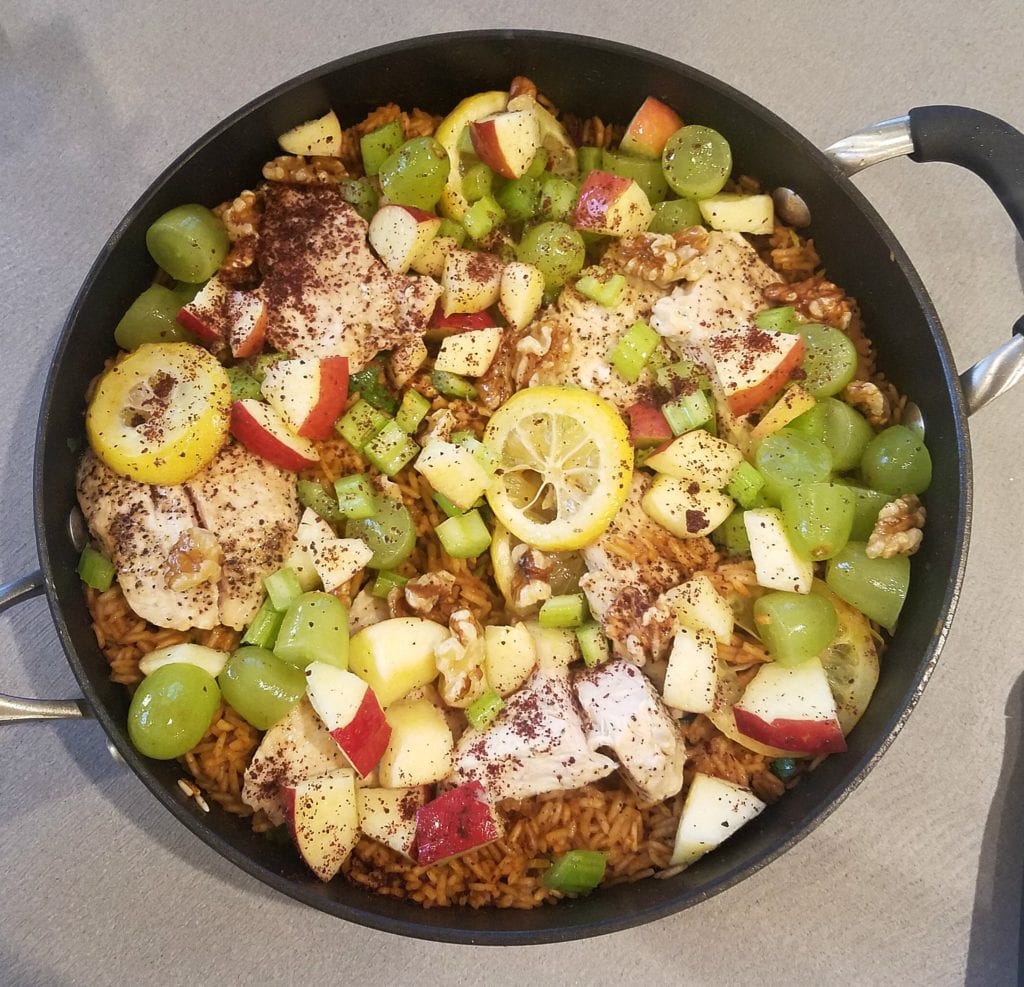 And, as you can see from the picture above, my first meal turned out really good! My kids even ate it all up and kept saying how good it was. And, our second meal was just as delicious. I loved this one in particular because it was a one pot meal. And, I really honestly thought it was so delicious.

So, overall, we loved it. Here are a few reasons why we loved our Sun Basket meals:
I loved the convenience of having everything measured.
It was packaged in an environmentally friendly way.
The produce and everything was so so fresh. I would say fresher than buying it at my local grocery store even!
It was easy to make and used little dishes.
It got my kids excited to help cook, which got them more excited about eating it, too!
It fed all 5 of us and it was just the right amount. Even though it was for a family of 4, with 3 little kids, it was perfect.
The meals were gluten free! (They also have options for vegetarians and a paleo diet).
Everything was organic, and non-GMO.
It tasted fabulous! 
My only "complaint" and this was very minor, was that I wish the booklet had a few more pictures for the instructions. There were a couple of things where I was wondering if I was doing something right, but in the end, I got the same result. A healthy, delicious meal that my whole family would eat! I couldn't be happier!
Honestly, I'm not a big fan of grocery shopping, meal planning, and putting it all away and cooking. I'm just so busy as a mom, and this is exactly what I needed!
And, right now if you use this link you can get 3 FREE Family Plan Meals from Sun Basket! Fresh organic, non-GMO ingredients and kid-friendly recipes delivered!