This post contains affiliate links. If you click on a link, Perfection Pending may receive a commission. See our full disclosure policy
here.
I'm a sucker for finding activities to keep my kids busy. My kids are ALWAYS telling me that they are bored and I cannot stand trying to think of something for them to do. So, I love that I've found the best parenting secret – printable games.
Enter Print Games Now. It's my new favorite website that has SO. MANY. Printable games for every occasion.
Print games now is so cheap, and totally beats searching Pinterest for the perfect printable games for your next party. Sometimes it takes forever to click on those links and try to find the perfect printable that you can use. That's why I wanted to try out printable games now.
Here's what they say on their website about their printable games:
Over the years we created over 460 games

Covering all genres and suitable for all ages, we have games for

different places (BBQ, Beach, Camping, Picnic)
different occasions (Baby Shower, Birthday, Bar & Bat Mizvah, Slumber Party, Wedding)
different seasons (Easter, Independence Day, Halloween, Thanksgiving, Christmas, New Year's Eve, etc)
different themes (Hawaiian, Pirate Party, Foods & Drinks, American States, Pop Culture)
different people (Games for Lovers, Games for co-workers)
and more!
There really are so many printable games to choose from, but I rounded up 15 of their printable games for kids that looked like SO much fun.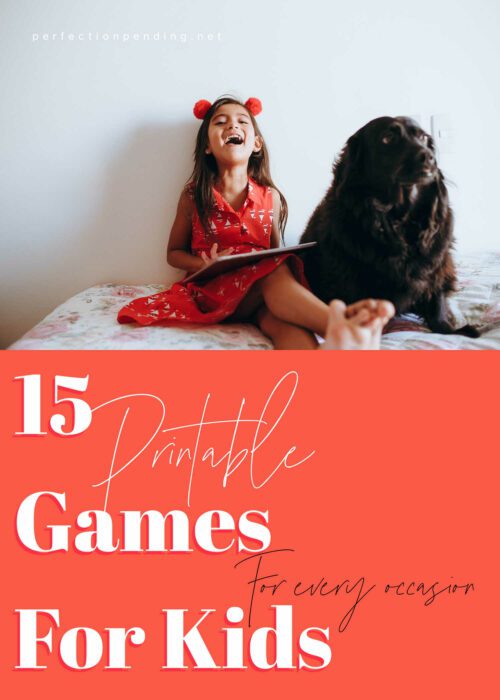 The best part about this list of printable games for kids is that they don't cost hardly ANYTHING.
They have some games on their website for as little as 95 cents! To be honest? For me, it's worth a dollar or even 10 dollars to find the exact game I need fast because their website is conveniently organized by holiday, categories, and events.
And they have MAD LIBS you guys! My kids are obsessed with mad libs. And, now you can just print them out so easily. I even have a discount code – PGN-15 and use it here so that you can use to get 15% off!
Halloween Synonyms Word Game for kids
Chew On This Candy Names game for kids
Balloon Pirate Crafts For Kids
Pirate Party Games: Nature Scavenger Hunt For Kids
Picnic Games: Kids' Outdoor Scavenger Hunt
Picnic Games: Mad Libs Song For Kids
BBQ Left-Right Game: What's Wrong With This Burger?
Sleepover Crafts: Costume Party Printable Dolls
What Word? Harvest Word Game for kids
Thanksgiving Mad Libs Food Fight!
Outdoor camping games: Camping Olympics
Kids' Activities for Camping: pack of seven printables